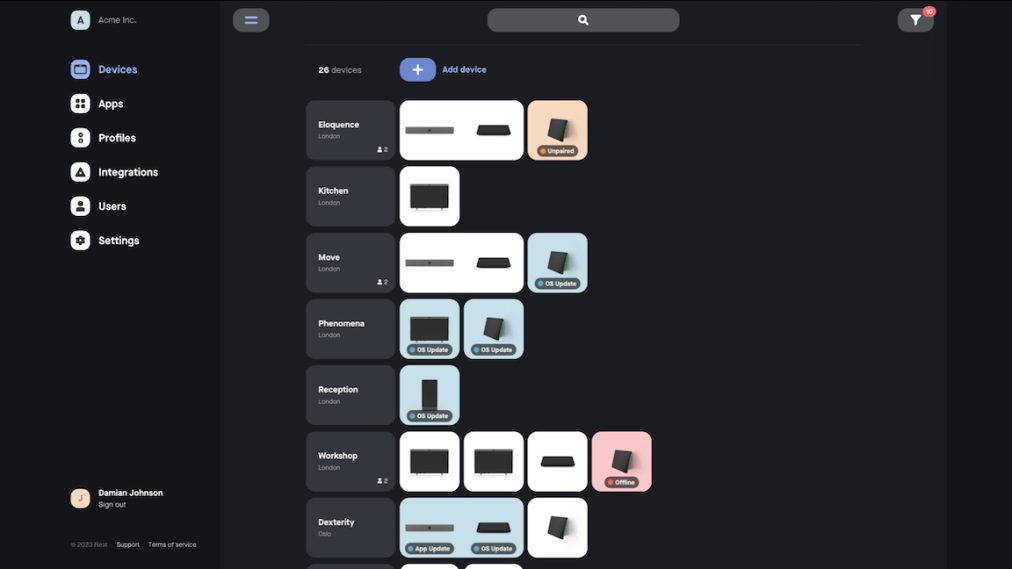 Boy have we been busy releasing our latest software update. Here's a roundup of all the new innovations you can enjoy.
Neaters are restless creatures, always striving to make our devices shinier and more satisfying to use. So, we've been working behind the scenes on a comprehensive software update. We can't wait to share the new benefits…
---
August software update benefits
Neat Pulse
Neat Pulse is now GA (General Availability), so you can enroll your devices into the Pulse Control platform for management and monitoring. Neat Pulse is our exciting new full-service offering that gives you complete control of your device deployment, premium support care and extended warranty coverage. Highlights include:
Keep track of all your Neat devices and their status with a clear visual overview of grouped and paired devices.
Perform relevant updates, restarts, or get logs on multiple devices.
Set up and configure devices and change settings on the fly.
Monitor room occupancy and air quality with real-time device status reporting.
Even more impressive Neat Audio Processing
At Neat we've always prided ourselves on delivering crystal clear dialogue that mimics fluid, real-time conversation. So we're delighted to announce that we have added voice isolation dereverberation. There's a vast difference in audio quality from an acoustically good room and a bad one. So our dereverberation model transforms audio coming from sub-par rooms, making it easier to hear and understand each other clearly. We've also reduced audio latency up to 30% across Neat devices. Another win for vocal clarity and more lifelike conversations.
See more clearly in multi-stream mode
All Neat devices are now sending higher resolution, 720p video feeds when they're in multi-stream mode with Zoom Rooms Smart Gallery. Catch every gesture and micro expression at your next online meeting.
Microphone gain depth control
Neat Boundary, our feature that allows you to set the visual width and depth for your meeting space, just got better. Microphone input levels now follow the depth parameter you set with framing boundary. This can help to reduce unwanted background noise.
BYOD for Neat Bar Pro
For those occasions when you need a third party meeting solution, you can now 'bring your own device' to connect with Neat Bar Pro, via our new USB Passthrough. This way you can still enjoy the benefits of Neat Bar Pro's impressive audio and video capabilities, including Neat Symmetry.
Read more on BYOD here.
Neat Frame and Microsoft updates
Neat Frame is a fantastic device for hot desking, perfect in the era of flexible working. Now customers with a Microsoft Teams Shared Device license can reserve a personal workspace in their office, arrive and log in with ease to a personalized and secure Microsoft Teams experience. In addition, we have added Bluetooth pairing in the right hand swipe menu so users can easily pair their headsets in open space environments.
Neat Frame also now supports Microsoft Virtual Front Desk, allowing office or lobby guests to be greeted via a video call through Microsoft Teams. This feature will allow businesses to manage visitors more cost effectively, removing the need for receptionists to be physically present – and opening up opportunities for them to be remote instead.
Manage and issue certificates at scale
Neat devices now support Simple Certificate Enrollment Protocol (SCEP) so IT administrators will be able to manage and issue certificates at scale. Great news for organizations that require device registration before authenticating access to the network. Read the release notes for update 20230504 here.
---
Did you hear?
Aside from all the cool stuff in our software update, did you catch the news about our game-changing new devices and services? In case you missed it, here's a quick summary:
Neat Board 50 – Enjoy unrivaled versatility with our all-in-one, 50-inch collaboration board. Wheel it from space to space, draw it towards you, and move it up and down – for flexibility like never before.
Neat app hub – Our first suite of business apps will be available on the Neat app hub, through Neat Pulse this fall. The aim of the Neat app hub is to make third-party business and entertainment applications such as Slack, Miro, Spotify, WhatsApp and more available on Neat devices.
Neat Center – Discover how our latest innovation, Neat Center, will extend Neat Symmetry and meeting equity to the center of the room. Don't miss our demo here.
Got a question? Get in touch with one of our product specialists today at hello@neat.no New to Neat? Book a demo and start your journey to better video meetings today.