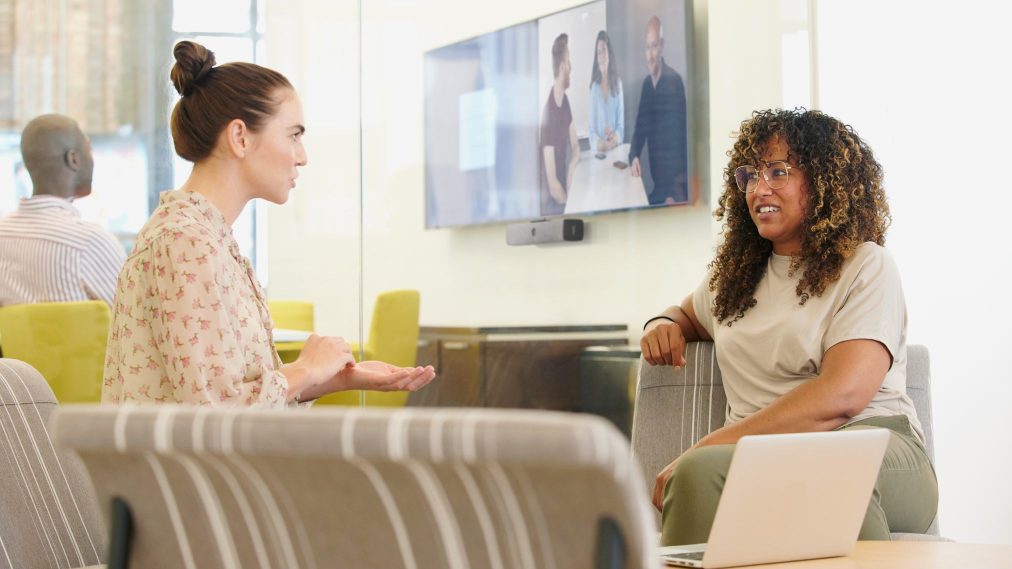 Neat Boundary helps you enjoy more focused meetings and strengthens company culture by fostering casual social encounters.
Today's employees are navigating a workplace transformation unlike anything gone before. As a result, how and where we meet is becoming radically redefined. In this new way of working, people are flowing in and out of their company's bricks and mortar premises, with teams working between being at the office, home or elsewhere.
With this rapid and regular rotation, it's not only crucial that meetings remain focused, but at the same time, people feel like they can more closely connect, socialize and engage with their colleagues whenever they need to, wherever they are. So, how do you ensure your meetings are as distraction-free as possible while fostering company culture outside of those meetings?
Only focusing on those in the meeting
Neat Boundary is another patented innovation from Neat. Available on all Neat devices, it enables you to set the width and depth of your meeting space to avoid the camera accidentally detecting, auto-framing and tracking anyone not involved in your video call.
Here's what we mean. If you're in an office with glass walls and someone outside walks past or people are standing around, the camera ignores their presence. Likewise, if you're in an open-plan office, the device won't be confused by other activities happening around you. You can create a virtually closed-off zone. The same goes for those working at home. By defining a boundary, the camera ignores family members or anyone else in the background.
[boundary-video]
Encouraging employees to feel more connected
As organizations seek optimal ways to drive employee engagement, well-being and creativity, we're exploring new ways to leverage Neat Boundary, so those remote can socially and culturally engage with their teammates back at the office and feel even more connected.
For example, by placing a Neat device in your company's kitchen or a recreational area, remote employees can see when one of their co-workers in the office might be free for an ad-hoc chat and vice versa. In other words, it provides a window into the workplace. It functions as follows. The system is passive until someone steps into your pre-set boundary zone. Once they do, the screen automatically brightens, the mic and speakers unmute, and the camera instinctively frames that person, allowing participants to engage in casual conversation, general discussions, brainstorming, etc.
[boundary-kitchen-video]
Demolishing the boundaries your teams face
Bringing you the future of video technology today, Neat helps demolish the boundaries between your dispersed teams and the challenges they face. We help you ensure your employees enjoy a greater sense of community so that everyone feels more included, valued and productive.