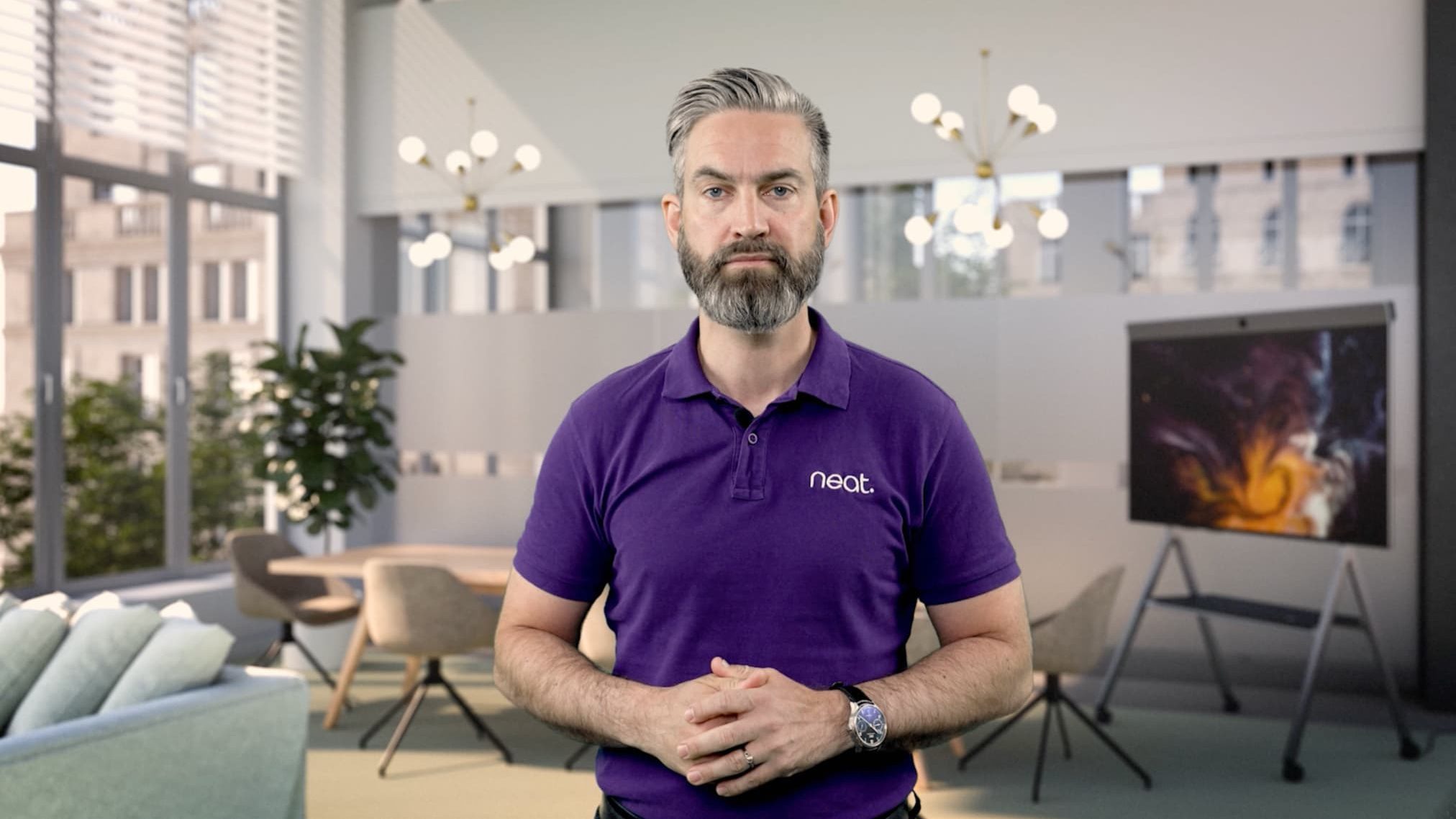 BREAKING NEWS: Once more, Neat is radically redefining video interaction in today's modern workplace with a brand-new app hub and Neat Board 50, our most versatile video device to date, giving you and your hybrid teams more freedom than ever to meet, create and collaborate how and where you want.
"Start unknown. Finish unforgettable," said Nike. Yet, as it went on to say, "There is no finish line." And that's the way it is with Neat. Innovation never ends. What may have been OK technology-wise for your business and employees yesterday doesn't quite cut it today. That's why Neat's on a mission to redefine how people interact over video. Neat strips away complexity, providing simpler, more reliable and flexible, faster, forward-thinking devices and experiences so people can keep collaborating, creating and engaging over video like never before.
Make no bones about it. Neat changed the game when we first burst onto the scene in 2019. We entered the video communications market with a revolutionary new way to solve people's meeting room challenges. Simplicity and reliability were key. As was total equality in meetings. So, we pioneered people-focused framing with our industry-defining, patented Neat Symmetry (many of our rivals have since followed suit). And we created a totally new form factor with Neat Frame to help support a broader range of personal and shared workspaces. That, in turn, inspired people to use video in ways no one could have imagined. Us included – boy, what an amazing learning curve! We've done all this and more while providing people with remarkable Microsoft Teams and Zoom video meeting experiences worldwide.
Uniquely addressing flexible hybrid workspaces
Well, now we're changing the game again. Today we're offering you even more freedom to choose how and where you use video. Say hello, then, to Neat's new app hub and Neat Board 50. Our app hub makes third-party business and entertainment applications such as Slack, Miro, Robin and more available on Neat devices. At the same time, Neat Board 50 is a unique, all-in-one collaboration board that delivers leading-edge capabilities while being supremely adaptive for today's flexible hybrid workspaces.
According to Frost & Sullivan's 2023 UCC Buyers survey, 49% of businesses use two or more video collaboration platforms, with 21% planning to add more solution providers. Meanwhile, another study found that most employees value hybrid collaboration spaces and flexible furniture in the office. Flexible hybrid work requires open access to tools and adaptable spaces that let people work how and where they want. But, unfortunately, most solutions on the market today don't support how people want to work. Instead, many in our industry continue to tackle the modern workplace with the same old rigid solutions. Not us!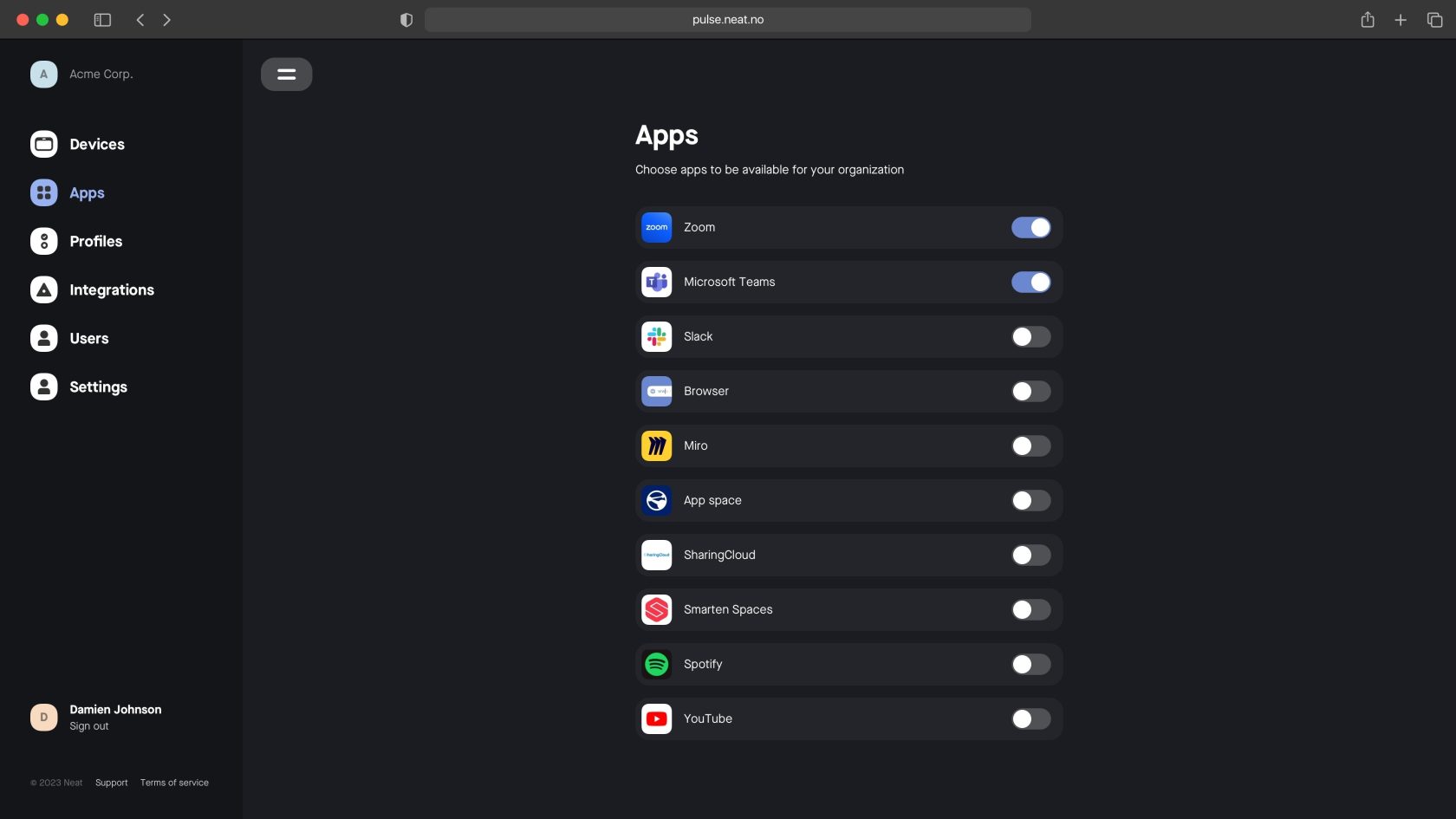 Appy days for you and your team
Neat's new app hub empowers you to maximize your investment in Neat devices. It goes beyond what any video hardware provider has previously done to provide a selection of curated applications designed to deliver consistent specialized experiences across your Neat devices and various workspaces. So, now you can run a range of business and entertainment apps on any of your Neat devices or deploy Microsoft Teams or Zoom.
You can use the apps independently across your workplace or, better still, use a patent-pending capability to seamlessly share them in a Microsoft Teams or Zoom meeting running on another device. This ability brings these applications into collaborative spaces on high-quality hardware for the first time, helping you accelerate your teamwork and get your creative juices flowing further.
"Our customers are increasingly using Slack Huddles to quickly and informally connect in real-time with colleagues, no matter where they are. We're excited to see how Neat uses the huddles experience to provide hybrid teams with better ways to move work forward efficiently."

Katie Steigman, Director of Product at Slack
The app hub will be available through Neat Pulse, our forthcoming cloud-based subscription offering. Neat Pulse lets you choose what to deploy across your organization's Neat devices, allowing you to centrally manage and monitor them while enjoying peace of mind with premium support. This centralized solution gives your IT administrators complete control over your device deployment and makes managing them simple and predictable from anywhere.
Apps that support diverse industries and work styles
Neat's new app hub will certify applications to support diverse industries and work styles. For starters, it will include apps for:
Team connection, collaboration and creativity with access to online workspaces from partners such as Slack, Miro and Mural, plus browser access to a host of enterprise solutions like Jira, SalesForce and Trello
Stay tuned for more!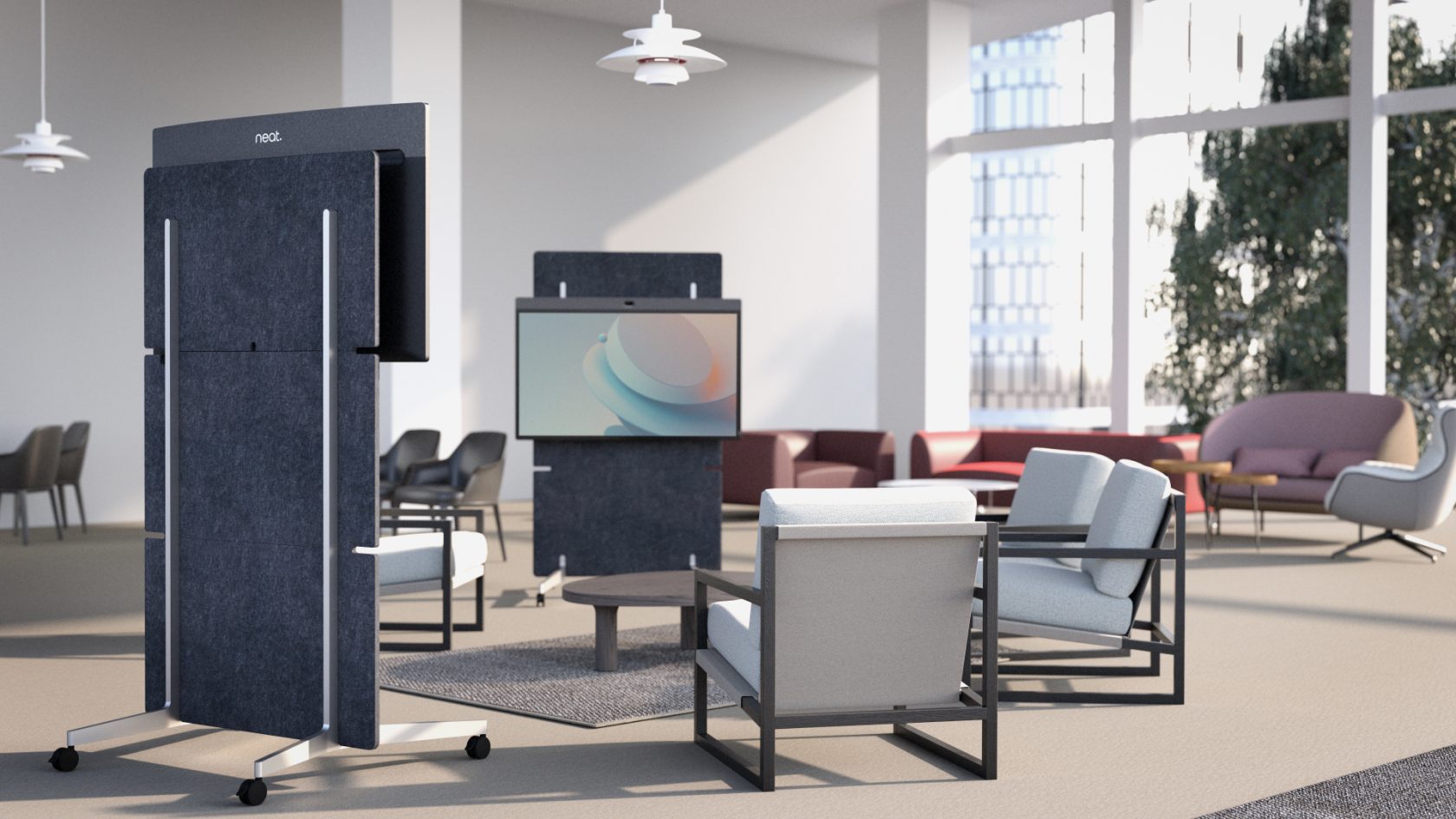 Liberation from fixed applications and spaces
Today's modern workplaces require flexible access to various adaptable applications and spaces to support where and how teams want to collaborate. Designed for the flexible future of work, Neat Board 50 swiftly adapts to you whenever, wherever and in whatever way you need to meet or express your ideas. Wheel it from space to space. Draw it towards you. Easily move its inviting 50-inch touchscreen up or down – it's entirely at your beck and call. Neat Board 50 allows you to interact and collaborate smoothly and efficiently however you like throughout any space, even enabling you to create a space within a space on the fly where needed.
Again, fully manageable through Neat Pulse, Neat Board 50's pin-sharp audio and picture quality and unique capabilities, such as Neat Symmetry, Neat Boundary and Neat Audio Processing, enable your hybrid teams to revel in more natural, equitable, less disruptive meetings. In addition, its rich and immersive collaborative canvas lets you enjoy across-the-board collaboration by effortlessly responding to you in a way that feels just right. Neat Board 50 also comes with our Neat Active Marker. Delivering just the right amount of friction and immediate response for you to write, markup or sketch as you naturally would, Neat Active Marker helps infuse more personality into your work. Additionally, you can align two Neat Board 50s and run different apps on each device in the same session for an even more powerful and immersive collaborative meeting experience.
Continuously innovating to solve your business challenges
Providing our employees with the autonomy to work the way they want is core to the HubSpot way, and we've found that fixed, rigid spaces limit the creativity of our teams. We're always striving to be ahead of the curve and appreciate working with a company like Neat constantly innovating to solve business challenges. Technologies such as Neat Board 50, which anyone can move around to fit the needs of a specific team on a specific day, allows employees the freedom to do their best work.

Ken Papa, Senior Director of Global Real Estate at HubSpot
Neat Pulse will be generally available to customers beginning July 31, with the app hub accessible in Q3 2023. Neat Board 50 will retail for $5,990 and is available for pre-order starting today. The first customer shipments will begin in September, with general availability to follow.
To discover how your company can successfully navigate many of today's modern workplace challenges and enjoy more choice and flexibility, visit neat.no. Or join us for our 'A New Workflow for a New Era' webinar on June 22, at 11 am CET and 11 am PST or June 23, at 11.30 am SGT.
Good luck out there, and be free to do what you want to do!