Meeting Room Tech: In-Person, Virtual, and Hybrid Settings
Hayley Cannon, Nov 9, 2022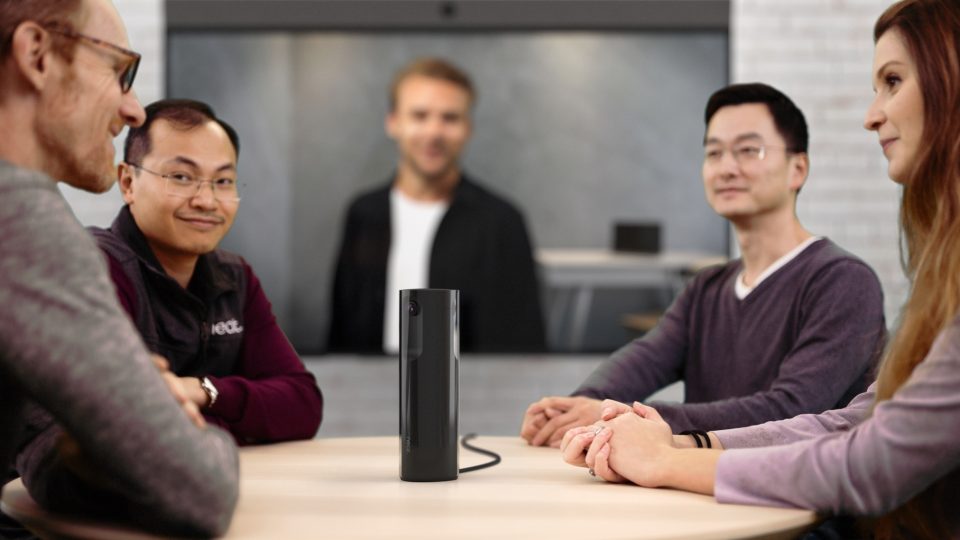 The meeting spaces in which users participate—home offices, shared conference rooms and solo workspaces, to name a few—require special considerations to ensure users are seen, heard and engaged. Here's how to prepare your meeting room technology and be ready for every type of meeting.
Key Takeaways:
In-person, virtual and hybrid meetings require different types of meeting room tech.
Common technologies across all meeting types include screens, cameras, speakers, microphones, control panels and conferencing software.
Choosing integrated meeting room tech like Neat devices ensures you're ready for every type of meeting.
Understanding the Differences in Technology Between Meeting Types
Your conference room setup will vary depending on the type of meetings you host: in-person, virtual or hybrid.
With in-person meetings, technology centers on collaboration tools, such as whiteboards. A projector and screen are also par for the course, making it easy to share presentations and other content. Everyone's in the same room, so each person can be seen and heard without extra meeting room tech.
For virtual and hybrid meetings, meeting room technology becomes a little more expansive. For starters, participants don't have the benefit of sitting side by side to share technologies. They need access to content just as easily as if they were attending an in-person meeting.
Good audio quality matters in virtual and hybrid meetings to ensure each person can be heard, even when others speak over them. Cameras that capture each participant, not just the speaker, also give a more in-person-like feel to the meeting.
Many companies have set up their meeting spaces to accommodate any type of meeting. This way, they have all the meeting room tech on hand, ready to use when needed.
Essential Meeting Room Technologies
No matter what type of meeting you host, you'll need a few key pieces of meeting room tech. These technologies are essential regardless of meeting location.
Screens
Screens give you a place to display the content shared during meetings. For hybrid and virtual meetings, monitors display participants that aren't in the same room as well as the content they share.
Cameras
A good webcam lends to more natural, free-flowing conversation for hybrid and virtual meetings. Choosing a webcam with a high resolution gives you crystal-clear image quality, making it easy to see each participant's facial expressions and body language. Some webcams also include auto tracking to keep the person in view at all times, even if they stand up during the meeting or move around the room.
Microphones
For hybrid and virtual meetings, audio quality is critical to the meeting's outcomes. All participants need to hear what's being said. Otherwise, you'll spend too much time repeating yourself.
Ideally, you'll choose a microphone that automatically blocks out unwanted background noise without suppressing human speech. Neat's devices have microphones that filter sound when two people are speaking over each other, ensuring you can hear them both without the sound becoming muffled or jumbled.
Speakers
Great speakers support clear audio. They play a role in canceling echoes and vibrations and projecting sound throughout the room. Depending on the size of your conference space, you may need more than one set of speakers.
Central Control Panel
You need a way to control all of your meeting room tech in in-person and hybrid meeting spaces. A central control panel can put meeting functionality in the palm of your hand. Features may include one-touch meeting launch, meeting room scheduling, screen sharing, meeting recordings or muting participants.
Conferencing Software
Hybrid and virtual meetings require video conferencing software to bring participants together. Popular conferencing software like Zoom or Microsoft Teams handles everything from scheduling meetings to inviting participants to hosting and recording the meeting.
Neat's all-in-one solutions include everything you need for meetings on demand. Integrated screens, cameras, microphones and speakers create the total meeting room package for large conference rooms and one-person home offices alike. Each device is set up for one-touch meeting launches and comes pre-integrated with Zoom and Microsoft Teams right out of the box.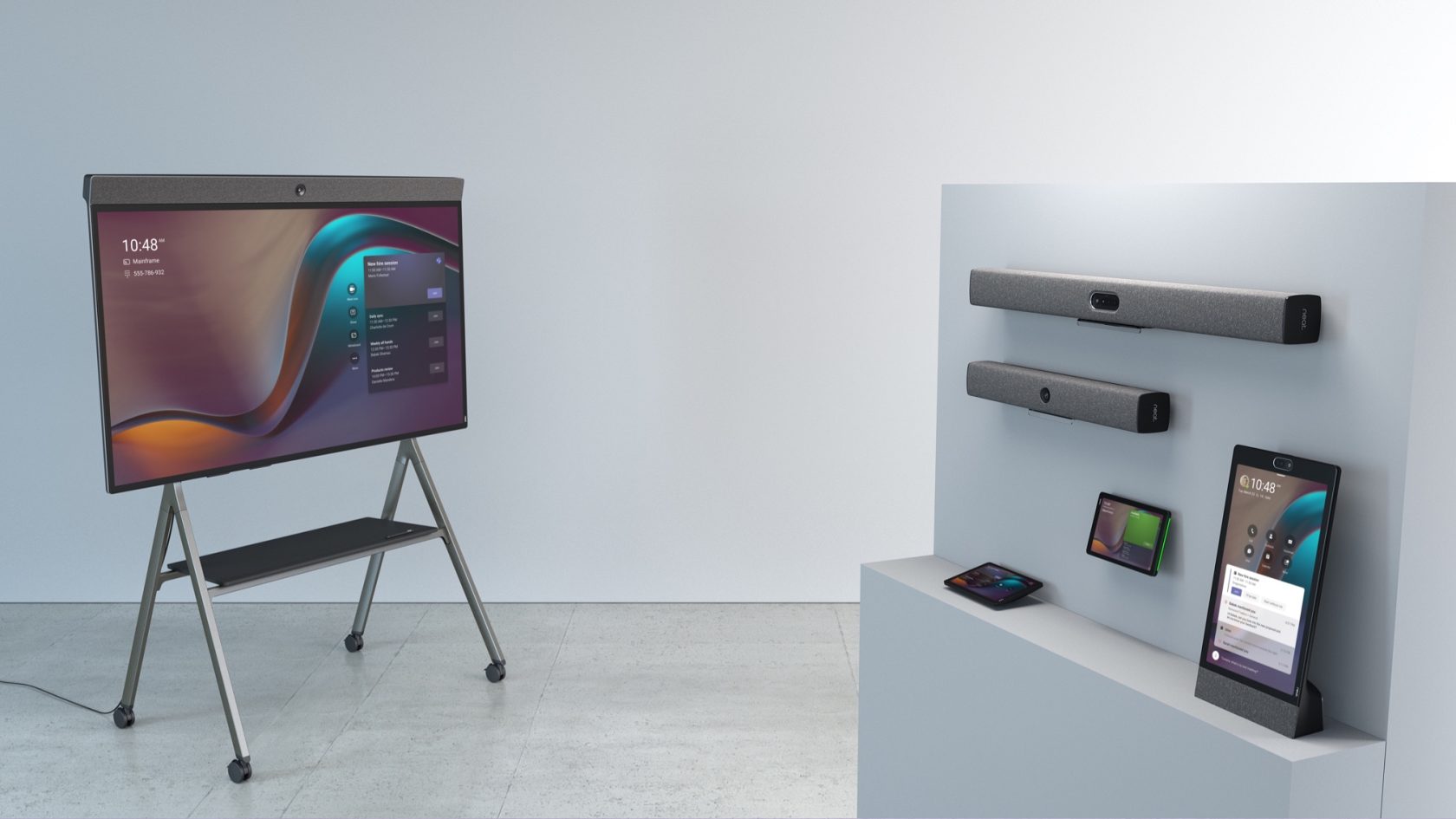 Choosing In-Person Meeting Room Technologies
Technology plays a role in all types of meetings, even when you're face-to-face with other participants. Specifically for in-person meetings, consider the following opportunities to improve every session.
Room Analytics
Your meeting room is a treasure trove of data that can help you run better and more efficient meetings. You can learn a lot by tracking things like meeting usage, meeting duration, room temperature, light usage and air quality. The more you learn, the more you can transform your meeting space into one that supports your users' needs.
There's also a level of health and safety to consider. Things like air quality or humidity can affect worker productivity and even their personal health. You might find a trend between crowded meetings and a subsequent increase in sick days. Making improvements based on data may help reduce sick days and allow participants to get more from every meeting.
Neat Pad captures this and other data on your behalf with every meeting. It also doubles as a meeting room control pad. You can activate your meeting room tech and launch meetings with the touch of a button.
Collaborative Board
Despite the option to share content in person, meeting rooms should include a collaborative board that makes it easier to get everyone on the same page. Large whiteboards give everyone a chance to contribute in real-time without needing to share documents, enable permissions and have a hundred tabs open at once.
Neat Board enhances in-person meeting creativity with its large multi-touch surface and one-touch functionality. Wirelessly share content or use built-in annotations and whiteboards. You can give it permanent residency in your meeting space with wall-mounting equipment or make it mobile with a frame and wheels so you can use it whenever and wherever you need it.
How to Choose Virtual Meeting Room Technologies
Virtual meeting rooms don't just require one physical space. Rather, each participant is in charge of creating their own space for meetings, whether it's a home office, a cubicle, a huddle room or their local coffee shop.
However, there's more to virtual meetings than choosing a video conferencing platform. You also need the basic building blocks of digital meetings, such as a screen, a microphone, speakers and a camera.
All-in-one devices like Neat Frame save space and improve communication and collaboration. You don't need a large dedicated space for one-to-one virtual meetings, which reduces your technology demands and costs. You get everything you need in a neat and tidy package, ensuring all your components work together flawlessly.
Neat devices feature one-touch meeting launch. With Zoom and Microsoft teams already integrated, users can launch meetings with a single tap and turn any space into a meeting room.
How to Choose Hybrid Meeting Equipment
Hybrid meetings offer the best of both worlds—some participants will meet in person, while others will meet remotely. Arguably, this arrangement is the most complex to figure out in terms of meeting room tech.
A recent McKinsey survey suggests that 90% of organizations will adopt some combination of remote and on-site work. It's more critical than ever to ensure companies invest in the equipment they need for hybrid meetings.
Let's look at some special considerations for hybrid meeting equipment:
Wireless Presentation
Wireless capabilities help you create meeting rooms on demand. The absence of wires to connect reduces your need to troubleshoot and the risk of compatibility issues. You can get your meetings up and running faster and make better use of everyone's time.
A Combination of In-Person and Virtual Technologies
Combining the technologies already mentioned—screens, microphones, cameras, a control panel and speakers—supports all meeting use cases. Meeting rooms can facilitate virtual, hybrid and in-person meetings without the need to reinvent the wheel every time.
Neat devices inherently support hybrid meetings with features that enhance sound and video quality. Cameras focus on all participants equally, whether they're in the same room or in their own home offices. Built-in experiences like Neat Boundary help block out background distractions, such as people or pets entering the room. No matter where your team is meeting, Neat creates a more natural experience for easier conversation and collaboration.
How to Pick the Right Tech for Your Meeting Room
Today's meeting spaces should be flexible and adaptable, which means you should be ready for every type of meeting. Taking a hybrid approach is easier than ever with Neat. Our all-in-one devices remove the guesswork of choosing meeting room tech and cater to all types of meetings. This way, you're always prepared to meet in the moment. Explore Neat devices today.
Sources:
What Executives Are Saying About The Future Of Hybrid Work. McKinsey.
Hybrid workplace model starts with meeting rooms, video. TechTarget.