Equipment Needed for Hybrid Meetings: A Complete Guide
Hayley Cannon, Jul 19, 2022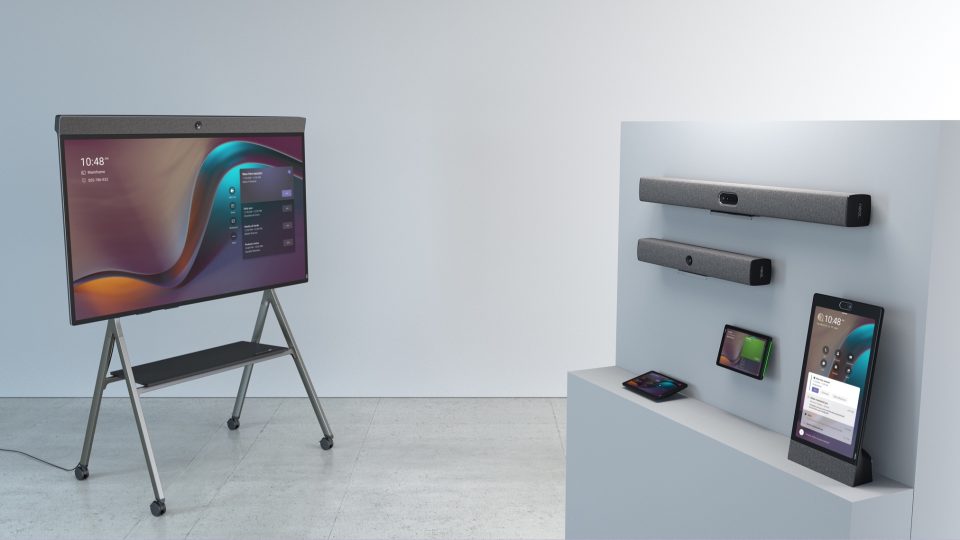 Hybrid meetings offer a level of flexibility that improves collaboration between remote and in-person participants.
If you're looking to make your meetings more productive and valuable for all, read on to explore the hybrid meeting equipment you need to succeed in the digital age.
Key Takeaways
Hybrid meeting rooms improve the meeting experience for both physical and remote participants. The demand for hybrid rooms is increasing rapidly in the digital age.
There are five essential pieces of hybrid meeting room equipment you need to create a successful collaborative environment: a central meeting control panel, hybrid AV technology, an interactive whiteboard, meeting enhancing tools and meeting room analytics.
Choosing your designated meeting space wisely and designing it with care is essential to hybrid meeting success.
Testing your equipment and learning how to use it will help you thrive as a remote meeting participant and ensure you don't cause unnecessary disruptions during meetings.
What is a hybrid meeting room?
A hybrid meeting occurs when some participants join in person and other participants attend remotely. This merging of physical and remote attendance is facilitated by innovative audio and video conferencing technology.
Towards the end of 2021, global meeting room demand increased by 73% in flexible office spaces. The demand for flexible hybrid meeting rooms is on the rise. By equipping your collaborative space with the tools that merge the remote and physical world, you will boost productivity and engagement across the organization.
Did you know? Sixty-three percent of high-growth businesses use a "productivity anywhere" hybrid working model.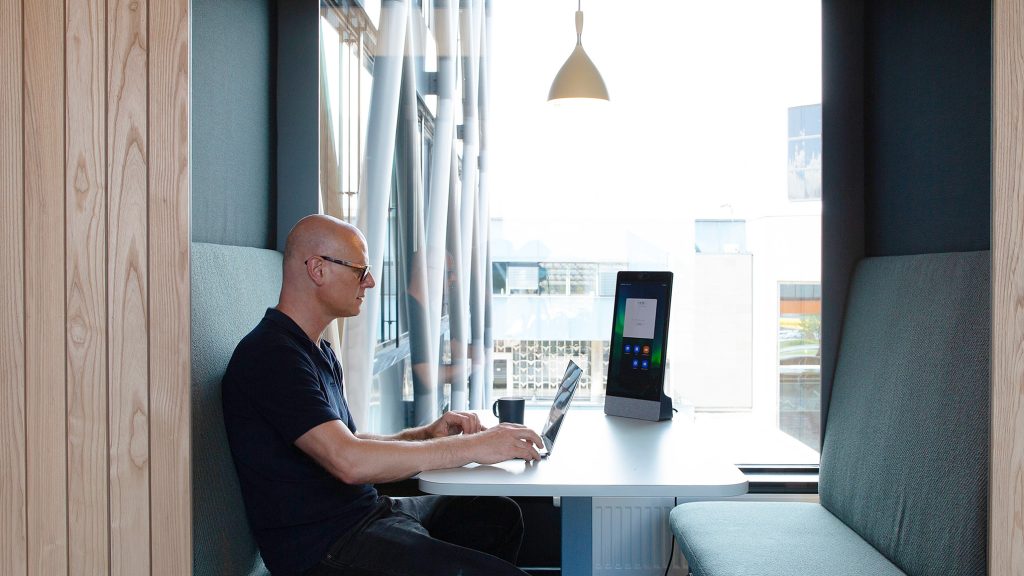 The 5 things you need to set up a conference system for hybrid meetings
Now that you're up to speed with the concept of hybrid meeting rooms and their value in the digital business age, we're going to look at the tools you need to set up flexible modern conferencing spaces.
Here are the five essential pieces of equipment needed for hybrid Zoom meetings and Microsoft Teams conferences.
1. Central meeting control panel
Your control panel will act as your hybrid meeting room nerve center, creating a meaningful meeting experience for all participants.
Neat Pad, for instance, is a touchscreen device that empowers you to control a host of meeting room settings, including screen displays, recording, audio settings, and even in-room comforts like lighting or temperature.
By being able to control these essential meeting room elements from a central place, you can ensure both hybrid Zoom and in-person participants can talk comfortably and clearly.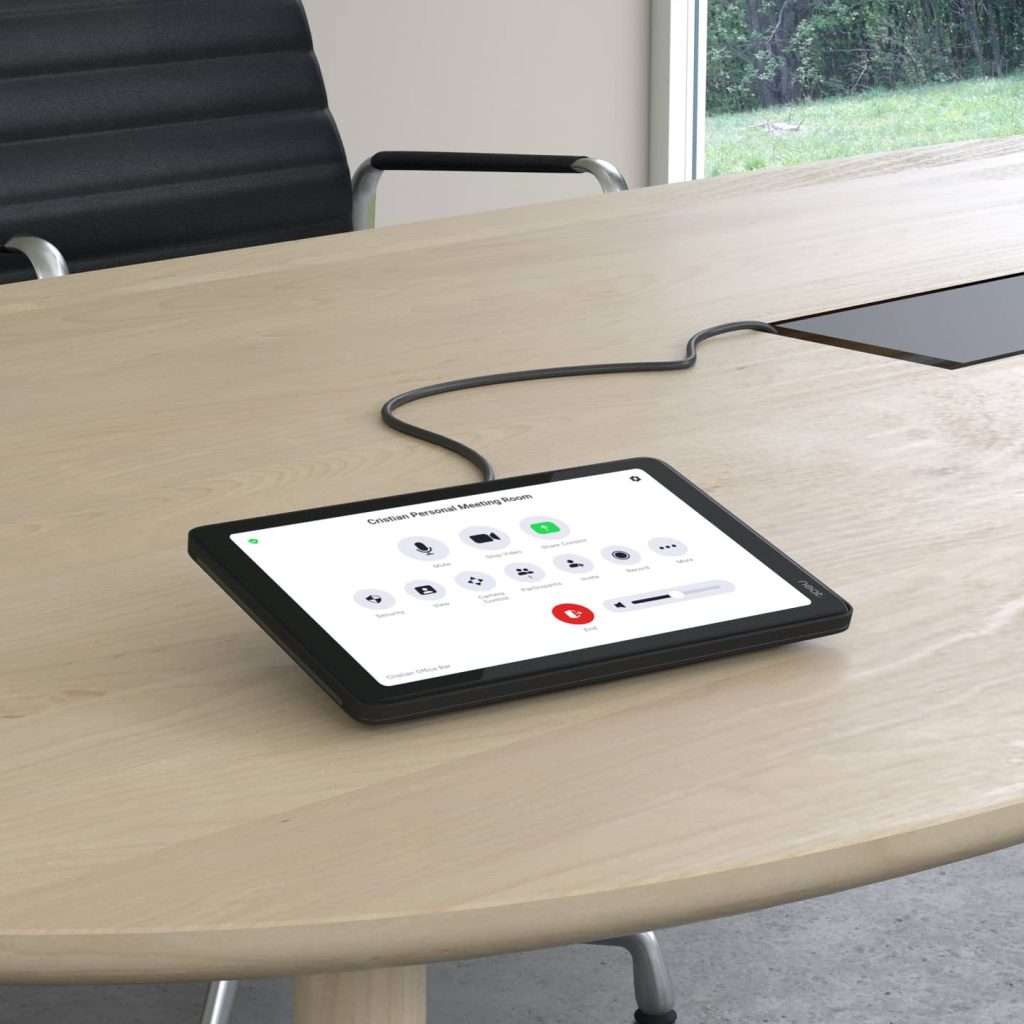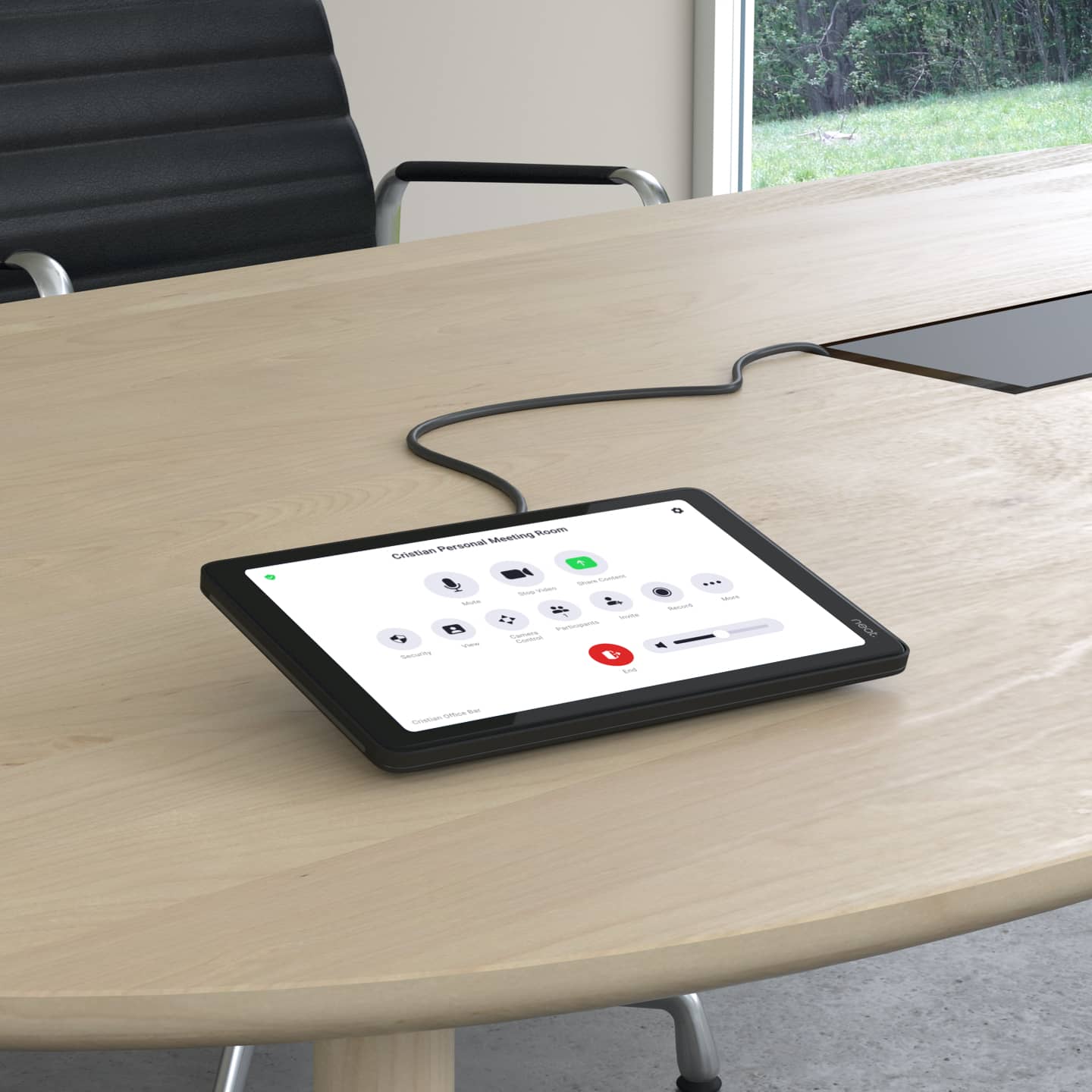 2. Hybrid audio-visual technology
Without a means of providing crystal-clear audio and video for both remote and in-person participants, communication will become strained and people won't be heard.
Neat Bar Pro is a power speaker system that can drive up to three meeting room screens. Not only does this innovation achieve crystal clear stereo-based audio for a fully immersive hybrid meeting room experience, but it also creates a natural sound for fully intuitive communication throughout.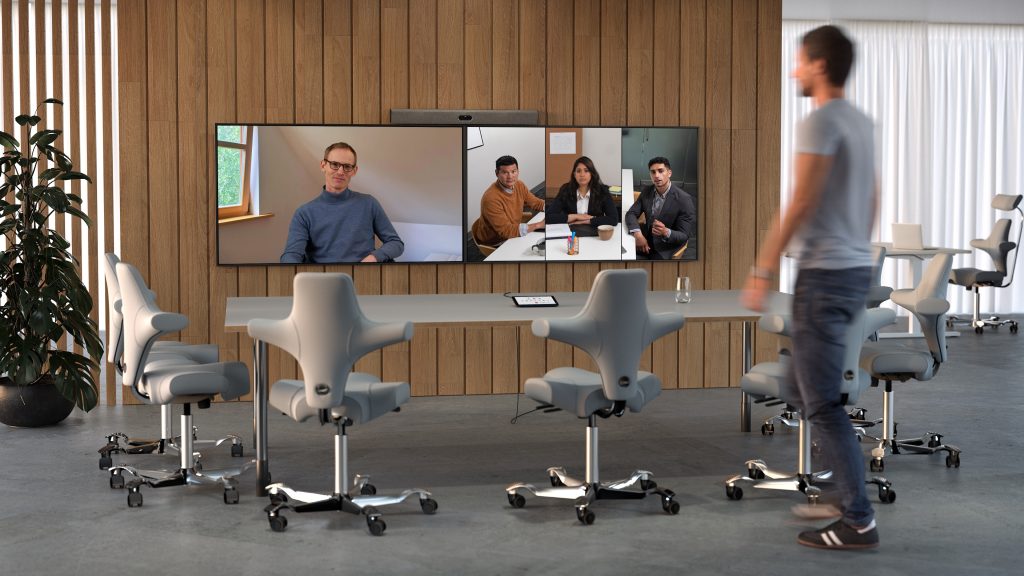 3. Interactive whiteboard and smart board
Interactive whiteboards or smart boards are a key component of the modern meeting space, as they enhance the way hosts share, present and store vital information.
Neat Board is an immersive touch screen whiteboard that integrates seamlessly with Zoom and Microsoft Teams. With Neat Board, it's possible to share dynamic content with every meeting participant while saving information and ideas from every session. This smart board also comes with self-charging digital marker pens for brainstorming and sharing ideas in the moment.
4. Remote visual enhancement tools
The hybrid Zoom and in-person meeting experience becomes more personable with equipment designed to enhance visual settings and provide clarity.
Neat Frame, for example, creates a more natural meeting experience compared to a traditional laptop or tablet. Here, participants can take part in face-to-face conversations on a vivid screen while gaining the ability to see gestures and facial expressions in full. This makes the meeting experience far more engaging for everyone involved.
Another powerful hybrid meeting enhancement tool comes in the form of auto framing. Neat Symmetry is a superior piece of auto framing technology that uses AI to detect meeting participants, frame them naturally and display them equally during a meeting. By doing so, Neat Symmetry creates a more engaging hybrid meeting experience while reducing unwanted distractions from the meeting room.
5. Advanced conference room analytics
An often overlooked piece of hybrid meeting room equipment, analytics dashboards are essential to creating a more comfortable, fluent and healthy experience for all.
With Neat Sense, you can use smart room sensor technology to measure, manage and monitor key conditions, including:
Temperature
Air quality
Humidity
Number of meeting room participants
Having access to this vital data will help you reduce the risk of spreading illness while creating optimal conditions for a safe, comfortable and productive collaborative experience.
4 steps to setting up a hybrid conference meeting room
You know the equipment needed for hybrid meeting rooms. Now, let's consider how to set one up the right way.
1. Choose your conference room HQ
Start by identifying your physical meeting room space or headquarters. Choosing a room or area that can facilitate all of your hybrid meeting room equipment while remaining functional is essential.
Without a space that is well arranged and allows every participant (both remote and in-person) access to crystal-clear audio-visuals throughout, communication and productivity will become an uphill struggle.
For conferencing HQ inspiration, explore our modern take on fully optimized hybrid meeting spaces.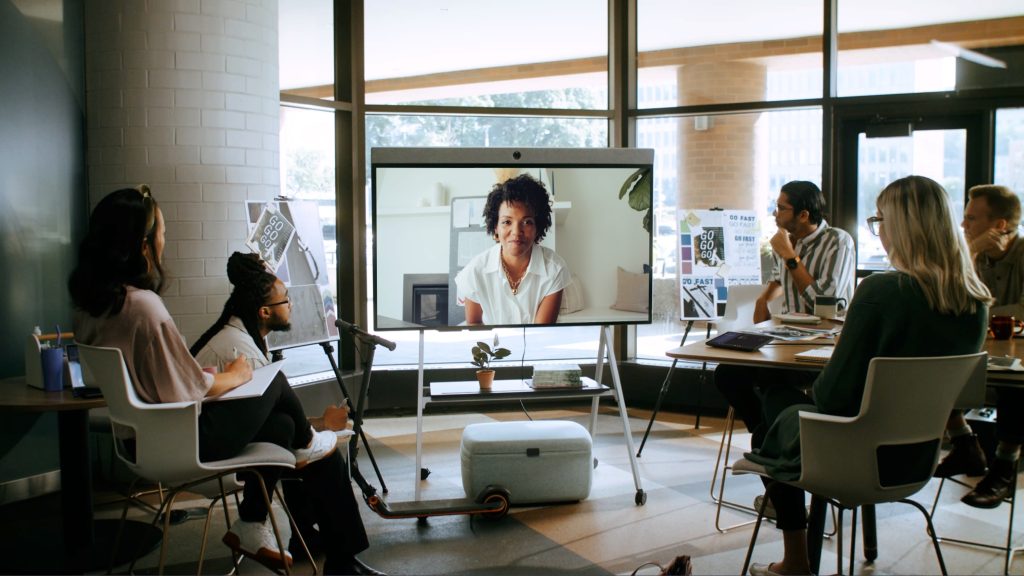 2. Design your space
Once you've selected a space that is functional and meets all of your core meeting room needs, you can design your space.
Working as a team, you should measure the dimensions of the room and create a working diagram. Start by deciding where your table and chairs will be positioned, then add each piece of essential hybrid meeting equipment one by one (whiteboard, audio bar, camera, control panel etc).
Here are some tips for laying out your meeting space:
Create a layout that affords every participant ample space and comfort whether they're sitting, stretching or presenting.
Ensure the space has adequate ventilation.
Avoid too much natural lighting, as this will limit where you can place your whiteboard or screen to reduce glare.
Create a layout where everyone can clearly see the monitor and be captured by the mic (or mics).
3. Choose your tools and technology
To bridge the gap between Zoom or Microsoft Teams and in-person participants, choosing your tools and technology carefully is essential.
Working through the list above, consider how each piece of equipment will suit your needs and fit into your overall hybrid meeting ecosystem.
The key consideration you need to make when curating your hybrid meeting equipment is how it works with your video software.
Neat's hybrid meeting room devices are fully compatible with Microsoft Teams and Zoom. Our unique partnerships also mean that every one of our innovations is optimized for Zoom and Microsoft Teams meeting participants, offering an unrivaled hybrid meeting experience.
4. Train your talent
Finally, to ensure that everyone benefits from your new hybrid meeting setup, you should train everyone in the organization on how to use the tools and equipment to their fullest advantage.
Host small group workshops and regular gatherings or huddles to train everyone on your new hybrid meeting equipment while offering a platform for collecting employee feedback. Doing so will ensure that your hybrid meeting space remains successful at all times.
Read: Video Conference Room Setup: A Complete Guide for a full rundown of how to optimize your modern conferencing space.
Tips for setting up video conferencing from home
If you're a remote meeting host or participant, setting up your video conferencing tools correctly will make it easier for you as well as your fellow collaborators to connect, communicate and share ideas. Here's how.
Optimize your workspace
For the best meeting experience, your personal meeting space should be free from clutter, and your workstation should be set up so that you don't have to crane your neck up or down when talking or listening to people.
Optimizing the lighting in your workspace is also a good way of making sure your video conferencing setup looks great. Introduce as much natural daylight as possible to your space, and if you need to use artificial lighting, make sure it's not placed behind or directly above your workstation, as this will produce glare and unflattering shadows.
Set up your audio-visual equipment and run a test
Before you attend a hybrid meeting, it's wise to run an audio-visual test to make sure everything is working on your end. You can also adjust your camera settings to improve your webcam quality.
If your camera, microphone or speakers are malfunctioning for any reason, you can resolve the issue before the meeting and avoid any productivity-stunting disruption.
Learn your conferencing software's features & functions
Once you're set up with the right tools and technology, take the time to work through every function and feature. If you understand how to use each piece of hybrid meeting equipment in full, you will thrive in any conferencing situation.
To get to grips with modern virtual meeting features and functionality, read our nine essential tips for hosting a successful conference call on Zoom.
The benefits of hosting a hybrid meeting
Last but certainly not least, here are the key advantages of hosting hybrid meetings within your organization. With hybrid meeting equipment, you will benefit from:
More freedom and flexibility, free from the restrictions of in-person attendance or geographical location.
A richer, more immersive experience with greater opportunities for idea-sharing and creative planning.
The ability to go back and examine ideas and conversations post-meeting.
Establishing yourself as a cutting-edge business or industry thought-leader with modern, tech-driven collaborative experiences.
Final thoughts
The hybrid meeting room is the future of collaboration. Create a technology-driven conferencing space equipped with the tools needed for hybrid meetings, and you will thrive in the digital age.
We hope you find this guide helpful. For more essential advice, read our post about the latest conferencing trends for today's workplace.
SOURCES:
Global Meeting Room Demand Up 73% In Flexible Office Spaces. Coworking Insights.
30 Essential Hybrid Work Statistics [2022]: The Future Of Work. Zippia.
Zoom Invests Additional $30 Million in Neat to Further Innovate the Modern Workspace. Zoom.