5 Conference Room Technology Trends for Today's Workplace
Hayley Cannon, Jun 28, 2022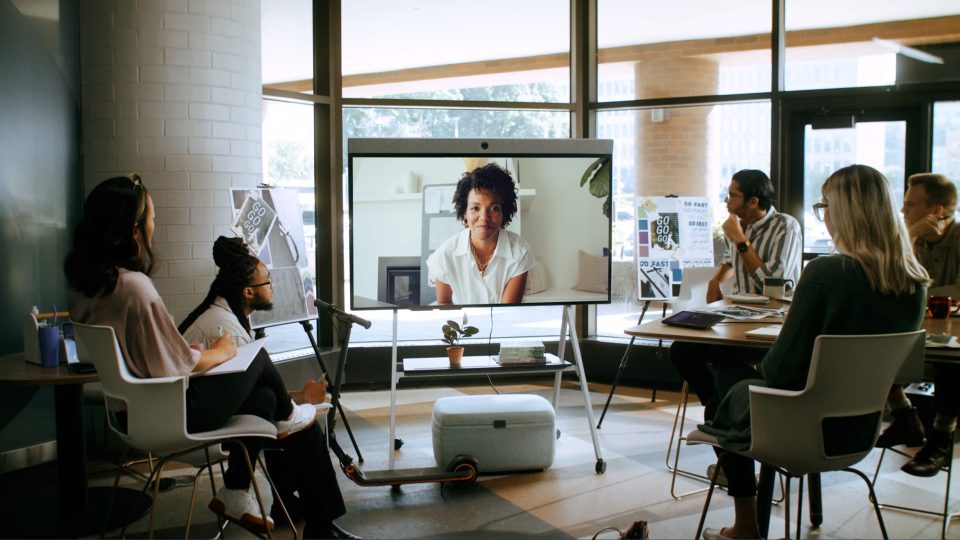 The conference room is the nerve center of any successful business. Meeting with stakeholders in a collaborative environment sparks engagement, drives progress and inspires innovation.
Let's look at five emerging conference room technology trends that drive collaborative and communication success.
Key conference room technology trends: An overview
Touchscreen whiteboards and smart boards are becoming increasingly popular in conference rooms across industries, as they encourage collaboration and help bring ideas to life.
Immersive conference room technologies are empowering businesses to control key conference room conditions from a central device or dashboard while improving idea-sharing and communication with enhanced audio-visual capabilities.
Smart, intuitive devices and tools are merging the virtual and physical meeting experience seamlessly to meet the continued rise of digital transformation and remote working.
Access to meeting room analytics and visual optimization technologies are making conference room experiences more inviting and tailored to the needs of the participants.
Conference room technology as a service is empowering businesses to partner up with industry experts and bring their workplaces into the modern age.
1. Interactive smart boards and whiteboards are becoming more common
One of the most productive conference room technology trends is the introduction of interactive smart boards and whiteboards.
Migrating away from the time-consuming marker pen and eraser model, interactive smart boards are designed to maintain creative momentum and facilitate documentation in the meeting room.
Devices like Neat Board are easy to set up and are equipped with powerful audio capabilities, as well as razor-sharp touch screen technology for an interactive conferencing experience. Neat Board makes visualizing ideas as you brainstorm possible, and it's the ideal device for engaging and productive blue-sky meetings.
Did you know? Droves of businesses are adopting digital whiteboards, and 55% of mid-size companies currently use digital whiteboards. Interactive smart boards and whiteboards are becoming commonplace in today's digital workplace and classrooms. By leaving the traditional whiteboard and projector setup in the past, you can enhance internal collaboration while improving the way you share critical organizational ideas or information with external stakeholders.
2. Conference room technology is getting immersive
Digital transformation has changed the way modern businesses engage both internally and externally. As such, the modern workplace has seen a wealth of immersive conference room innovations that are enhancing the collaborative experience.
Smart innovations, including touchscreen pads and tablets, empower businesses to take control of the conference room experience with a simple swipe of a screen or click of a button. Coupled with interactive smart boards and superior audio technologies like panoramic soundbars, today's conference room is designed to maximize collaboration, communication and transparency.
Today's immersive conference room technology ideas are easy to set up, making them highly accessible. Most modern conference room tools or innovations are also intuitive, making tailoring the meeting experience to specific needs or preferences swift and simple.
Neat Pad, for instance, is a digital control panel that ensures a conference room is always ready for meetings while giving users the autonomy to control visual displays and audio settings. With integrated LED sensors, Neat Pad also shows whether the meeting space is available, streamlining the room booking process.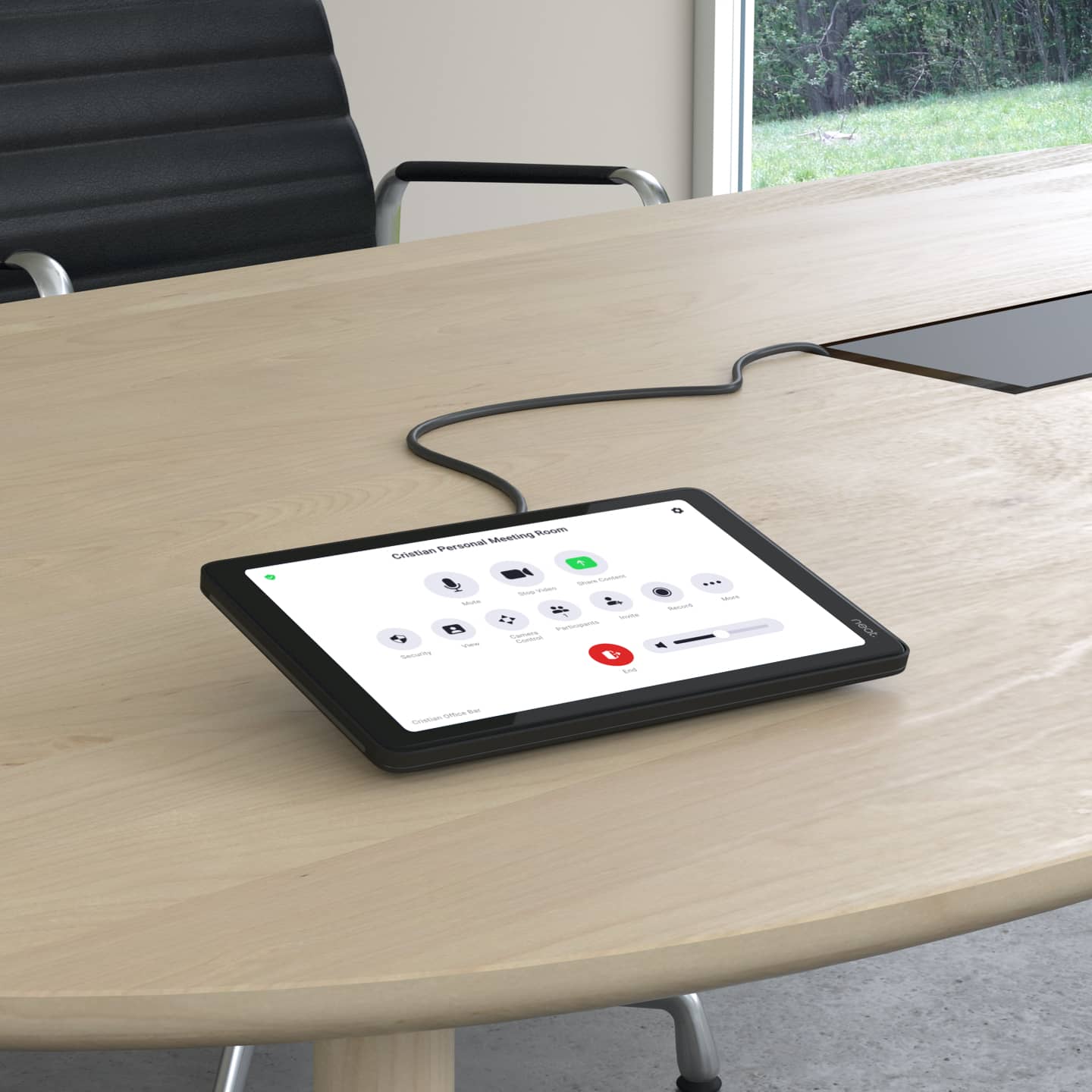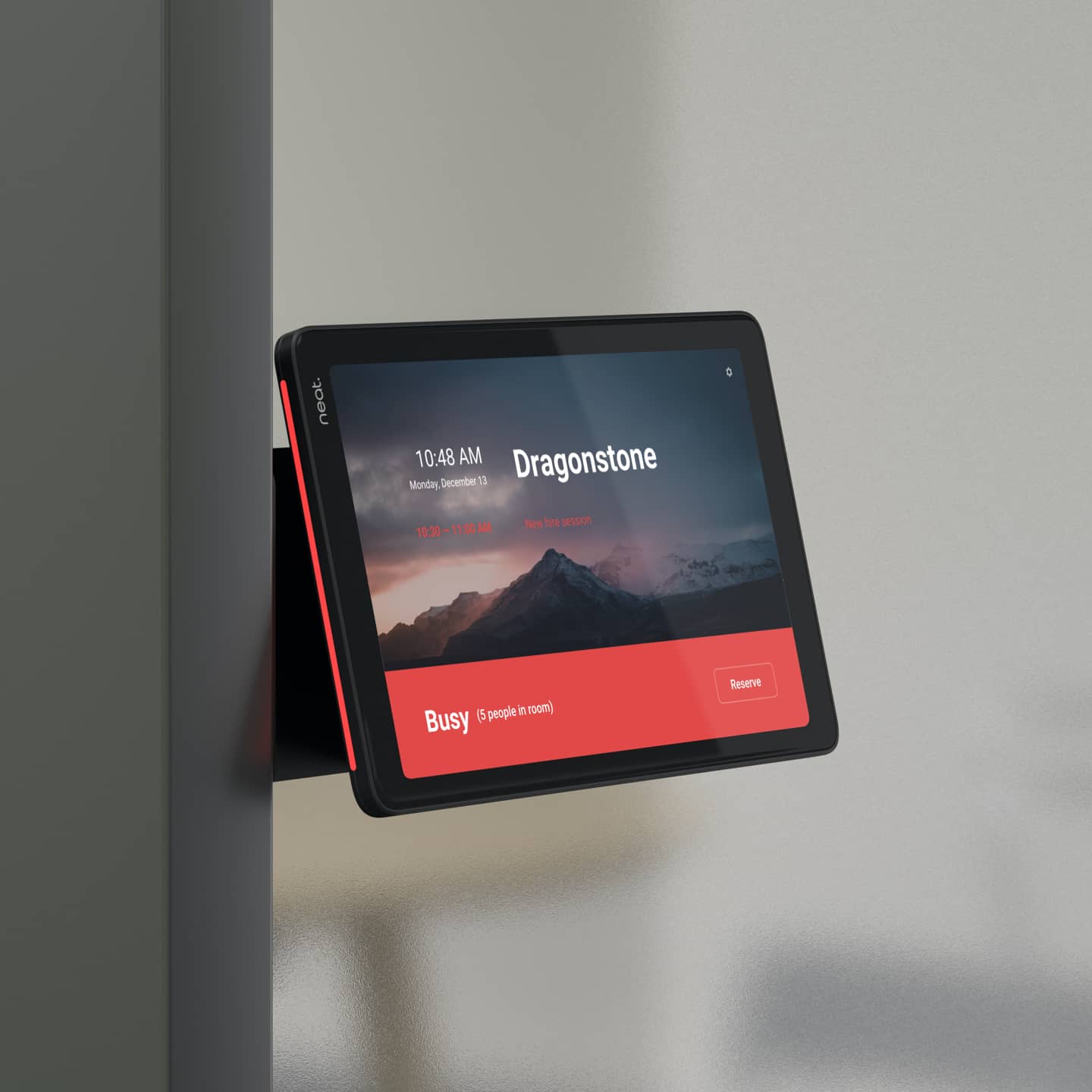 3. In-person and remote audience integration
In today's workplace, the concept of creating a productive experience is the focal point of the conference room. With 79% of working professionals perceiving video conferencing to be just as productive as face-to-face meetings, organizations are leveraging hybrid conference room technologies to integrate virtual and in-person meetings.
Video conferencing tools are becoming more dynamic. A raft of cutting-edge innovations now exists to allow free movement and natural interactions during meetings without compromising on visual or audio quality.
Neat Symmetry, for example, is a visual innovation that ensures everyone is displayed equally and with full clarity whether they're sitting, standing, remote or in the room. Participants can talk, walk and share ideas with everyone free from the confines of a traditional, stationary camera. This drives engagement and makes the meeting space more personable and equitable.
Neat Boundary is an intuitive tool that removes unwanted distractions by allowing participants to set personalized virtual parameters. You can essentially filter out any distractions or people that aren't directly involved in your meeting by suppressing noise or visuals outside your virtual boundary. This is excellent for improving focus and engagement in home offices, bustling spaces or open-plan layouts.
Neat Frame is another innovation that significantly enhances virtual conversations by optimizing the audio and visual experience. This all-in-one device allows participants to catch every gesture, phrase, movement and nuance during every meeting without being chained to their laptops or tablets.
Modern workplaces are combining these technologies to create a conference room ecosystem that mirrors natural in-person conversation and collaboration.
4. More personalization in the conference room
Another key conference room technology trend in today's workplace is greater personalization within the meeting space.
Many traditional conferencing spaces are dull, disengaging, and uninspiring. At least 31% of working professionals feel their current meeting room is boring, with 25% stating that integrating technology into the conference space would make a vast improvement.
One of the main reasons some traditional conferencing rooms are characteristically dull is a one-size-fits-all approach to the collaborative experience.
We've discussed how Neat Pad and similar innovations make controlling the meeting room experience smooth and seamless. There is a wealth of additional tools and technologies that make the meeting space more comfortable for every participant while improving focus and sparking engagement.
For example, businesses may overlook the role of data in creating a comfortable, creative and personalized conferencing space—but it counts. Neat Sense offers accessible analytics based on key aspects of your conference space. It provides insights based on air quality, room temperature, participants and a host of other conditions that you can tailor to the specific requirements of your meeting space.
5. Conferencing room technology as a service is rising in popularity
Conference room technology as a service has emerged as a viable solution for organizations across industries. In fact, 90% of North American businesses are likely to invest more in video conferencing this year and beyond.
Gaining the ability to create personalized conferencing ecosystems and spaces using purpose-built, all-in-one technology that can be managed from one central dashboard empowers today's workplaces to tie all of the above concepts together. This fosters a level of productivity, communication and innovation that accelerates individual and organizational growth.
Working with the right video conferencing partner will give you unlimited access to the tools, technology and expert consultancy you need to provide the best conferencing experience.
Case Study: Faced with several conferencing challenges, leading UK law firm TWM approached Neat to improve its approach to collaboration and communication across its seven offices.
By implementing Neat Pads and Neat Bars across the business, TWM realized its goal of achieving an innovative hybrid meeting model that offers a rich, rewarding and completely seamless meeting experience across the board. By embracing tools that facilitate video conferencing and remote audience integration, the law firm has established itself as a dynamic modern workplace.
The devices are really well-designed, easy to use, and they make a real difference to the business.

Alan Barrett, Head of IT at TWM Solicitors
Final thoughts
In the modern business age, engaging with your internal talent and external partners the right way is critical to your ongoing success.
Today's most forward-thinking businesses are investing in conference room technology that makes immersive, personalized conversations and communications seamless both virtually and in person.
Are you ready to create the conference room of the future? Explore our range of customized conferencing spaces. And if you have any questions about our technology or innovations, simply reach out to one of our experts. We look forward to hearing from you.
____
SOURCES:
84 Video Conferencing Statistics for the 2021 Market. Trustradius.com
The future of work after COVID-19. McKinsey.
Digital whiteboards' remote collaboration underused by organizations. Tech Target.