What to look for in conference room cameras
Hayley Cannon, Jun 20, 2022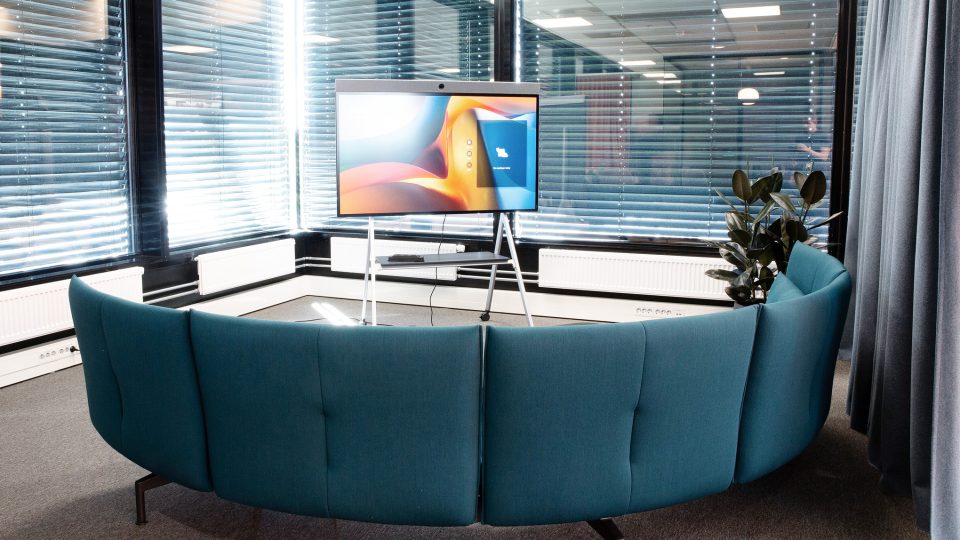 Key take-aways.
Conference room cameras/webcams with high quality video resolution are vital.
There are many webcams on the market today to suit any budget, plus devices that have built-in cameras.
Ease of use is key to avoid delays to video meetings and unnecessary frustration.
Video conferencing features like auto framing make video meetings more effective and enjoyable.
What is a webcam and why use one?
A webcam is a video camera capable of streaming video and audio in real-time, typically video meetings. These small cameras can sit on a desk, attach to a monitor or come built into multi-functionality hardware such as screens and soundbars.
Cameras for video conferencing are a crucial piece of equipment for businesses worldwide, enabling colleagues to connect in real-time with each other and with customers wherever they are located geographically.
How to choose the right conference room webcam.
Get the best for your budget.
Webcam features and quality vary greatly to suit a range of different budgets. Whatever your budget is, your priority should be high resolution video. It's the cornerstone of effective video conferencing. There are many affordable webcams on the market today, as well as soundbars and screens with built-in cameras, capable of delivering excellent image quality.
High resolution video is key.
When it comes to video conferencing, 1080p resolution is a great option and is fast becoming much more common and affordable. Anything below 720p is unlikely to deliver a satisfactory user-experience, so steer clear.
Consider the quality of your office internet.
The quality and speed of your internet connection will also impact your video conferencing experience so you may also need to upgrade your internet if your business relies on video meetings.
Choose the right field of view for your space.
Take into account the size of the space you are purchasing a camera for. Is it a small huddle room, a medium-size space or a large conference room? Smaller, more cramped spaces require a camera that can take in a larger field of view, to capture everyone's faces so close to the camera. Cameras for larger conference rooms require less, as people can position themselves more directly in front of the camera.
Opt for a camera that is easy to position.
The best webcams are lightweight, simple to secure in place, for example they can be attached above or below to a monitor with a simple snap-on mount. This prevents cameras being accidentally knocked out of position during video calls.
Don't neglect audio quality.
We can't talk about how to choose the right camera without also touching on sound. Your video conference setup needs a microphone and speakers to allow for two-way sound. These might be stationed on the table or mounted near the video display. Larger rooms will require powerful mics to pick up sound from anywhere in the room. You might also need multiple microphones for larger conference rooms or if you have multiple displays.
You can purchase each of these components separately. Or, a single device can check off several boxes at once, which is a more cost efficient way forward. Neat Bar, for example, combines a powerful camera with a 5-mic array and easily snaps onto the top or bottom of a display.
Integration with Zoom and Teams.
Finally, check that the camera or device you're interested in is compatible with the video conferencing platform you use, such as Microsoft Teams or Zoom. To further ensure a reliable experience, look for hardware that is certified for Microsoft Teams or Zoom. In fact, better when they're made for each other, as concluded in The Neat Bar Review: Designed For Zoom written by independent guide UC Today.
Reduce visual clutter.
When choosing a webcam or device with built-in camera, go for a product with a single, direct HDMI connection and wireless features. Meeting rooms look messy and chaotic when there are too many wires and connections in view.
Striving for the right meeting room aesthetic is another reason why many people opt for multi-functionality devices such as NeatFrame, NeatBoard and NeatBar. Each has a built-in camera ideal for video collaboration and a sleek, minimalist design.
Ready to use in just one step.
So many meetings are delayed or get off to a disappointing start due to cameras that are too complicated to connect and get working. The cameras built-in to Neat devices work in just one simple step. They also auto-flip the view to ensure it is always correct whichever way round the device is mounted. This is the new benchmark in video collaboration.
Specialist video conferencing features.
Cameras with features that optimize the video conferencing experience are a great investment, making meetings run more smoothly. Look for cameras that automatically frame the faces of meeting attendees, so that they can move around more freely within the meeting space without compromising communication.
Another great feature to look out for is being able to set the width and depth of the space you want to be captured on video. All Neat devices have Neat Boundary as standard. Set the area you want in view and remove background clutter and distractions.
Get the right conference room set-up for your business
Perfecting your video conference room setup enhances productivity, collaboration and connection. While traditional video conferencing solutions require expert help, Neat solutions are purpose-built to be simple. Speak with a Neat expert today, to discover a video conference room setup that works for your business.
References
Webcam. Wikipedia.
The Neat Bar Review: Designed For Zoom. U C Today.
ISE 2020: Neat Shows Off Its Neat Bar for Use with Zoom Rooms. Rave Pubs YouTube channel.