Future Positive
Neat, Oct 20, 2020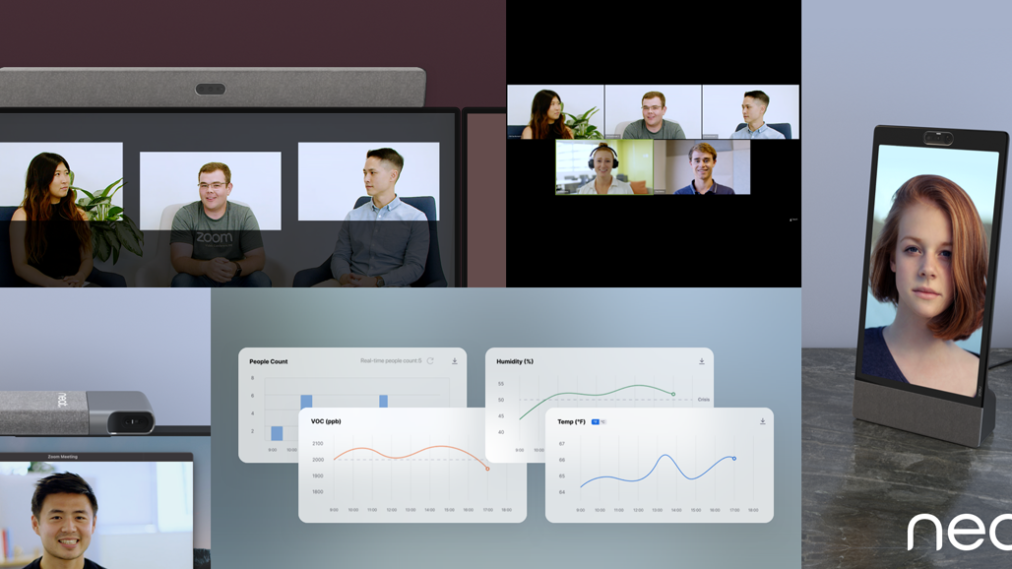 Neat debuts three new leading-edge solutions for meeting rooms, personal and home workspaces at Zoomtopia 2020.
Zoomtopia 2020 was action-packed. For a start, Neat was immensely proud to celebrate our one-year anniversary with Zoom and all of you who participated in this year's first entirely virtual event. We were also super excited to be an intrinsic part of the innovative products and features that Zoom unveiled in its keynotes. Over the past 12 months, Neat has revolutionized how Zoom customers experience video meetings by introducing you to our simple, elegant and reliable purpose-built for Zoom video devices, Neat Bar, Neat Pad and Neat Board. At Zoomtopia last week, we debuted three new leading-edge solutions for meeting rooms, personal and home workspaces – Neat Bar Pro, Neat Frame and Neat One.
To glimpse the future and the more natural human connection that awaits, watch our friend Jason Silva, former host of NatGeo's Brain Games, enthuse about Neat creating video meeting room magic in the new way of everything at neat.no.
Safer rooms for better health
Like all Neat devices, Neat Bar Pro includes Neat Sense, an advanced set of capabilities that lets you monitor your meeting rooms, ensuring you always maintain a safe and healthy working environment. As Zoom just announced, you'll soon be able to see all data and statistics collected by Neat Sense on the Zoom dashboard, helping you keep track of noise, light, and for optimal social distancing, the number of people present in a room, or whether it's empty. You'll also be able to assess environmental factors, including air quality, humidity, CO2 and VOC (organic chemical levels in the room – scents, odors, etc.)
Neat Bar Pro offers everything our hugely popular Near Bar delivers while taking it up a notch. It's a powerful yet simple and elegant meeting room device capable of driving three large screens, enabling you to simultaneously see both people and content more clearly and easily. Incorporating two extreme resolution cameras and an advanced image depth sensor that combined deliver 16x zoom, Neat Bar Pro allows you to enjoy an incredibly immersive premium experience throughout any meeting room big or small. It also has an advanced microphone array for clearer audio pick-up in larger rooms, and three full-range speakers that produce superb stereophonic sound. Plus, Neat Audio Processing means no garbled 'double talk' issues or problems with background noise.
Another pioneering feature is Neat Symmetry. Without doubt, Zoom has totally transformed meetings, but the bridge between the physical and virtual remains broken. Well, not for much longer! Neat Symmetry will dramatically reshape how you and others in the meeting room engage with your remote colleagues or clients by zooming in on all of you in the meeting room and presenting everyone up close and personal in Gallery View. It makes it more accessible for anyone remote to see and read every facial expression or gesture, encouraging greater spontaneous face-to-face communication.
Making meetings from home easier
The COVID-19 global pandemic and resulting lockdowns and social distancing measures have forced a radical shift in working patterns. As many of us continue to work or learn from home, having to deal with the stresses and strains of trying to stay connected and focused with colleagues, clients and others, while balancing domestic duties is becoming increasingly difficult. So Neat has developed two inspired new personal devices to make life easier. Depending on your preference, both Neat Frame and Neat One ensure you enjoy excellent audio and video from your home office, kitchen, living room or anywhere else around your home.
Neat Frame is a striking all-in-one Zoom for Home touch screen device with a high-quality camera, stunning audio output and lighting effects. Beautifully framing you in portrait mode, Neat Frame makes it easy for you to meet and always look and sound your best. What's more, it incorporates a brilliant new feature called Neat Acoustic Bubble that eliminates any unwanted background noise. Neat Frame has a small footprint, so you can easily move it around.
Neat One is the world's first personal USB device to pack a top-notch camera, advanced mic array and speakers into a compact design. Connecting to your laptop, it delivers a fantastic audio and video experience to your Zoom Client for Meetings or any other video app of your choice. It incorporates Neat Acoustic Bubble too and lets you conduct meetings from your laptop using an external screen. Discover more about Neat Frame and Neat One and when they're available here neat.no/personal.
Collaborate on content in a whole new way
A further welcome announcement from Zoom at Zoomtopia 2020 was that it will deliver some amazing collaboration experiences to Zoom Rooms for Touch. Empowering you to share and collaborate on content in a whole new way, Neat is at the forefront of these innovations with Zoom to make Neat Board an infinite canvas for your creativity to thrive. Being the complete Zoom Rooms package in a sleek all-in-one device, Neat Board has an immersive 65-inch 4K multi-touch screen, dynamic audio range and versatile wide-angle camera. It enables annotations and whiteboarding and comes with Neat Marker, so you don't even have to touch the screen with your fingers. Neat Board is available to order now at neat.no and ships at the end of October.
As always, Neat is working in partnership with Zoom to bring you radically simple, innovative and flexible experiences across many product and service categories for meeting rooms and now personal and home workspaces. Neat is continuously committed to addressing whatever meeting room challenges Zoom customers face today and in the future. Core 57, for example, is a unique US fitness community in Alpharetta, Georgia. Like many small to medium-sized businesses, the pandemic threatened to shut them down. That was until Neat Bar saved the day. By deploying several Neat Bars across its two primary locations, Core 57 can carry on delivering personal training classes to all its members (click on the link to see and hear their story https://neat.no/bar/core-57/.)
So, no matter what happens, however you want to work, learn or interact, Neat's got your back! Go to neat.no/zoomtopia2020live/ today and sign up for a live product demo of how Neat can help you enhance your Zoom meeting room, work or personal space (demos end Oct 30th.)