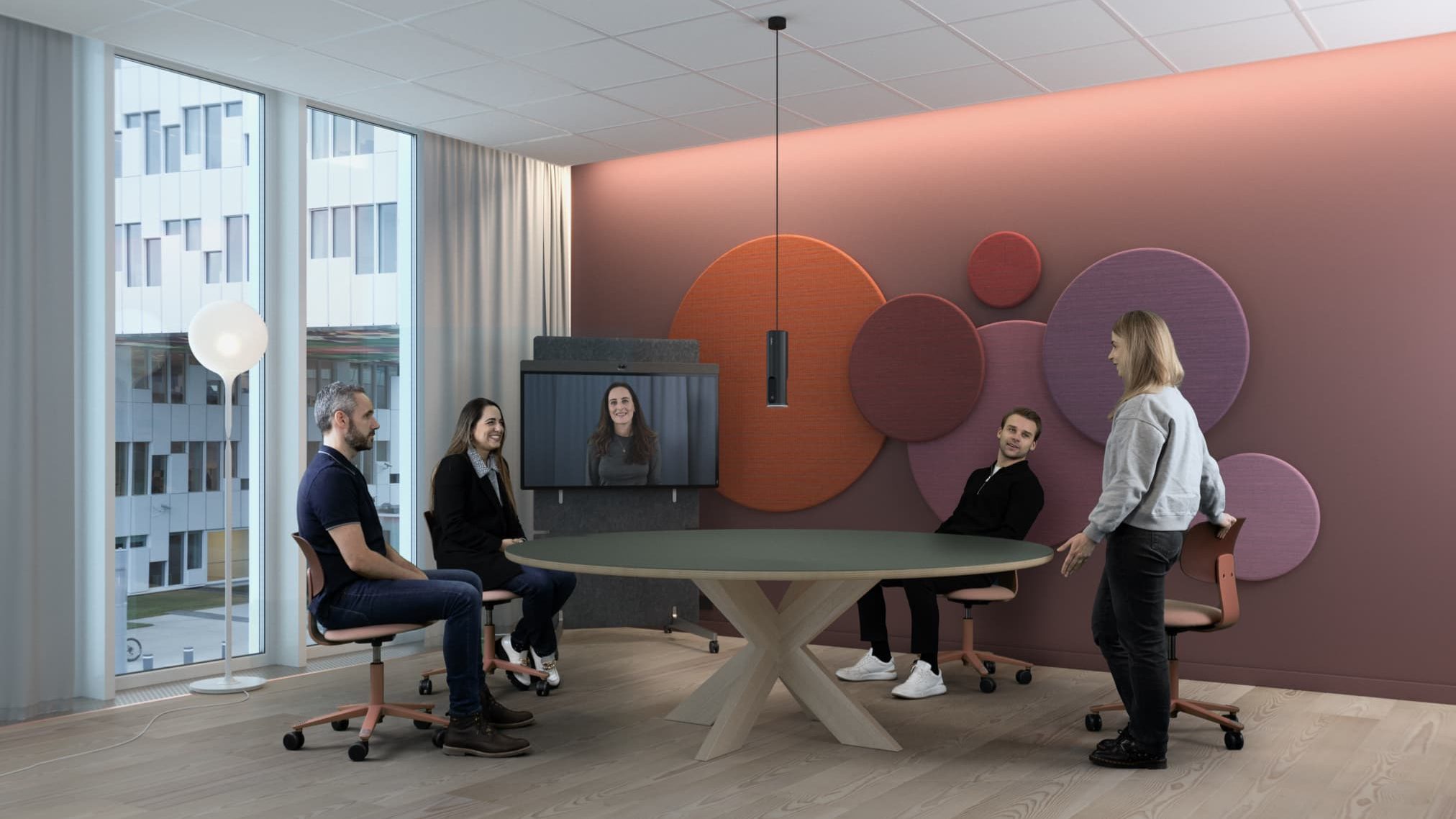 The wait is over! You can now pre-order Neat Center, our new companion device that enables remote meeting attendees to feel like they're sitting around the table with their in-office teammates for a more inclusive hybrid meeting experience.
As a hybrid worker at Neat, I know the experiential difference between physically being in meetings with my teammates at the office instead of working from home and connecting with them over video. Primarily, nothing beats being in a room with people. That's because you can catch every nuance and intuitively gauge the mood when physically together. Hence, in-person meetings feel more natural, relaxed, and inclusive, unlike being online, which can sometimes feel stifled, awkward, or alienating.
Simulates the feeling of physically being together
With employees like me rotating between the office and working from home on any given day, not everyone on your team will likely be simultaneously at the office or in the same room. So, hybrid teams need unique video technology that simulates the feeling of physically being together as much as possible, technology that breaks down the digital divide to a degree where, although you're working from home, you feel like you're in the room and sitting around the table with your teammates at the office. What your hybrid teams need is a device like Neat Center.
Remote meeting attendees don't miss a thing
Neat Center is a companion device that works seamlessly with your main Neat device while boosting our pioneering and patented Neat Symmetry capabilities. Housing a 360° 3x lens camera, a 16x omnidirectional mic array, and advanced AI that dynamically analyzes the room and everyone in it, Neat Center brings remote attendees to the center of the conversation like never before, so they don't miss a thing.

It enables them to gain a closer, more natural audio-visual perspective of their teammates sitting in a meeting room at the office. Even when you're in an office meeting room and are far away from the main device or facing inward, discussing something with others, your remote teammates will still see and hear you clearly, making them feel less of a fly on the wall. Neat Center helps them enjoy enhanced context and engagement like you're all in the room together.
Simple to set up and install
Neat Center is simple to set up and install, with a single cable for network and power. Moreover, thanks to its highly flexible, self-calibrating design, you can position it anywhere in the room and ensure everyone's always seen and heard. For example, you can place it on your meeting room table or hang it above, whatever suits your spaces or use cases best. No matter how you deploy it, Neat Center helps your remote and in-office teams feel closer together than ever, making your hybrid meetings on Microsoft Teams or Zoom far more inspiring, productive and rewarding for all.
Neat Center is available to pre-order now!
See Neat Center in action by signing up for our Don't Miss a Thing with Neat Center webinar.
For questions about any other Neat devices, please get in touch with one of our product specialists at hello@neat.no. Better yet, book a demo and experience them for yourself!