10 Tips for Efficient Hybrid Conference Room Configuration
Hayley Cannon, Sep 20, 2023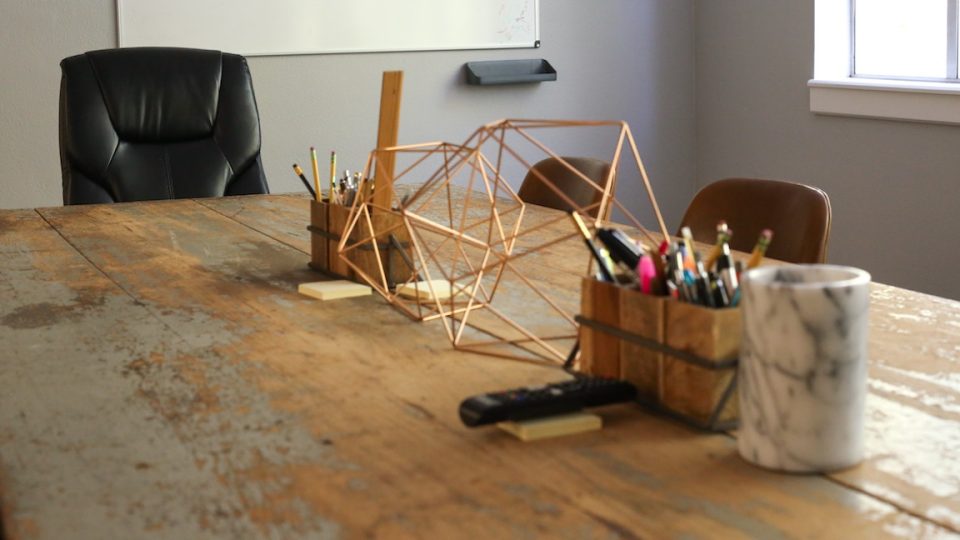 Scratching your head over conference room layout, seating arrangements and technology? Check out our comprehensive guide to creating better hybrid spaces.
Key takeaways:
When creating a hybrid meeting space consider seating layout, ergonomic seating, modular furniture, multiple screens, the position of audio-visual equipment, color, lighting and acoustics.
Neat makes high-performance video collaboration devices purposefully designed for hybrid conference rooms.
How to configure a meeting space for hybrid meetings
Here are ten important hybrid meeting space considerations:
1. Meeting equity
All attendees should feel equally involved and engaged in the meeting, not just the ones in the physical meeting room. Arrange seating so everyone is oriented towards a camera and screen that connects people in the meeting room to their remote colleagues.
Also, choose video technology that's designed to deliver hybrid meeting equity. Neat devices come withNeat Symmetry, which auto-frames participants and presents them all on-screen with an equal amount of space – whether they are in the physical meeting room or joining remotely.
2. Ergonomic seating
Ergonomic seating has always been a good idea in meeting rooms, but in a hybrid meeting environment, it's even more important. Choose seating that supports people's back and neck when they are looking at screens for long periods of time. Height adjustable seating is also great, allowing each person to position themselves so screens are at eye level.
3. Flexible furniture and technology
The best hybrid meeting spaces are versatile. Modular, portable furniture and technology give you so many more room layout options so you can tailor every meeting to your exact needs. Today, you can find modular seating and sofas, extendable and height-adjustable tables and desks. Some all-in-one video conferencing devices are also height adjustable and portable, like our Neat Board 50 multi-touch screen for whiteboard and creative collaboration.
4. Multiple display screens
Video conferencing involves looking at participants on-screen, presentations and other shared materials. That's a lot of different things, so consider having two or three screens in your meeting room – to help people catch everything they need to see.
5. Strategic positioning
Audio and visual equipment needs to be positioned correctly, both in meeting rooms and remotely:
Speakers – Position equally spaced speakers for balanced sound, angling them inward and avoiding obstructions.
Microphones – Place mics close to speakers or participants, consider boundary mics for even coverage and use lapel/headset mics for mobility.
Webcams – Mount cameras at eye level, opt for wide-angle views and prevent backlighting for clear visuals.
If using an all-in-one video conferencing device, the mics, speakers and webcam are all built-in, which means you only need to position one device correctly.
6. Optimal light and acoustics
Natural light is ideal for a clear view of participants, however, too much direct sunlight can cause overexposure. Experiment to achieve the right balance. Alternatively, artificial lighting can eliminate shadows and ensure clear visibility both in the meeting room and remotely. It also gives you more control over the brightness of the room at different times of day and in different weather.
The sound and acoustics of a room also have an impact on the video meeting experience. Rooms with an echo or too much background require acoustic panels or sound-absorbing materials to minimize distractions. Some video conferencing devices, like Neat devices, also have high-performance audio processing to tackle issues head-on – enhancing the audio experience.
7. Cable management
The fastest way to make a conference room look cluttered is to let your cable monster get out of control. Keep wires and cables out of view, and keep them tidy with cable ties or tubes. Also, label cables for easy identification.
Alternatively, invest in more streamlined video conferencing devices, like Neat, that deliver high-performance video meetings with fewer cables – and even wireless formats.
8. High-performance video platforms
Your hybrid conference room is only as good as your video platform! Fortunately, there are many options available including Zoom and Microsoft Teams. Thoroughly research your options and always try before you buy by taking advantage of product demos and trial periods.
Did you know? Neat devices deliver native Zoom and Microsoft Teams experiences and have excellent independent user reviews and customer case studies.
9. Creative decor and design
Customize your conference room to fit your company image, whether that's corporate chic or creative cool. Consider paint colors that reflect your brand, soft furnishings for style and comfort, and artwork that inspires your workforce.
10. Clean air
In addition to looking great, plants are a great way to clean the air in your meeting space. Notable examples include the Spider Plant (Chlorophytum comosum), renowned for its formaldehyde and xylene removal capabilities; the Snake Plant (Sansevieria trifasciata), which efficiently eliminates formaldehyde, benzene, and xylene; and the Peace Lily (Spathiphyllum), recognized for its ability to filter out ammonia and benzene, while also increasing humidity levels.
Did you know? Neat video collaboration devices all come with Neat Sense, a feature which monitors room temperature and air quality, including humidity, CO2 and harmful VOCs.
Showcasing Neat video collaboration devices
Neat's innovative video collaboration devices are making waves in hybrid companies because they were designed with hybrid working front and center. In addition to the highest quality audio and visual experience, all our devices are simple and intuitive to use – without any training required. We work directly with Zoom and Microsoft Teams too, to deliver a truly native experience of these video meeting platforms that is continually updated to take advantage of the latest features these pioneers have to offer. Other Neat benefits include BYOD support and 3rd party app support. Here's a selection of popular Neat devices:
Neat Bar & Neat Bar Pro
Neat Bar is a simple and elegant, compactly designed yet highly capable meeting room device for Zoom or Microsoft Teams. It's perfect for bringing superior-quality audio and video to your meeting, huddle or focus rooms for up to ten people. Neat Bar Pro is our even more powerful videobar, capable of driving three large screens, so you can see people and content together more clearly.
Neat Board & Neat Board 50
Neat Board is the complete meeting room package in a simple and elegant all-in-one device. With its immersive 65-inch multi-touch screen, powerful audio system and versatile wide-angle camera, Neat Board gives you a collaboration experience beyond video meetings and wireless content sharing by enabling annotations and whiteboarding.
Neat Board 50 offers even more flexibility and portability. Wheel it from space to space, draw it closer towards you, and even dive into your favourite apps.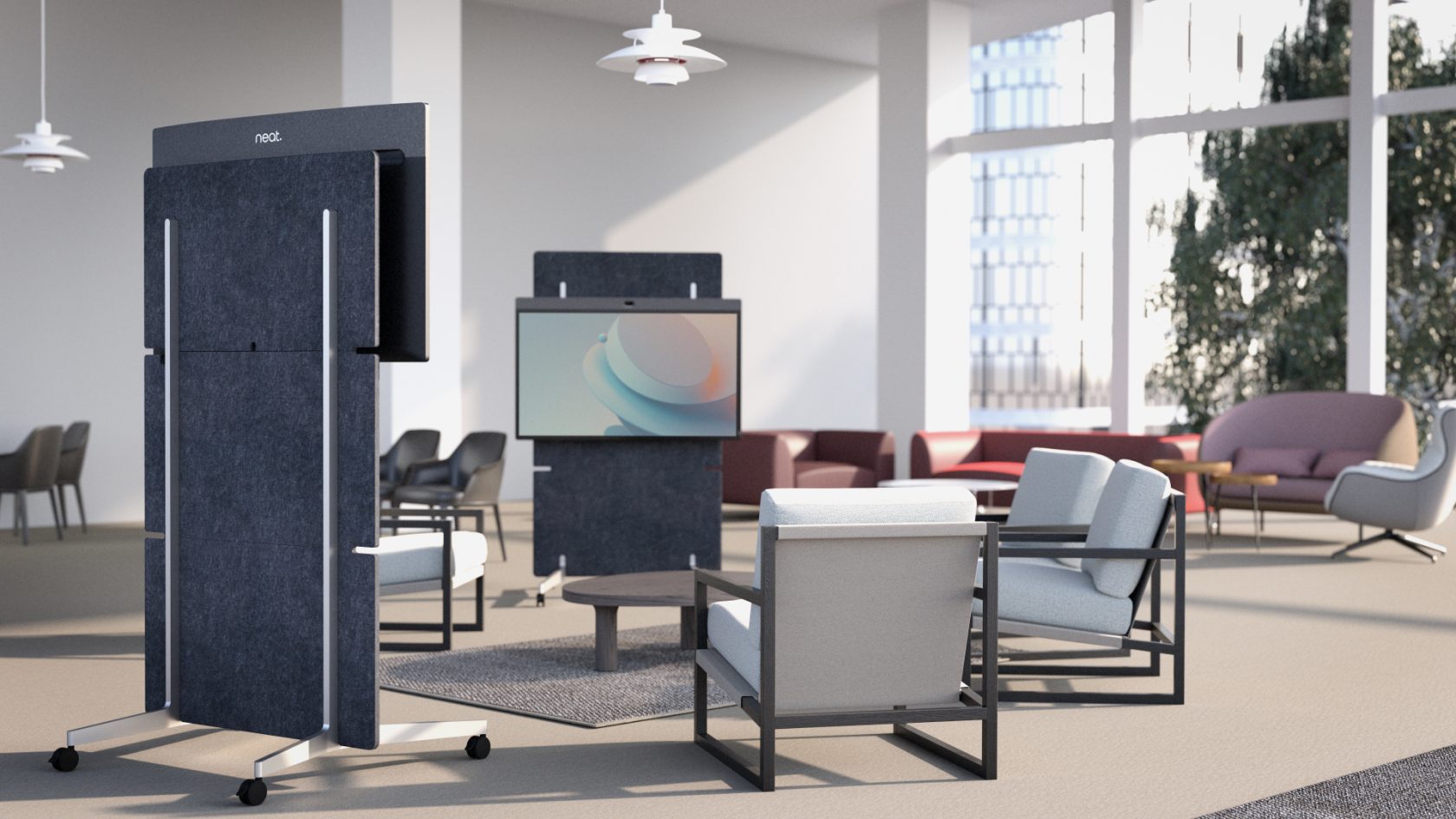 Neat Pad
Neat Pad is a simple and elegant touch screen which you can use to control your meetings or display room availability outside the room. With its sleek design, including an ideal screen angle for smooth interaction and viewing, Neat Pad beautifully blends in anywhere, whether placed on a table, wall or mullion. Thanks to just one Power over Ethernet cable, Neat Pad never runs out of battery either. It's always on, ready for you to leap into action.
Want to know more about how Neat can support your hybrid workforce? We'd love to hear from you. Get in touch with one of our product specialists today at hello@neat.no or take the plunge and book a demo.
Sources
The Ultimate Conference Room Setup Guide for 2023. DGI.
Choosing the right size conference table. OFW.
Sound Absorption Solutions For Meeting Rooms. The Soundproofing Store.
11 Best Cable Management Solutions for a Clutter-Free Setup. GT.
Air purifying plants: 20 of the best for your home. Better Homes.