Neat Turns up the Heat for Microsoft Ignite
Sherri Pipala, Oct 13, 2022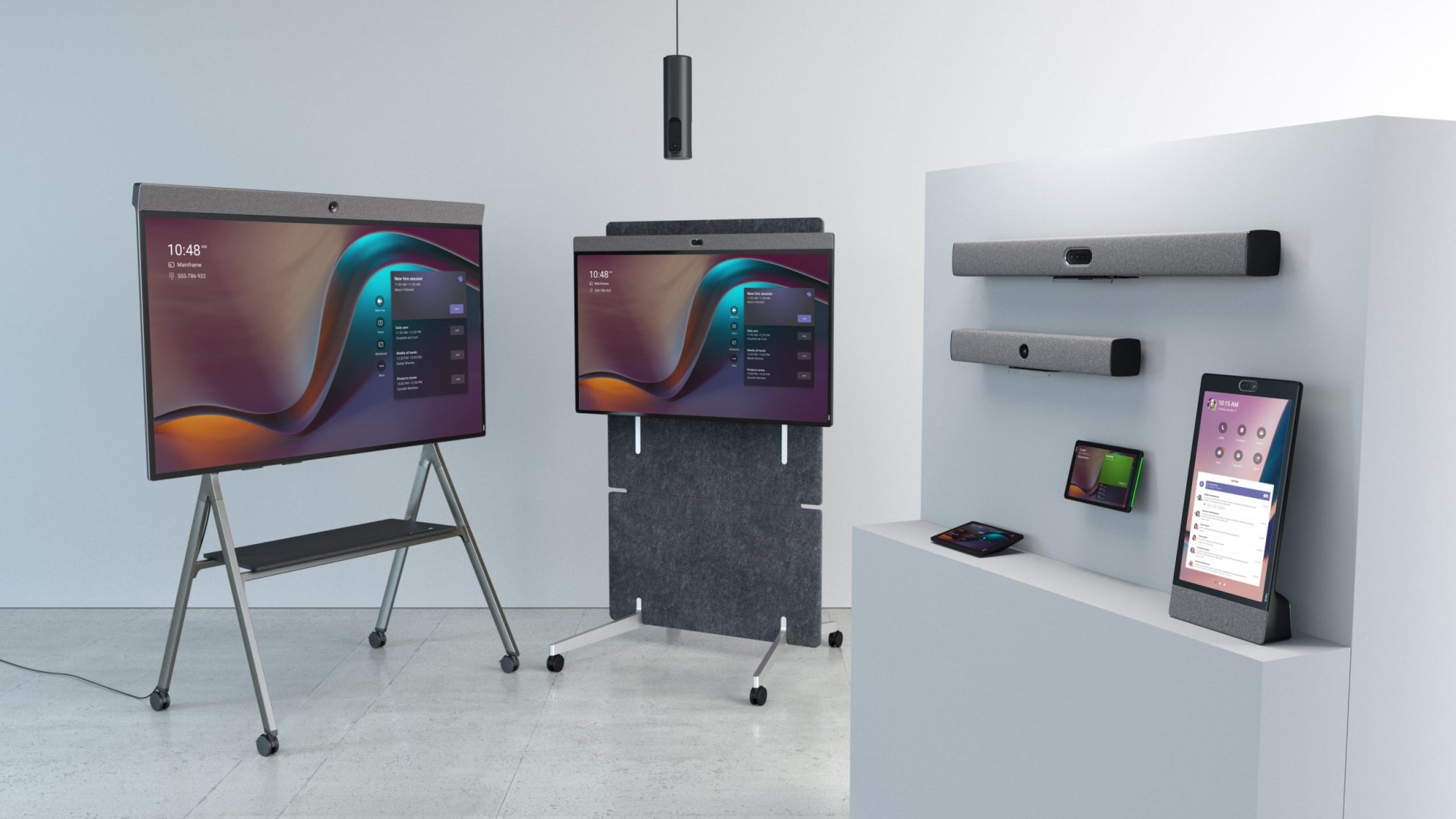 Sizzling news: I'm super-fired up to reveal that our first-of-its-kind portrait-oriented video device, Neat Frame, and most potent device, Neat Bar Pro, have now been officially certified for Microsoft Teams. All this at our debut Microsoft Ignite. Yay, what an amazing buzz!
If you recall, it wasn't too long ago that Neat announced the certification of our devices Neat Board, Neat Bar and Neat Pad for Microsoft Teams worldwide. Not only that, but we did it in record time compared to other Microsoft Partner devices. And now, with this new wave of certification, we've only gone and broken our own record. Yep, Neat is the fastest device manufacturer ever to certify with Microsoft Teams! Even greater, the response from Microsoft customers has been phenomenal, primarily due to people's eager anticipation for reliable devices that bring incredibly easy, rich and equitable video meeting experiences to their hybrid meeting spaces.
This extraordinary pace of certification is a testament to the strength of our incredible R&D team, Neat's design-driven culture, passion and relentless urge to keep pushing the parameters of what video technology can provide. Needless to say, Neat has been burning the midnight oil in close collaboration with Microsoft for the past few months since our first wave of certified devices. So, big drum roll, please, because it's worth repeating. I'm unbelievably thrilled to share with you all that Neat Frame and Neat Bar Pro are certified too. Woo-hoo!
Say hello to a frame changer
Neat Frame is our slimline first-of-its-kind, three-times award-winning, next-generation, portrait-oriented video device. In short, it's a complete game-changer. Or, as we love to say, 'FRAME CHANGER!'
Not only is Neat Frame a remarkably unique and supremely effective video collaboration device, but it's also your Microsoft Teams' personal productivity device. Neat Frame allows you to make and receive calls via video or phone. At the same time, it pairs with your laptop or desktop computer while freeing your desk of any unnecessary clutter. In short, Neat Frame's a highly flexible personal desktop device ideal for hot desking and other adaptable working environments.
Besides providing outstanding picture quality, its 4x digital zoom wide-angle camera is at eye level. So, unlike your laptop, it frames you perfectly, making video meetings feel much more natural and engaging. Additionally, its beautiful 15.6-inch full HD multi-touch screen gives you quick and easy access to a world of controls and features. For instance, you can swiftly see your calendar, start or jump into meetings and even open up files from your OneDrive to view, pinch to zoom in on or transfer and edit them natively on your PC. Best of all, thanks to its diminutive footprint (a mere 8.75 inches across and 4.38 inches deep), Neat Frame fits almost anywhere. Read more about Neat Frame's showstopping strengths.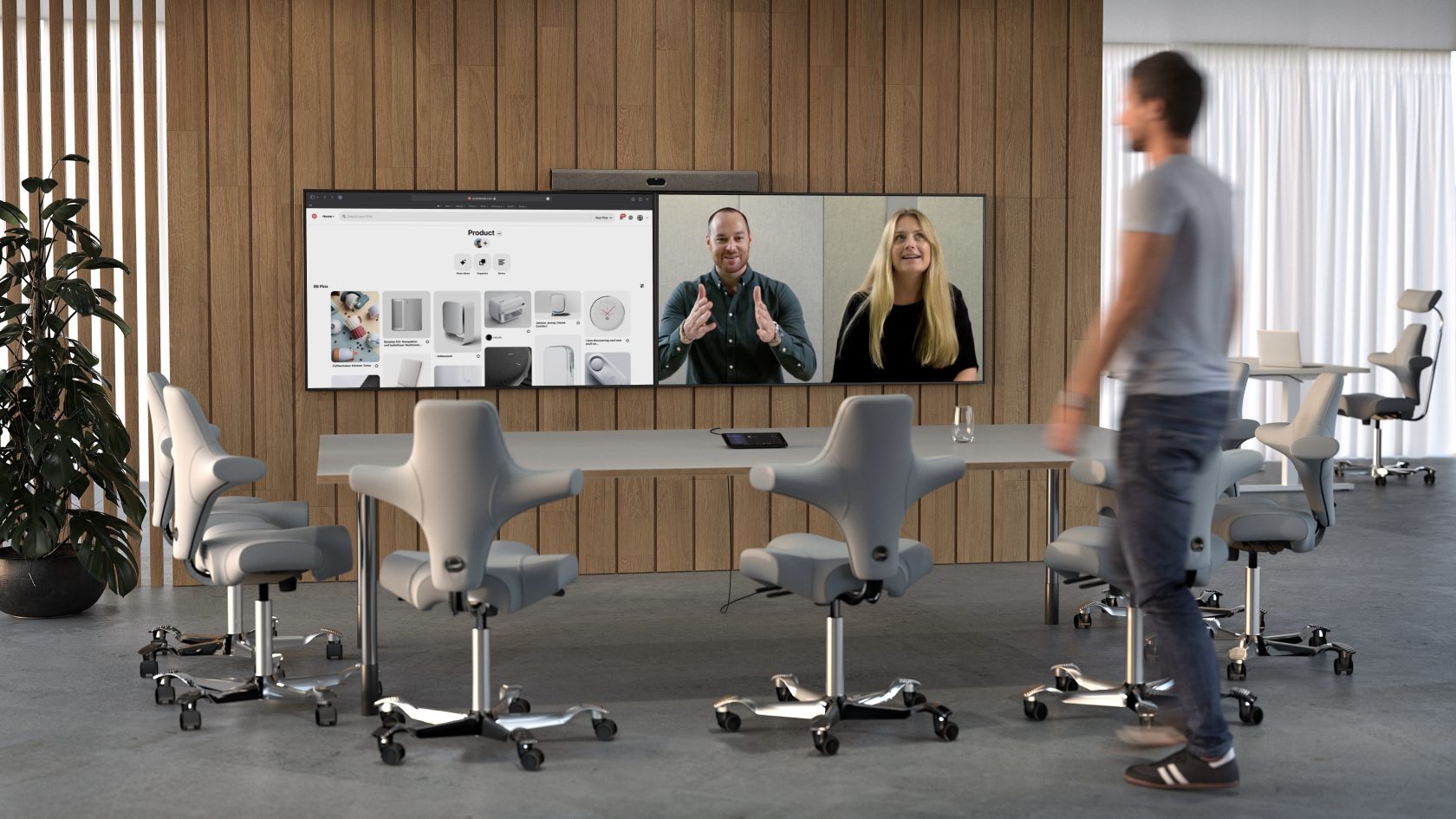 Give a warm welcome to a pro powerhouse
If Neat Frame is all elegant-slender, then Neat Bar Pro, besides being lean in its own right, is all superior muscle. Enabling you to simultaneously see people and content more clearly, our award-winning Neat Bar Pro is a powerful yet streamlined piece of kit that delivers advanced audio and picture quality for an immersive, modern-day meeting experience across up to two screens.

With a wide-angle telephoto lens and image depth sensor, which combined deliver 16x zoom, Neat Bar Pro enables you to focus on details like no other bar-type device to capture the slightest mannerisms and body gestures from all in-room participants. Neat Bar Pro is also bursting with audio power, thanks to a subwoofer with two opposing drivers for vibration cancellation and three full-range speakers, which produce direct stereo sound throughout any room. Finally, an advanced pyramid-shaped 16x microphone array ensures clear vocal pickup. Check out more mightiness from Neat Bar Pro.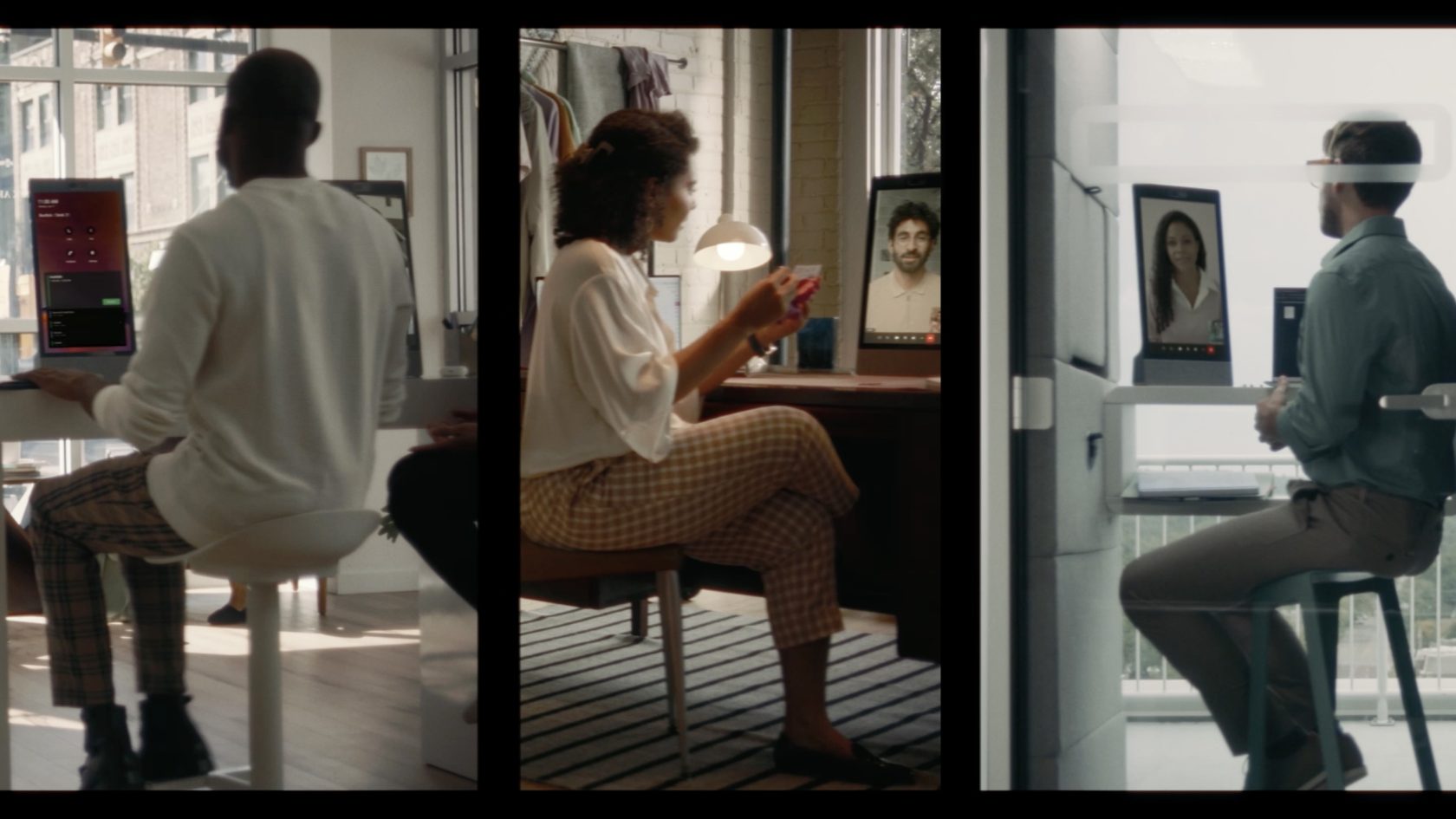 Our entire device portfolio is now certified
Now that Neat's entire product portfolio is certified for Microsoft Teams, you can address a far fuller range of flexible workspaces. Areas such as open collaborative and creative spaces with Neat Board, smaller huddle spaces and offices with Neat Bar, rooms of various sizes with Neat Bar Pro, and with Neat Frame, any flexible zones ripe for hot desking or other singular use cases – see our Spaces page for more inspiration. On top of that, you get an array of Neat patented or patent-pending features to help you meet on Microsoft Teams like never before. Here's why you should feel all toasty.
Our patented Neat Symmetry is an industry-defining feature that presents everyone in the meeting space equally up close, whether sitting, standing or moving around. Pinpointing whoever's talking while at the same time focusing on the expressions and body language of others, Neat Symmetry enables remote participants to engage in natural, free-flowing conversation, leading to more inclusive and empathetic meetings for all from any location. Neat Boundary, on the other hand, removes any distractions outside your meeting space by empowering you to define the reach of the camera's auto-tracking. Finally, Neat Audio automatically suppresses unwanted noise outside the camera's view. Thus, your remote teammates are less likely to be distracted by your office environment's ambient (and occasionally disruptive) noise. Discover more scene-stealing Neat experiences.
So, buckle up without further ado and get set for a scorcher from Neat at our first Microsoft Ignite event. We couldn't be more thrilled to be taking part. Let's turn up the heat, y'all!

For further info, inspiration and guidance, check out our Neat Feature Partner page on Microsoft Ignite's official webpage.

For all other info on Neat, our devices and how they can help you, visit www.neat.no. Better still, book a demo to get the complete lowdown on how we can help you make the most of your Microsoft Teams experience with Neat.