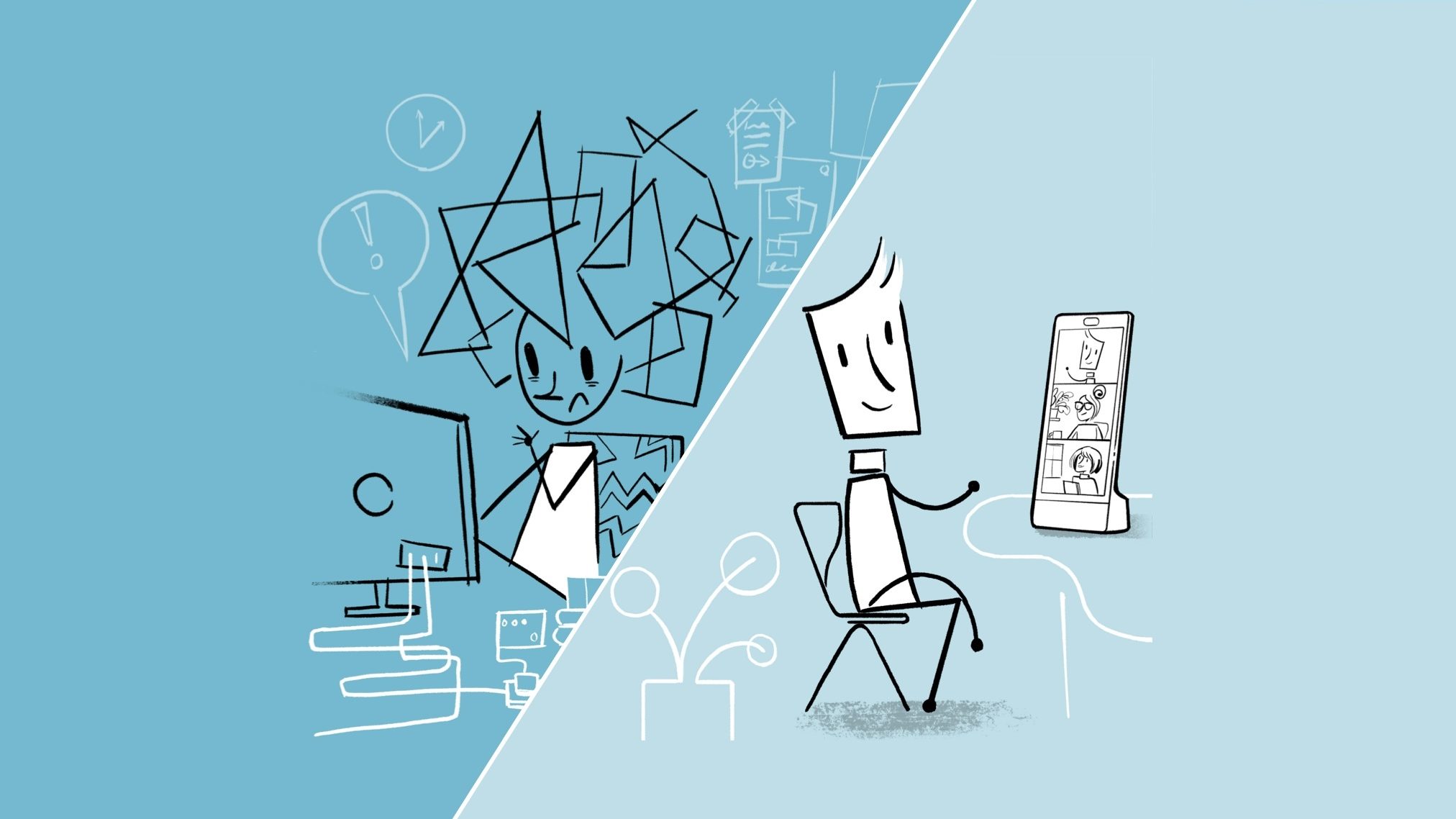 Complex Chloe and Neat Pete are two characters Neat has developed with renowned UK illustrator Adam Gale to highlight in a fun way the ups and downs of video collaboration in today's fast-paced hybrid working world.
There are three stories so far.
In our debut Chloe and Pete story, 'Chloe Discovers How to Feel Closer to Her In-Office Teammates for Healthier Hybrid Working,' Chloe is working from home on her laptop, muddling through meetings with her teammates who are back at the office and struggling to see or hear them properly. As a result, Chloe can't fully contribute and feels estranged and out of the loop. Likewise, her teammates are finding it difficult to interact with Chloe.
Meanwhile, Pete is also working from home, but he and his teammates back at the office are using Neat devices and enjoying our leading-edge capability, Neat Symmetry. This industry-defining feature enables Pete to see his teammates equally close up for greater equity and engagement, despite him not being in the room with them.
Find out how Chloe and her team eventually thrive here: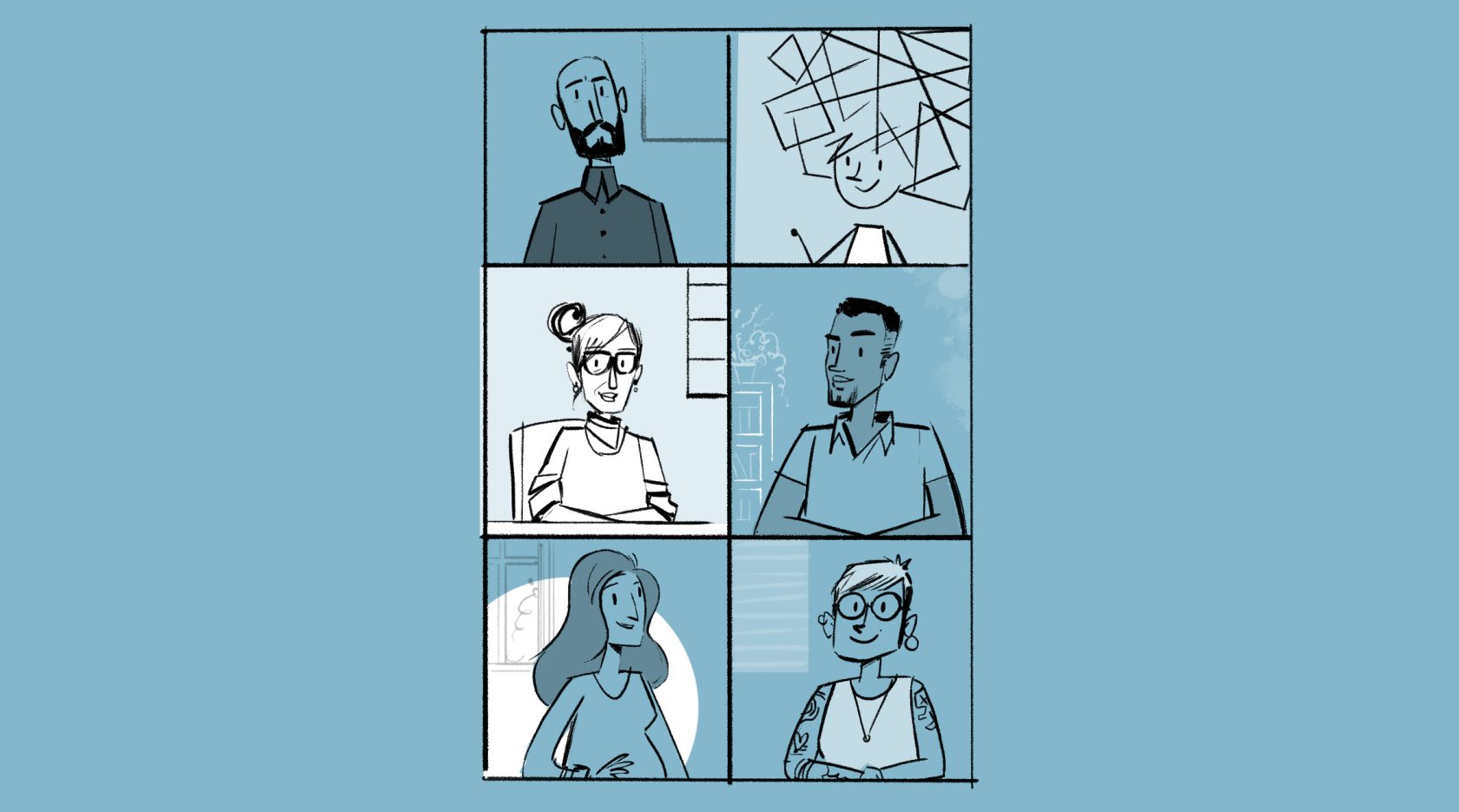 In our second Chloe and Pete story, 'Chloe Discovers How Neat Symmetry Enables Everyone to Enjoy More Equitable and Inclusive Hybrid Meetings,' Chloe and her team discover the wonderful ways Neat Symmetry and its dynamic capabilities empower them to enjoy more equitable and inclusive hybrid meetings exactly like Pete and his team. Along with Neat's advanced audio-visuals, Chloe, working from home, can read her in-office teammates' facial expressions and body gestures better for a more immersive, life-like video meeting experience.
Neat Symmetry also instinctively pans in and out to auto-track her in-office teammates within their own frame, following them as they shift position, get up or move around. That way, everyone's always seen and heard, helping Chloe feel like she's physically among them.
See why Chloe and her team's hybrid meetings feel like being together in person here: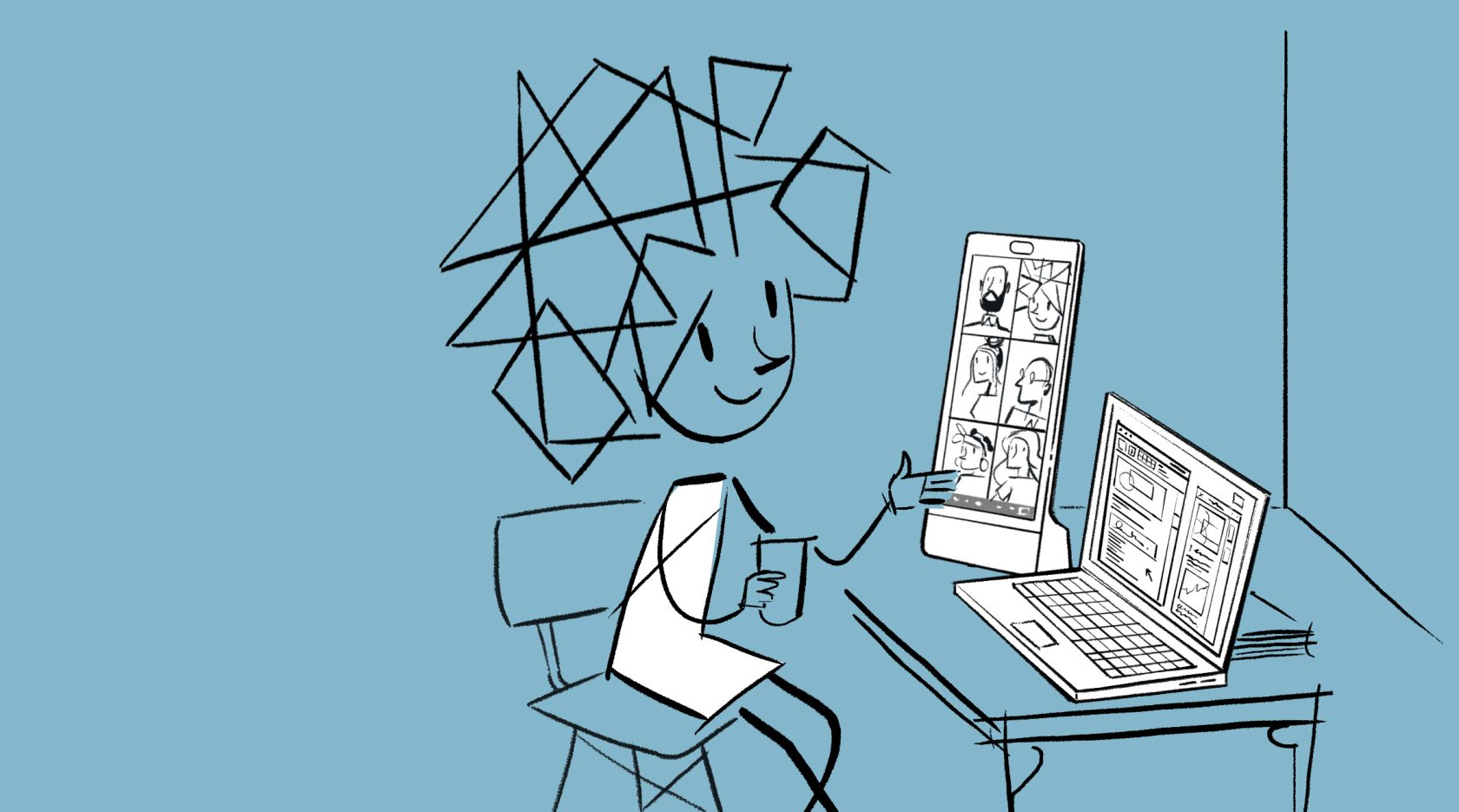 Finally, in our third Chloe and Pete story, 'Chloe Discovers How Neat Frame Enables You to Enjoy Less Cluttered, Higher-Quality Meetings,' Chloe reaps the rewards of our first-of-its-kind, three-times award-winning portrait-oriented video device, Neat Frame. Delivering a unique and highly flexible solution, Neat Frame is the ultimate hybrid meeting tool along with Neat Symmetry. It's a brilliant personal video device for pairing with your laptop or desktop computer, whether at home, in an executive office, throughout focus spaces and in booths or for hot desking – even for deploying as a virtual receptionist.
Whatever the scenario, Neat Frame offers a completely equal meeting experience for everyone inside and outside the office, elegantly residing in the smallest of spaces, thanks to its slimline form (a mere 8.75 inches across and 4.38 inches deep). Besides providing outstanding picture quality, like no other video device currently on the market, its 4x digital zoom wide-angle camera is at eye level. So, unlike your laptop or a traditional webcam, it frames you perfectly, making video meetings feel incredibly natural. See why Chloe is experiencing a beautiful way to meet here:
Look out for a brand-new Chloe and Pete story in January when Chloe returns to the office and catches up with Pete who shows her the superior power of Neat Bar Pro.

In the meantime, for all info on Neat, visit neat.no. Better still, book a demo to get the complete lowdown on how we can help you make the most of your Zoom and Microsoft Teams experience.