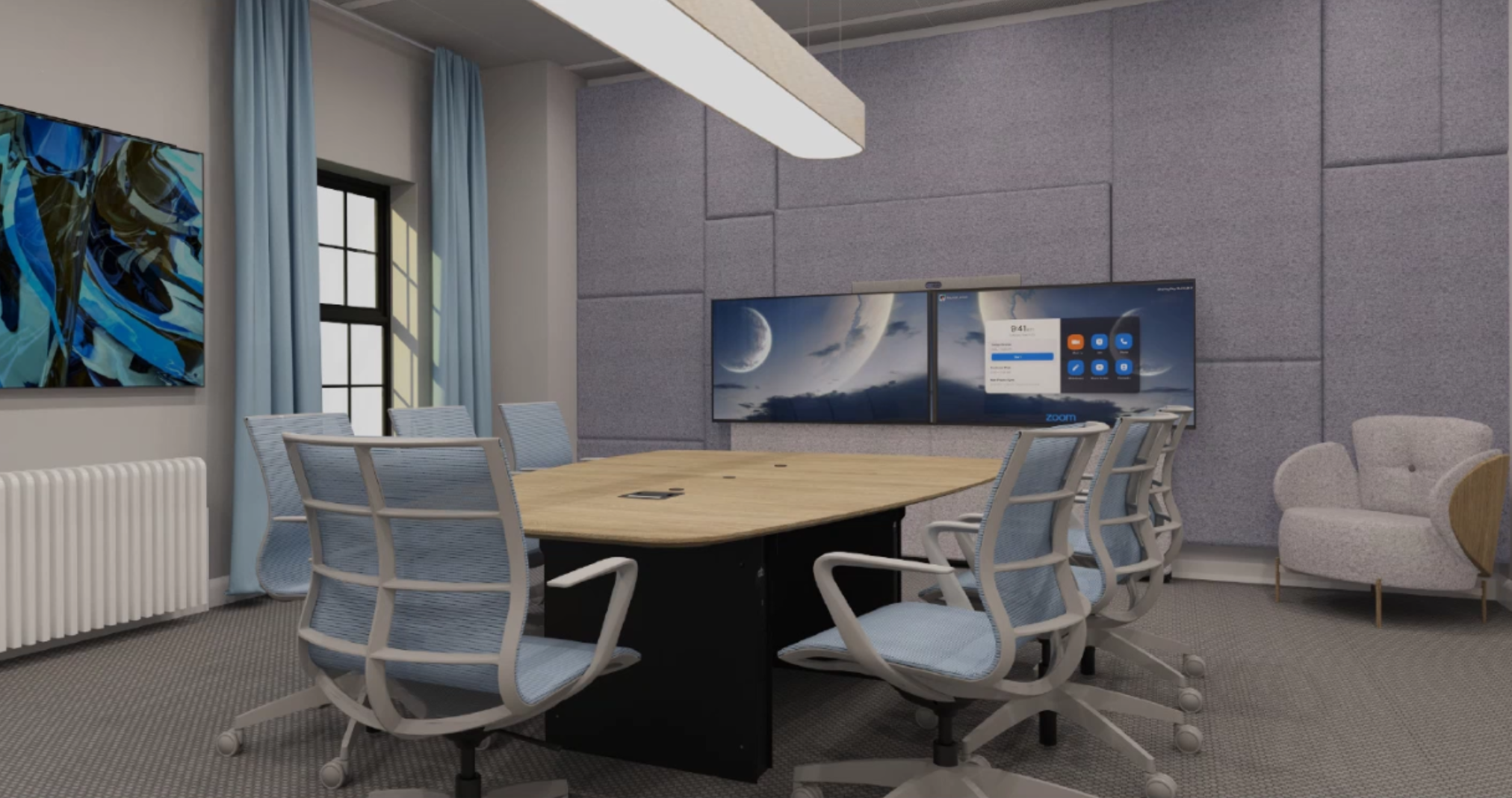 Every great office starts with a great designer. Here's Neat's mighty manifesto for an office you'll love, written with help from our expert friends at Ashton Bentley, OFS and Flokk.
Styrofoam ceiling tiles, repeating endlessly, mercilessly. Felt-clad cubicles. Boxes for workers that simultaneously throw them together, detaining them within sniffing distance, while also keeping them decidedly apart. And wires. Snakes of all sizes and colors, yet rarely the one you need when you pick through the thick, knotted mess. If any of this is familiar, it's high time for an office redesign. To help you, here's our office transformation manifesto.
#1 The office must be hybrid
Embrace video meeting technology in office meeting spaces, giving people the option of working from home, while still being able to connect with their teammates in the office.
99% of the value proposition is video.

– Tony Leedham, Director of Ashton Bentley, Commoditized AV Systems for Meeting Spaces.
It can't just be any old video tech though. Teammates have to be able to hear and see each other clearly, without any irritating echoes or delays…which leads us to our next point.
#2 The office must be Neat
For video collaboration to feel as natural and human as possible, choose devices made by Neat. Neat's Audio Processing delivers the closest thing to real-life conversation, while Neat Symmetry auto-frames each person to present everyone equally up-close, whether they're joining from the office or from home. This is a game changer. True unity, for distributed teams.
We set up Neat Bar Pro and I said to my colleague, 'Walk to the other end of the warehouse and talk to me.' I could hear him clearly. I could also hear one of our upholstery technicians as he was cutting fabric patterns. I was essentially having a clear conversation with two people who were both over 75 feet away from the device.

– Wes Harper, Director of Distribution and Development at OFS, Commercial Furniture Design.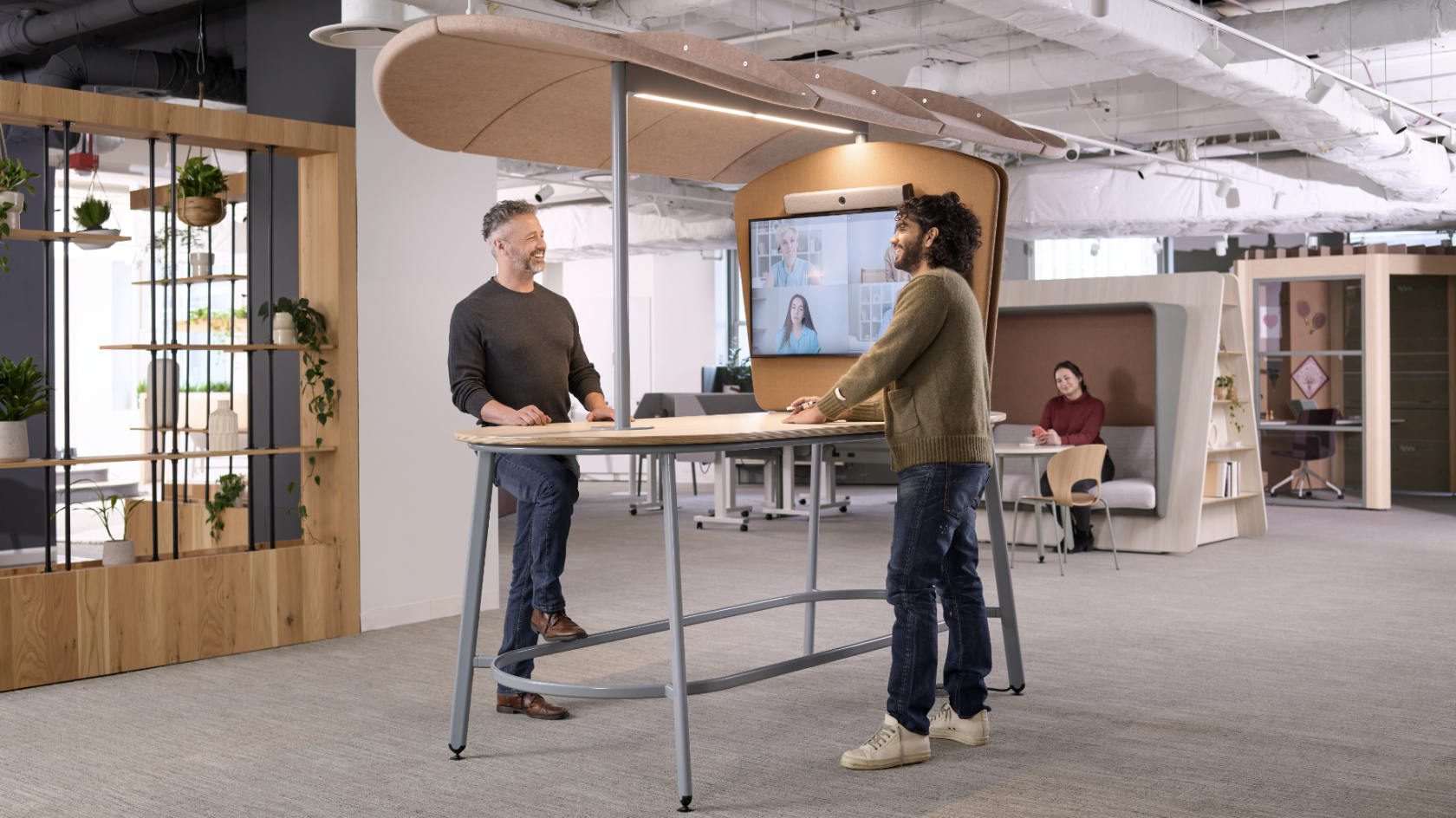 #3 The office must be flexible
Offices should incorporate different kinds of spaces to suit the range of needs teams have as they go about their day:
Open, sociable areas with inviting seating and ideally a portable multi-touch screen for video calls, like Neat Board 50.
Smaller spaces for solo moments and quiet time, with personal video devices like Neat Frame.
A formal meeting room for serious meetings and client presentations.
By using modular furniture and office fittings, you can allow your teams or neighborhoods to shrink, grow and evolve when needed.

– Flokk, Sustainable Workplace Furniture.
The need for large meeting rooms has reduced. There's more demand now for spaces for five to seven people, with the sweet spot being rooms with seven seats. Huddle spaces are popular now too.

Tony Leedham, Ashton Bentley.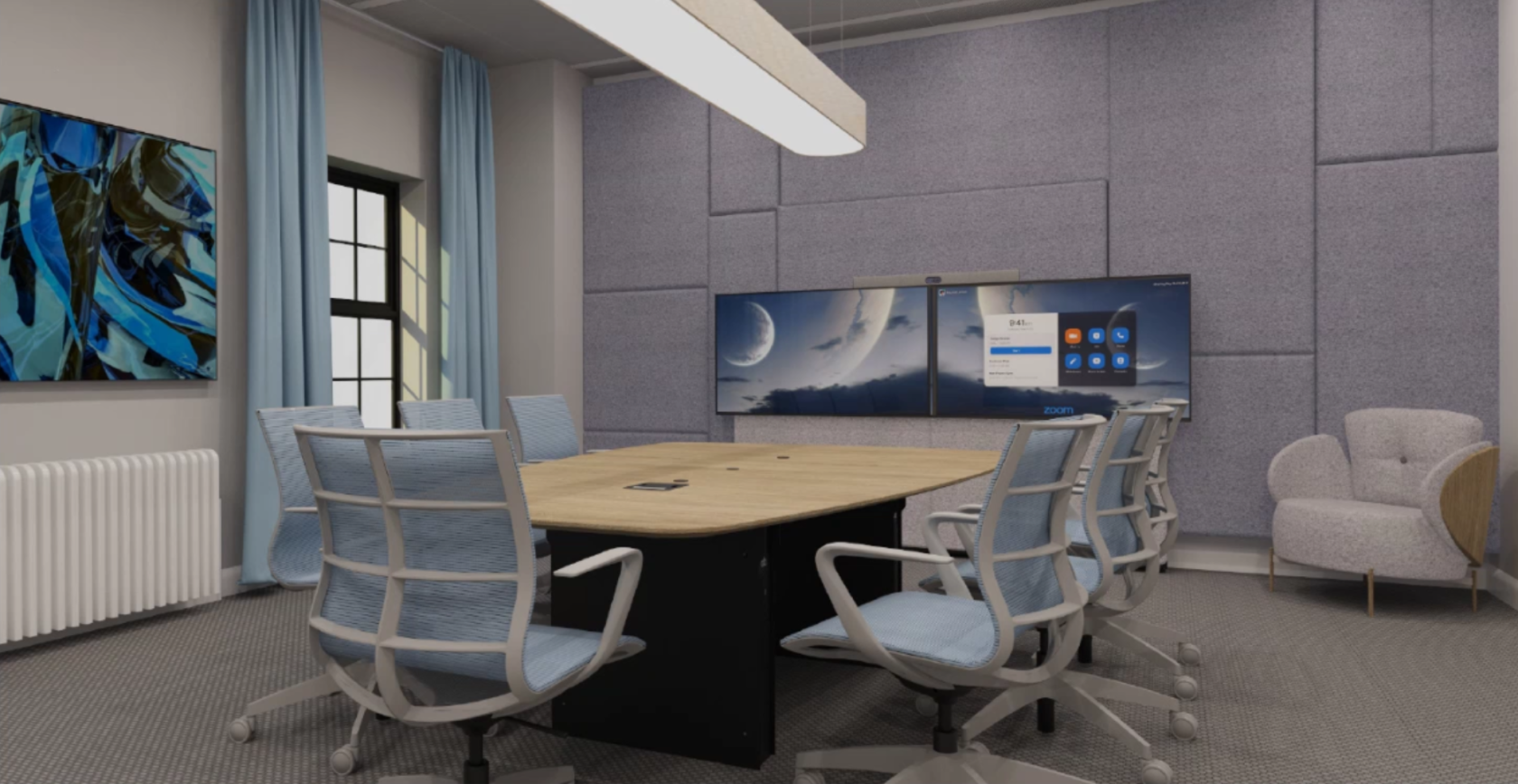 #4 The tech must be simple
Video devices must be accessible to all. Think fool-proof unboxing with instructions on-screen. Neat devices are famed for their effortless set-up. It's also helpful when all the devices in the office work in the same way, for a more consistent user-experience. Roll out Neat devices and they automatically wake up the moment you enter a room. Then, with just one tap, you can wirelessly share your screen or start a meeting. Simple.
In the same way that Neat keeps things simple, we make sure our meeting rooms are too. They can be 'flat-packed' for easy delivery to your location. Simple to assemble, taking hours not days. Supplied complete and ready for a Neat bar to be easily integrated.

– Tony Leedham, Ashton Bentley
#5 The office must look great
Yes you can have function and form, so call in the creatives. There are so many ways to make an office look good. From soft furnishings, plants and color. To lighting, art and elegant devices integrated into the furniture.
#6 The office must stay new
An office transformation is a huge investment of time and energy, so future-proof your plans wherever possible. Choosing Neat will stand you in good stead. As certified partners of Zoom and Microsoft Teams, Neat are as closely allied as it's possible to be to the leaders of video meeting software. This means there's always a transparent roadmap for development, and that Neat devices help you keep abreast of latest platform features and functionality – through regular device updates.
So there you have it, six tips for workspace bliss. For more inspiration, be sure to check out our gallery of office spaces or for more information about Neat visit neat.no/devices.
Further reading
OFS Customer Story. Neat.
A Complete Guide to the Next-Generation Workplace. Neat.
What Returning to the Office Looks Like in 2022 & Beyond. Neat.
10 Modern Conference Room Ideas for Hybrid Employees. Neat.
14 Innovative Ideas for Designing Your Office Flex Space. Neat.