14 Innovative Ideas for Designing Your Office Flex Space
Hayley Cannon, Jun 1, 2023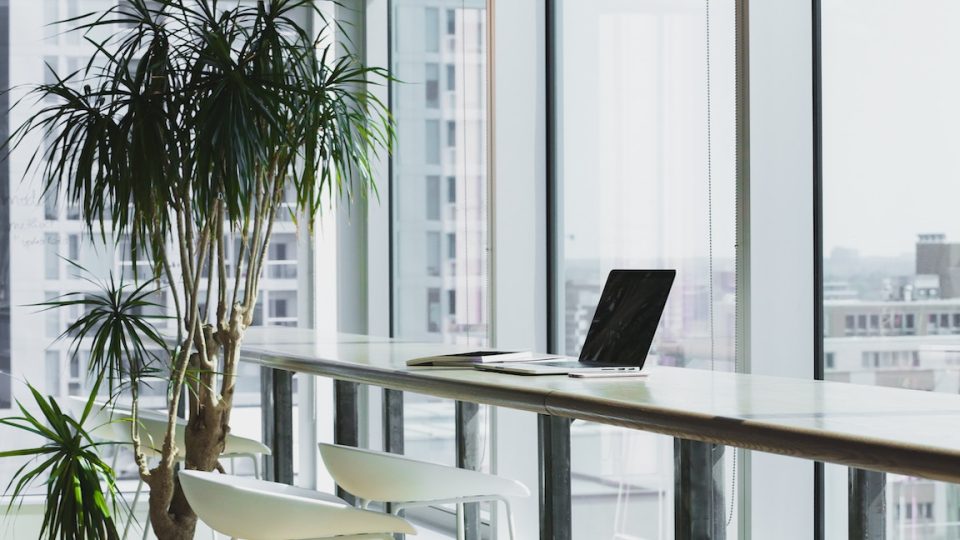 Flex office space design must strike a balance between comfort, functionality, productivity and aesthetics. Use these 14 flex space ideas to create an office where your employees will thrive.
Why flexibility is key for office spaces
Flex spaces allow businesses to make necessary changes without the need for a complete overhaul of the office space.
Let's look at some considerations to guide your flex space ideas and design process.
Encourage collaboration
One of the most common flex space ideas is to nix the cubicle format in favor of collaborative spaces. This allows teams to gather together when needed without having to reserve dedicated conference rooms or take their meetings out of the office. Design approaches to consider include:
1. Creating an open floor plan
Open floor plans encourage interaction between employees. Consider adding movable walls and furniture that can be reconfigured as needed.
2. Using modular furniture
Modular furniture gives you more bang for your buck because it can be used for a number of different purposes. This makes it easy to accommodate more people in a particular space or create additional meeting rooms.
3. Developing a variety of spaces
Comfortable seating areas, breakout rooms and shared spaces such as a kitchenette or lounge area give employees more places to gather and collaborate—or work independently. This way, they can choose a space where they feel comfortable and can do their best work.
4. Including sound-absorbing elements
Sound can be a distraction, especially when employees are doing focused work. To help groups stay on task, add sound-absorbing items like carpets, wall panels or sound panels to collaboration spaces. Devices likeNeat Framecan also block out unwanted distractions during video calls by automatically minimizing background noises and ignoring what's happening behind participants.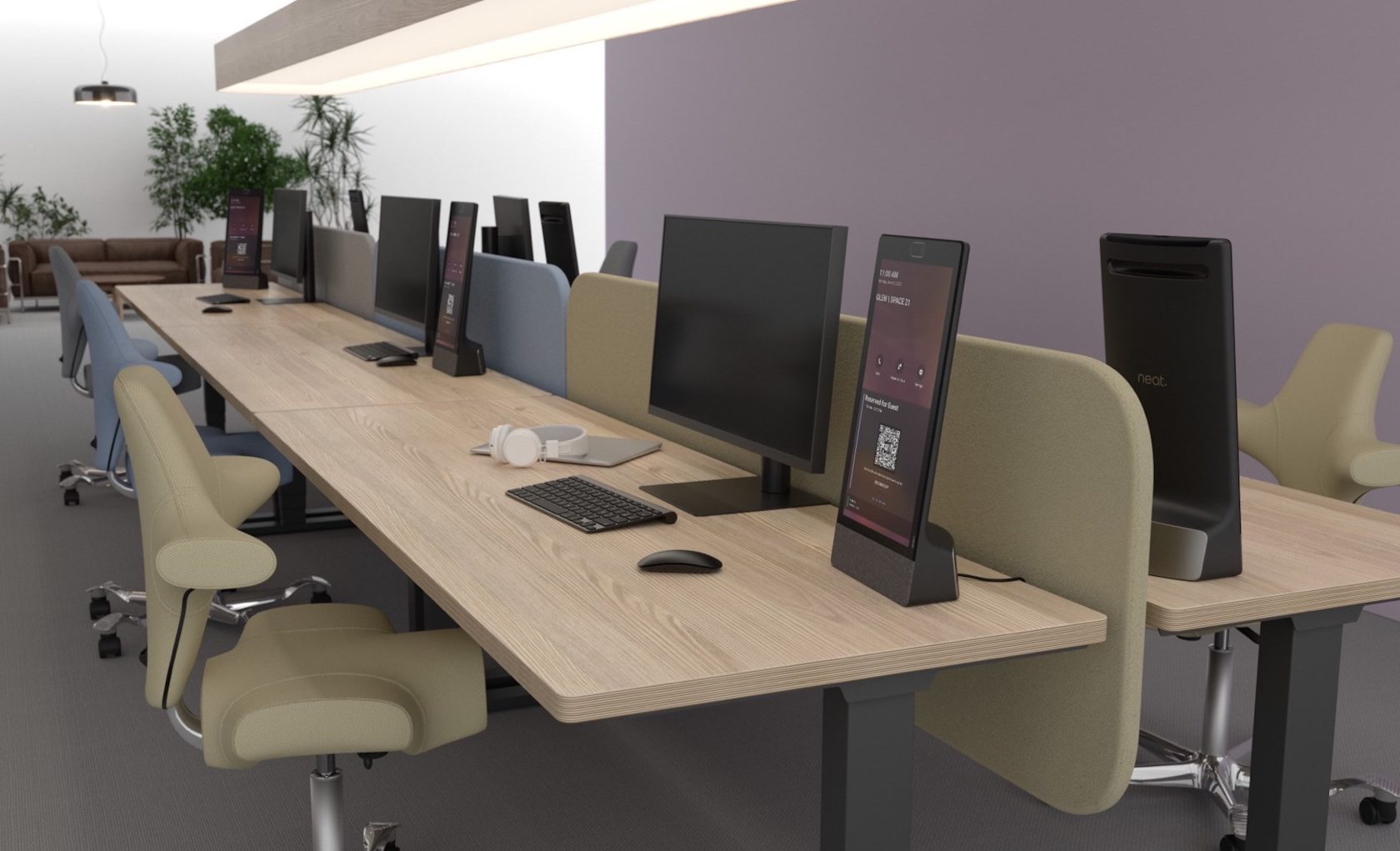 Enhance comfort and well-being
Employees who work in a comfortable environment are more productive, engaged and satisfied with their jobs. Comfortable work environments help reduce stress levels and increase overall well-being. Reaping these benefits starts with good workspace design. Flex space ideas that can help include:
5. Establishing quiet zones
Quiet zones give workers a sense of control over their environment and reduce the impact of distractions on their performance. These can be individual soundproof pods, dedicated rooms or designated quiet spaces where workers are expected to keep noise levels low.
6. Choosing ergonomic furniture
Employees spend anaverage of 3.44 hourssitting at work each day. That's why chairs, desks and equipment that support good posture and comfort are a must. Ergonomic furniture can significantly reduce discomfort and pain caused by poor posture or repetitive strain injuries.
Ergonomics also applies to technology. For example, adjustable height monitors reduce strain on the neck during video calls. If you're using Neat devices, Neat cameras will automatically adjust to your height so you're always in view, whether you're sitting, standing or walking around the room. This allows you more flexibility to feel comfortable during video calls without having to adjust your setup.
7. Incorporating natural elements
Plants can improve indoor air quality by removing toxins. This not only benefits workers' physical health but also their mental health.Studies have foundthat exposure to nature can reduce stress levels and improve mood.
8. Including natural lighting
Exposure to natural lighthas been linked with better sleepand less fatigue. These effects can increase productivity during the workday. Good lighting can also reduce eye strain and headaches, giving you another productivity boost.
9. Providing status indicators
Without the benefit of a door and a private office, employees can be susceptible to interruptions. Offering a way to indicate their "status" can reduce unscheduled visits from coworkers and allow employees to stay focused. This might be creating zones that do or don't allow interruptions or adding signs to workstations, for example.
10. Creating an outdoor space
Where possible, adding outdoor workspaces can do wonders for employee well-being and productivity. This gives them a way to stay connected with nature, which has beenshown to improve mental and physical health. Adding shaded areas gives employees spaces to work without baking in the sun. They can also see their screens better when they're not in direct sunlight.
Integrate technology
Technology plays an important role in office space design. In the past, workers have been tethered to desks because of fixed technology connections. Today's solutions offer more flexibility that businesses can embrace in their flex space ideas. Examples include:
11. Adding facility-wide high-speed internet access
In today's world, internet connectivity is not just a luxury but a necessity. Employees need to access the internet throughout the building to perform their work, no matter where they gather. This helps keep work moving forward while allowing employees more control over how and where they work.
12. Including digital solutions for collaboration
Investing in digital collaboration tools allows coworkers to collaborate even when they can't physically be together. Cloud-based solutions like Asana, Trello, Basecamp and others can be accessed from individual devices, making it easy for coworkers to gather in any space.
13. Creating call rooms
Dedicated call rooms are always set up and ready forvideo conferencing. Using Neat devices for call rooms, users can launch meetings with the tap of a button. Cameras automatically adjust to your position in any lighting, while the microphones are sensitive enough to pick up your voice while blocking out background noises.
14. Choosing portable technology solutions
Moving away from fixed connections gives your space more flexibility. Aim for portable solutions likeNeat Board, which can be moved where it's most needed without requiring a time-consuming setup. Neat Board turns any space into a video conferencing room or presentation space. Laptops also allow employees to work in places other than a standard desk, giving them more control over their workday.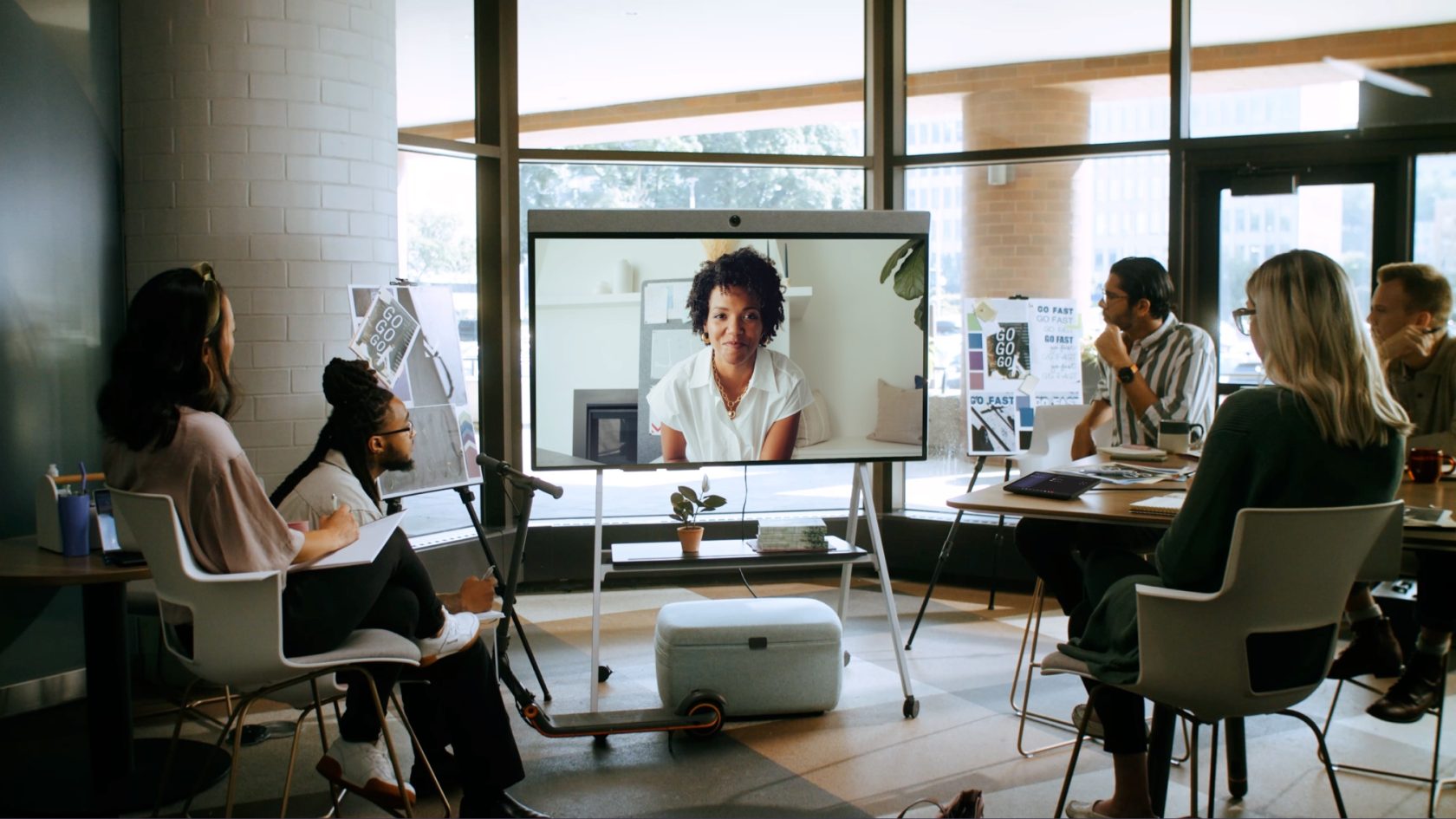 Where to find flex space office inspiration
Countless case studies prove the benefits of flex office ideas. For example,LivaNovaditched the cubicles in favor of a hybrid meeting space that encourages collaboration. Even though many employees now work from home, they also have a physical space for events, meetings and team projects.
University Healthtook a similar approach by adding a variety of spaces that support collaboration while also preserving privacy and security. The space allows them to scale and adapt to changing needs without extensive construction or expenses.
Areal estate companyused removable walls to convert a former retail store into its new office space. This flexible solution allowed the company to quickly and inexpensively transform the space while adhering to its brand image.
Flex office ideas are everywhere, and more solutions are becoming available to support this growing trend. When designing any office, it is essential to keep employee collaboration, comfort and technology in mind. These are the driving forces behind any office and will determine how well your office thrives.
Neat can help you apply the above technology ideas to your office space with flexible, reliable video conferencing solutions. Get in touch today to learn more.
FAQs
What is a flex space?
A flex space is a type of workspace that allows employees to choose how, when and where they work. Rather than having each employee assigned to a specific desk, flex spaces offer opportunities to work in different locations. Spaces can be used for different teams, employees and purposes depending on current business needs.
How can I maximize flexibility in a small office space?
Rethink the layout of your office space. Use modular furniture and portable devices to easily rearrange your office according to changing business needs. Invest in fixtures that can serve more than one purpose. For example, long conference tables can double as individual workspaces and storage cabinets can act as room dividers.
What are some budget-friendly design ideas for flex spaces?
Repurpose existing office furniture when possible. For example, an old bookcase might be converted to a desk with a few simple alterations. Decorative storage can brighten a room while hiding essential office supplies or equipment. Use your wall space effectively. Add shelves or pegboards to create valuable storage without taking up floor space. Using video conferencing devices like Neat Frame can also eliminate the need for expensive, full-sized video conference rooms.
How do I maintain privacy in a collaborative space?
Noise-canceling headphones can block out background noises that might distract you. These also discourage others from interrupting you. You can also try placing a "Do Not Disturb" sign on your desk. If you're video conferencing, devices like Neat Frame will automatically frame you in the camera and block out background noises or people who inadvertently enter the field of view. Neat Frame is portable too, so you can easily move to an area where you're less likely to be bothered.
What indicators show that my office design is effective?
Employee feedback is a great starting point for learning more about your office design. You can also pay attention to employee productivity to see if work is getting done and deadlines are being met.
Sources:
5 Reasons to Consider a Flex Space For Your Business. Speed.
What Is a Flex Office? Office Evolution.
Everything You Need to Know About Flex Space. Cauble Group.
Flex Room Office Den Ideas. Houzz.
5 Flex room ideas to improve your office space. Office Space.
6 Flex Space Ideas to Help You Create Multipurpose Rooms. Better Homes & Gardens.
15 Ways to Design a Flex Office Space. Unika Vaev.
Occupational Requirements Survey. US Bureau of Labour Statistics.
Levels of Nature and Stress Response. National Library of Medicine.
Five Ways That Natural Light Improves Productivity in the Workplace. OH&S.
Associations between Nature Exposure and Health. National Library of Medicine.