10 Modern Conference Room Ideas for Hybrid Employees
Hayley Cannon, Feb 10, 2023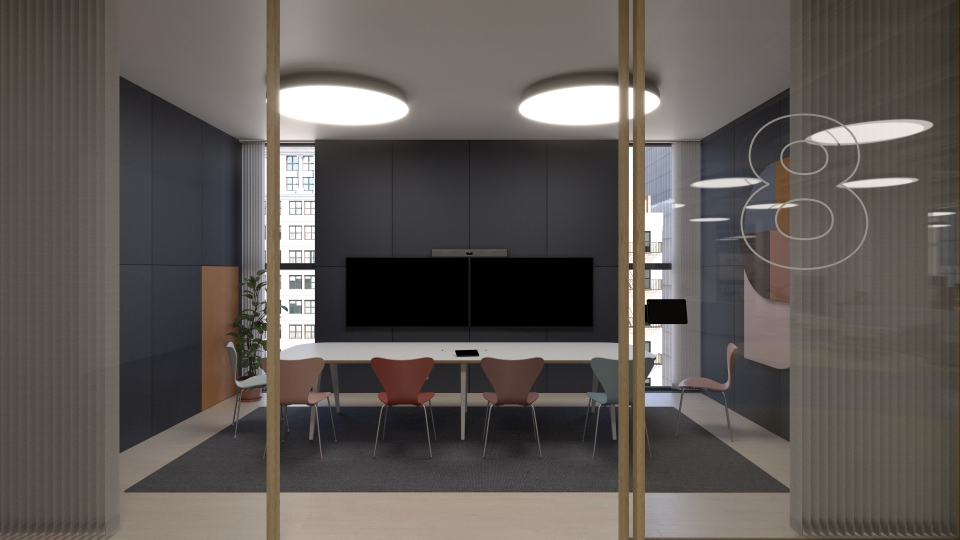 Many businesses today are embracing remote and hybrid working, so it's important to set up your conference rooms and meeting spaces so employees have the best experience possible when collaborating via video. This post will guide you through the things you need to consider to create one of your own.
Key Takeaways
Modern conference rooms are hybrid at heart, giving equal prominence to participants in the room and joining remotely via video.
Considerations when creating your room include up-to-date video meeting technology, intentional color and lighting, good storage and an effective room management system.
There are many different kinds of room spaces depending on the purpose of your meetings e.g. Board Room, Meeting Room, Breakout Space.
10 tips for designing a modern hybrid conference room design
A hybrid room layout is essential
A modern conference room needs to be laid out in a way that makes remote participants feel equal to those in the room, in terms of their ability to listen and contribute to the conversation. This means having a screen or screens where remote participants can be clearly seen by everyone in the room and cameras that can capture everyone in the room without exception. The same goes for speakers and microphones, they need to be positioned so that everyone can hear the conversation clearly and be heard.
Today, there are video collaboration devices that make creating a hybrid conference room easier, by combining the main elements needed for video meetings all in one device. Neat devices for example all include a webcam, mics and speakers all in one compact hybrid room device.
Did you know? Multifunctional devices are a great budget-friendly option, saving you spending money on individual cameras, mics, speakers and so on.
Choose the right hybrid layout for your needs
While you may start off planning a modern conference room, remember there's no one-size-fits-all approach to designing meeting spaces. Look closely at the kinds of meetings your organization most regularly holds, and the number of people in them. You may be surprised to discover it's not a conference room that's needed after all, it's a handful of smaller spaces designed for just a few people. Or perhaps an informal, medium-sized lounge would better suit your needs. Whatever space you design, make sure it's purposeful as well as video-first.
Check out Neat's gallery of small, medium and large spaces including huddle rooms, workshops and classrooms for inspiration.
Make sure your video meeting technology is up-to-date
Naturally, a hybrid meeting room will require a video conferencing solution. Either a collection of equipment including webcams, mics, screens and speakers or an all-in-one video collaboration device which brings these things seamlessly together. When researching the solution that is right for you, look out for specialist video meeting features which enhance the experience of hybrid working, making it more intuitive and life-like.
Neat Symmetry for instance is our patented technology which pulls forward the faces of people sitting at the back of the meeting room, displaying them equally on screen and improving meeting equity. It also continues to focus on people's faces when they move around the room, freeing people from their seats and creating a more dynamic experience.
Neat is also the pioneer behind Neat Boundary which removes unwanted visual distractions from your background view.
Make sure your tech is easy to use before you invest
Before buying any new tech it's a good idea to test it. Anything that's too complicated to use will result in countless calls to IT, not to mention time wasted in meetings. The best solutions require no training to install and use because they are designed with simplicity through and through. Think all-in-one video meeting devices that wake up the second you walk into a room, and wireless screen sharing as standard.
Provide privacy for all participants
It's important to provide privacy to both the participants in the room and those joining remotely and sharing their screen in the room. Consider what sensitive information could be seen by passers-by and adapt your space accordingly. You may need a room divider, blinds or opaque stickers for glass windows to break up the view into a room.
Pay attention to storage
A modern meeting room is well stocked with supplies like stationary and snacks, so think about what cupboards, shelves and other kinds of storage you'll need. Some video conferencing technology may also require cupboards or purpose-built units to hide away wires and cable monsters. Or you can opt for video devices which have the bare minimum number of cables, like Neat devices which are designed to look sleek and compact.
Finally, don't forget to plan in advance where waste and recycling bins will go. Trying to cram them in as an afterthought could ruin your whole aesthetic.
Create a healthy working environment
Be mindful of the invisible things that make a difference too, like a comfortable temperature and clean air. Good ventilation and air conditioning help reduce the spread of germs and prevent illness. Our video collaboration devices have a feature called Neat Sense, smart room sensor technology which enables you to continuously manage and monitor humidity, CO2 and Volatile Organic Compounds (VOCs are organic chemicals, odors, scents, etc.), the number of people in the room, and more.
Did you know? A study by Harvard T.H. Chan School of Public Health observed that lower ventilation rates were associated with slower response times and reduced accuracy on a series of cognitive tests.
Get intentional with color
When it comes to conference room decorating, think about what color walls, furniture and furnishings you want for your meeting room. You might like to reflect some of your brand's colors in your space. Or usecolor psychologyto create different moods.
White – Opens up a space but also symbolizes cleanliness, elegance and perfection. It can be a little sterile, so consider adding more textures or splashes of color elsewhere in the room.
Blue – Represents stability and endurance. This is a great choice for brands that want to amplify their heritage and resilience.
Green – Natural and calming. This is a wonderful choice for a space where you want people to feel relaxed and at ease.
Yellow – Energizing, bold and positive. This colour will help people feel alert and optimistic.
Don't overlook lighting
Natural light is important in a meeting space as it helps enhance focus, productivity and mood. If it's not possible to have natural light coming into a room then lift the shadows with lamps and overhead lights.
When choosing electric lighting it's good to know that the tone has an impact on your mind and mood. Cool, 'white' light is the best choice for learning and performance. Whereas warm, 'yellow' light is better for relaxation.
Up-level your meeting room management
When designing a modern conference room, don't just think about the room itself. You also need to plan how people will book and check the availability of the room to prevent last-minute room begging and interruptions. Neat Pad is a simple and elegant touch screen which you can use as a controller, quickly starting your meetings and sharing your screen with just one tap, or as a room manager with a scheduling display for your Zoom or Microsoft Teams rooms.
Benefits of Thoughtful Conference Room Placement
More effective communication
Carefully map out where your conference rooms should go before you start building them. For instance, if your office spans many floors, it makes sense to have meeting spaces on every floor to save people traveling between floors every time they want to meet. When meeting rooms are not evenly distributed across a building is that people Slack each other instead and miss out on the nuances and connection of face-to-face communication.
Quiet and focussed
Also consider noise levels when working out where to position conference rooms. Some areas of the office are typically louder, like reception areas and elevator entrances, so avoid building meeting spaces next to them.
Light and energizing
Lighter areas are great for meeting spaces where you want people to feel energized, like training spaces or collaboration rooms. Light boosts focus and productivity, whereas less bright rooms are better for relaxation e.g. social spaces.
Private and confidential
If you'll be discussing confidential topics in your conference room then choose a location that delivers privacy. Walls should be solid enough that conversation isn't easily heard from outside, and any glass walls will need window stickers to obscure sensitive data from outside view.
5 Modern Conference Room Layouts for Hybrid Workspaces
1. Hybrid Board Room
Purpose – Important board meetings, client meetings, and department meetings.
Impression – Formal, prestigious.
Format – Large table with chairs. Attendees face each other for easy dialogue, with a video wall on one side to ensure remote attendees have equity in the conversation.
2. Hybrid Classroom / Training Room
Purpose – Teaching and training groups of people.
Impression – A quiet learning space.
Format – Tables and chairs facing the teacher. A video collaboration device like Neat Board to transform the space into a hybrid classroom.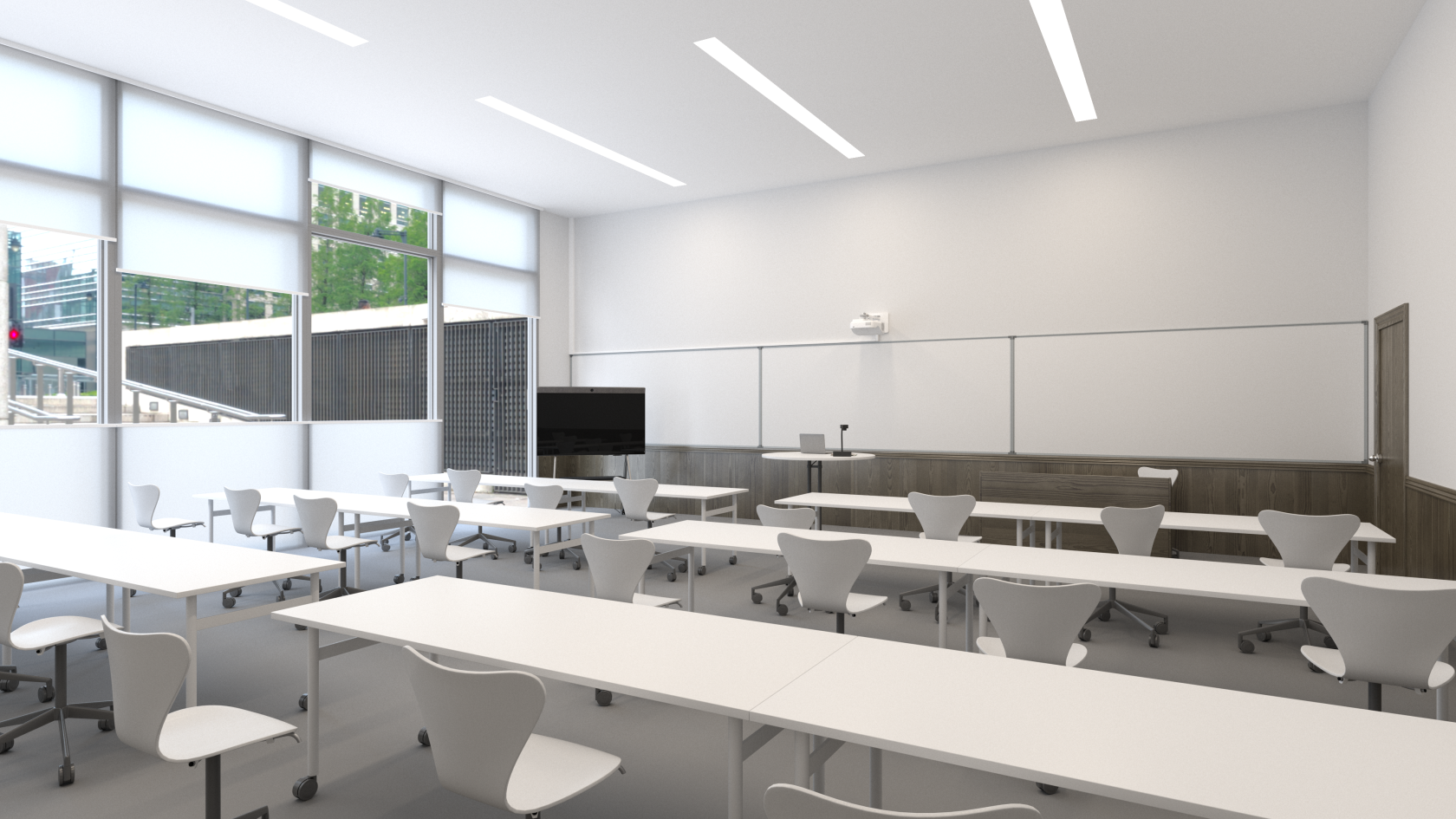 3. Hybrid Meeting Room
Purpose – Day-to-day team meetings, and catch-up video calls with partners and clients.
Impression – Informal, functional.
Format – Table with chairs. Attendees face each other for easy dialogue, with a video wall or video collaboration device on one side to ensure remote attendees have equity in the conversation. It's also great to have some extra space in the room so people can get up and move around, and tools for hybrid whiteboarding and collaboration like Neat Board.
4. Hybrid Breakout Space
Purpose – Quick syncs with teammates, clients and partners.
Impression – Informal, relaxed.
Format – Small table and chairs, or a sofa and coffee table. A screen and videobar, or all-in-one video collaboration device like Neat Frame.
5. Phone Booth
While this kind of room isn't technically a conference room it is rapidly growing in popularity!
Purpose – Quick 1-to-1 syncs with remote teammates, clients and partners.
Format – A booth that fits one person. Typically with a built-in chair and a small surface for taking notes. The booth is video-enabled with a compact AV setup or an all-in-one device like Neat Frame.
Important Technology Considerations for Hybrid Conference Meetings
A modern conference room is one that's video-first, meaning it's purpose-built for video conferencing and delivers an immersive meeting experience for both the participants in the room and those joining remotely – instead of leaving out the people working remotely. To achieve this you need up-to-date video collaboration technology that closes the gap between participants in different geographical locations.
Deliver visual equity
You need a good quality screen to display the faces of remote participants, and you'll need to position this screen where people in the room see it naturally, without having to twist around or make any special effort to view it. You also need webcams in the meeting room and for each participant joining the meeting remotely.
Look out for webcams/video meeting devices which display participants with equal space on-screen, to boost meeting equity for everyone. Neat video devices all come with Neat Symmetry, which gives everyone equal prominence on-screen even if they're positioned at the back of a meeting room far from the camera – a useful feature when meeting rooms are crowded.
Deliver audio equity
People also need to hear and be heard clearly, whether they're joining from the conference room or from home. Invest in good microphones, speakers or video meeting devices. Also look for specialist video collaboration features like audio that doesn't clip or get muted when people talk over each other, and the ability to suppress unwanted background noise. Neat video devices have Neat audio processing which delivers both of these benefits and more.
Choose value-add software
When choosing your video meeting software program consider opting for a platform that offers – not just video meetings – but a suite of hybrid collaboration tools, for additional value for money and productivity gains. Zoom modernizes workflows with collaboration tools including video meetings, team chat, VoIP phone, webinars, whiteboard, contact center, and events. Microsoft Teams is another integrated solution for hybrid teams.
Neat video devices for modern conference rooms
Feeling inspired? Check out our pioneering range of video collaboration devices, certified by Microsoft Teams and Zoom, or talk to a Neat specialist who can answer all your questions today.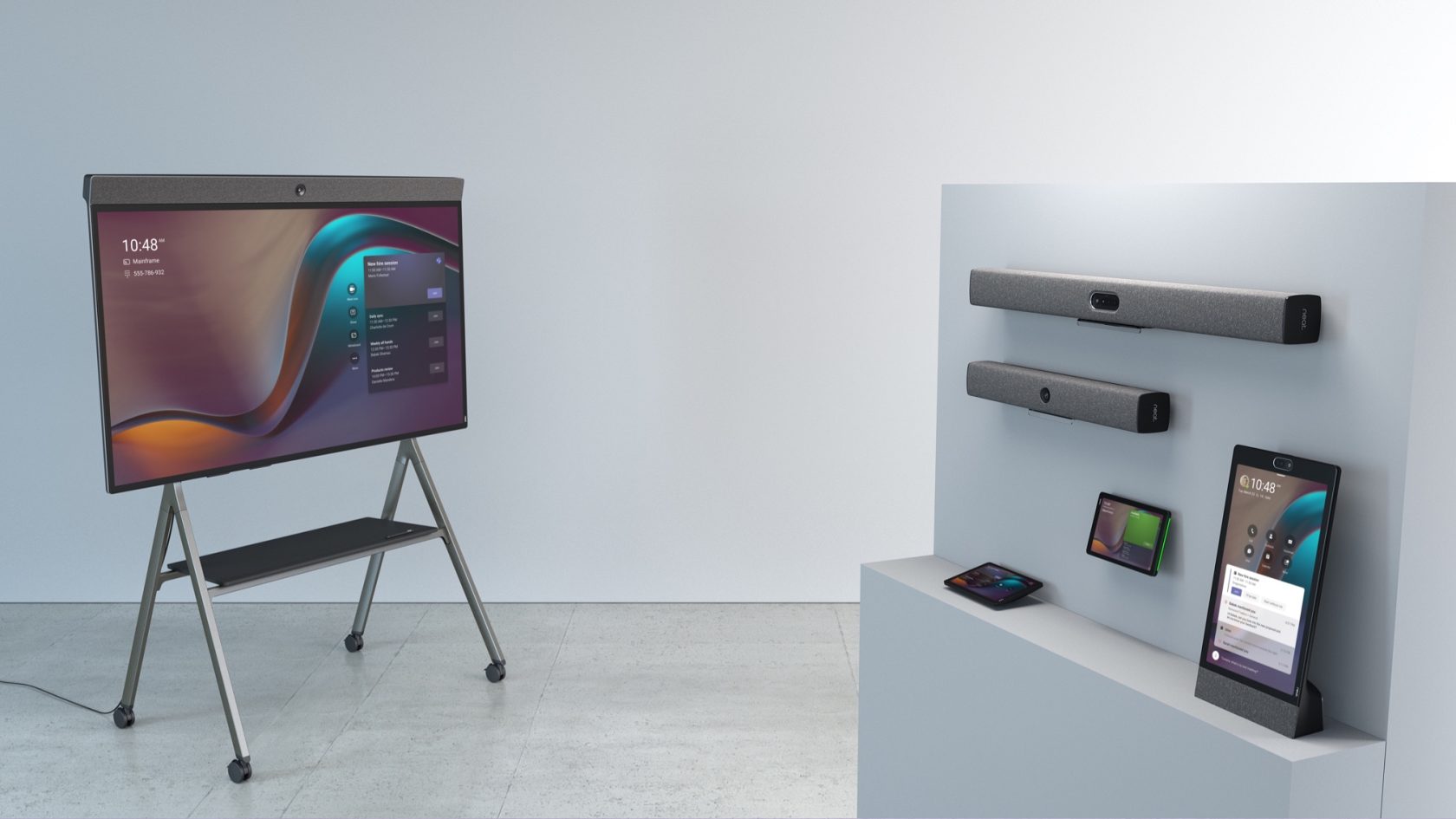 References
Office air quality may affect employees' cognition. Harvard T.H.Chan.
How to improve your mood with room color. Thrive Global.
Lighting and mind study. ZME Science.