A Complete Guide to the Next-Generation Workplace
Hayley Cannon, Jul 5, 2022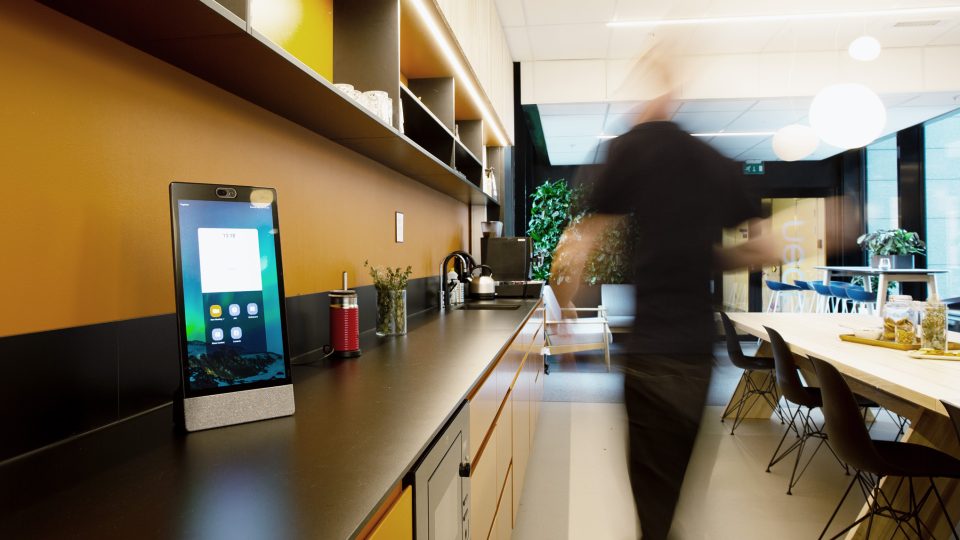 ​​The workplace is constantly evolving — in part because of new technologies and ways of doing things and in part because of the expectations of younger employees entering the workforce. Given that Millennials and Gen Z are digitally native workers and make up a substantial part of today's workforce, there's never been a better time to examine what the next-generation workplace looks like in motion.
Key takeaways:
A next-generation workplace is one that intentionally supports the next generation of workers without alienating veteran talent.
Remote work and collaboration technologies are hallmarks of successful next-gen companies.
Next-gen companies embody several key technology-driven trends, including remote collaboration, video conferencing, cloud-based access, automation, corporate wellness and social equality.
The way we communicate is constantly changing, and those changes affect expectations in the workplace.
Companies can prepare for the next generation of workers by choosing agile, scalable solutions and supporting the social aspect of work.
What Does the Next Generation of Workplaces Look Like?
A next-generation workplace intentionally creates a workplace that supports the next generation of talent. It accomplishes this via agile experiences and technologies that make it easy to adapt to the changing times. By doing so, younger employees entering the workforce will enjoy an easier transition and feel set up for success.
Think about what the workplace looked like ten or twenty years ago. Remote work would have been impossible for most companies due to a lack of cloud-based technologies. Paper-based systems were still preferred. Internet speeds were much slower. Computers were clunkier. Video conferencing wasn't quite mainstream.
For a digitally native Millennial or Gen Z, walking into that type of environment today would seem outdated and inefficient. They'd likely feel like a fish out of water, a stranger in a foreign land. It would take them quite a bit of time to feel acclimated to the workplace and ready to start contributing.
As technologies and daily life evolve, so must next-gen companies in order to keep pace with workers' expectations.
The next-generation workplace embraces new tools and tech that promote a culture of learning and development so that veteran talent doesn't get left behind. And more recently, companies have been increasing their focus on mental health and well-being. Learning where and how to make improvements starts with learning what the next generation of workers need, want and expect from employers. From there, companies can make the right changes and investments to create an empowered and welcoming environment for all.
6 Technology-Anchored Trends for the Next-Generation Workplace
We've seen a number of new trends in technology that enable the next-generation workplace to thrive. Here's a closer look at six trends that set apart next-gen companies from the rest:
1. Remote Collaboration Tools
Many companies have turned to cloud-based collaboration tools to enable remote work. With distributed workplaces and employees' strong penchant for working anywhere they want, workers want tools and technologies that don't require them to be chained to their desks.
For remote collaboration tools to work, they must be universally adopted. A lack of adoption and unification in tech stacks can lead to disengagement and inflexible work conditions, regardless of remote status.
Neat Board helps to overcome this challenge with Zoom and Microsoft Teams by providing collaboration access to all participants during a remote meeting. There's no need for participants to have their own version of software or download their own app. They can make annotations and wirelessly share content once the meeting is underway, whether they're in the room or tuning in remotely.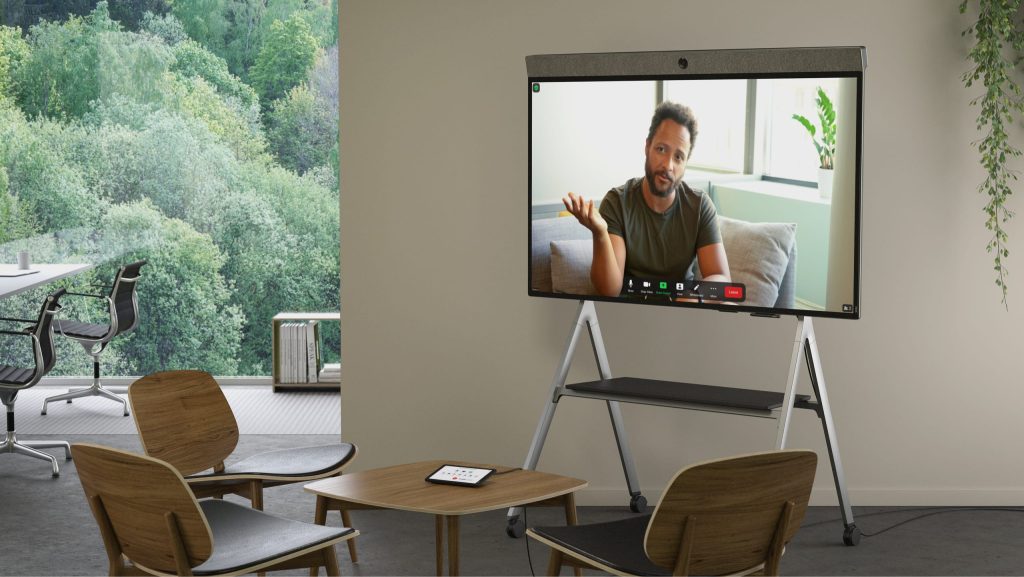 2. Video Conferencing Technology
Video conferencing has become standard in the next-generation workplace. It allows individuals and teams to stay connected, share ideas and collaborate on projects as seamlessly as working side by side.
For example, Neat Frame takes a similar approach to Neat Board but in a smaller package. The desktop-sized device remains ready for video conferencing with the tap of a button, ensuring meetings are more productive and on point. The crystal-clear audio and image quality pick up facial expressions and nuances that are often lost with traditional video conferencing tools, allowing you to better recreate the in-person experience.
3. Cloud-Based Data Access
Cloud-based technologies are the backbone of remote work and next-gen companies. They allow employees and organizations alike to become location independent. In turn, this creates a competitive hiring advantage by sourcing talent outside of the company's local market. Using cloud-based technology also underscores a company's alignment to a digitally native workforce, which can help them to attract younger generations.
4. Automation
Automation helps make our lives easier. For next-gen companies, automation either has a permanent place in the company's culture or is being openly and intentionally explored.
Automation technology empowers workers to make decisions and contribute to a company's success. It allows employees to avoid getting bogged down in repetitive, mundane tasks and spend more time adding value to their role.
5. An Increase in Corporate Wellness
It's no secret that wellness initiatives at work can create an overall healthier employee ecosystem. This can translate into fewer missed days of work, higher productivity, an increase in morale and even a competitive hiring advantage. But these values don't start and stop at the annual company wellness fair.
Technology supports corporate wellness and an increased focus on health and well-being, in general. For instance, Neat Sense is a smart in-room sensor that delivers real-time room analytics. Leaders can monitor air quality, humidity, CO2, volatile organic compounds (VOCs) in the air, ambient noise, lighting conditions and even the number of people in the room.
This data matters even more in the wake of the pandemic. As more companies bring people back to the office, it's important to understand how to create safe and healthy environments for employees.
Companies that embrace a more data-driven approach to wellness in the workplace can remain agile in improving their spaces.
6. Social Equality
Remote collaboration tools, video conferencing and cloud-based access technologies are improving access to work. People with disabilities have more opportunities to find employment thanks to an increase in remote work.
Remote technologies also offer improved meeting equity, especially for women. For women who take on most of the responsibilities related to household management and childcare, they can still be present at work without sacrificing their home life, and vice versa. It also supports women in participating and speaking up during meetings. One report found that women rarely speak up in meetings because they're often talked over. Video conferencing technology can reduce these occurrences by muting participants, requiring hand-raising and using advanced audio processing, all of which can help level the playing field for women.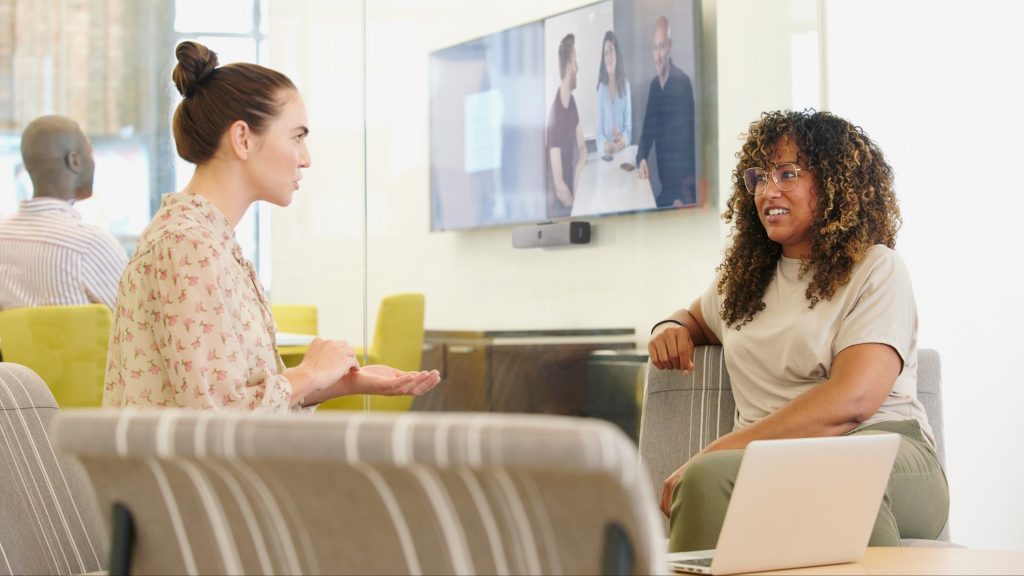 The Way We Communicate in the Workplace Is Changing
Everyday communication techniques evolve over time, and those changes spill over into the next-generation workplace. Employees and employers alike expect fast responses, even among remote workers. Most people have mobile devices that enable ongoing connectivity to phone, text and email, which has shaped perceptions of response times and availability.
To meet these expectations, organizations need solutions that enable seamless communication. Adding face time to voice calls is a bonus that's easily within reach with tools like Zoom or Microsoft Teams. Including the video aspect makes it easy to collaborate.
The challenges in achieving all of the above are many. For starters, constant connection to mobile devices can ultimately harm productivity. It makes it harder to turn off work when the day is over. It also creates the expectation that employees should be available at all times.
There's also the time lost when employees have to toggle between too many tools. On average, an employee switches between 28 different apps and tools for basic tasks. Constantly switching back and forth between apps (especially when you have to log in to each one separately) can lead to app fatigue—a consequence that RingCentral estimates costs about 32 work days in lost productivity each year.
Centralizing workplace communication is key for a next-gen company. Five of the above six technology trends in the next-generation workplace tie back to video conferencing (the sixth being video conferencing itself), which can serve as the anchor for remote work, collaboration and the next generation of workers.
The ability to connect via video enables remote work and collaboration to thrive. It provides companies with business continuity in times when physical operations aren't viable. It opens the door to more candidates outside of a company's local market, including those that may not be physically able to work on-site. It also aligns with the way many people prefer to communicate today — digitally.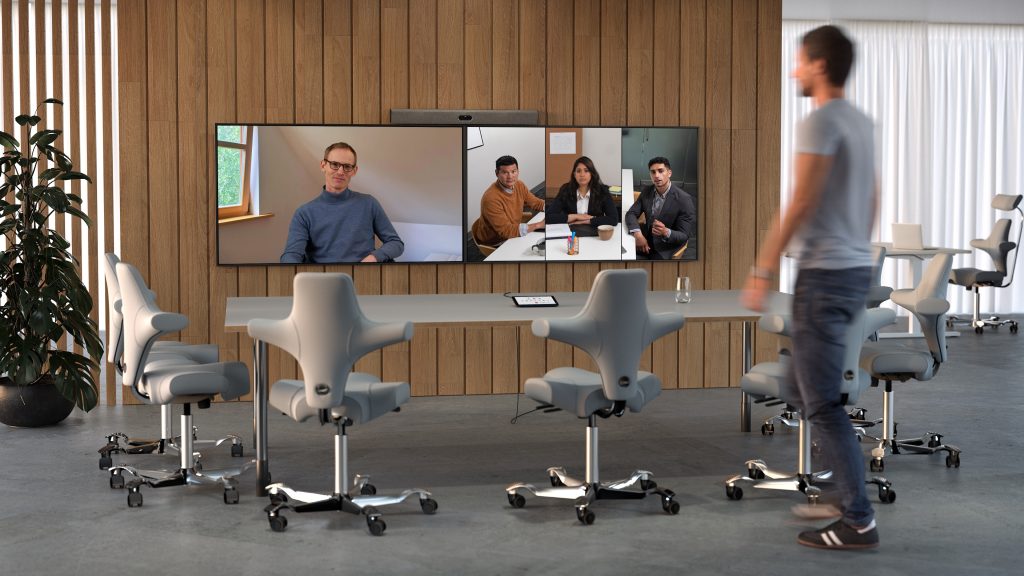 Ideas for Developing a Next-Gen Workplace
Creating a future office with next-generation workplace design in mind can help companies remain agile, competitive and ready for the future of work.
One step that companies should take is to think beyond standalone systems that are expensive, not scalable and hard to implement and master. Simpler systems lower the learning curve for next-gen talent, as well as veteran talent that might not be digitally native or technologically intuitive. Ideally, any new technologies brought in will integrate within the existing ecosystem.
Companies should also take care to emphasize the social aspect of work. The importance of a social environment stands to be lost as more companies embrace remote work. Younger workers that are entering the workforce on a remote basis don't have the benefit of knowing how working in a physical space alongside other people is critical to success. Ensure everyone has opportunities to network internally, get face time with their coworkers and see how a social atmosphere can help them grow—professionally and personally.
Neat video conferencing devices support a next generation-workforce with intuitive functionality. They're easy to set up right out of the box and will scale as your company grows. They're simple to learn for non-technologically savvy employees but advanced enough to impress digitally native workers and support the office of the future—be it remote, on-site or a combination of the two.
Explore Neat devices and start creating an intentional next-generation workplace.
Sources:
4 Things Gen Z and Millennials Expect From Their Workplace. Gallup.
Building The Next Generation Workplace. Satigo.
Building The Next Generation Workplace. Tech Target.
Technology and Workplace Communication. Jotform.
How Online Meetings Are Levelling The Office Playing Field. The Guardian.