Virtual Collaboration Devices for Improving Teamwork
Hayley Cannon, Jan 24, 2023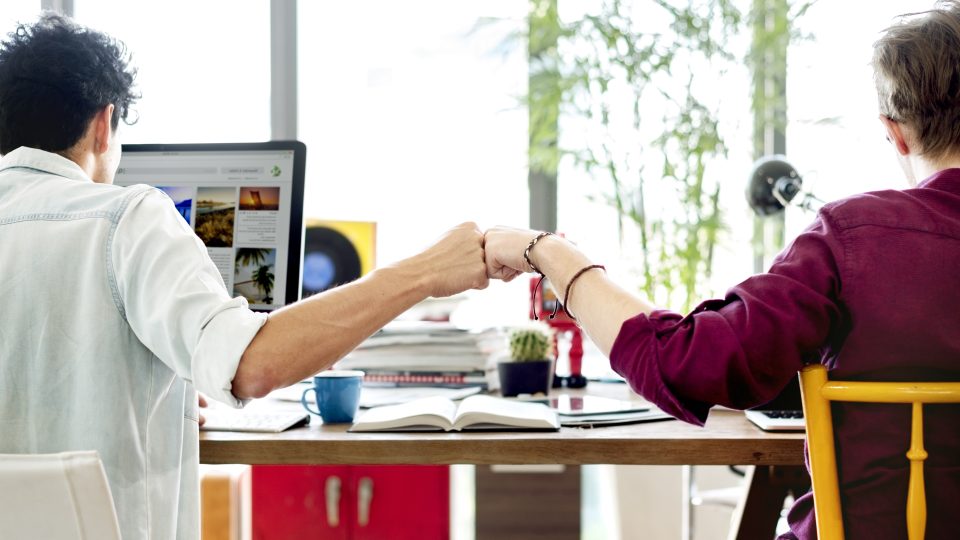 In this article, we explain what a virtual collaboration device is, who uses them and the benefits they offer to remote working teams. Plus ways to use virtual collaboration tools to improve teamwork.
Key Takeaways
Virtual collaboration devices include computers and purpose-built video meeting devices e.g. webcams, videobars, video touchscreens.
Video collaboration devices are used by workers of all levels, across all industries, by people working remotely and in the office.
Benefits of high quality video collaboration devices include better productivity, meeting equity and more life-like dialogue.
Best practices for virtual collaboration include using online project management platforms and avoiding video meeting fatigue.
What is a virtual collaboration device?
Virtual collaboration devices are the hardware that runs video meeting software. There are two main categories:
1. Personal virtual collaboration devices
This is the hardware that you use as an individual to join video meetings, typically a computer. There are also personal devices used only for video meetings, like Neat Frame. These leave your computer free for other tasks and deliver a superior video meeting experience.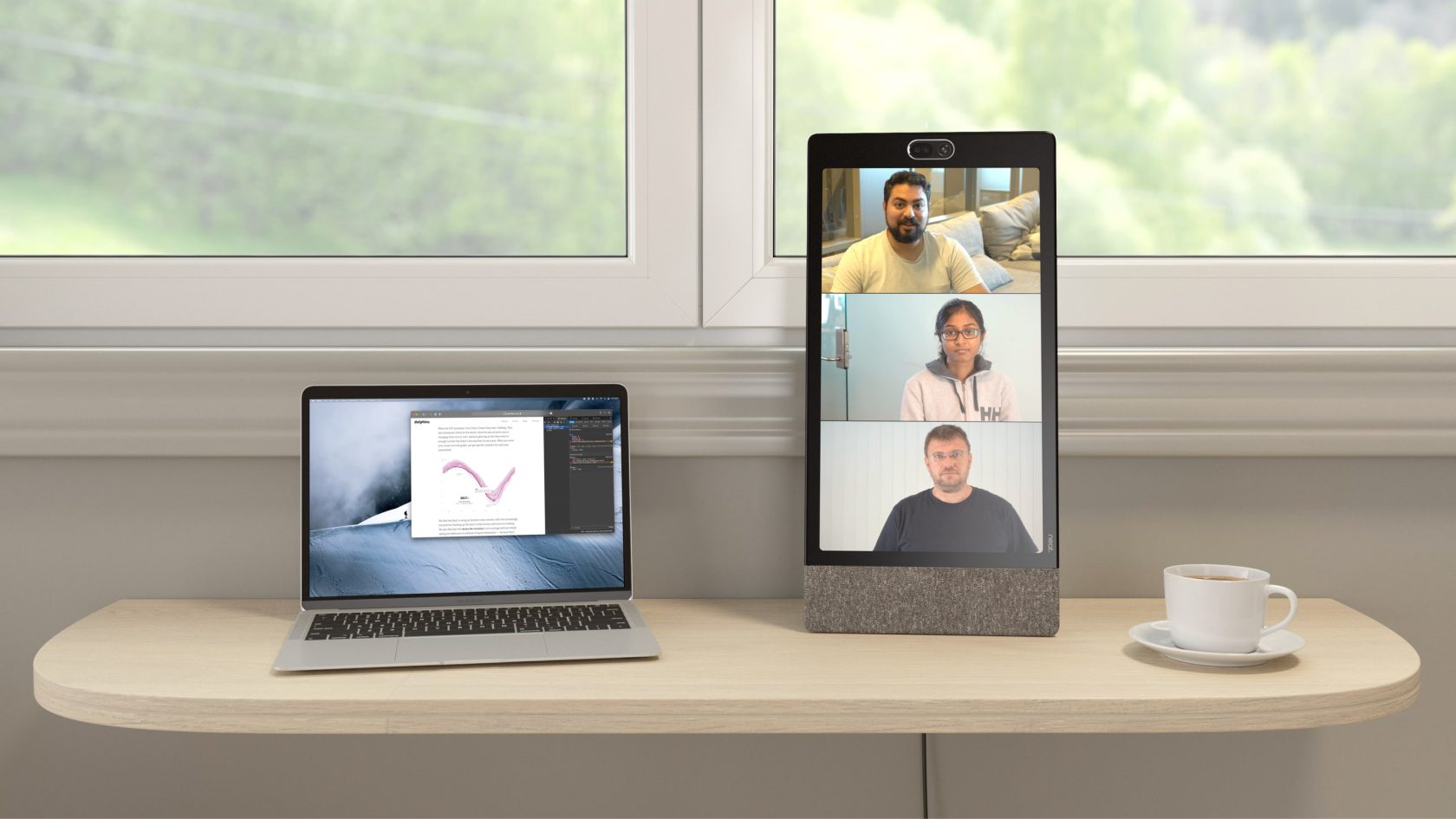 2. In-room virtual collaboration devices
Most office meeting rooms are now equipped with virtual meeting technology, to transform them into hybrid meeting spaces. These rooms have a monitor to display remote participants and share your screen. They also have a webcam to capture the people in the room, as well as microphones and speakers to facilitate conversation. Of course, a video conferencing program like Zoom is also needed to host the meeting.
Video bars are another great video collaboration device, combining a webcam, mics and speakers all in one solution. These devices save space and are more affordable than buying individual pieces of equipment. Neat Bar is a videobar with a 120° field of view camera and 4 to 8x digital zoom, to capture everyone in the room with ease.
Some touchscreens also have virtual collaboration technology built-in so that they can be used for video calls as well as whiteboarding. Neat Board is a 65-inch multi-touch screen with built-in webcam, mics and speakers plus wireless screenshare and annotation functionality. Like all Neat devices, it has patented Neat Symmetry too, which presents everyone in the meeting room equally, whether they're in the foreground or background, sitting or moving around.
Who uses Virtual Collaboration Devices?
Workers in all industries from the C-Suite to the people on the ground are embracing video. The heaviest users are remote workers, that's anyone working from home or off-site.
Office-based workers are also heavy users of video devices as they connect and collaborate with their remote teammates and clients.
Did you know? During 2022, according to McKinsey and Ipsos, 58 per cent of Americans had the opportunity to work from home at least one day a week, while 38 per cent were not generally required to be in the office at all.
Benefits of Using Virtual Collaboration Devices for Remote Teams
The main benefit of using virtual collaboration devices is that they make it possible to connect with people from any location worldwide. This way of working reduces travel, saving time and money and often a company's carbon footprint.
Video collaboration technology can also record meetings with ease and subtitle them, improving access for people who are hard of hearing or speak a different language.
Specialist devices designed solely for video meetings have a range of benefits that go beyond what computers can offer. Think videobars, video conferencing whiteboards and personal devices like Neat Frame. Benefits include:
Enhanced image quality – A more life-like visual experience through features including high resolution video capture and high performance digital zoom.
Enhanced visual equity – Capable of presenting all attendees with an equal amount of real estate on-screen, no matter their location or proximity to the webcam. This improves meeting equity, the sense of equality participants experience on their video meeting.
Freedom of movement – Get up from your seat and move around while your face stays perfectly framed on-screen.
More natural dialogue – High performance audio which delivers crystal clear conversation, even when two or more speakers overlap each other. Unwanted background noise can also be suppressed to keep meetings destruction free.
More privacy – Set a visual zone for your meeting, ensuring nothing beyond that area is visible on your meeting. This boosts privacy when working from home, and also helps keep information written on the walls of office meeting spaces confidential.
Air quality and room utilization data – Neat video collaboration devices have Neat Sense, giving you accurate real-time room analytics for healthier, safer, more cost-effective meeting spaces.
More productive virtual meetings – All these benefits add up to a more satisfying, efficient and productive online meeting experience versus legacy video conferencing solutions.
6 Virtual Collaboration Best Practices
1. Use the right medium for your message
Choose the right medium for the message you need to share like Slack for short, informal messages and video calls when you need to discuss details. Don't make the mistake of constantly asking for video calls for small things that can wait, as this only leads to video fatigue. Ask yourself:
Does this message justify a video conversation or would an email or simple Slack message be ok?
Would people appreciate being able to contribute to a conversation rather than receiving an email about the decisions that have already been made?
2. Collaborate and co-create effectively
Two heads are better than one, so don't hold back from collaborating with your teammates just because you're working remotely. Here are some things you might like to schedule a video meeting for:
Meeting agendas and formats
Timing plans
Creative concepts
Presentations
New business pitches
Make sure you have the right video collaboration platforms and devices too, ones that make co-creating as a team simple. Zoom Whiteboard is made for remote collaboration, making it more visually immersive. It helps teams capture ideas on digital 'post-its' and scribble notes in real time. Using virtual team tools, like Zoom Whiteboard with Neat makes collaboration even more accessible and secure.
3. Keep files and communication organized
Hold documents and communication in a secure 'digital HQ' like Slack. Platforms like this store your messages in threads and channels organized around specific topics/ teams. You can easily share files too and integrate apps like Google Calendar.
4. Use virtual online project management tools
It's easy when you're working remotely to neglect to communicate who's doing what, and lose track of a project's status. Combat this with a dedicated virtual project management platform like Asana, which improves workflow and boosts transparency around tasks and timings.
5. Socialize
Make the effort to schedule virtual water cooler moments, as well as more structured activities like a virtual pub quiz or book club. Keep social activities optional, so people who are too busy don't feel any pressure to attend.
6. Be mindful of timezones
Your teammates abroad might be putting kids to bed or getting ready for bed themselves, depending on their timezone. Collaboration in virtual teams means avoiding scheduling meetings at unsociable hours and record meetings on the occasions when it's impossible to meet in real-time.
Final thoughts
The right virtual collaboration solution for you, is the one that makes hybrid and remote working feel as life-like as possible, so you and your team connect and get on with being your most productive selves. At Neat, our knowledgeable representatives can walk you through our award-winning solutions and help you discover a device that's perfect for your company's unique needs. Have a chat or simply browse Neat devices today.
References
The 4 biggest workplace trends in 2023. Forbes.
How to add captions to Zoom video conference recordings. 3play media.