Meeting Space Collaboration Systems: A Complete Guide
Hayley Cannon, Feb 8, 2023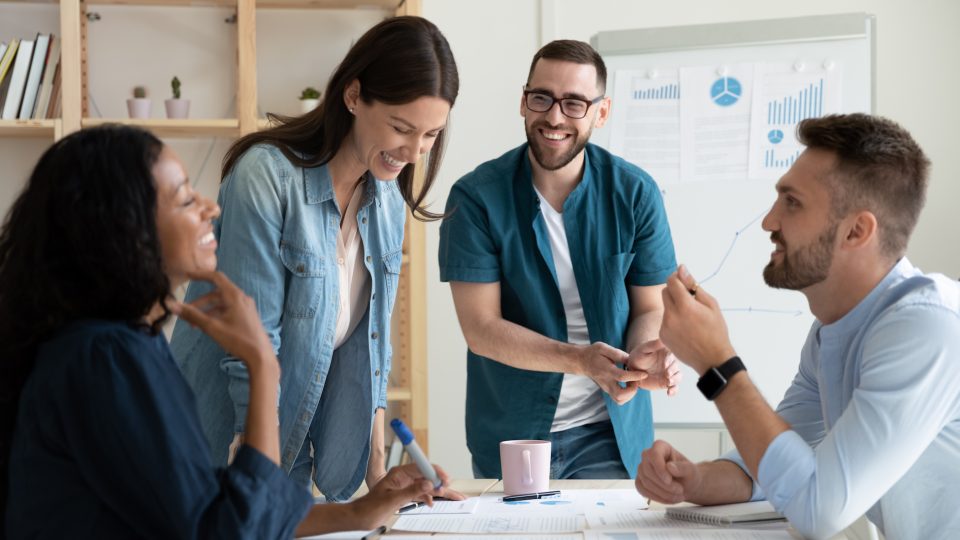 Key takeaways
A meeting space collaboration system allows people in different geographical areas to work together.
A meeting space collaboration system that works well is vital for hybrid workers; the quality of their communication depends upon it.
Participants will need a webcam, screen, microphone, speaker – or a device/s that combines these functionalities.
You'll need to determine the room size, the number of people that will use it and the number of webcams, screens etc you will need.
Research the technology that fits your needs and try before you buy.
What is a meeting space collaboration system?
A meeting space collaboration system is a purpose-built system which allows people in different geographical areas to work together. It includes the software used to bring those people together and the hardware that captures and displays peoples' images and conversations.
A very simple meeting space collaboration system is one that brings together two different locations. For example, an attendee in the office and one working from home. All that is needed for a video meeting in this example is a computer with a webcam. Alternatively, attendees could use a dedicated device such as Neat Frame, which has advanced features that make video meetings more life-like.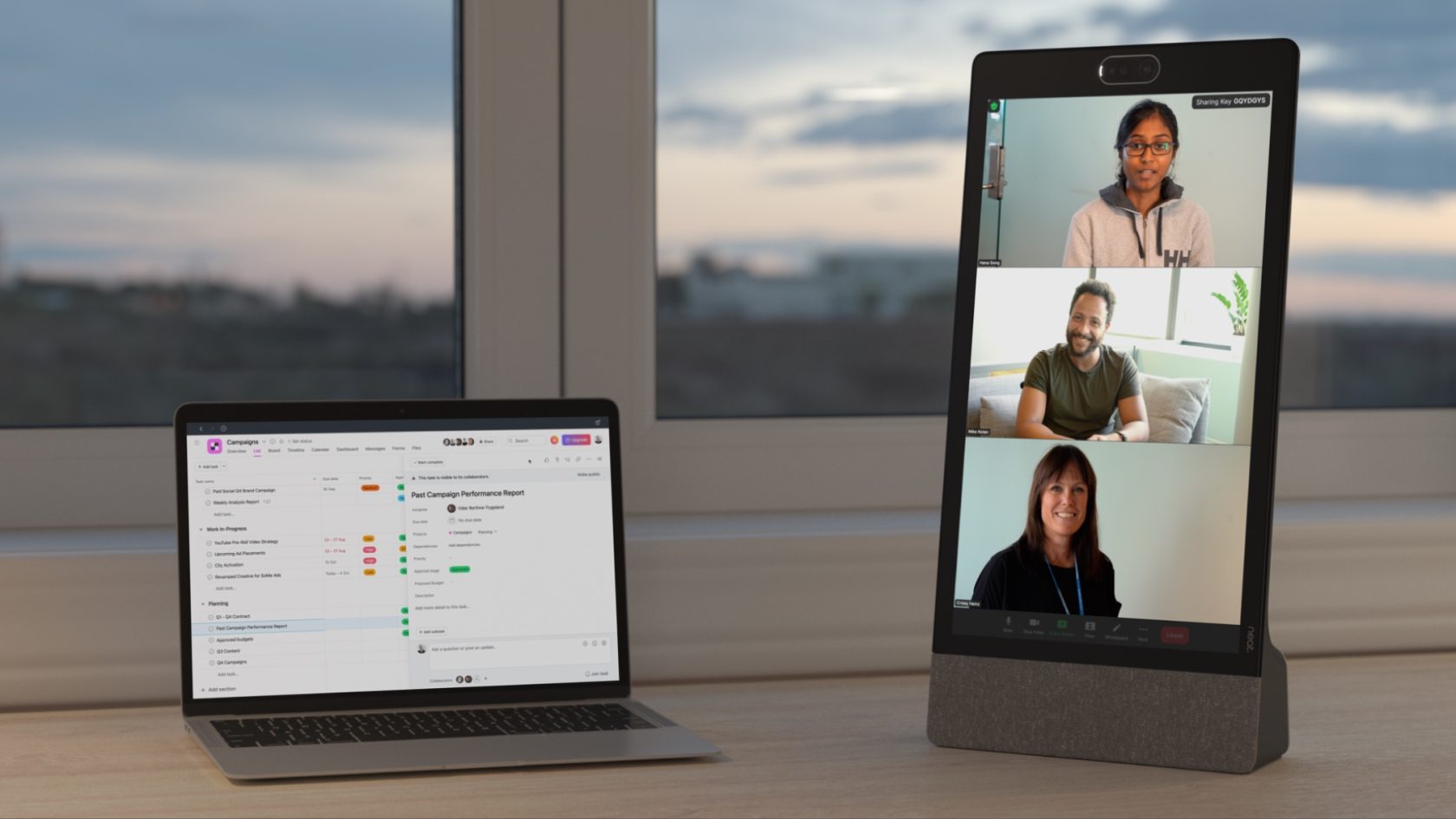 An example of a complex meeting space collaboration system is one that brings together multiple attendees and locations, like a meeting taking place in a room at the office, joined by multiple attendees working from home. These meetings may take place in one or more time zones. The technology needed for complex collaboration systems includes multiple webcams, microphones, speakers and screens – enough to capture everyone's image and speech. The attendees working remotely will of course need their computer with a webcam or video-meeting device too.
Today, there are also more streamlined solutions including Neat Bar, a video-meeting device with a built-in microphone array and wide field of view webcam capable of capturing everyone in a small to medium size meeting space. There's also Neat Bar Pro for larger spaces including classrooms.
The Benefits of Using a Meeting Space Collaboration System
Investing in the right meeting space collaboration system brings many benefits to the hybrid workforce. Visually, the right system delivers a high-resolution image which bridges the gap between remote and in-office employees. Effective communication relies on being able to see people's facial expressions and body language clearly.
The right meeting space collaboration system also improves meeting equity, by giving all attendees equal prominence on-screen. Neat's video devices all come with Neat Symmetry, patented technology that auto-frames participants and gives them equal space on-screen, wherever they are in the room – even right at the back! It also keeps their face in the picture when they move around, liberating people from their chairs and enabling them to be more mobile.
Theaudio experience of online meetings can also be improvedwith the right collaboration system. Common issues likeechoes, distracting background sounds and 'double speak' can be eliminated completely with the right set-up. All Neat devices haveNeat Audio Processingwhich suppresses unwanted noises in the background. It also delivers clearer dialogue overall. If two people simultaneously speak, neither voice will sound muffled, meaning anyone can pitch in during lively debates without their voice being clipped.
What you need to set up a Meeting Space Collaboration System
Think of your meeting space collaboration system as consisting of two key aspects: visual and audio. Visually, you need a webcam to capture everyone and a screen to display their image to others. In terms of audio, you need a microphone to capture speech and a speaker to play what's being said.
You will need to choose the right equipment for your system, so do your research. Be sure to check out our guides:
It's also important to know that you can build the perfect collaboration system with multi-functionality devices that blend together combinations of webcams, mics, speakers and screens together. These all-in-one solutions take up less space, look elegant and are more affordable than buying individual components separately. Crucially, they do not compromise the experience of the video meeting. The most innovative solutions actually deliver a superior experience, taking virtual collaboration to a whole new level. A good place to start researching multi-functionality devices is by browsing Neat's award-winning range.
Finally, you'll need an online meeting platform such as Microsoft Teams or Zoom. Leading platforms like these offer a secure and private service to protect confidential information and have special features to make your online meetings more interactive, like screen sharing and fun virtual locations like a virtual lounge.
6 steps to setting up Meeting Space Collaboration System
1. Understand the number of types of meeting spaces you need
First, you need to understand the number and type of meeting spaces you need to set up. These include meeting spaces in the offices, from the smallest huddle room to the largest board room, plus the number of people who will join from remote locations.
2. Work out how many people can comfortably use each space
For each meeting space decide how many people you can fit in, without overcrowding it. The smallest spaces are individual desks (either in the office or at home) and booths designed for just one person. Then there are medium-sized spaces like meeting rooms and lounges. All the way through to the largest spaces, like board rooms, classrooms and lecture theaters. Make a note of how many people will use each space.
3. List what equipment you need to turn the space into a hybrid meeting room
Plan what equipment you need to best serve the space, taking into account how big or small the space is and how many people need to be captured on video. The crucial components are:
Webcam
Screen
Microphone
Speaker
Multi-functional devices that have everything you need for online meetings in one device.
Consider where each item will be located in relation to the seats in the room.
4. Dedicate time to researching your options
Before you invest any money, spend plenty of time researching your options. Begin with online research, then book a demo or talk to a specialist who can do the thinking forward you like our highly-skilled Neat representatives. When doing your research it helps to have a list of factors to consider. Starters for ten include:
Product specification
Quality
Upfront cost
Ease of set-up and use
Customer reviews and testimonials
5. Invest in and install your chosen equipment
Make your purchase in full confidence, taking full advantage of any support offered by the manufacturer such as customer support and warranties.
6. Train your team
Spend time demo-ing your meeting space collaboration system to the team who will be using it day to day. Taking time to do this upfront will reduce the number of calls they have to make to IT further down the line. However, if you choose Neat devices they're designed to be so simple that no training is required.
Explore the right meeting space collaboration system for you
To get inspired and help you find the right set-up for you, check out our range of meeting spaces and what devices are best suited to each one, from small focus rooms for solo working to large conference rooms. And remember, planning your collaboration system doesn't need to be stressful or complicated. Visit Neat for simple and trustworthy guidance.
References
Security at Zoom: Security Overview. Zoom.
Enable flexible, hybrid work with online meetings. Microsoft.