Leveraging Conference Room Analytics to Improve Meetings
Hayley Cannon, Nov 2, 2022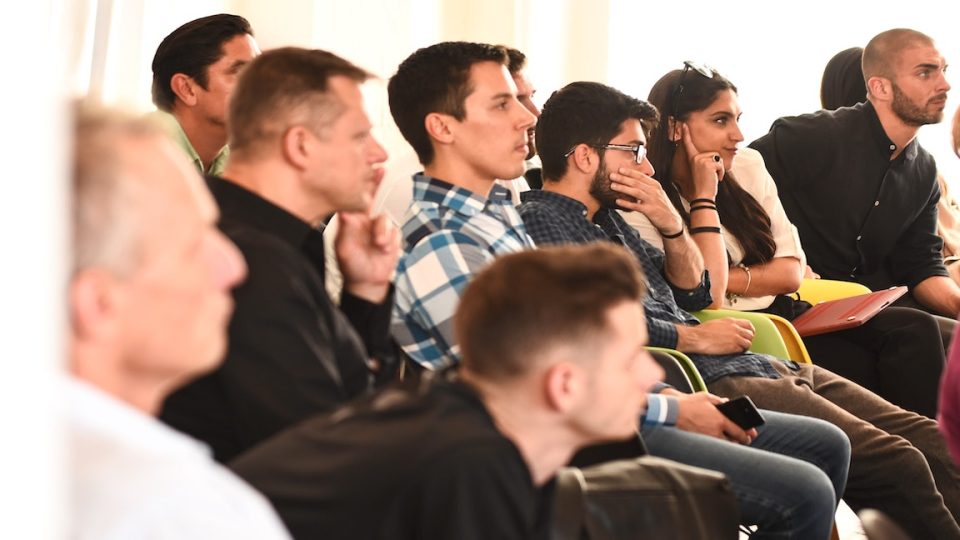 From lighting to air quality to utilization stats, your conference room presents a wealth of insights to help you improve the feel and function of every meeting. Here's how to tap into your conference room analytics to save money, boost productivity and improve the overall experience.
Key Takeaways:
Conference room analytics collect meeting data such as the number of participants, room temperature, air quality and other factors.
Analyzing meeting data and applying the insights you extract helps you save money, make meetings more productive, reduce meeting overlap and optimize your meeting space layout.
Empower your data by choosing analytics software and tools like Neat Pad.
Develop an analytics action plan by assigning someone to manage the process and getting buy-in from leaders and meeting organizers.
What Are Conference Room Analytics?
Conference room analytics help facilities managers identify the effectiveness and resource usage of meetings and conferences. They can also help you understand whether you're making good use of your conference space and whether more or fewer conference rooms should be considered in the next lease.
Analytics can share information on:
Number of people in attendance
Length of time spent in the room
Lighting usage
Room temperature
Air quality
Usage frequency
By tracking these factors, businesses can determine whether their conference room is being used efficiently and whether they have adequate meeting space to meet the business's needs. The goal is to use meeting data to reduce the costs of meetings and improve meeting quality.
Conference room analytics can help businesses save money by identifying patterns of underutilization or overuse and making adjustments based on those insights. They can also improve employee productivity by ensuring that meetings are scheduled only when necessary.
How to Gather Data on Your Workplace Meetings
There's a world of meeting room data waiting to be tapped into. All you need is a way to collect and analyze it. Here's how to get started:
Start with your goals
First, decide what you want to accomplish with your meeting data. Do you want to reduce the costs of using the meeting space? Do you want to increase attendee engagement? Knowing your goals will help you determine what data needs to be collected.
Based on your goals, you might want to compare the number of invites sent versus the number of attendees or how often the conference room is used. Look at how long the lights are on, whether participants adjust the room temperature, how long the HVAC system runs and other details that give insight into your meeting quality.
Use Meeting Room Analytics Software
You can collect meeting data more efficiently with meeting analytics software. This purpose-built software automatically collects and analyzes data points with every meeting and compiles it into reports and insights.
For example, Neat Sense enables you to continuously monitor and manage air quality, humidity, CO2 and Volatile Organic Compounds (VOCs are organic chemicals, odors, scents etc.), along with the number of people in the room, ambient noise and lighting conditions.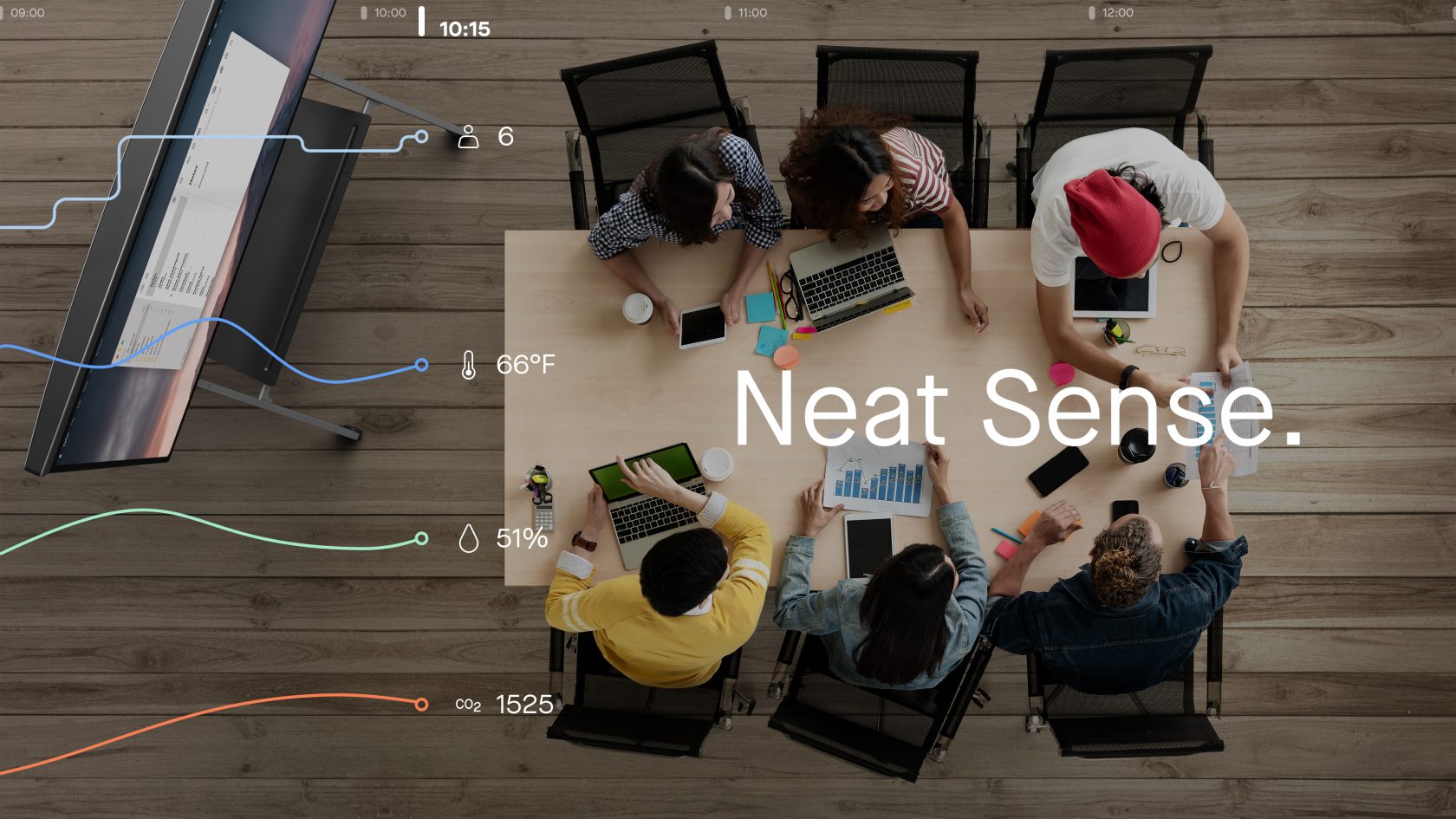 Leveraging Conference Room Analytics to Improve Meetings
Data-driven insights from your conference room analytics can help you transform your meetings without sacrificing comfort or function. Here's how:
Find Patterns in the Data
Having all of your meeting data in one place makes it easier to find patterns and trends over time. For example, you might find that your meeting room is used more frequently on certain days of the week or that lights and systems are running all day even when no meetings are scheduled. You can use these patterns and trends to make impactful changes.
Save Money
The average cost of an hour-long meeting ranges between $30 and $250. But when you factor in things like employee productivity, missed deadlines, and opportunity costs, the real cost of meetings skyrockets.
That's why more and more businesses are turning to meeting room analytics to save money. By using sensors and other data-gathering devices, businesses can collect actionable data they need to make important decisions.
Companies can leverage this information to make changes that save the company money. For example, you might schedule fewer meetings, make meetings more productive or reduce systems usage when people aren't using the room.
Reduce Meeting Overlap
You've probably had the frustrating experience of trying to book a meeting room only to find that someone else is already using it. This problem is often caused by a lack of communication and coordination between employees.
Enter meeting room analytics. By collecting data on who is using which meeting rooms and when, businesses can get a better understanding of how their space is being used and make adjustments accordingly. For example, if certain rooms are being booked at the same time every day, you can encourage employees to book those rooms in advance. Or, if possible, you can make more meeting room spaces available.
Not only does this reduce the chances of meetings being interrupted or rescheduled, but it also helps businesses make better use of their space.
Optimize Meeting Room Layout Design
Using meeting room analytics is a simple and effective way to ensure that your company makes the best possible impression on clients and partners. One area where this proves beneficial is in determining the best way to arrange your furniture and equipment to make the most of your space. For example, if your conference table has seating for eight people but many of your meetings have 12 or more attendees, then you may need a bigger table or other seating options.
Meeting room analytics may also help with decisions regarding the placement of equipment, such as video conferencing monitors, microphones, cameras, microphones and whiteboards.
Increase Engagement
By understanding how employees use meeting rooms, companies can make changes that encourage greater collaboration and communication.
Meeting data can also reveal factors that could cause productivity and engagement to suffer. For example, air quality, CO2 levels and humidity can all affect a person's productivity. Poor air quality or too much CO2 can lead to a lack of ability to focus. High humidity can create a breeding ground for airborne viruses, which can lead to time missed from work.
Volatile organic compounds (VOCs) naturally occur and pollute the air. They're emitted from things we use every day, such as furniture, shoes and paint. Tracking VOCs in the meeting room can help reduce exposure to them, which may lower the number of sick days taken and improve overall worker health.
Optimize Your Real Estate
Meeting room software can log the number of attendees in each meeting, and can even be set up to limit the number of participants in a given space. Knowing the number of people in the meeting room at any given time can help companies implement proper health and safety measures, such as spacing out attendees at the conference room table.

Analytics can also come in handy when reinventing spaces in the workplace. For example, flex spaces are a growing workplace trend. Employees can use these spaces however and whenever they wish. They serve multiple purposes, from in-person collaborations to one-on-one video calls. Having these smaller spaces can provide cost savings compared to using a large meeting room, especially if larger spaces would be overkill for what your employees need. You can use meeting room software to track how these spaces are used, how often they're used, how many people are using them and other data. Facilities managers can use this data when deciding how to repurpose space, make furniture and equipment investments and right-size the workplace.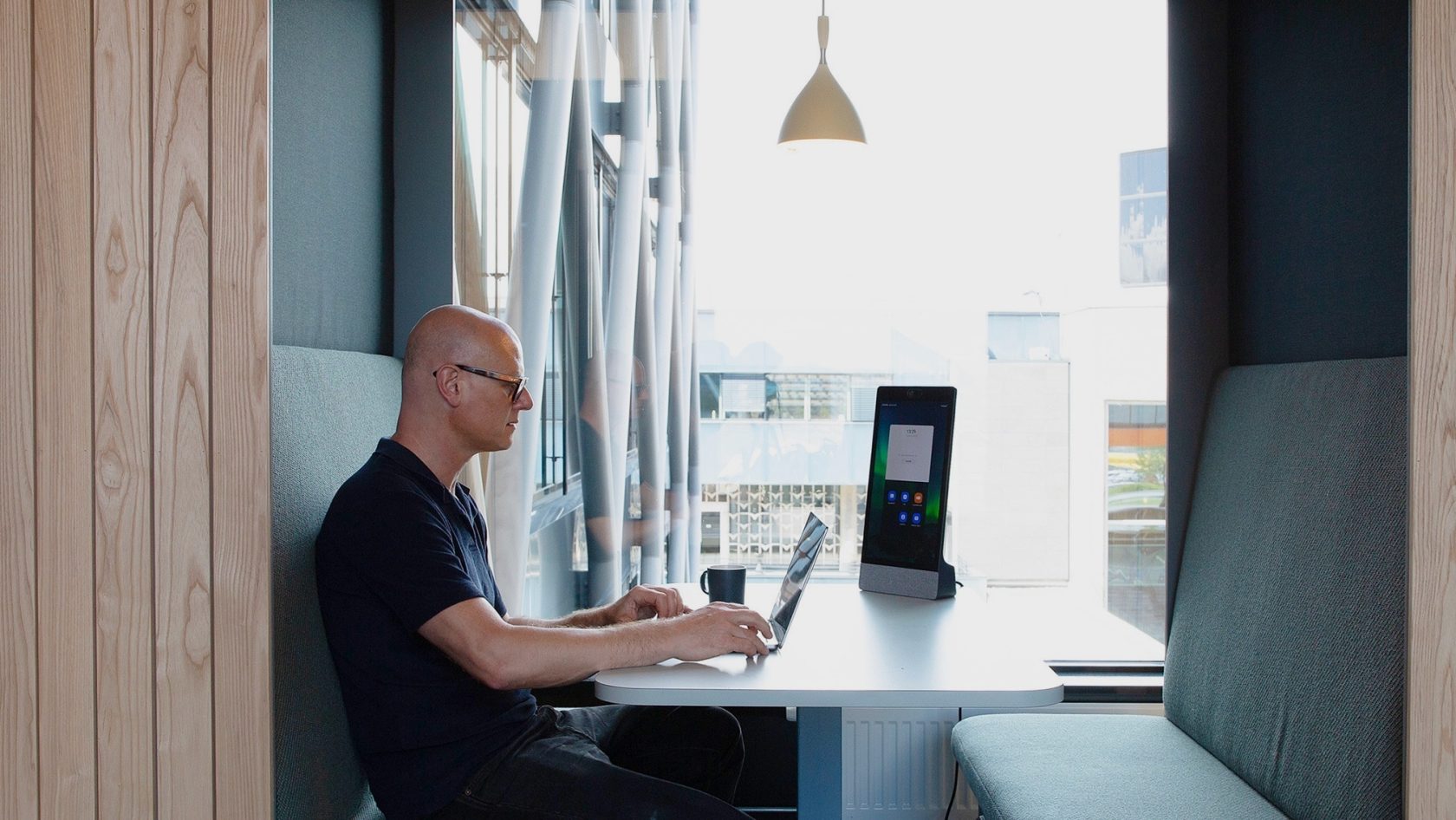 How to Develop and Execute an Action Plan to Improve Future Conferences
Ready to put conference room analytics into motion? You'll need to take the right steps to choose and implement meeting room software and create a plan to use the data you collect.
Start by getting buy-in from the C-suite and team members. Implementing conference room analytics will require an upfront monetary investment. It may be helpful to show how much money you can save with meeting data in the long run and how it will contribute to better meetings.
From there, start exploring meeting room analytics software. Review the data each software collects and the equipment and hardware you need to make it work. Make sure your software will report on the things that matter most to you and your team.
You'll also need to review the data to make adjustments to your meeting process. Use data to support your suggestions and show how your proposed changes will benefit the company.
Last but not least, put someone in charge of this process so it doesn't fall through the cracks. Meeting data doesn't manage itself. Someone will need to be assigned to review this data on a regular basis and know how to use it to make impactful changes.
Final Thoughts
Leveraging conference room analytics can provide so much more than a boost to your bottom line. When you can improve employee health and safety, increase productivity and make the space more accessible and comfortable—all while saving money—everyone benefits.
Neat Pad puts better meeting functionality into your hands. You can manage your meeting rooms from a single interface that includes everything from scheduling to systems. It also serves as a room controller, allowing you to launch video calls and adjust your meeting space on the fly. Learn more about Neat Pad today.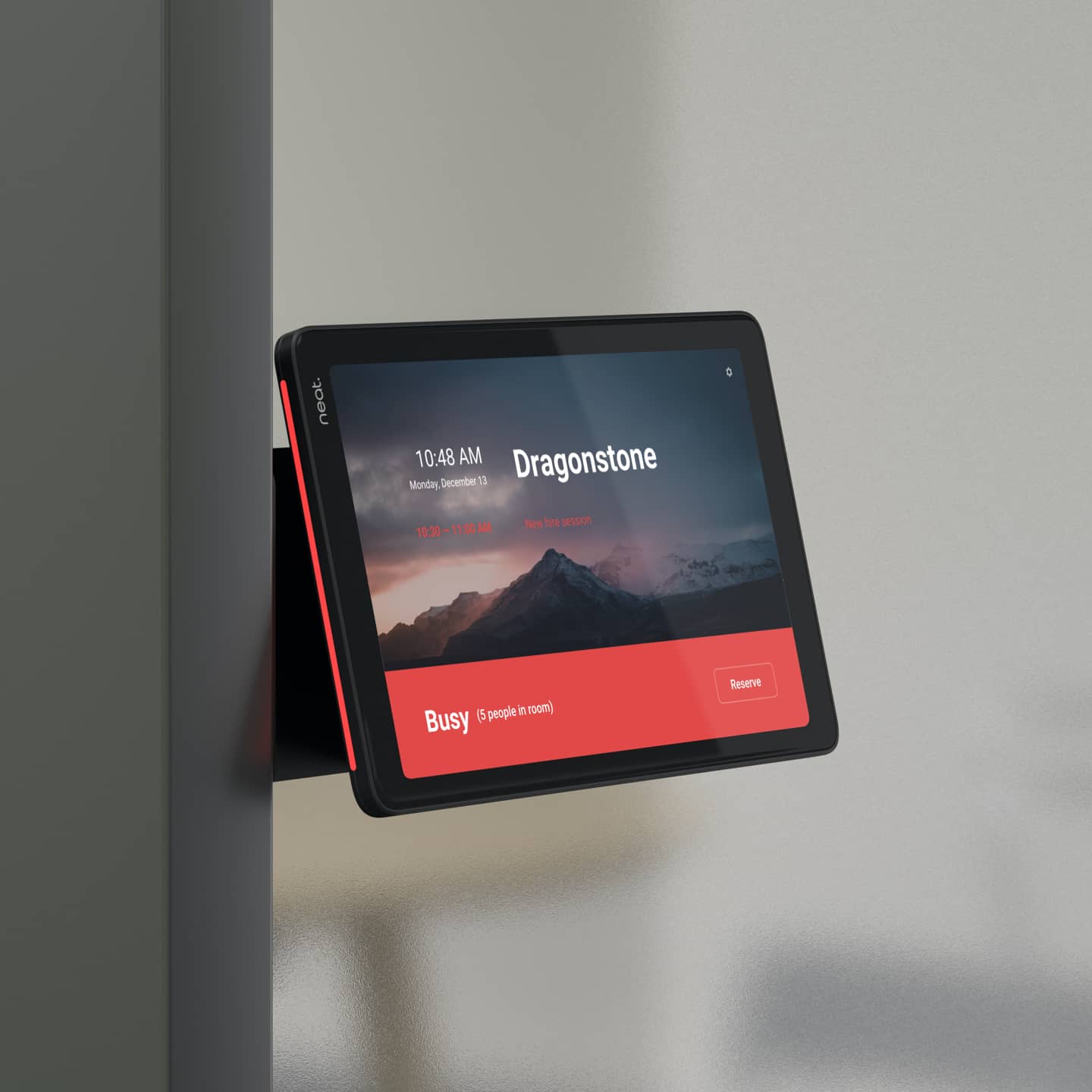 Sources:
Meeting cost calculator. Omni Calculator.