Huddle Room: Definition, Benefits & When to Use
Hayley Cannon, Feb 8, 2023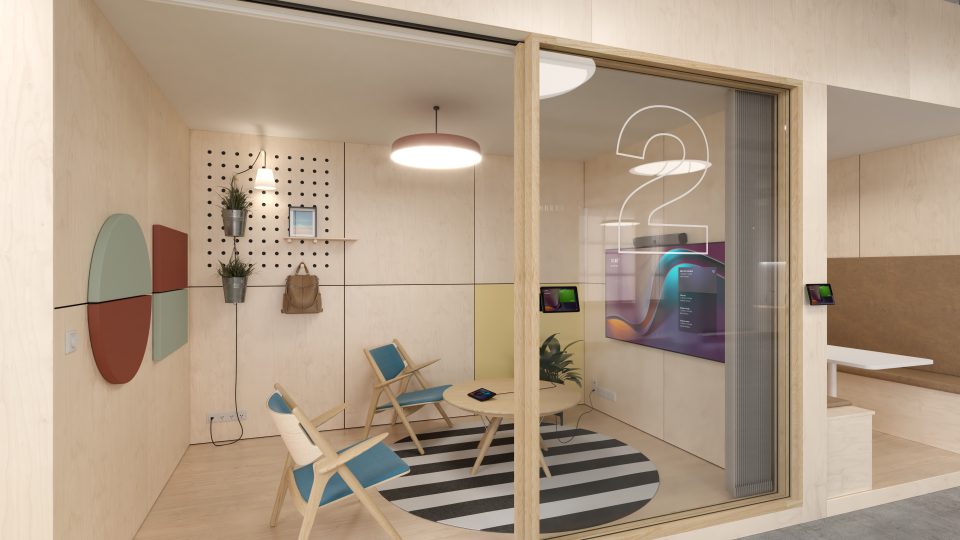 This article covers key topics including what is a huddle room, when are they used and what are the main benefits. Plus guidance to create a huddle room at your own company.
Key Takeaways
A huddle room is a small meeting space which is ideally hybrid so people can connect via video. They're most commonly used for informal check-ins where people need to re-group at short notice.
The benefits of huddle rooms include making more efficient use of your office space and an uplift in productivity – as huddle rooms create more opportunities for people to get together and progress projects.
Huddle rooms help unify hybrid teams, providing more quiet, focused places where teammates in the office can connect via video with people WFH.
Video devices intentionally designed for huddle rooms make great use of the space and have specialist video collaboration features that make virtual meetings more life-like.
What is a huddle room?
The name 'huddle room' was inspired by the kinds of 'huddles' you see on the sports field, moments where teammates get together to check in, strategize and move forward with confidence. A huddle room in an office provides exactly the same opportunity. In essence, it's a place where people come together to re-group quickly and informally, a fuss-free alternative to hosting a meeting with a detailed agenda in a larger conference room.
Huddle rooms can also be used to connect with remote working teammates, provided they're equipped with video collaboration equipment including a screen, webcam, microphone and speaker. All-in-one video meeting devices such as a video conferencing soundbar or videobar are also ideal for huddle rooms, saving more space versus the more traditional AV set-up.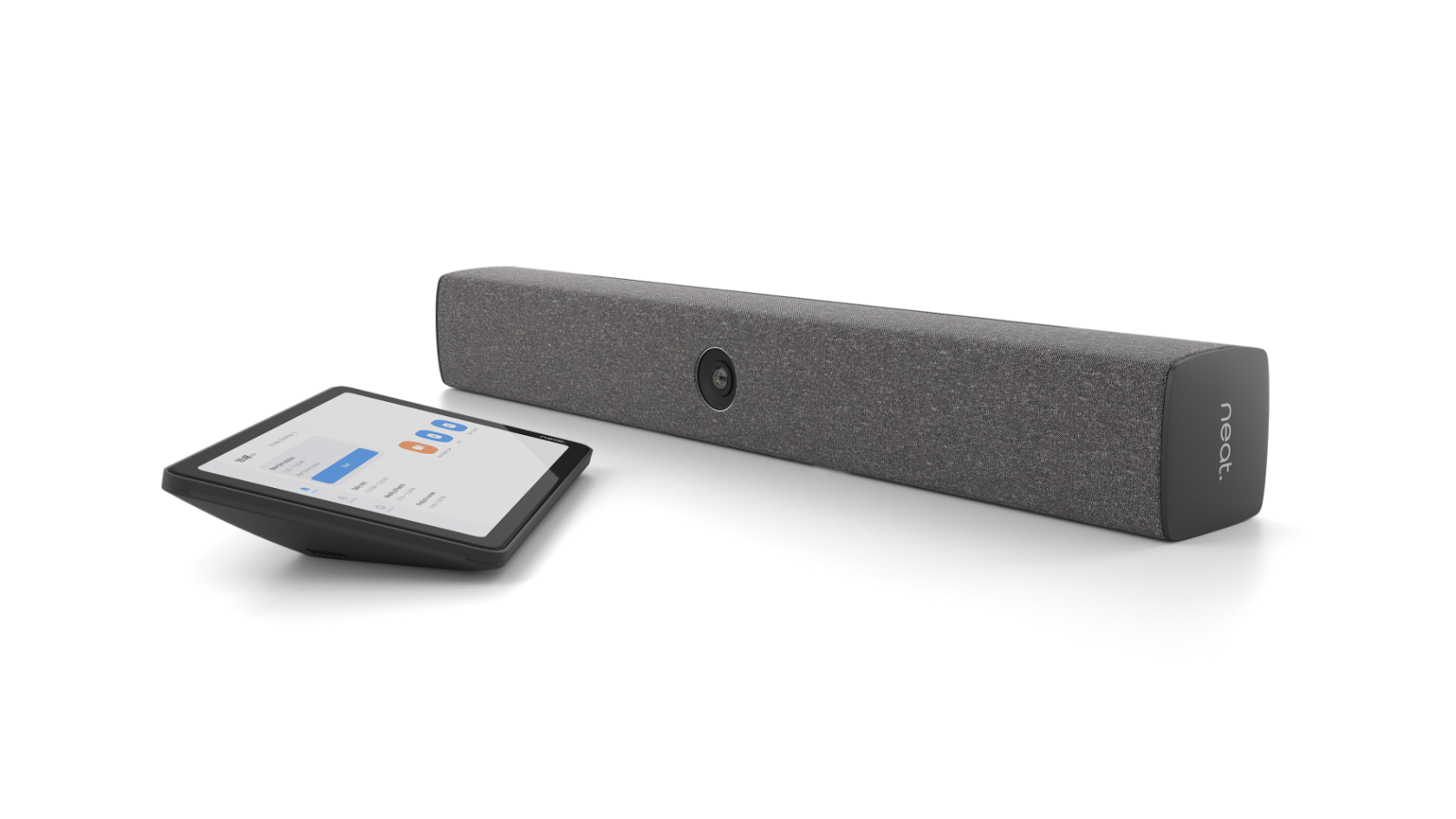 Typically huddle rooms fit two to four people, as the aim is not necessarily to update whole teams, but rather to catch up with key players as a project unfolds in real time. The set-up of a huddle room, therefore, is usually one screen with four chairs oriented around it – or a sofa, armchairs, and beanbags for a more relaxing vibe. Standing-only rooms are also popular, for short check-ins like daily stand-ups and progress reports.
An example of a huddle room can be seen here, alongside other inspirational types of meeting spaces for the modern office.
Huddle Room vs. Conference Room: 6 key differences
Size – Huddle rooms are built for no more than four people. They can often fit into the parts of the office that would otherwise remain redundant, such as in corners and under stairs – which helps use the office footprint more efficiently.
Purpose – The primary purpose of the meetings that happen in huddle rooms is informal catch-ups and discussions that don't require all stakeholders – just a few key people who can move a project forward.
Level of formality – Think cozy and relaxed rather than glossy and formal. Huddle rooms are not for impressing clients or special internal meetings, they are for the day-to-day informal processes that make a project tick.
Technology – As huddle rooms are smaller they require minimal video meeting technology to make them into hybrid rooms. A screen with a webcam, mic and speaker is a common set-up, with attendees sharing their screen via a video meeting platform like Microsoft Teams or Zoom. All-in-one devices that are purpose-built for meeting spaces are also a great option. They're more compact and streamlined, with fewer wires to help keep small huddle spaces neat and clutter-free. Examples of all-in-one devices include video-enabled soundbars, videobars and video-enabled touchscreens such as Neat Board.
Demand – There is more demand for small huddle rooms than for large conference rooms, mirroring the frequency of huddle-style meetings vs large conference-style meetings. Plan your office space accordingly. If you're not sure how well your various meeting rooms are occupied, it helps to get accurate headcount data for each room. Neat devices come with Neat Sense, which gives you useful room utilization statistics to help you plan the best use of your office space.
Availability – Ideally huddle rooms are plentiful and therefore available at short notice, for more impromptu meetings. This is very different to traditional conference rooms which are usually booked in advance and in short supply.
Did you know? 73% of meetings involve only two to four people, but 53% of conference-room space is built for meetings of seven or more.
4 Ways to Use Huddle Rooms
Huddle rooms can be used for a range of different meeting types:
1. Stand-ups
Short, rapid-fire meetings to understand the status of projects, prioritise to-do lists, delegate and refresh everyone's memory of KPIs or targets for the particular day ahead.
2. Idea generation
There's no such thing as a bad idea' creative brainstorming meetings. Huddle rooms with virtual whiteboarding software and devices are especially good for this.
3. Training & development
Demonstrating how to do tasks and sharing skills in a relaxed, non-threatening environment where people can ask questions without feeling self-conscious.
4. Celebrating wins
Don't forget to celebrate achieving milestones and give shout-outs to teammates who have gone above and beyond. There's no need to wait for more informal meetings in conference rooms to praise the people around you!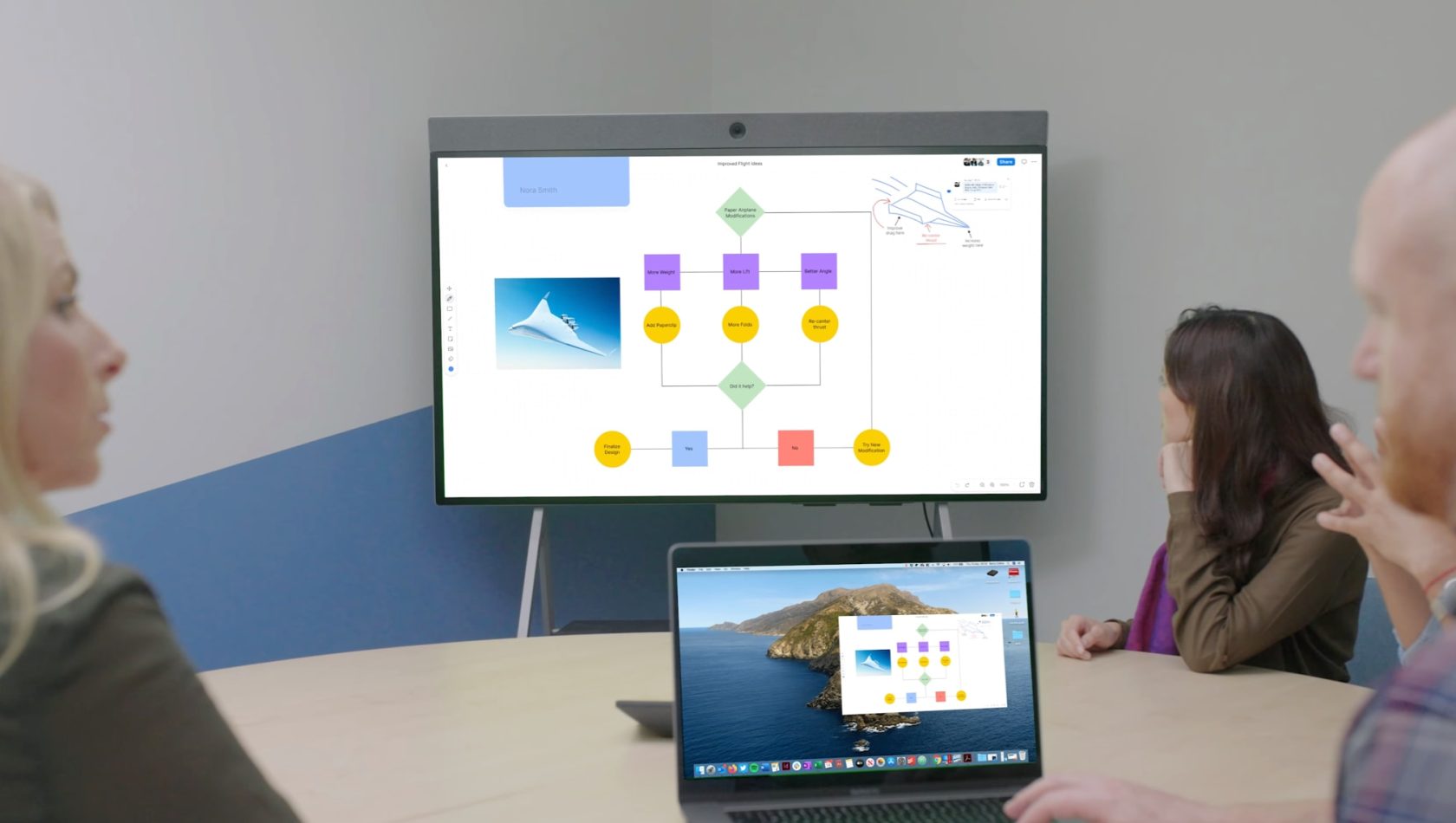 10 Benefits of Using Huddle Rooms
1. More collaboration
Huddle rooms encourage teammates to orchestrate more collaborative moments throughout the day. More communication means better results.
2. More focus
A purpose-built huddle space encourages more focus and concentration versus having the same conversation at someone's desk in a busy, noisy open-plan space.
3. More efficient workflow
When you can dive into a huddle room on a daily basis, it reduces the need to wait until more official meetings to get questions answered, troubleshoot and progress ideas. Touching base more informally in huddle rooms helps things move faster and more efficiently.
4. More efficient use of office space
Large conference rooms are often unoccupied or occupied by just 2-3 people, which is a waste of precious space. Breaking the space up into multiple, smaller huddle rooms makes more sense as it is in line with how people actually work. You can even create huddle rooms in previously unusable spaces, like under stairs and in little nooks.
5. Less time-wasting
40% of employees say that they waste half an hour per day looking for meeting spaces. Having more smaller huddle rooms than big conference rooms means more people can find a room when they need one.
6. Cheaper to set up
Huddle rooms require minimal technology to make them hybrid rooms, a must in today's working world. All-in-one video devices are an affordable solution, saving you money on individual components (e.g. webcam, mic) without compromising on the quality of the video experience. Some even enhance it.
7. Easier to set up
The plug-and-play video meeting solutions that are available today are quick and easy to install and use, requiring no specialist training to get started.
8. Team spirit
Large conference rooms can be a little intimidating, whereas cozy huddle rooms encourage teammates to get to know each other in a more relaxed atmosphere. This promotes bonding, which leads to more effective working relationships.
9. Unifies in-office and remote teammates
Video-enabled huddle rooms provide ample opportunity for teammates in the office to meet with remote workers virtually, instead of leaving them out because it's too much hassle to find a more traditional meeting room to use to speak to them.
10. Combats isolation
More contact with teammates in the office is good for the mental health of people working from home. It's important to connect with others throughout the day and readily available huddle rooms create more opportunities for hybrid teams to do that.
Core Qualities of an Effective Huddle Room
Easy to book or pop in: Decide whether your huddle room will be available to book in advance or open for anyone to pop in whenever it is unoccupied i.e. a first come first served basis. Simplicity is key either way, so if you do opt for a booking system consider using Neat Pad to make room management fool-proof.
The right hardware – For a huddle room to be hybrid, which is so important in the modern world of work, it must be video enabled. This means installing a screen, webcam, mic and speaker. Or an all-in-one video device that does it all such as a videobar or virtual whiteboard. Whatever solution you choose ensure it is capable of streaming HD video and that it has high-performance audio so that everyone can hear and be heard clearly.
BYOD friendly – A great many meeting rooms today have a 'Bring Your Own Device' – aka a BYOD – policy. This means that people can bring any personal device (e.g. their laptop) and successfully connect it with the meeting room's video conferencing solution. Everything integrates seamlessly, saving time and frustration. To achieve a BYOD huddle room choose a video collaboration system or device designed with BYOD policies in mind.
Security & encryption – Huddle rooms must be secure to keep sensitive information and conversations private. It's good practice to password-protect your meetings and use a waiting room feature where participants can be screened before entering. Zoom, Microsoft Teams and other popular video conferencing platforms have these features.
Comfortable and inviting – Finally, while huddle rooms are small spaces they shouldn't feel dark or pokey. Make them enjoyable to use by considering lighting and decor including plants, inspiring art and cushions.
Final thoughts
Huddle rooms are super versatile, cost-effective spaces that every modern workplace needs – especially if you're operating a hybrid workforce. Let Neat's gallery of future-proofed workspaces inspire you, or speak with a Neat specialist today to get expert guidance on how to equip your huddle room with budget-conscious, next-generation video collaboration devices.
References
Huddle room statistics. UC Today.
How to prioritise work. Liquid Planner.
What is a huddle room. Avocor.