7 Reasons Why Auto-Framing Webcams Are a Must-Have
Hayley Cannon, Nov 9, 2022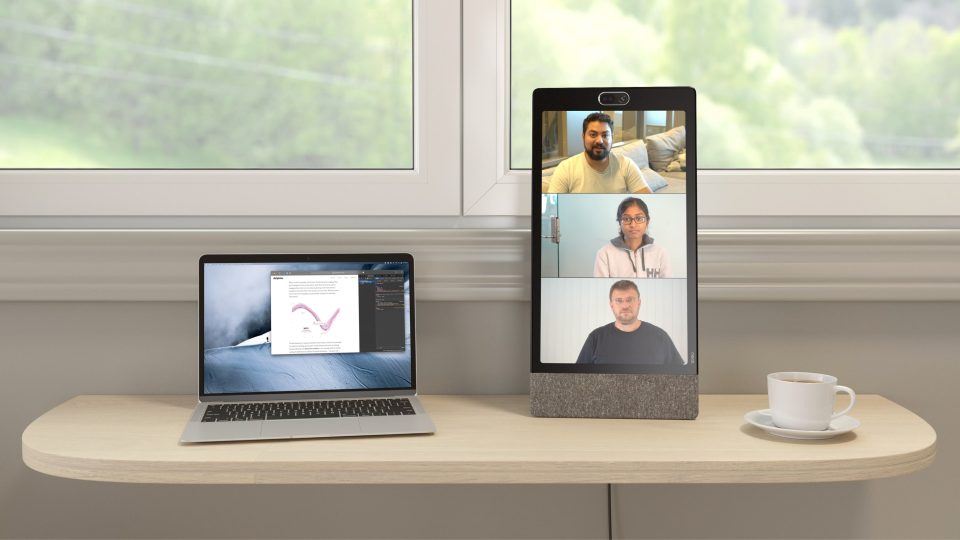 Tired of being stuck in one place and manually adjusting your webcam with every video call? A better approach is to use an auto-framing webcam that allows you to move freely while staying in perfect view. Here's why auto-framing webcams are a must in today's work environment.
Key Takeaways:
Auto-framing automatically adjusts your webcam to keep you within view at all times.
Benefits of an auto framing webcam include better ergonomics, improved meeting participation, reduced distractions and conversations that resemble in-person interactions.
Neat devices include state-of-the-art auto-framing technology to eliminate the need for manual adjustments.
What Is Auto-Framing?
An auto framing webcam automatically adjusts the frame to keep the person in view. It tracks the person so you don't have to worry about adjusting the camera yourself. An auto framing camera is becoming an essential part of video conferencing and Skype calls.
In addition, auto-framing technology can help the camera focus on multiple participants. Some cameras can even adjust when new people enter or exit the field of view. It creates a better-quality image for the end user without the need to troubleshoot the camera's placement every time you move.
Some video conferencing software offers built-in auto framing, such as Zoom auto framing. However, you still need a webcam that offers auto-framing technology for these built-in features to work.
Neat devices include auto framing as a standard feature. You never have to worry about whether you'll be seen and heard if you need to stand up, stretch or move around while you're on a video call. The camera automatically tracks your movement and keeps you within its field of view.
7 Reasons to Have an Auto-Framing Webcam
Is an auto framing camera worthwhile? Let's explore why others are upgrading to an auto framing webcam.
1. Better Ergonomics
Zoom hosted more than 300 million meeting participants per day in 2020. Google Meet saw about a third of that volume, while Microsoft Teams had around 250 million daily active users in 2021. Many users participated in more than one meeting per day, anchoring them to their desks and devices for hours.
It's no secret that sitting isn't great for our health. But with static webcams, moving around during a video call isn't an option. You risk moving outside the camera's frame, which means meeting participants may be unable to see or hear you.
With an auto-framing webcam, you're free to move as you please. The camera will automatically adjust to wherever you are, allowing you to take stretch breaks, stand or even walk about the room without any loss of visual quality. This is a great way to maintain good posture and avoid neck and back pain that comes with too much sitting.
2. No Manual Adjustments
The "auto" part of auto-framing webcams means you don't have to manually adjust the height or position of your webcam. Your lens will always capture you no matter where you are in the room. You'll stay in clear view at all times and won't have to worry about other participants not seeing you.
3. It Mimics In-Person Conversation
Video conferencing adds a unique social element to your conversations. You're able to see and hear each other speak. Facial expressions and body language add context to your conversations so you can better understand the other person's engagement level and how they feel.
An auto-framing camera supports this in-person-like interaction. In-person, if someone were to move their position, you could easily follow them with your eyes or turn your head. Static webcams don't allow you to do this, as the field of view is limited by its lens and position. But with auto-framing technology, the lens automatically adjusts just as you would in person. Conversation feels more natural, which may help you get more from your video conference.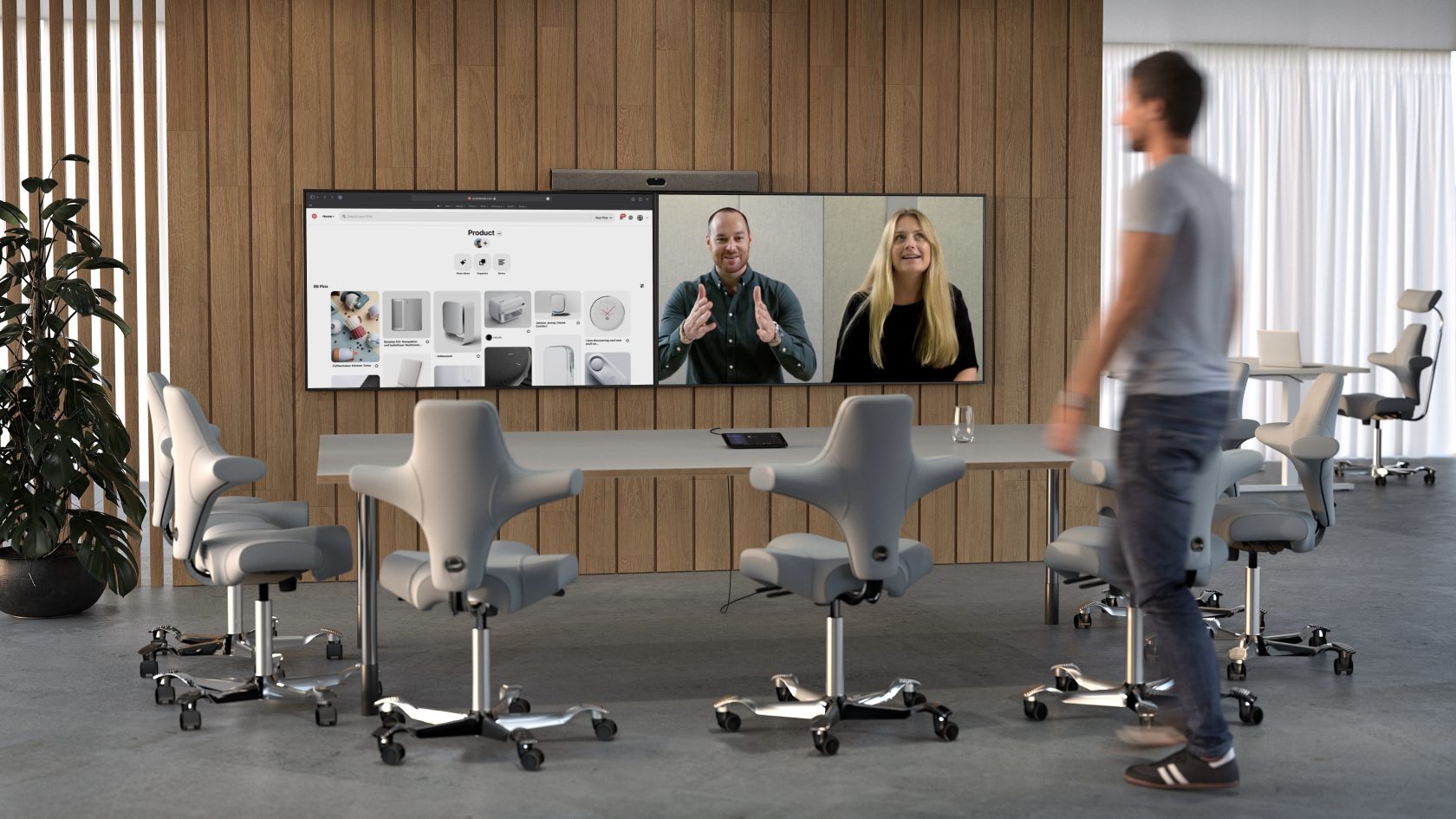 4. It Improves Human Connection
Better conversation can improve human connection. You're better able to see the person you're speaking with. It feels more like you're meeting in person rather than via a video call.
And while it might not seem obvious, your webcam has a lot to do with how you hear the person you're speaking to. Video conferencing software may give more importance to the person speaking. But when two or more people start talking over each other, the software may not always properly pair the sound and visuals.
Neat devices resolve this issue by giving equal importance to all participants. Our technology helps distinguish voices when multiple people are speaking simultaneously without causing any of them to sound muffled. This allows anyone to chime in without the fear of being muted or not heard.
5. Automatically Tune Out Distractions
We've all been there. You're in the middle of an important Skype call when your cat starts walking across the keyboard, or a delivery person interrupts your work to drop off a package. Auto-framing webcams identify and frame the most important person in the room, whether it's you or your cat.
Neat Boundary automatically tunes out distractions in the room. For example, if someone were to enter or exit the room, the camera would ignore them and only focus on whoever's a part of the meeting. It can also block out the background, like an untidy living room or home office. You can set your virtual depth and width to define the meeting space, and Neat Boundary will handle the rest.
6. Avoid Awkward Camera Shifts
When you're not speaking on a video call, your image might be minimized in the background so participants can focus on the person talking. Then when someone else starts speaking, there's usually an awkward shift as they come into view. These transitions are typically choppy and can get confusing when people start talking over each other.
Neat solves this problem with Neat Symmetry, which focuses on all meeting participants equally. Even when you have multiple people in the same room, Neat will present them to your remote participants in a way that makes it easy to see everyone's faces and body language. You can focus on who is speaking without the choppy camera transitions, lending to more natural conversations.
7. Improve Meeting Participation
Feeling chained to a desk to stay within view of the webcam can lead to discomfort, which may cause participants to disengage from meetings. Likewise, not being able to see or hear other participants could cause you to miss important information.
Auto-framing ensures greater meeting participation so everyone can get the most for their time. See and be seen with no extra effort.
Neat Takes Auto-Framing to New Heights
Neat technology makes it easy to see the value of auto framing webcams. Whether integrated with our all-in-one devices or as part of our conference room sound bars, our auto-framing webcams work right out of the box to keep you right where you need to be. Explore Neat devices to learn more.
Sources:
What Is Auto Framing For Webcams And Smart Displays. How To Geek.
The State Of Video Conferencing In 2022. Get VOIP.