5 Reasons Why Touchless Meeting Rooms Are Here to Stay
Hayley Cannon, Aug 1, 2022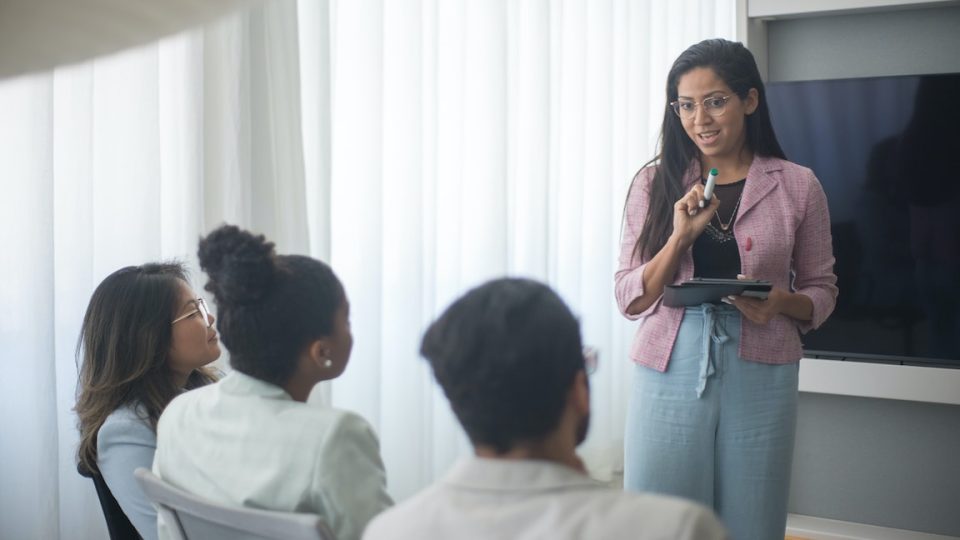 Touchless meeting rooms have changed the way we connect and collaborate, increasing in popularity across industries. Technology is a big driver for this shift towards touchless conferencing in the workplace.
Here, we look at the dynamics of these new tech-driven meeting spaces and explain why the touchless meeting room isn't going anywhere any time soon.
Key Takeaways
Touchless meeting rooms are making meetings more inspiring and immersive for both physical and virtual participants.
Features and innovations like voice control, gesture recognition, facial recognition, wireless sharing and automated devices are the cornerstone of productive modern meeting rooms.
Touchless tech improves collaboration and communication by enhancing AV quality and removing unnecessary distractions.
Modern conference technology makes meetings and conferences more inclusive for disabled participants.
Environmental monitoring enables hosts to control meeting room conditions, including humidity and air quality, to reduce the risk of illness.
The right touchless technologies and devices make "bring your own device" (BYOD) possible while ensuring computer networks are protected from the threat of cybercrime or data breaches.
What is a touchless meeting room?
Touchless meeting rooms are driven by smart technologies that allow hosts and participants to control meeting conditions through smart devices and digital interfaces. These innovative conferencing spaces enhance the way organizations connect, communicate and share ideas.
Did you know? A rising number of businesses are using touchless technologies across sectors to improve health, reduce energy bills, and improve communication.
Touchless technology for meeting rooms creates a seamless conferencing experience for physical and virtual participants. With tools designed to make the meeting space more comfortable, personal and engaging for all, "touchless" is emerging as a staple fixture in the modern business world.
Here are the key touchless devices and innovations that make the meeting room a more comfortable, creative place:
Motion sensors that activate key meeting features like lights, screens and devices when you walk into the room.
Gesture controls that interpret human body movements to enable device control without direct physical contact.
Smart voice control innovations that enable participants to manage devices or meeting conditions with simple vocal commands.
Wireless sharing tools that empower all participants to share files and content with ease through a range of devices.
Facial recognition technology like Neat Symmetry that enables auto framing and allows virtual participants to see people in the meeting room with more clarity throughout.
5 reasons touchless meeting rooms are thriving
Now that you're up to speed with the key benefits and features of touchless meeting rooms, we're going to look at the reasons touchless devices and tech are here to stay.
1. Improved collaboration and productivity
Many traditional meeting rooms are dull and uninspiring and fail to meet every participant's communicative needs.
Inadequate conferencing technology, poor layouts and a generic approach to the collaborative experience have plagued meeting rooms in recent years. Lacklustre conferencing setups often make meeting spaces uncomfortable while making it difficult to be seen or heard. When this happens, people check out and productivity dwindles.
With touchless tech, collaboration and communication thrive. Neat Bar, for instance, significantly boosts the audio quality within a meeting room to ensure everyone has a voice from start to finish. This smart device activates as soon as people walk into the room for a seamless collaborative experience the moment a meeting or huddle begins.
Neat Boundary is another communication-boosting tool that makes the meeting room a more vivid and inspiring space. By setting personalized width and depth parameters, you can remove any unwanted or unnecessary visual distractions that could hinder communication or collaboration.
2. Increased accessibility for the disabled
There are 61 million disabled adults in the US alone. To accommodate the needs of disabled people within the workforce, making reasonable adjustments is vital.
As a communicative hub, the meeting should be inclusive to all—with tools and technologies that give everyone involved a platform to process information and share ideas.
Hybrid meeting technologies give disabled participants access to a rich, clear and immersive meeting where they can virtually have their thoughts or ideas heard. Free from the shackles of audio-visual quality issues, disabled participants can use touchless tech to be involved in the collaborative experience as if they were in the room.
Neat Boundary also makes the meeting space more inclusive for neurodivergent people—particularly autistic participants or attendees with ADHD—by removing unnecessary distractions from the meeting space.
Using controllers like Neat Pad, meeting hosts can control meeting conditions (lighting, audio volumes and air temperature, for example) with ease at any time during the meeting to meet the sensory needs of participants.
The boundless potential of touchless tech is beginning to transcend the meeting space itself. The Assistive Technology Industry Association (ATIA), for instance, goes above and beyond Americans With Disability Act (ADA) to provide beacons, Bluetooth and wayfinding platforms to help disabled participants navigate their way to the meeting space with confidence.
3. Lowered risk of spreading illness
Another reason touchless meeting rooms are here to stay is their ability to reduce the risk of spreading germs and illness.
Touchless tech plays a pivotal role in creating social space and preventing the spread of illness by empowering people to connect in an engaging environment without getting too up close and personal.
Neat Sense is an innovation that provides advanced analytics on meeting room conditions, including:
Overall air temperature and quality.
Meeting room humidity levels.
Carbon dioxide (CO2) levels in the air.
Volatile Organic Compounds (VOC's) that lead to the spread of germs and illness.
By being able to track, monitor and manipulate these key elements from a central location with ease, it's possible to create conditions that significantly reduce the risk of people getting ill. This is an essential aspect of keeping any business productive and progressive at all times.
4. Bring your own device (BYOD) saves money & training efforts
Bring your own device (BYOD) is the concept of staff using their own devices in the meeting space while tapping into the business's applications and systems.
By giving meeting participants the option to bring their personal tablets, laptops or smartphones into the touchless meeting space, companies can reduce inventory and training costs.
If participants can join a meeting and tap straight into the space's ecosystem with their personal devices, businesses reduce the need to buy and maintain additional hardware or equipment.
When everyone can access key touchless meeting room features or functions with devices they're familiar with, there is little need for training, and the entire meeting experience runs more fluently, inspiring better outcomes.
Did you know? BYOD capabilities empower employees to start working on projects or tasks as soon as they're assigned, resulting in 37 minutes of extra productivity per week per person. Businesses can reap great commercial rewards by taking this level of productivity into the meeting room.
5. Technologies make the space more secure
Cybercrime and data breaches are set to cost the world a collective $25 trillion by 2025. That's an alarming figure.
While there are many benefits to touchless tech and BYOD capabilities within the meeting room, the looming threat of cybercrime is a genuine concern for meeting participants. However, with the right tools and devices in place, every strand of information and data will remain water-tight.
The world's best modern technology for meeting rooms is easy-to-use and equipped with robust security features built to protect systems, data and personal information at all times.
Neat's intuitive touchless technology runs on Neat OS: a hardened and secure firmware locked to work with Zoom Rooms and Microsoft Teams. As such, every device and platform within the systems is fiercely fortified. And because every feature is completely intuitive, there is little to no learning curve to using our innovations to your full advantage.
Final thoughts
Technology – like art – is a soaring exercise of the human imagination.

Daniel Bell
Touchless meeting rooms are pushing the boundaries of collaboration in a way that benefits everyone. With devices and innovations that make collaboration a rich, productive and inclusive experience rather than a dull and uninspiring formality, businesses across the world are thriving.
As you can see, there are many benefits to embracing the right touchless meeting setting for your business. By working with the right partner, you can create a meeting space that is safe and immersive and provides an outlet where ideas come to life.
For more insights on the power of conference room innovation, explore our rundown of Five Conference Room Technology Trends for Today's Workplace.
Sources:
Disability Statistics in the US: Looking Beyond Figures for an Accessible and Inclusive Society. Inclusive City Maker.
About ATIA. Assistive Technology Industry Association.
44 Basic BYOD Statistics: 2022 Market Share Analysis & Data. Finances Online.
Cybercrime To Cost The World $10.5 Trillion Annually By 2025. Cybercrime Magazine.