Alexa for Business Enables Smarter Meeting Spaces with Touchless Neat Devices
Neat, Apr 28, 2021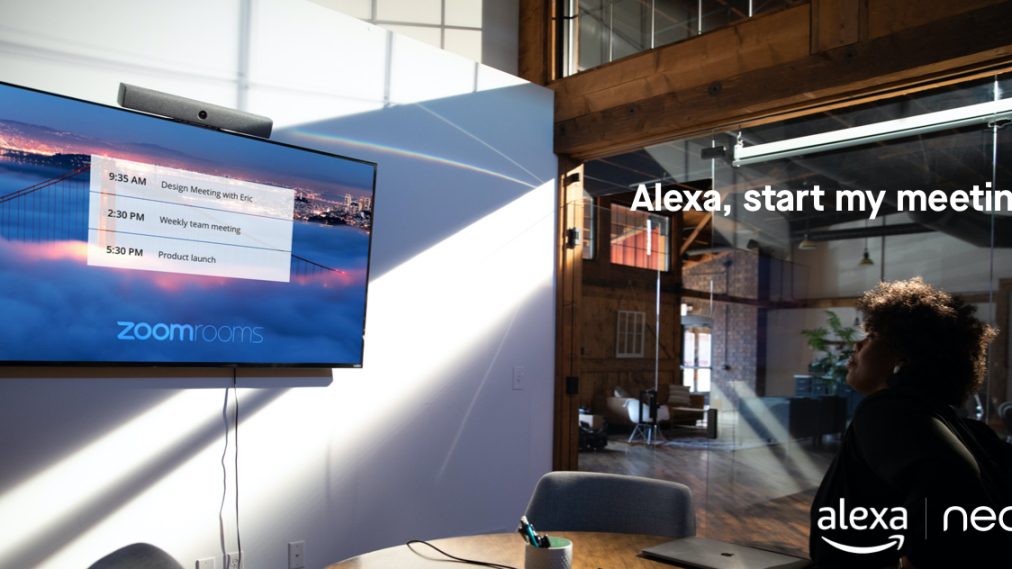 Neat Bar and Neat Board now empower voice commands for a touch-free return to office Zoom Rooms experience.
Strengthening Neat's mission to help create the smart office of the future today, we've integrated a new feature into our forward-focused video devices Neat Bar and Neat Board: Alexa for Business, Amazon Web Services voice-controlled virtual assistant AI technology.
Providing employee peace of mind when transitioning to a return to the office is vital. Alexa for Business offers a touch-free, extra hygienic and personalized meeting space experience. Using intuitive voice commands, you can find and book a meeting space and start and control all aspects of your Zoom Rooms meetings via the Zoom portal.
Exciting addition to Neat capabilities
Ensuring Zoom customers are equipped with the latest video smart room hardware and software, Alexa for Business is an exciting addition to unique Neat capabilities like Neat Sense and Neat Symmetry.
Neat Sense presents accurate real-time room observation for healthier, safer, more cost-effective meeting spaces. It lets you manage and monitor air quality, humidity, CO2, Volatile Organic Compounds (VOCs are organic chemicals, odors, scents, etc.) and the number of people in the room, ambient noise and lighting conditions. All of which goes towards better well-being and optimal room utilization.
Simultaneously, our patent-pending Neat Symmetry allows your remote teammates to see everyone in the meeting space equally up close, regardless of who's speaking. Individually auto framing each in-room participant, it instinctively follows them if they shift positions, stand up or move around. Hence, everyone's always seen and heard, and those remote get the most natural perception yet of being physically in the same room with everyone else.
Increasing demand for touchless tech
As an accelerated number of businesses return to the office, there's destined to be increasing demand for advanced capabilities and touchless technologies such as these. Essentially, functionality that supports the latest health and safety regulations while enhancing interaction and productivity across the workplace and beyond.
Alexa for Business streamlines the management of your Zoom Rooms meetings by creating a consistent and efficient employee experience, granting people the freedom to thrive in the office more dynamically and with greater protection.
"A recent survey showed that touchless technologies are the third-highest investment priority for IT decision-makers post-pandemic," said Robert Arnold, Principal Analyst at Frost & Sullivan. "Adding Alexa for Business to its devices, Neat is addressing this demand in a simple and familiar way."
Leveraging future-ready devices
The global pandemic has forced tens of millions of us to completely reevaluate how we connect, engage and consider the welfare of others. Amid ongoing uncertainty, changing business needs and codes of conduct, organizations that are able to best leverage future-ready devices primed for hybrid working strategies will be better positioned to rapidly adapt and remain resilient.
That being so, with Alexa for Business now in our canon, Neat continues to be purpose-driven to deliver delightful Zoom meeting experiences that make it easy for people to design their ideal smart office. Whether it's with voice control, room analytics or meetings that feel almost as real as meeting face-to-face, Neat is constantly innovating to bring you the latest technological capabilities for whatever new ways of working lay ahead.
Join us for our upcoming webinar, Looking Beyond the Here and Now: Planning for Hybrid Work, on May 5th to learn how the next generation of smart meeting spaces ensure you shape a richer, more flexible and rewarding hybrid working environment.
To discover what Neat devices can do to help your business stay at the peak of its powers, visit neat.no. We offer worldwide shipping and can deliver in just a few days.