15 Video Camera Technology Trends for Remote Teams in 2023
Hayley Cannon, Sep 20, 2023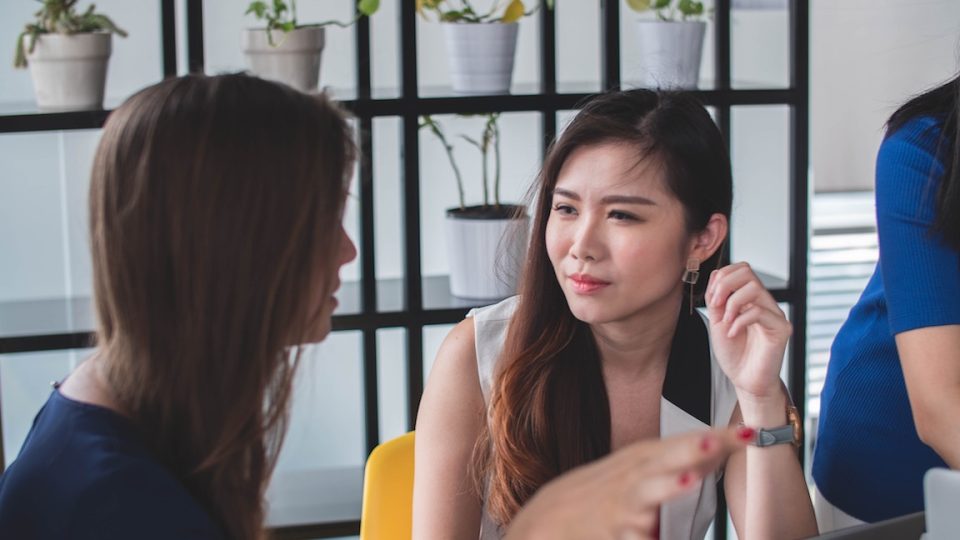 Video collaboration technology is evolving constantly. Choose the right video camera technology for your team with our tips and insights for 2023 below.
Key Takeaways:
Remote working relies on video cameras and virtual meeting platforms like Zoom and Microsoft Teams.
The most important video camera technologies for remote collaboration are: HD and 4k resolution cameras, with wide-angle lenses, auto-framing and tracking.
Neat devices have built-in webcams that are purpose-built for hybrid teams.
What is video camera technology?
'Video camera technology' refers to the equipment used for video streaming, which has undergone great innovation in recent years. It includes a range of hardware, such as webcams or all-in-one video conferencing devices, as well as software that enables the recording, processing, and transfer of video content.
Video camera technology is the backbone of remote work, the make or break factor behind every distributed team.
15 innovations in video camera technology that have improved remote collaboration
Video camera technology has improved dramatically over the years. Here's how:
High-Definition and 4K Resolution: Video cameras offering HD or 4K resolution provide clear and detailed visuals, helping you catch every facial expression and nuance.
Wide-Angle Lenses: Cameras equipped with wide-angle lenses capture a broader field of view, allowing multiple participants to be seen clearly in virtual meetings.
Auto-Framing and Tracking: These features automatically adjust the camera's focus and position to keep the speaker centered, even while they walk around a room.
Noise Cancellation and Audio Enhancement: Cameras with noise cancellation and audio enhancement improve sound quality by minimizing background noise and echoes.
Low-Light Performance: Good low-light performance ensures participants remain clearly visible, even in dimly lit settings.
Pan, Tilt, and Zoom (PTZ) Functionality: PTZ-enabled cameras empower remote users to control the camera's orientation, angle, and zoom, allowing them to focus on specific aspects or participants during discussions.
Multiple Camera Support: Some video conferencing platforms enable the use of multiple cameras, permitting users to switch between angles or viewpoints within a single call.
Background Blur or Virtual Backgrounds: Users can obscure their physical backgrounds or replace them with virtual alternatives, for more privacy and to reduce distractions.
Integration for Content Sharing: Cameras that seamlessly integrate with screen and content sharing tools, make sharing presentations with the room easier.
Mobile Device Integration: Incorporating smartphones or tablets as cameras offers flexibility, enabling users to join video calls from diverse locations using their mobile devices.
AI-Enhanced Capabilities: Certain cameras leverage AI algorithms to augment video quality, optimize lighting conditions, and enhance facial recognition for a more natural visual experience.
Security and Encryption Features: Cameras with robust security and encryption measures safeguard sensitive discussions and data during remote collaboration.
Cloud Integration: Cameras that integrate with cloud-based video conferencing platforms provide effortless access to meetings, recordings, and collaborative tools from any location.
Compatibility with Video Conferencing Software: Opting for cameras compatible with popular video conferencing software like Zoom, Microsoft Teams, or Google Meet streamlines the remote collaboration process.
User-Friendly Setup and Operation: Cameras that are easy to set up and operate lower technical barriers, ensuring that all team members can engage in remote collaboration effortlessly.
How to choose the right video camera for your workplace
Decide if you want a webcam or all-in-one-device
First, you'll need to choose between a webcam or an all-in-one device. Webcams can be positioned flexibly in a meeting space. They are limited only by the length of the cables needed to power them. Wireless webcams deliver even more flexibility in positioning.
All-in-one devices are a more streamlined solution, removing the need for peripherals and reducing the number of wires required. Neat video collaboration devices are elegant, all-in-one solutions that are purpose-built for remote and hybrid teams.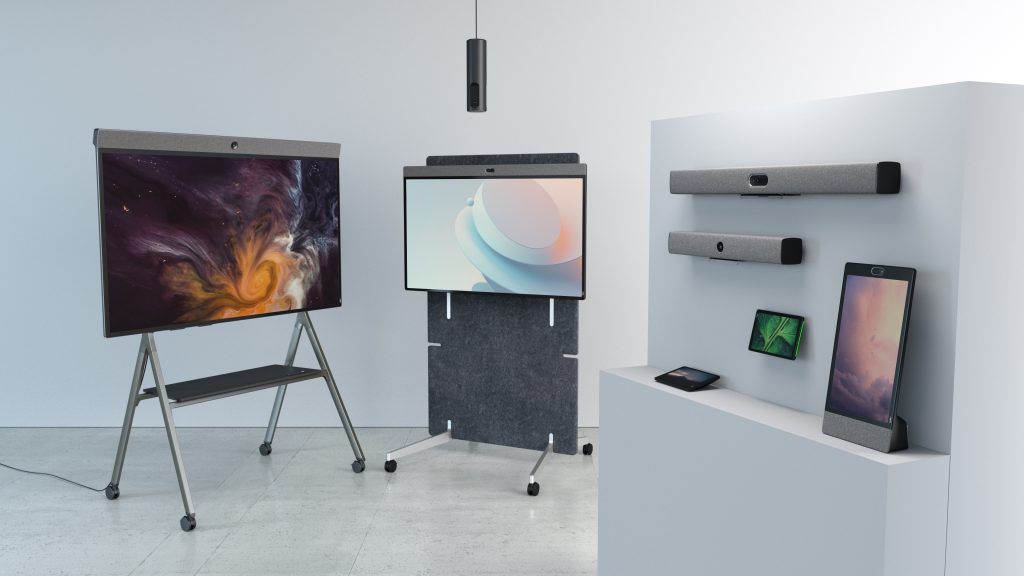 Consider using cameras built into laptops
You can also use a camera built into your personal device, such as a laptop, for video collaboration. This budget-friendly option may be a good one for those on a budget, or for whom video conferencing is a minimal part of their working day. However, these cameras cannot compete with the high performance of purpose-built webcams / all-in-one video devices.
Video camera checklist for hybrid teams
Hybrid teams, made up of both in-person and remote members, should take several factors into account to ensure successful communication – before purchasing webcams or all-in-one video collaboration devices. Be sure to think about:
Compatibility with Meeting Platforms: Ensure webcams are compatible with the video conferencing platforms used by the team, such as Zoom or Microsoft Teams.
Compatibility with Device: Check that webcams are compatible with existing operating systems and devices used by the team.
Security and Privacy: Look for webcams with built-in privacy features, like physical shutters, to ensure data security at the office and at home.
Budget and Scalability: Determine a budget that satisfies the current needs of the team, and takes into account how the team might scale and grow.
Consistency Across Environments: Choose webcams that provide consistent video quality and features for both remote and in-person team members – as opposed to delivering a better experience to people in the room at the office.

Consider Video Resolution: Opt for webcams with high-definition (HD) or 4K resolution for clear and detailed video communication for both on-site and remote participants.
Consider Microphone Quality: Consider webcams with good microphone quality to ensure audio clarity for all participants, regardless of their location.

Field of View: Evaluate the webcams' field of view to ensure that everyone in the meeting room at the office is captured clearly, so those working remotely don't miss out on any of the action.
Background Noise Reduction: Look for webcams equipped with noise reduction features to minimize distractions both at the office and in the home.
Portability: Consider webcams and all-in-one devices that can be easily moved around the office, for greater flexibility. Neat Board 50 is a fully mobile all-in-one video solution.
Top video collaboration tools for remote teams
Here are some of the foremost video collaboration tools that remote teams today rely on:
Video-led meeting platforms
Popular examples include Zoom, Microsoft Teams and Cisco Webex. Known for their user-friendly interface and dependable video quality, these platforms offer a wide range of features including screen sharing, breakout rooms, and virtual backgrounds. They suit both small team meetings and large-scale webinars.
Popular alternatives include Google Meet, GoToMeeting, RingCentral Video, Whereby and BlueJeans. Discord, initially aimed at gamers, has also gained popularity among remote teams for casual communication and collaborative pursuits.
Messaging-led platforms
Primarily a messaging app, Slack extends its capabilities to video calling, so remote teams can conduct impromptu video conversations, share their screen, and collaborate in real time.
Project management tools
Operating as both a task and project management tool, Trello and ClickUp unite task management and video collaboration within a single platform.
Whiteboarding tools
Miro functions as a collaborative online whiteboard tool, allowing remote teams to brainstorm, plan, and collaboratively engage in real-time projects.
Emerging trends in video camera technology
​​The video camera landscape is undergoing huge change, driven by demand for more immersive virtual meetings. Here are some key emerging trends:
AI Enhancement: Cameras are incorporating AI algorithms to dynamically adjust settings like lighting, focus, and auto-framing in real-time.
360-Degree Cameras: These cameras capture panoramic views, immersing participants in hybrid meetings by allowing them to virtually explore the meeting space.
Depth-Sensing Cameras: Cameras integrated with depth-sensing technology lend a sense of depth and realism to virtual interactions.
Facial Recognition and Emotion Detection: Some cameras can identify' faces and emotions, for a more personalized connection.
Enhanced Resolution and HDR Imaging: Cameras with elevated resolutions and High Dynamic Range (HDR) imaging deliver superior video quality with vivid colors and enhanced clarity.
Gesture and Voice Control: Gesture and voice control features empower participants to remotely manage cameras, adjusting settings or camera angles without physically being there.
Personalized Avatars and Filters: Cameras offer the option for participants to utilize personalized avatars, filters, and virtual overlays, for more creative expression during video calls.
Real-time Language Translation: Instantaneous language translation during video calls, bridging language gaps for global teams.
Low-Latency Streaming: Cameras with low-latency streaming capabilities ensure seamless, real-time video transmission – especially for live events.
IoT Integration: Cameras are becoming integral to the Internet of Things (IoT) framework, enabling effortless communication with other devices and systems for smart automation.
Green Screen Integration: Advanced cameras facilitate the use of green screens for precise and polished background replacement in virtual meetings.
Energy Efficiency: Cameras designed for energy efficiency are gaining traction as sustainability gains importance, curbing power consumption during long video meetings.
Neat devices for remote teams
Neat was founded to create video collaboration devices, all with built-in cameras, that are perfect for overcoming the challenges of hybrid working. Neat works in partnership with Zoom and Microsoft Teams to deliver truly native experiences of these category-leading video platforms across all our devices. Our devices also have patented video camera technology including Neat Symmetry and Neat Boundary. Here's a selection of devices that can benefit your hybrid team.
Neat Bar
Neat Bar is a simple and elegant, compactly designed yet highly capable meeting room device for Zoom or Microsoft Teams. It's perfect for bringing superior-quality audio and video to your meeting, huddle or focus rooms for up to ten people.
Neat Board and Neat Board 50
Neat Board is the complete meeting room package in a simple and elegant all-in-one device. With its immersive 65-inch multi-touch screen, powerful audio system and versatile wide-angle camera, Neat Board gives you a collaboration experience beyond video meetings and wireless content sharing by enabling annotations and whiteboarding.
Neat Board 50 offers even more flexibility and portability. Wheel it from space to space, draw it closer towards you, and even dive into your favourite apps.
Neat Frame
Neat Frame is a 15.6-inch portrait screen that provides an optimal layout balance, enabling more direct conversation in larger meetings and picking up every facial expression or gesture with a brilliant 450 nits of brightness.
Want to know more about how Neat can support your hybrid workforce? We'd love to hear from you. Get in touch with one of our product specialists today at hello@neat.no or take the plunge and book a demo.
Sources
3 video tools to help remote workers feel connected to the hybrid office. Fast Company.
10 Best Video Conferencing Software For Remote Teams 2023. DPM.
11 Must-Have Collaboration Tools for Remote Teams in 2023. Fellow.
Low Latency Video Streaming Solutions. Da Cast.
3 Ways to Make Your Conference Rooms More Energy Efficient. AGT.