The Flexible Future of Workspaces
Neat, Nov 11, 2021
Neat establishes Spaces to help you more easily choose the most suitable video device for your Zoom or Microsoft Teams hybrid space, be it at home or the office.
"It's not what you've got, it's what you use that makes a difference." – Zig Ziglar, American author and motivational speaker
When it comes to the new way of working and how millions of us are entering into a brave new world of hybrid spaces, never has the above quote felt so on point. With dispersed teams continuously rotating between being at home or the office, maximizing the space you're in, wherever that may be, has become vital in staying connected, creative and productive as part of a forward-thinking modern workforce. In essence, all of us now have a new set of eyes and ears.
So, for example, whether people are sitting in their bedroom, kitchen or dining room, or at the office in any number of different rooms, spaces or places in-between, the key to businesses successfully forging ahead in these ever-evolving times entails choosing the right video device for the appropriate space. That's why Neat has established Spaces, an interactive guide to help you choose the best device for your space.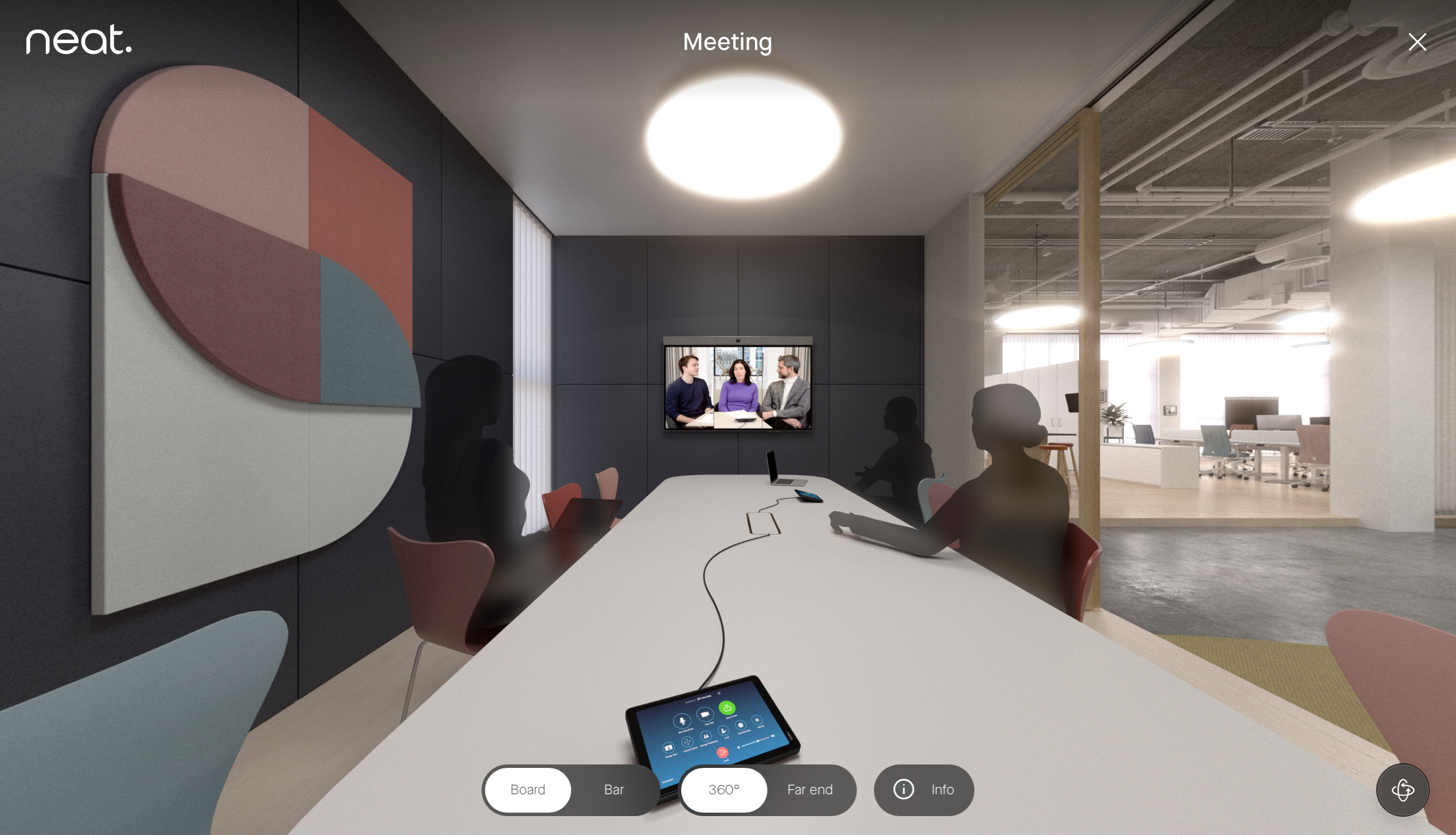 Video across all available spaces
With exchange on video becoming second nature for most of us, people now expect video to be installed across all available spaces to fully connect with their teammates and others however they like, from whatever location they need to. Not only to keep everyone in sync while building and preserving company culture but also out of concern for people's physical and mental wellbeing.
Hence, when considering what type of video device you need for any given space throughout your home, home office or company's bricks and mortar premises, Spaces spotlights the following scenarios:
Click on any of those spaces, and you'll see the recommended Neat device or devices for that particular space. You also get the option to switch between a front-end (360°) and a far-end view to gain a broader sense of what everything looks like once you deploy the device.
Then, by pressing the info button, you can dive down a layer to get a quick 'Here's what's neat' summary emphasizing the essential requirements of your selected space and a list highlighting the most relevant features and functions associated with it. These include pioneering Neat capabilities such as Neat Symmetry, Neat Sense, Neat Bubble and Neat Boundary. Among other things, they encourage and promote better equality, inclusiveness, safety and clarity throughout all your distributed spaces and virtual meetings. Finally, you can also get a more detailed overview of the devices themselves by clicking 'Learn more.'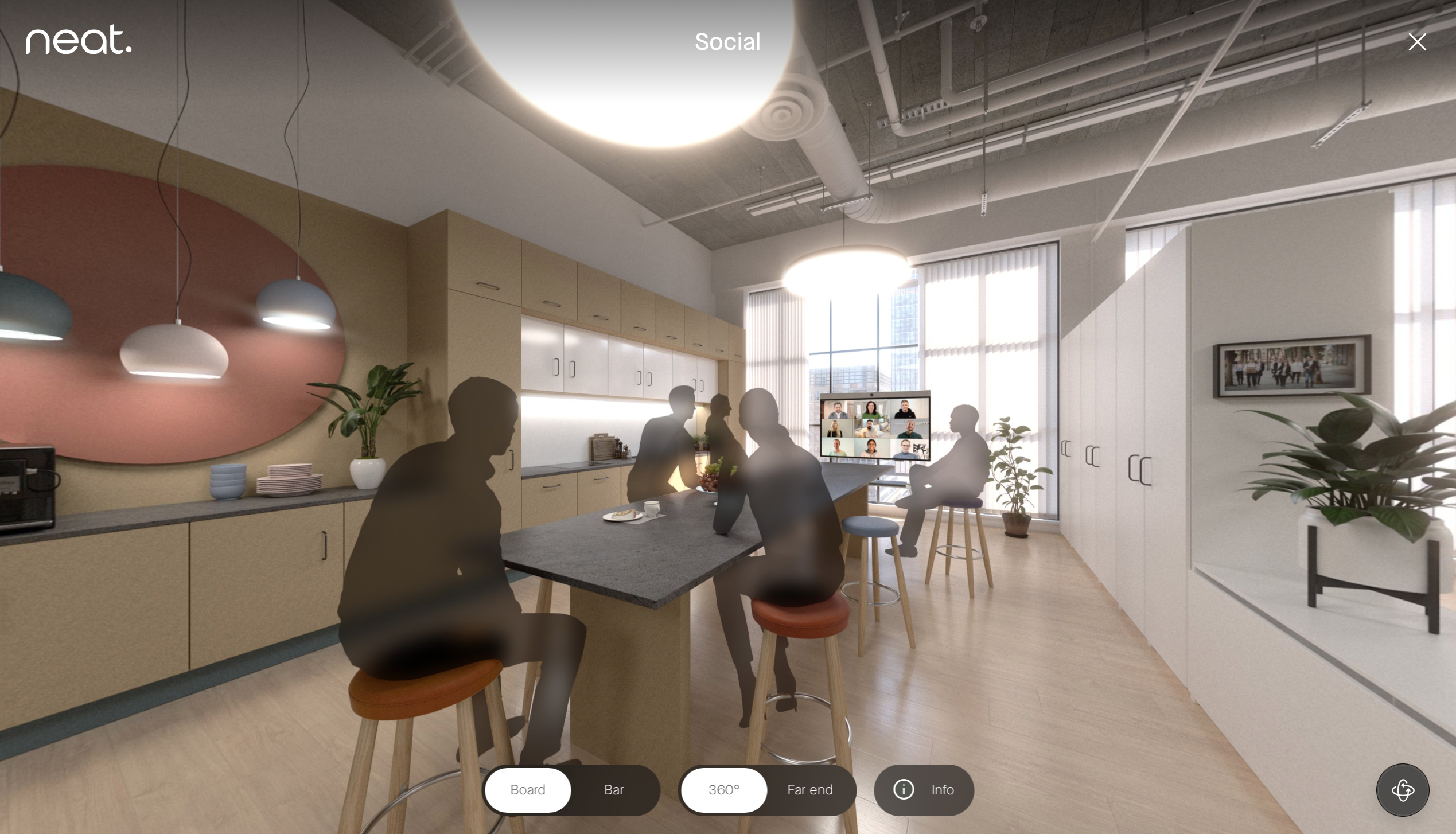 Picking the right device just got easier
Neat has designed Spaces to make picking the right device as easy as possible. Besides offering world-class audio and video quality, all our devices are simple to install, set up and use. In other words, you'll be up and running in no time. Therefore, even when repurposing less work-oriented areas like your cafeteria into a high-energy social and collaborative space to better support new hybrid work patterns, leveraging Neat devices within that space couldn't be more straightforward.
Ultimately, designing for employee engagement in any digital-to-physical space means almost thinking like a movie director – lights, camera, audio, content. With video calls now happening everywhere, from more traditional meeting rooms to exciting new workspaces, including relaxed recreational environments, you must encourage people to look, feel and be at their best, whether on work mode or off guard, regardless of where they are.
By presenting your remote and in-office employees with powerful tools purposefully designed to fit into any number of small to medium and large work-intense, communal or transit spaces, you're offering them the freedom for greater engagement, equality and inclusiveness to seamlessly interact and achieve their goals. In a nutshell, healthier company camaraderie, focus and efficiency equals healthier company assets and profit. And that's truly where the flexible future of workspaces benefits all.
To discover how to get the most out of your Zoom or Microsoft Teams hybrid spaces, check out the Spaces section on our website. For all other info on Neat devices, visit neat.no. We offer worldwide shipping and can deliver in just a few days.