Zoom Rooms vs. Zoom: 5 Key Differences
Hayley Cannon, Jul 4, 2022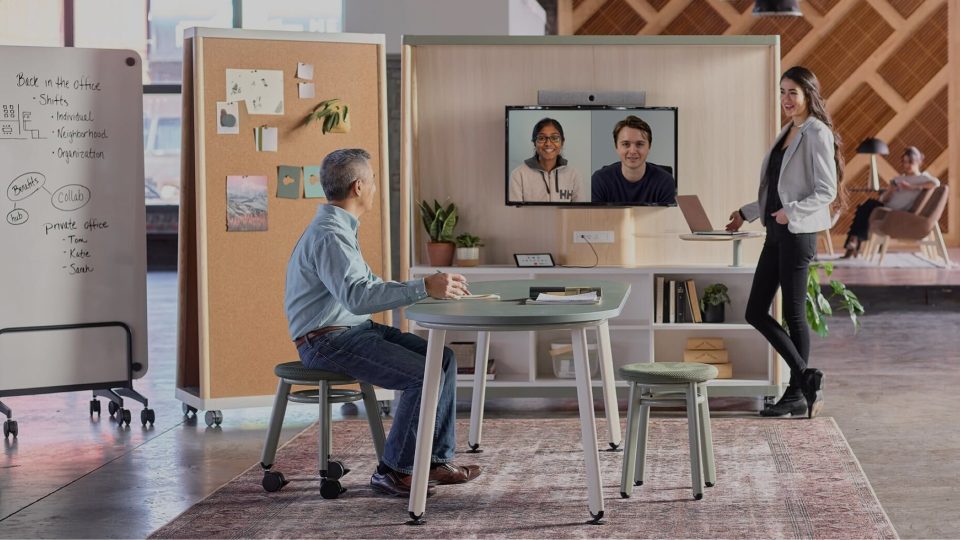 Zoom has become the quintessential video conferencing software. It offers distributed teams an easy way to maintain visual connections when they're not in the office. One term you'll often hear in conjunction with Zoom is Zoom Rooms. What is the difference between Zoom and Zoom Rooms? The two aren't interchangeable. Let's explore the differences between Zoom Rooms vs Zoom and why they matter.
Key Takeaways:
Zoom is the brand name of the video conferencing software.
A Zoom Meeting is the most common way for users to connect via Zoom.
A Zoom Room refers to a physical, purpose-built space to facilitate Zoom Meetings.
Zoom Rooms require more thought in terms of physical space and setup, whereas Zoom meetings can be launched on demand from any internet-enabled device.
Zoom offers a free plan for meetings only, while Zoom Rooms plans start at $499 per year.
Technology requirements, facilitation and use cases vary between Zoom Meetings and Zoom Rooms.
Neat's partnership with Zoom creates an optimal Zoom Rooms experience with purpose-built devices.
What is Zoom?
Zoom is a comprehensive video conferencing platform that facilitates one-to-one meetings, large-scale webinars and online events. It operates in the cloud, meaning you can access your Zoom account via any internet-connected device.
You can use Zoom to video interface with others via mobile or desktop or use it as an audio conferencing tool. Among its key features are a chat log, ability to share a screen, recording capabilities and a transcription generator.
What is a Zoom Meeting?
Zoom meetings are what most Zoom users are familiar with. In a Zoom meeting, the Zoom account owner will set up a meeting on a specific date and time. They will send out invitations via email or text containing a link that will allow participants to join the meeting.
You can host or participate in one-on-one Zoom meetings as well as group video conferences. Participants can tune into the meeting via their computer's audio and webcam or dial in by phone for an audio-only conference.
What is Zoom Rooms?
Is Zoom Rooms the same as Zoom? Not exactly.
Zoom is the software that facilitates the video conference. Zoom Rooms is software combined with the physical hardware and space that allows companies to schedule and launch meetings.
Take a movie theater, for example. The room is always set up with seating, speakers, a screen, a projector—everything you need to start playing a movie without having to reconfigure the space every time. Sure, you could potentially use the theater for other things. But it's a purpose-built space for viewing movies, from the layout to the equipment.
Zoom Rooms take a similar approach. A room has been set up to easily launch and participate in video conferences. The devices and equipment are integrated within the room to enhance the audio or video meeting experience.
5 Key Differences Between Zoom Rooms & Zoom Meetings
Zoom meetings function as part of a Zoom Room. That's where the similarities end. Let's explore both options in more detail:
1. Space & Setup Requirements
Anyone can sign up for a Zoom account and start using it to conduct video conferences. There are very few steps involved, and you can launch your first meeting within minutes of signing up. All you need is an internet-connected device, such as a smartphone or laptop, and the Zoom Meetings software. You can host or participate in a meeting from anywhere, including your home, the office, a hotel room or your local coffee shop.
A Zoom Room requires a bit of a longer approach. You're not just signing up for Zoom. You're creating a physical space to anchor all of your Zoom meetings and simplify the process of hosting or participating in Zoom calls.
Several steps go into the process of creating a Zoom Room. For starters, you'll need to dedicate a room in your home or office. This means considering things like lighting, the size of the room and how many people may need to use it at one time.
All of these things will affect the experiences you create in your Zoom Room. Using Zoom-compatible technology will facilitate the best experience for the host and participants. For example, all Neat devices have Neat Symmetry, which captures everyone in the meeting room whether they're sitting, standing or on the move. It focuses in on whoever is talking while also continuing to give attention to other attendees and their facial expressions. This helps the conversation feel more natural and free-flowing, almost as though it's happening in person.
Another consideration is sound. Mitigating background noises ensures your participants can clearly hear you and vice versa. Neat Boundary ignores any subjects outside of a predetermined range within the meeting space, allowing you to carry on a conversation without interruption.
Neat Sense offers real-time room analytics to help you optimize the cost of your meeting space. It measures things like room temperature, air quality and people count so you can better manage the costs and comfort of each meeting.
After choosing your equipment (e.g. monitor/s, webcam, mics, speakers – or an all-in-one device that does it all), you'll need to mount/position it. Then you will need to install the Zoom Room software and learn how to use the controller software. Do a few test runs to make sure everything runs fluidly. Train your team on how to use the Zoom Room and establish protocols on how to reserve the space.
You won't build your Zoom Room overnight. But the extra time and thought you put into it can help you conduct better meetings and improve the experience for all participants.
2. Facilitation
If you're hosting a Zoom meeting, the process is relatively straightforward. You'll sign in to your Zoom account, choose the date and time and send an invitation to your participants. When it's time to meet, you'll sign in to your Zoom account and let your participants into the meeting. You may need to adjust your webcam angle, check the lighting, declutter your background or do a number of "housekeeping" items to reduce the potential for technical issues.
Hosting a meeting in a Zoom Room condenses this process. The one-touch functionality lets you start a meeting with the push of a single button. The room is already set up and optimized for the best video and audio quality. Jump right into your meetings and skip the trial and error with every event.
If you're using Neat devices in your Zoom Room, your devices respond to your presence. Touch a button to share your screen or start a meeting while your Neat camera auto-frames and tracks you.
3. Zoom App Requirements
For a basic Zoom meeting, you'll need to download the Zoom Meetings app on your computer or smartphone. This allows you to host and participate in meetings, even when you're on the go.
Zoom Rooms require a separate subscription and software. First, you'll need a Zoom subscription that includes a Zoom Room license. If you're not sure that Zoom Rooms is right for you, Zoom offers a free 30-day trial.
You'll need to download the Zoom Rooms for Conference Room software. This software enables one-touch meeting and conference integration. Hosts can also download the Zoom Rooms Controller software to control each meeting via a tablet or similar device. Zoom also offers the optional Zoom Device Management software, which enables remote access to your Zoom-enabled devices in your Zoom Room.
4. Pricing
Zoom offers a range of plans and pricing tiers, depending on the features and functions you need. Anyone can sign up for a free basic account, which includes unlimited meetings for up to 40 minutes and up to 100 participants per meeting. You'll also get access to chat features and Zoom Whiteboard. Paid plans for Zoom Meetings start at $149 per year per license and go up to $240 per year, depending on the features.
The Zoom Rooms cost starts at $499 per year for one room after a free 30-day trial. All Zoom Room plans include one-tap meetings, support for up to 1,000 video participants or 10,000 webinar viewers, room management, scheduling displays, touch whiteboard and more. It also supports up to three displays, perfect for larger spaces where you may need multiple cameras to capture all participants.
5. Use Cases
For a business or employee that doesn't use video conferencing often, a regular Zoom Meeting account should work fine. It's less expensive in terms of licensing and doesn't require a hefty equipment investment. You can host or join meetings on the fly, whether you're using a laptop or purpose-built devices like Neat Frame.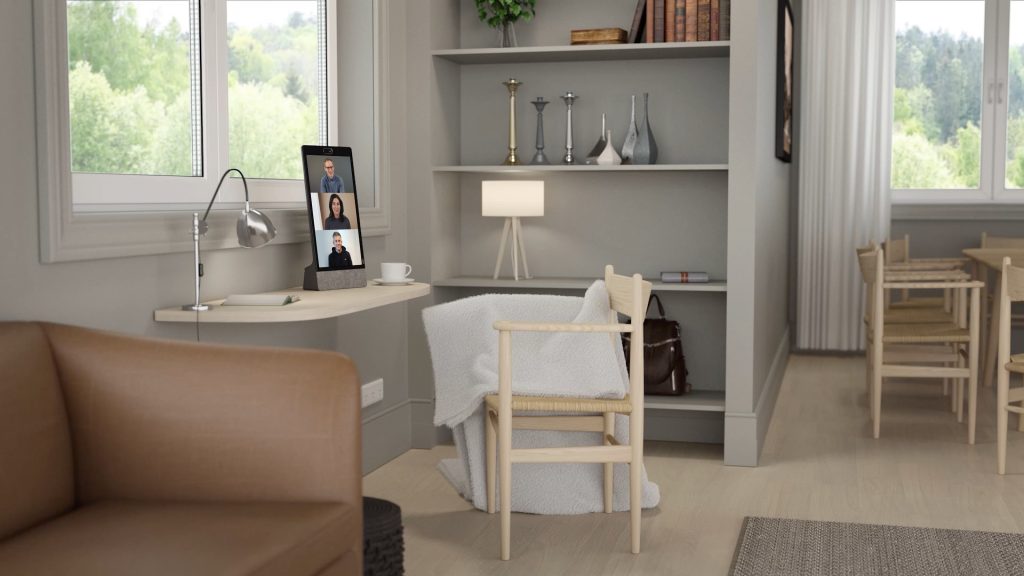 Companies that have gone all-in on video conferencing—with remote teams, clients, colleagues or prospects—may find a Zoom Room to be more beneficial. Whether you're working at home or at the office, a Zoom Room gives you a ready-made space to launch meetings on demand. It's perfect for frequent team conferences, webinars and one-on-one meetings. They also scale to your needs, allowing you to increase your video conferencing frequency.
How to Create a Zoom Room
Learning how to create Zoom Rooms is a two-part process. First, there's the technical piece of setting up your physical space for Zoom meetings. You can convert an existing conference room or home office into a Zoom room. Your conference room likely already has good acoustics, lighting and other elements to facilitate remote meetings.
You'll also need to choose and install video conferencing equipment to integrate Zoom meeting software with your physical space. For example, Neat Bar combines a camera, mics and speaker and can easily be mounted anywhere in your conference room. The camera naturally follows you in the room so you can maintain eye contact with your meeting participants. It also includes Neat Pad, a touchscreen control that allows you to manage your meeting from inside the room.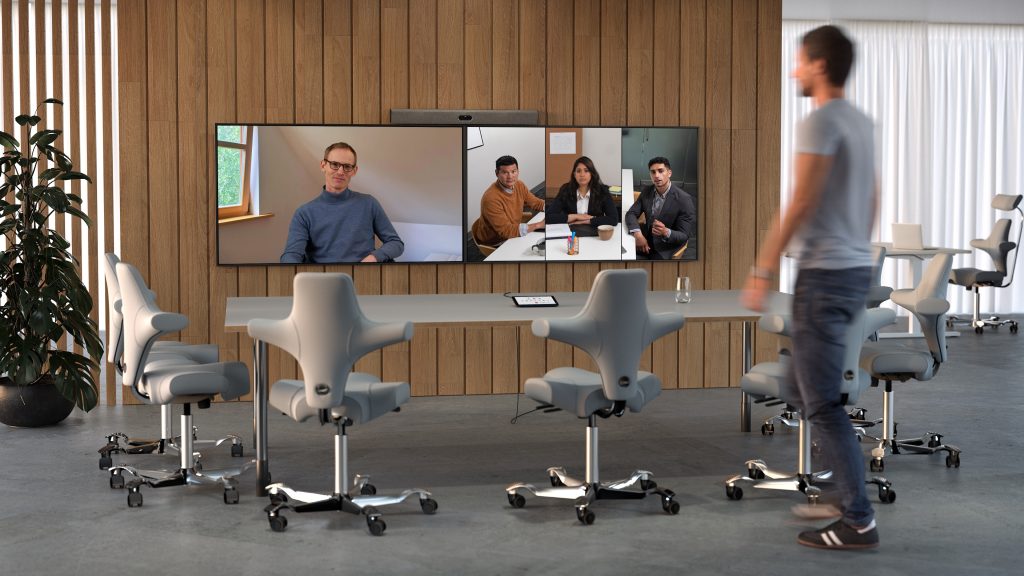 Smaller Zoom Rooms, such as a home office, will require smaller equipment. Neat Frame is a portable desktop-size solution that includes a monitor, camera, speaker and microphone in one package.
Once you set up your Zoom Room, test, tweak and refine to create the best experience for your participants.
Zoom Rooms vs. Zoom: Choosing the Best Approach
Now that you know the difference between a Zoom Meeting vs. Zoom Room, which one will fit your company's needs? Both play a role in facilitating video conferences. The advantage of dedicated Zoom Rooms allows you to scale quickly and do more with your video conferencing strategy.
Neat's partnerships with Zoom and Microsoft are paving the way for a hybrid approach to smart workspaces where everyone feels included, engaged, connected, inspired and safe. Explore Neat solutions to anchor your Zoom Room.
Resources: