Video Conference Setups for Businesses & Home Offices
Hayley Cannon, Sep 20, 2023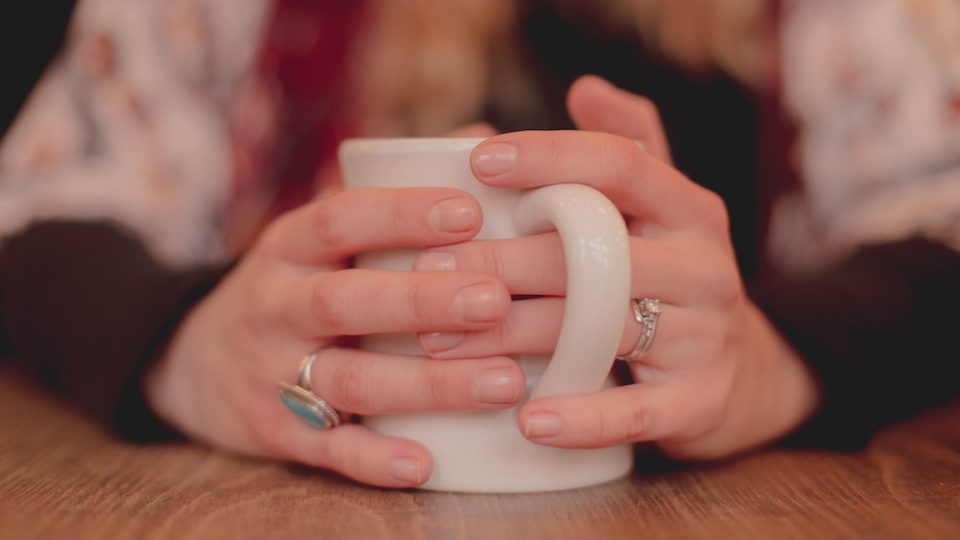 Video conferencing has surged in importance for many organizations, with78% of corporates using video meeting softwareto keep their hybrid teams connected. Investing in the right equipment is crucial. So let's explore the equipment that enhances productivity and maximizes the value of your video meetings.
Key takeaways:
Essential equipment includes a screen, webcam, mic, speaker and a video conferencing platform.
Get clear on your team's needs and restrictions by rigorously researching and testing.
Create a range of meeting spaces to suit different kinds of meetings, from small huddle rooms to large conference rooms.
Neat video collaboration devices are purpose-built for hybrid working – in the office or at home.
Essential video conferencing equipment
Must-have equipment for businesses
Your organization's hybrid meeting room must cater to two different audiences: in-person teams and remote colleagues joining from afar. At a minimum, a meeting space in an office requires:
Internet connection – Reliable, secure internet with the speed and capacity to support video meetings.
Video conferencing software – A meeting platform such as Microsoft Teams or Zoom.
Screen/monitor – Multiple screens are of great benefit, for viewing other participants, presentations and other shared materials.
Microphone – To capture sound in the room.
Speakers – To hear remote participants.
Camera(s) – To capture a visual or visuals of the room.
All-in-one video collaboration device – A streamlined alternative to separate screens, mics, speakers and cameras.
Lighting – Suitable natural or artificial light to ensure participants can be seen clearly.
Furniture – A table and seating, ideally ergonomic to support physical health.
You might also like to consider:
Meeting room schedule display–Optional but very helpful to have technology to help you book and manage meeting room reservations.
Hybrid meeting functionality –Whether you choose a webcam or all-in-one video device, look out for purpose-built hybrid meeting features like auto-framing and meeting space parameter setting, to boost engagement and reduce background distractions. For example, all Neat devices come withNeat Symmetry, our patented technology which frames and presents everyone equally up-close on-screen, even when a group is huddled together around a device, or moving around the room.
Must-have equipment for home offices
Remote workers must be able to join meetings happening in the office and feel like their presence is equal to those in the room. To do so, they will need the same essential equipment as the office set-up i.e. an internet connection, video conference software, screen, microphone, or all-in-one device etc.
A key difference between a home and office set-up is that remote workers may find a laptop is adequate for their video conferencing needs. However, if video meetings are a large part of their day they may like to upgrade to a bespoke video device likeNeat Frame. Neat Frame makes video meetings feel more human by delivering a superior audio and visual experience. It also includes Neat Symmetry, freeing you from your desk space by auto-framing you as you move around the room. Great news for your back!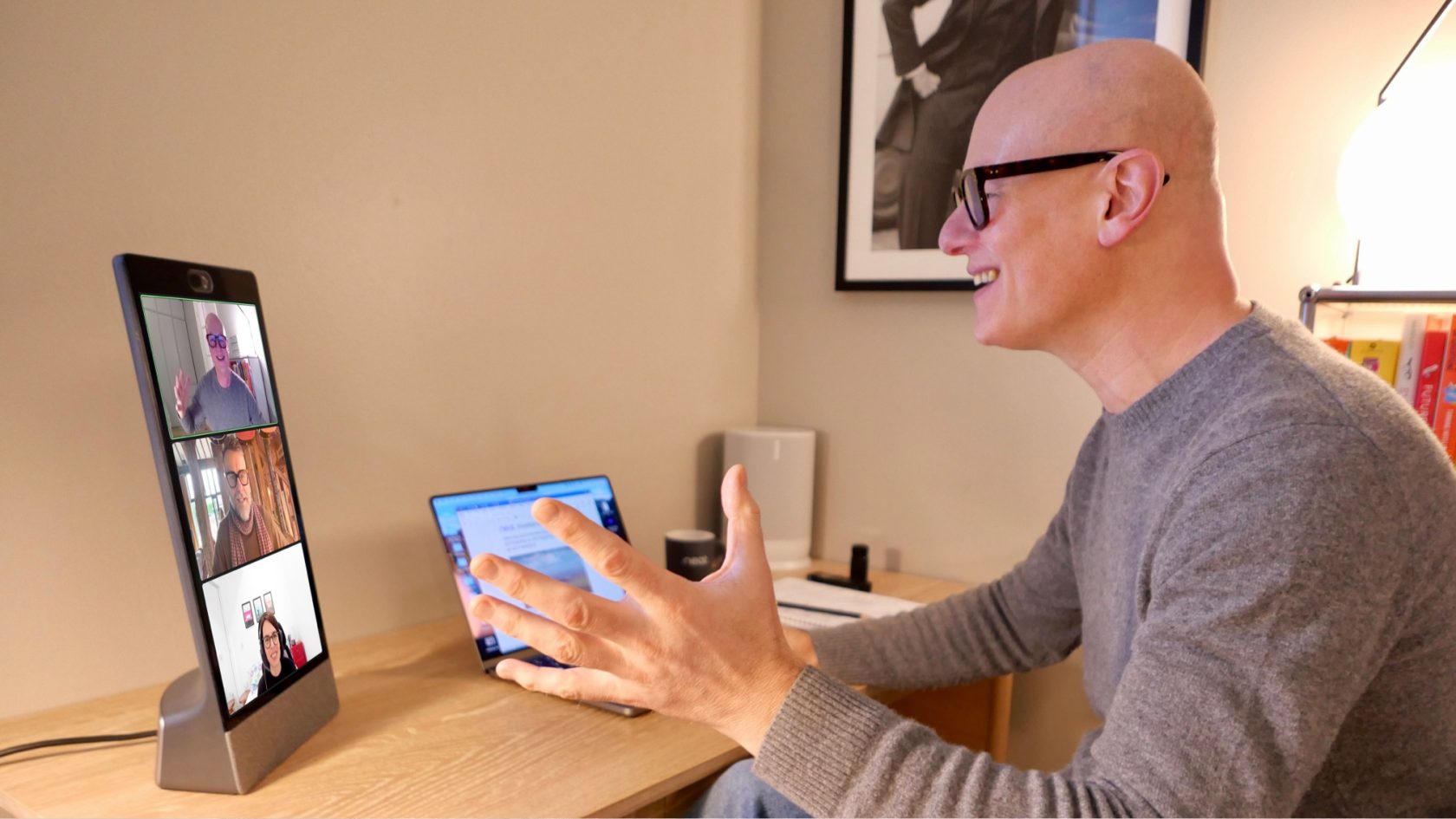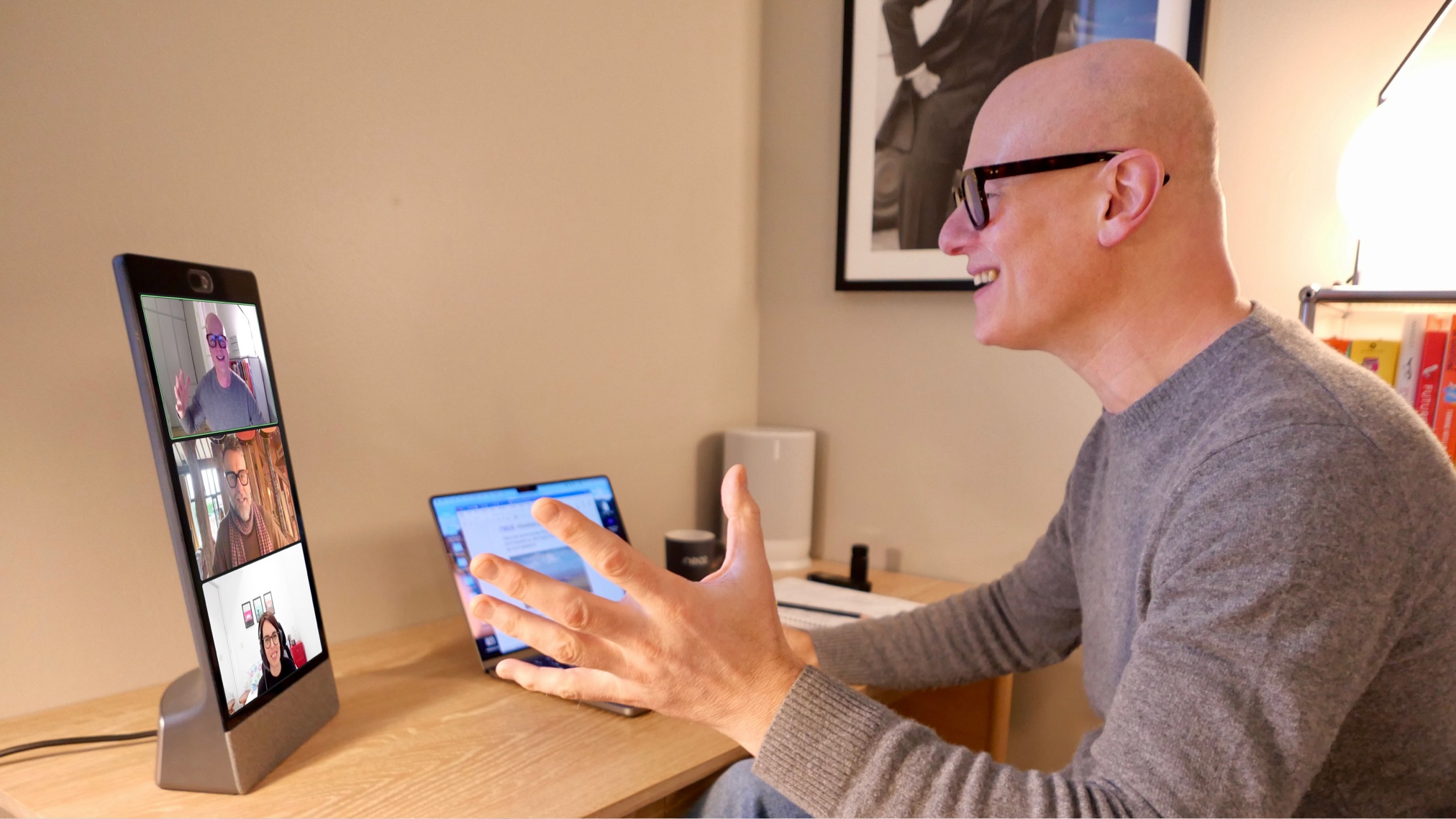 5 video conference setups for hybrid workspaces
Today's office spaces must be multi-purpose, able to support a range of different meeting types. Here's some food for thought:
1. Hybrid Board Room
Purpose – Important board meetings, client meetings, and department meetings.
Impression – Formal, prestigious.
Size – 10-20 people.
Format – Large table with chairs. Attendees face each other for easy dialogue, with a video wall on one side to ensure remote attendees have equity in the conversation.
2. Hybrid Classroom / Training Room
Purpose – Teaching and training groups of people.
Impression – A quiet learning space.
Size – 10-20+ people.
Format – Tables and chairs facing the teacher. A video collaboration device like Neat Board to transform the space into a hybrid classroom.
3. Hybrid Meeting Room
Purpose – Day-to-day team meetings, and catch-up video calls with partners and clients.
Impression – Informal, functional.
Size – 2-6 people.
Format – Table with chairs. Attendees face each other for easy dialogue, with a video wall or video collaboration device on one side to ensure remote attendees have equity in the conversation. It's also great to have some extra space in the room so people can get up and move around, and tools for hybrid whiteboarding and collaboration like Neat Board.
4. Hybrid Breakout Space
Purpose – Quick syncs with teammates, clients and partners.
Impression – Informal, relaxed.
Size – 1-2 people.
Format – Small table and chairs, or a sofa and coffee table. A screen and videobar, or all-in-one video collaboration device like Neat Frame.
5. Phone booth
While this kind of room isn't technically a conference room it is rapidly growing in popularity!
Purpose – Quick 1-to-1 syncs with remote teammates, clients and partners.
Impression – Functional.
Size – 1 person.
Format – A booth that fits one person. Typically with a built-in chair and a small surface for taking notes. The booth is video-enabled with a compact AV setup or an all-in-one device like Neat Frame.
Check ourNeat's galleryof meeting spaces for more inspiration.
5 video conference setup tips for home offices
1. Select the optimal location
Set up your home office for optimal video calls. Ideally, position yourself in an area with closed doors, avoid backlighting, stay clear of air vents or ceiling fans, and maintain a clutter-free backdrop. While this might not be feasible for all home office setups, aim to choose the best available location.
2. Enhance your background
Consider what will be visible to others during a video conference. Busy decor and clutter can divert attention from the conversation. Preview and then tweak the area others will see, to project a polished and professional appearance.
Neat devices come withNeat Boundary, which allows you to adjust the field of view to filter out background distractions. Even if individuals or pets enter the room, they won't be within the view of video conference participants.
3. Protect your privacy
If any sensitive items or information is in view, there's a risk of compromising personal and company confidentiality. Always clean up whatever is in view that shouldn't be, blur your background, and carefully set the visual parameters of your meeting space if your video conferencing device allows.
4. Minimize background noise
If you have a home office with a door, close it to block out extra noise. Turn off any fans, window units or other devices that might create background noise. Neat devices have high-performanceaudio processingto automatically suppress unwanted sounds, without minimizing the volume of the person speaking.
5. Create good lighting
Good lighting is crucial for clear video quality. Place your setup near a natural light source, such as a window, or invest in soft, diffused lighting to illuminate your face evenly. Avoid strong backlighting that can cast shadows.
Choosing the right video conferencing system
Selecting the right video conferencing system involves a systematic approach. Here are a range of considerations to help you make the right decision for your needs.
Define your wants and needs
Precisely define your needs by detailing participant counts, meeting room dimensions, meeting frequency, and desired video system features, like whiteboarding, integrated file sharing, or messaging. Prioritize reliable mobile access through apps or mobile browsers for remote work compatibility. Also, assess scalability. Opt for a system capable of expanding alongside your organization, accommodating increased participants and evolving features.
Define your limitations
Establish a clear understanding of the software and hardware you already use and want to keep. Examples include video meeting platforms (e.g. Zoom), productivity/collaboration tools (e.g. Slack), plus laptops, desktop computers and mobile devices. Research and test whether new tools and systems will integrate smoothly.
Prioritize quality and user-experience
Always prioritize systems offering high-quality audio and clear video to ensure effective communication. Glitches and delays poorly impact productivity and user satisfaction. It's also important to choose a user-friendly solution, to avoid frustration and frequent calls to IT support. Opt for an intuitive interface that simplifies usage for hosts and participants alike.Neat devicesare designed to be simple and intuitive to use, without any training required.
Security and support
In today's business landscape, safeguarding confidential data is paramount. Seek robust security measures like encryption and authentication to protect both conversations and data. Additionally, ensure the chosen system offers consistent manufacturer support. Clarify the extent of customer support provided before purchase, including whether it's included in the upfront cost or as a separate component.
Trials and customer reviews
As with any purchase, it's always wise to take advantage of product demos and trial offers to assess features, performance, and user satisfaction before committing. Research independent reviews too, like user reviews and awards.
Did you know?Neat devicesare award-winning and all have Gartner peer insights available on our website, to help you make the most informed choice.
Avoid obsolescence
Finally, future-proof any investment you make by choosing a system that can evolve with technology trends to avoid obsolescence.
By methodically assessing these factors, you'll make an informed choice that supports efficient communication, collaboration, and user satisfaction.
Showcasing Neat video collaboration devices
Neat's innovative video collaboration devices are making waves in hybrid companies and at home because they were designed with hybrid working front and center. In addition to the highest quality audio and visual experience, all our devices are simple and intuitive to use – without any training required. We work directly with Zoom and Microsoft Teams too, to deliver a truly native experience of these video meeting platforms that is continually updated to take advantage of the latest features these pioneers have to offer. Other Neat benefits include BYOD support and 3rd party app support. Here's a selection of popular Neat devices:
Neat Bar & Neat Bar Pro
Neat Baris a simple and elegant, compactly designed yet highly capable meeting room device for Zoom or Microsoft Teams. It's perfect for bringing superior-quality audio and video to your meeting, huddle or focus rooms for up to ten people.Neat Bar Prois our even more powerful videobar, capable of driving three large screens, so you can see people and content together more clearly.
Neat Board & Neat Board 50
Neat Boardis the complete meeting room package in a simple and elegant all-in-one device. With its immersive 65-inch multi-touch screen, powerful audio system and versatile wide-angle camera, Neat Board gives you a collaboration experience beyond video meetings and wireless content sharing by enabling annotations and whiteboarding.
Neat Board 50offers even more flexibility and portability. Wheel it from space to space, draw it closer towards you, and even dive into your favourite apps.
Neat Pad
Neat Padis a simple and elegant touch screen which you can use to control your meetings or display room availability outside the room. With its sleek design, including an ideal screen angle for smooth interaction and viewing, Neat Pad beautifully blends in anywhere, whether placed on a table, wall or mullion. Thanks to just one Power over Ethernet cable, Neat Pad never runs out of battery either. It's always on, ready for you to leap into action.
Neat Frame
Neat Frameis a 15.6-inch portrait screen that provides an optimal layout balance, enabling more direct conversation in larger meetings and picking up every facial expression or gesture with a brilliant 450 nits of brightness. It is a perfect desktop companion for remote employees, and can also be used in small huddle rooms within the office space.
Want to know more about how Neat can support your business or home office? We'd love to hear from you. Get in touch with one of our product specialists today athello@neat.noor take the plunge andbook a demo.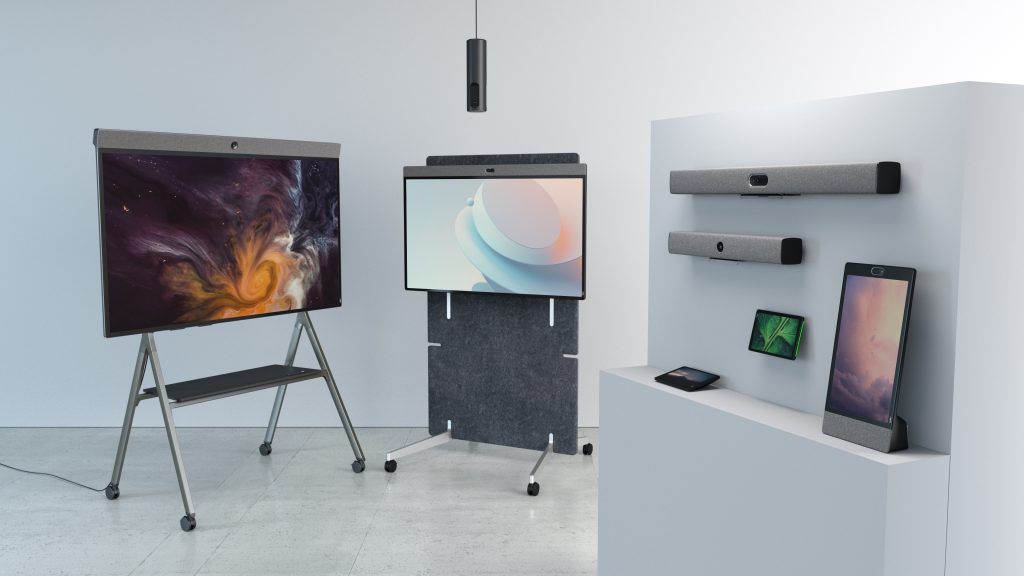 Sources
Video Conferencing Equipment. Whereby.
Equipment Needed for a Hybrid Meeting. AMP Event Group.
Everything You Need to Work From Home Like a Pro. Wired.