3 Meeting Room Schedule Display Options for In-Person Meetings
Hayley Cannon, Feb 28, 2023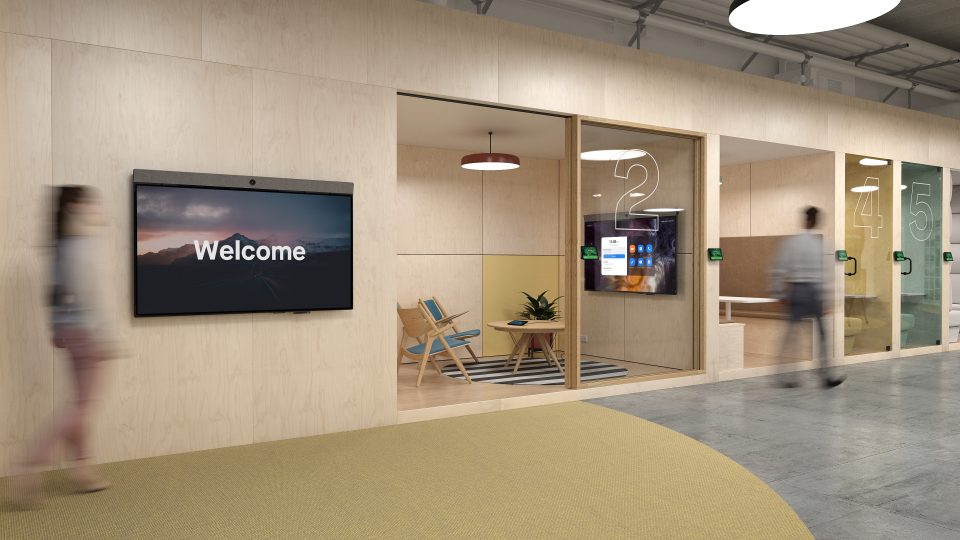 A meeting room schedule display offers a single tool to schedule, view and edit meeting space schedules. Meeting room schedule displays can improve productivity, save time and make employees happy by providing them with a user-friendly scheduling process. Here's how they work and how to go about selecting one.
Key Takeaways
Meeting room schedule displays show meeting room reservations and availability at a glance.
A meeting room schedule display can come in the form of digital dashboards or physical tablets and displays.
Benefits of a meeting room display include automation, improved productivity, a better experience and the ability to collect meeting room data.
Neat Pad combines meeting room scheduling displays with controller features, giving you the best value.
3 Meeting Room Schedule Display Options for In-Person Meetings
Conference room schedule displays typically come in two forms: digital or physical. Physical displays also offer a couple of options to choose from, depending on the size and features you want.
Virtual Dashboard
Virtual dashboards are digital meeting room apps that can be accessed from any internet-connected device, like a phone or computer. This allows for easy booking and scheduling without having to physically visit each room before making a reservation.
Digital Signage
Digital signage are monitors located outside each meeting room. These devices show upcoming meetings, availability status and user names for each booking slot. They're not interactive; their purpose is to provide information.
The screen display is controlled by software, usually by a designated person or IT team. These signs are remotely loaded and managed and can be integrated with scheduling software and calendars. Companies that use digital signage for meeting schedule displays usually place one outside each meeting room. You might also add one to reception or common areas if you have multiple meeting spaces.
Meeting Room Tablet
Tablets can also be used as conference room schedule displays. They're smaller than digital signage and don't have to be updated or controlled remotely. Companies can install a meeting room tablet outside each space and show upcoming meeting dates, times and the person(s) who booked the space. You can install scheduling software directly on the tablet, allowing users to request the space using the tablet or their own devices.
Neat Pad resembles a meeting room tablet with extra functionality. Companies can use it as a meeting room booking display that's powered by a single Ethernet cable so it never runs out of battery. And when the meeting is in session, users can leverage Neat Pad to control their meetings behind closed doors. Neat integrates with Zoom and Microsoft Teams, allowing you to start video-enabled meetings with the touch of a button. You can control your Zoom Room with the Neat Pad, invite team members, mute participants, record your meetings and even share content. It offers the size and simplicity of a tablet with the functions and benefits of a controller, giving you even more for your investment.
The Benefits of Using Tablets as Meeting Room Schedule Displays
When it comes to functions, features, costs and convenience, meeting room tablets give you more for your money.
Tablets are smaller than digital signage and require less space and time to install.
They're portable with a designated docking station, allowing users to move the tablet when needed but also leave the tablet in the same place when each meeting concludes.
Tablets can be controlled remotely and in person.
Tablet software serves multiple functions: scheduling, meeting room controller, data collection, and video conferencing.
The Importance of an Effective Scheduling Display
Having a scheduling display makes it easy for on-site employees and visitors to find the right meeting room. Employees can also take advantage of empty meeting rooms on demand without fear of encroaching on someone else's plans.
Avoid "Room Sharking"
Room sharking is where people grab meeting spaces they haven't officially reserved. This isn't always a bad thing, but it can create awkward and frustrating situations when other people have planned to use those spaces. A tablet meeting room schedule display gives you instant insight either outside the room or via your own device so you can avoid spaces you're likely to get kicked out of.
Free Up Front Desk Resources
Front desk teams often organize meeting space reservations, taking up valuable time that could be better spent. Using a tablet scheduling solution removes this burden from your front desk and puts it into users' hands.
Book Meeting Rooms on the Fly
When you need a meeting space, a tablet meeting room booking display can show you your options at a glance. This way, you're not stepping on any toes when you and your crew move into a space. See the available time slots, add your name and keep moving forward.
Use Automation to Make Meetings Run Smoothly
Using a meeting room tablet and software digitizes your meeting scheduling processes. This paves the path to using automation to handle your meeting space schedule. For example, you can send automated reminders to participants when a meeting is about to start. Or, if someone cancels their meeting, the time slot will automatically become available for someone else to schedule.
Collect Conference Room Utilization Data and Comfort Stats
Using Neat Pad, companies can learn more about how their meeting rooms are being used so they can optimize the conference room experience. Neat Pad collects utilization data and comfort stats, such as the number of participants, room temperature, air quality and more. Facilities managers can use this data to improve room comfort andright-size meeting room spacesin the future.
Improve Worker Productivity
With your tablet and software doing most of the heavy lifting, employees can take back their time and make scheduling meetings less of a chore. What's more, employees that need a meeting space on the fly can see at a glance which spaces are available to them.
Enhance the Employee Experience
Worker happiness may improve when your employees can seamlessly find and book meetings. With a tablet and cloud-based meeting scheduling software, they no longer have to go from room to room to find a free space. Plus, they can make it to their meetings on time by knowing where their team is gathering.
Improve the Utilization of Meeting Spaces
Wasted meeting spaces cancost a company millions of dollars each year. Improving the utilization of spaces with a tablet display and analytics can help to recoup some of this cost. For instance, you might only plan to heat and cool those rooms when they're booked. Identifying rooms that are rarely used might warrant investments like automatic lights. And when more people know when a space is available, they may be more likely to use it.
Help Attendees Find the Right Meeting Room
Employees and visitors alike benefit from knowing they're in the right place at the right time. Installing a meeting room booking display tablet outside each meeting space shares this information at a glance without having to interrupt the meeting. This also helps to respect the time of meeting participants when their meetings aren't being interrupted by lost participants.
Offer a Scalable Solution
Compared to booking meeting spaces manually, a tablet-based conference room calendar display will scale with your company. As you add or remove meeting spaces and time slots, you can adjust your scheduling software so your users will know all of their options.
Tips for Displaying Meeting Room Schedules
There's no one-size-fits-all when it comes to choosing a meeting room schedule display. These tips can help you choose one that's right for you.
Choose a Display That's Easy to See
Tiny screens often mean tiny print, but it doesn't have to be this way. Choose a display that's easy to see and read without having to get up close.
Organize Information in a Clear Manner
Too much information on the screen at one time can make it harder to find what you're looking for. Stick to displays that show only important information and organize these details in a clear manner.
Integrate with Your Calendars and Software
Your conference room schedule display will be more valuable if it integrates with the tools and software you already use. For example, if you'reusing Zoomor Microsoft Teams, your meeting room tablet display and software should support those tools.
Choose a Display That's Easy to Set Up
Unlike digital signage, tablets are inherently easier to set up right out of the box. Still, it's important to understand what this process looks like before making a significant investment. For example, Neat Pad installs in minutes using a single Ethernet cord and a wall or side mount. It comes with everything you need to get up and running, as well as clear instructions for installation and operation.
Make Sure It's Easy to Use
Your team will get more use out of your conference room calendar display if they can easily use it without extensive training or trial and error. It should be intuitive and relatively simple to book a meeting without assistance.
Consider Dual Functionality, Like a Scheduler and Controller
To get the most for your money, consider a tablet that also lets you control each meeting. These devices can be installed outside the meeting room to display reservations and availability. Then, bring it into your meeting to launch video conferences with a single touch. Some solutions, like Neat Pad, allow you to link multiple devices to share meeting control with other participants.
About Neat's Meeting Room Schedule Display
Adding a meeting room display isn't just about looks. When you use these displays intentionally, you can recover valuable time, improve experiences and learn more about the meeting room ecosystem at large. Neat Pad helps you do all of the above by providing comprehensive functionality in a single device. Use Neat Pad to seamlessly schedule meetings, display room availability and make the best use of your meeting spaces. And once the meeting is underway, you can control the meeting and collect data that will help you improve your space utilization.
Explore Neat Pad and other devicesand take a modern approach to meetings!
Sources:
Fortune 500 companies are wasting millions on unused office space. Fast Company.
Five Ways to Increase Your Meeting Room Utilisation. Condeco.