6 Types of Teleconference Systems for Hybrid Offices
Hayley Cannon, Sep 20, 2023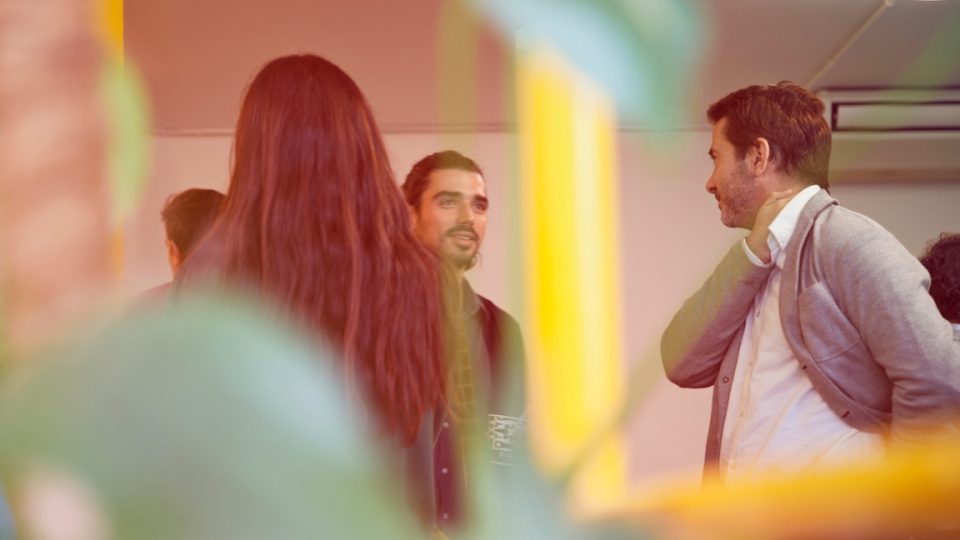 Key Takeaways:
Teleconference systems are the software and hardware that bring people together via video.
Consider key factors like user experience, security and compatibility with existing technology before investing in a new system.
There are advantages and disadvantages to teleconferencing, but hybrid working continues to rise in popularity for its convenience and ability to connect people across the world.
Neat video collaboration devices are purpose-built for hybrid offices.
6 teleconference systems for hybrid workers
Several types of teleconference systems are well-suited for hybrid office environments:
1. Video Conferencing Platforms
Video Conferencing Platforms like Zoom, Microsoft Teams, Google Meet, and Cisco Webex are centered around video meetings and offer an array of other useful collaboration tools including chat and screen sharing. These are the most popular kinds of platforms for video meetings, and the most trusted brand names in the video space.
2. Room-Based Teleconferencing Systems
Specifically designed for conference rooms and meeting spaces, Room-Based Teleconferencing Systems amalgamate hardware (cameras, microphones, speakers and displays) with Video Conferencing Platforms. Popular Room-Based Teleconferencing Systems include Zoom Rooms and Microsoft Teams Rooms.
3. Collaboration Platforms with Video
Collaboration Platforms such as Slack and Asana center around virtual collaboration features like chat, file sharing, task delegation and project tracking. Video conferencing functionalities were then added, offering users fully-fledged video communication alongside the existing core features.
4. Webinar and webcast Platforms
Catering to larger-scale presentations, platforms like GoToWebinar, ON24, and Zoom Webinar can be used to create more interactive spaces for hosting presentations, Q&A sessions. The key difference is more dynamic audience involvement, bridging the gap between in-person and virtual attendees.
5. Unified Communications as a Service (UCaaS)
UCaaS platforms unify communication across diverse channels. Voice, video and text-based messaging happening across different devices is funnelled into a singular cohesive solution. Notable examples include RingCentral and 8×8, which deliver more seamless interactions for hybrid teams.
6. Interactive Whiteboard Tools
Platforms like Miro, Microsoft Whiteboard and Jamboard have whiteboarding at their heart, a visual way of collaborating and facilitating creative brainstorms. Video conferencing capabilities have been added over time, to offer a more holistic communication solution.
To choose a teleconference system for your hybrid office, weigh up your team's precise needs alongside user-friendliness, integration, scalability, and security.
Key Considerations When Choosing a Teleconference System for a Hybrid Office
Compatibility
Choosing a teleconference system that seamlessly integrates with existing technology in a hybrid office requires careful planning. Begin by evaluating the technology tools and systems already in use within your hybrid office. Take stock of:
Hardware – Windows, macOS, iOS, Android devices. Also, conference room hardware like cameras, microphones, and displays.
Video communication platforms – Zoom, Microsoft Teams etc.
Collaboration and project management tools – Slack, Asana etc.
Email and messaging platforms – Microsoft, Google etc.
File-sharing platforms – Microsoft, Google etc.
Then look for a teleconference system that integrates smoothly with what you already have. Check whether it offers integrations, APIs, or plugins with your existing communication and collaboration platforms.
Participant capacity and scalability
Determine the number of participants the system can accommodate in a single meeting. Compare options that can host between 20 to 500 participants and choose according to your requirements. Also, consider whether the teleconference system can scale as your hybrid office grows. This includes accommodating additional meeting rooms and the potential expansion of your team.
Quality of audio and video
Assess the system's quality by focusing on factors such as connectivity and video definition. Prioritize systems that offer clear audio, full HD video, and additional features like recording, playback, screen sharing, and integration with applications. Whenever possible, take advantage of trial periods or demos offered by teleconference system providers. Testing the system firsthand helps you assess the quality of the user experience for yourself, beyond the claims made on manufacturer websites. Also, look for customer reviews and whether the product has ever received any awards or accolades.
Did you know? Neat's video collaboration devices are award-winning.
Ease of use
Opt for a system with a user-friendly interface. Consider the ease of joining meetings, navigating features, and managing settings. A simple and intuitive system reduces the learning curve for your team…and the volume of calls to IT support!
Mobile compatibility
Go for a system that's mobile-ready, allowing participants to join meetings from various locations. Ensure compatibility with devices like computers, smartphones, and tablets via user-friendly mobile apps.
Security
Prioritize a system that aligns with your office's security and privacy policies. Look for encryption, authentication, and privacy features to protect sensitive information during teleconferences.
Advantages and disadvantages of teleworking
What is teleworking?
Teleworking is the name given to working remotely, using online communication channels aka teleconference systems. The rapid evolution of technology and widespread internet usage have led to the emergence of teleworking, allowing employees to work flexibly from different locations such as homes or cafes, facilitated by dedicated software. This trend's popularity has sparked an in-depth exploration of its advantages and disadvantages.
Advantages of teleworking
Teleworking offers various benefits:
Elimination of Commuting: Teleworkers enjoy the freedom to work from home, saving time and expenses associated with daily commutes. This also contributes positively to the environment by reducing greenhouse gas emissions.
Enhanced Productivity: Teleworkers often experience higher job satisfaction due to the less stressful and familiar work environment at home. This improved work-life balance translates to increased productivity and contentment, benefiting both employees and employers.
Employee Retention: Teleworking's increased job satisfaction leads to better employee retention, alleviating the costs and efforts linked with hiring and training replacements, thus enhancing workforce stability.
Operational Cost Reduction: Employers benefit from reduced operational costs. With fewer employees on-site, office space requirements decrease, lowering expenses related to furniture, utilities, and facilities.
Did you know? 63% of high-growth organizations employ hybrid work models – Fortune
Disadvantages of Teleworking
However, teleworking comes with its own set of challenges:
Distraction: Working remotely can be distracting without the supervision of an office environment, leading to diversions like television and social media. Household tasks and other household members might also divert attention.
Security Concerns: Remote access to company software from home brings security concerns, as the compromise of passcodes could lead to unauthorized access to sensitive business data. These risks can be mitigated however with proper processes and technology in place.
Reduced Human Interaction: Extended periods of teleworking can lead to feelings of isolation and less face-to-face interaction. To combat this check out our blog post 'How to Create a Remote Work Culture That Works: Tips and Ideas'.
Best Practice for Effective Teleconferencing in Hybrid Offices
Prepare for the meeting
Define the purpose and goals of the teleconference beforehand. Communicate the agenda to participants so they can come prepared and contribute meaningfully. It also helps to assign attendees roles. Designate a facilitator to lead the meeting and manage the agenda and someone else to handle technical issues and monitor the chat for questions or comments. You may also wish to assign someone to take notes during the teleconference, summarizing key points, action items, and decisions made – and share them with participants afterwards.
Reminding participants of teleconference etiquette also goes a long way. Communicate some ground rules such as muting when not speaking, avoiding multitasking, and being respectful to all speakers. Above all, stick to the agenda and avoid unnecessary tangents. Respect participants' time by keeping the teleconference focused and concise.
Test the system beforehand
Select a reliable teleconferencing platform that supports the required number of participants and offers features like screen sharing, chat, and recording. Next, test your connectivity. For remote participants, test the connection quality beforehand. Consider backup options in case of connectivity issues. Finally, ensure all equipment, software, and connecting cables/adapters are functional before the teleconference. Test audio, video, and screen-sharing capabilities to avoid technical glitches during the meeting.
Engage remote and in-person participants
Encourage active participation from all attendees. Ask questions, seek opinions, and involve remote participants to ensure a balanced discussion. Incorporate interactive elements like polls, breakout sessions, and Q&A segments to keep participants engaged and involved. It's also vital to plan for hybrid dynamics, in order to achieve 'meeting equity'. Pay attention to the needs of both in-person and remote participants. Make sure everyone has equal opportunities to contribute and be heard. Neat devices all come with our patentedNeat Symmetrytechnology, to greatly boost meeting equity between hybrid teammates by ensuring everyone is displayed equally on-screen, whether they are in the physical meeting room (even moving around or sitting at the back), or working remotely.
Follow-up after the meeting
After the teleconference, send a summary of the meeting, action items, and deadlines to all participants. Ensure clear communication on the next steps. It's also useful to gather feedback, to continuously improve the teleconference's effectiveness and get insight into areas for enhancement.
How Neat devices enhance teleconferencing in hybrid offices
Neat's innovative video collaboration devices are making waves in hybrid companies because they were designed with hybrid working front and center. In addition to the highest quality audio and visual experience, all our devices are simple and intuitive to use – without any training required. We work directly with Zoom and Microsoft Teams too, to deliver a truly native experience of these video meeting platforms that is continually updated to take advantage of the latest features these pioneers have to offer. Other Neat benefits include BYOD support and 3rd party app support. Here's a selection of popular Neat devices:
Neat Bar
Neat Bar is a simple and elegant, compactly designed yet highly capable meeting room device for Zoom or Microsoft Teams. It's perfect for bringing superior-quality audio and video to your meeting, huddle or focus rooms for up to ten people.
Neat Board & Neat Board 50
Neat Board is the complete meeting room package in a simple and elegant all-in-one device. With its immersive 65-inch multi-touch screen, powerful audio system and versatile wide-angle camera, Neat Board gives you a collaboration experience beyond video meetings and wireless content sharing by enabling annotations and whiteboarding.
Neat Board 50 offers even more flexibility and portability. Wheel it from space to space, draw it closer towards you, and even dive into your favourite apps.
Neat Frame
Neat Frame is a 15.6-inch portrait screen that provides an optimal layout balance, enabling more direct conversation in larger meetings and picking up every facial expression or gesture with a brilliant 450 nits of brightness.
Want to know more about how Neat can support your hybrid workforce? We'd love to hear from you. Get in touch with one of our product specialists today at hello@neat.no or take the plunge and book a demo.
Sources
How to Create a Remote Work Culture That Works: Tips and Ideas. Neat.
What is meeting equity, and why do inclusive meetings matter? Pexip.
63% of high-growth companies have hybrid work models. Fortune.
Telework Best Practice Guide. Massachusetts government.