Building a Hybrid Workplace with Neat's Next-Generation Video Technology
Neat, May 28, 2021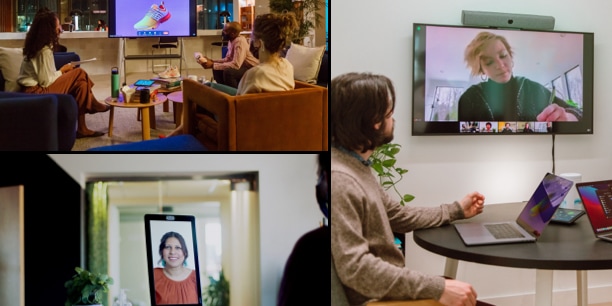 Neat devices help you make optimal use of office space to support employee safety and productivity.
As the first in a three-part series of blogs on returning to the office and building a hybrid workplace, workforce and workflow, 'Building a Hybrid Workplace' helps you understand how you can redesign your office spaces to be future-fit.
The pandemic has changed when, where and how we work. It's also dramatically altered how we communicate and collaborate with others in our professional and personal lives. After over a year of working from home, millions of us are now used to working differently.
With lockdowns lifting, many are looking forward to returning to their company workplace. However, we aren't expecting things to be the same as when we left. Instead, we're anticipating the office to cater to a new way of working. We're banking on the ability to leverage our new proficiencies with video collaboration across our workplace desks, as well as familiar and new types of meeting spaces, and of course, our home office. Businesses need to properly prepare to support this new hybrid world of work where teams stay connected, engaged and productive.
Neat's pioneering video devices can empower you to seamlessly connect in-office employees with colleagues, customers and partners wherever they're located. Moreover, and perhaps, most importantly, how all in-office employees can productively thrive in a healthier and safer working environment.
Health and safety first
Top of mind then for most business and IT leaders will be health and safety. In a recent survey by workplace platform
Envoy, 66% of employees said they were concerned about their health and safety when faced with returning to their company's bricks and mortar premises. Therefore, you must invest in video technology that includes functionalities to support the latest health and safety regulations to provide your employees with as much security and reassurance as possible.
Integrated into all Neat devices and available via the Zoom dashboard, Neat Sense is an advanced set of smart room sensor technology that gives you accurate real-time room analytics for healthier, safer, more cost-effective meeting spaces. It enables anyone to manage and monitor air quality, humidity, CO2 and Volatile Organic Compounds (VOCs are organic chemicals, odors, scents, etc.) and the number of people in the room, ambient noise and lighting conditions.
What's more, Neat devices include Amazon's voice-controlled virtual assistant AI technology, Alexa for Business, which allows you to use voice commands for touch-free, ultra-hygienic Zoom Rooms meetings.
The right device for the right room
After health and safety, real estate optimization will undoubtedly be next on your priority list. People will expect video technology to be accessible from their desktop and throughout informal jump spaces, focus, huddle and meeting rooms. So, installing the right device for the right space or circumstance will be critical.
That's where Neat's diverse portfolio of devices can help. All are incredibly easy to install, set up and use and give you a delightful and consistent Zoom Rooms experience regardless of where people are hosting or taking part in a meeting.
Neat Bar is great for rooms and spaces of various proportions, from video phone booths to medium-sized rooms with single or dual monitor displays. Alternatively, our Red Dot Design Award-winning Zoom-in-one device, Neat Board, has annotation and whiteboarding capabilities and can be installed in a fixed location or wheeled into any space where you want to use it.
Neat Pad, our dedicated Zoom Rooms controller and scheduler, comes with Neat Bar and Neat Board. But you can also buy it separately and sync it with any Neat device, third-party Zoom Rooms system or deploy it in scheduling mode outside any or all of your Zoom meeting spaces to book and manage meetings.
Three new video innovations
Later this year, Neat releases three new video innovations to additionally kit out your teams,
Neat Bar Pro and our unique and perfectly portable personal devices, Neat Frame and Neat One.
Neat Bar Pro is intended for larger rooms of up to 30 people, such as boardrooms, training rooms or open-plan environments and can drive up to three big screens.
Neat Frame is a striking all-in-one portrait touchscreen that frees up your laptop. With a handle integrated into the back, you can easily pick it up, transport and place it anywhere, be it on your desk at home or in the office. Alternatively, you can apply it as a virtual receptionist, creating a more risk-free warm and welcoming employee and visitor experience.
Neat One is our super-small collaboration peripheral. Above and beyond what any webcam offers, Neat One connects via a USB to your laptop and gives you all the high-quality functionality people enjoy with Neat devices in a cleverly compact design.
Neat Frame and Neat One are equally brilliant as Zoom for Home devices, too, supplying those remote with effective solutions to better communicate and collaborate with their associates back at the office or elsewhere.
'Building a Hybrid Workforce' blog coming soon
Keep an eye out for our second return to office hybrid blog, 'Building a Hybrid Workforce', where you can learn about Neat Symmetry and how it makes virtual meetings feel almost as real as meeting face-to-face.
To further discover what Neat devices can do to help your business successfully navigate the new hybrid landscape and stay at the peak of its powers, check out our
Moving Forward with Hybrid Work page. For all other things Neat, visit neat.no. We offer worldwide shipping and can deliver in just a few days.