Showing Compassion Leads to Creating an Enhanced Virtual Yoga Experience
Neat, Jun 5, 2021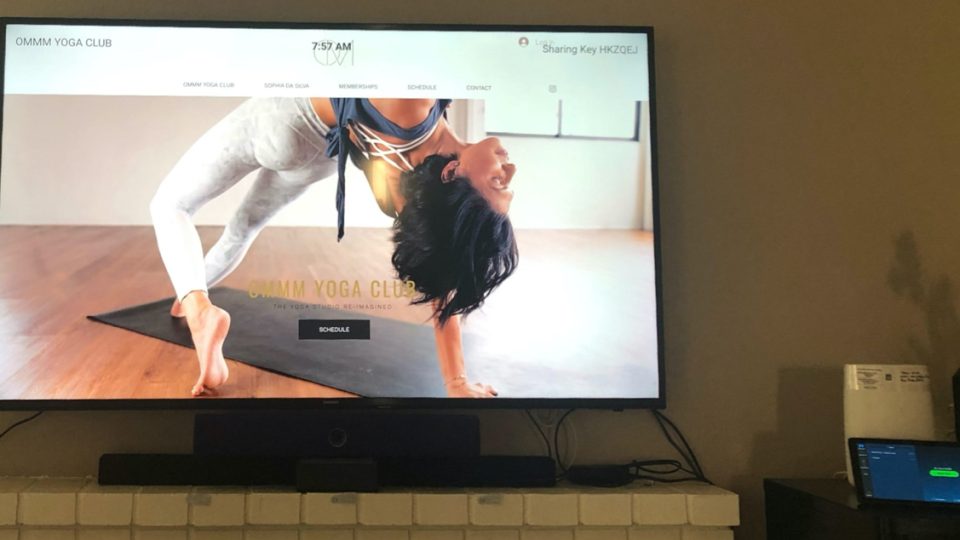 How perfect strangers connected by yoga came together and grew their vision into a caring and considerate widespread community.
Life is full of beautiful surprises. You never know who you're going to meet that will change your destiny.
When Sophia Da Silva, a yoga instructor with an established 10-year business in San Diego, California, had to close its doors because of the COVID-19 lockdowns, turning to social media and Instagram Live to survive felt like her only option. That was until Sophia met yoga enthusiasts and husband and wife team Vu Nguyen and Allison Lardizabal in her local park while giving in-person classes. Both were entrepreneurs with a wellness and website building business. Feeling a strong affinity with Sophia and her message and thinking that there had to be a way of making what she offered better, Vu and Allison suggested a new business idea to help Sophia.
"We said, Sophia, give us your dream schedule, some photos, a story, and we'll handle the rest," remembers Vu Nguyen, Co-Founder of Om Yoga Club. "Then Allison took all of the content and developed the entire Om Yoga Club website."
Broadening horizons
When Sophia saw what Vu and Allison had come up with, her initial response was, "Oh my God, what planet are you guys from?" It completely blew her mind. But the real game-changer was when Vu introduced her to Neat and Zoom. Having spotted Neat and our flagship product Neat Bar at a technology trade show, Vu believed that combined with Zoom Rooms, it could be the answer to everything Sophia had aspired to apply to her online classes. For ages, she'd longed for a camera that would freely follow her around the room, so she could properly cue her students and see how they were positioning their bodies. Likewise, they would clearly see and hear Sophia's instructions and what she was doing. Neat Bar now enables Sophia and her online students to feel as though they are physically all in the same room together.
"Using my laptop, there were so many times where my head would just get cropped out of the frame, or I was bent at an awkward angle while trying to face the camera and talk," said Sophia Da Silva, Co-Founder of Om Yoga Club and Teacher. "But with Neat Bar, the dexterity of the camera matches my fluidity as an instructor, and I'm able to guide my students more naturally."
Closing the distance
Providing its members with the best of both worlds, Om Yoga Club offers them the luxury of taking outdoor in-person and enhanced virtual classes and will continue to do so as it evolves. Far from taking anything away from its physical program, video empowers Om Yoga Club to expand what it offers by re-imagining the yoga studio and putting it into places it's never been. Incorporating a high-quality virtual platform also means Om Yoga Club can attract or retain students who live or have moved further afield. Demerie Hill, a yoga student who'd been practicing with Sophia for several years, is a perfect example. Having lived on the US west coast, Demerie moved to Madrid in Spain yet became a founding Om Yoga Club member.
"I'm just so thrilled I can physically go to my local yoga studio here in Madrid, plus continue to take virtual classes with Sophia because I enjoy them so much," said Demerie. "Not only is the technology she's using great but being able to connect long-distance and still feel a close part of the community is brilliant."
Community over self
Many people feel a sense of isolation because of the pandemic and want to know how they can stay connected. Subsequently, learning to prioritize community over self is something Om Yoga Club believes is invaluable. As Vu, Allison and Sophia prove, when we seek to discover the best in others, we somehow bring out the best in ourselves. So, by inviting people to be part of a caring and compassionate community, Om Yoga Club strives to deliver an exciting and inclusive yoga experience to help students become their potential. Essentially, an experience that embodies health, wisdom and soul and a daily practice that students can return to again and again. Be that in person or on video, whatever the future brings.
"Let change, even traumatic upheaval, remind you that anything is possible. When the dark cloud of chaos hangs over you, let possibility be the silver lining." Maggie Smith, American poet.
Free virtual classes for seven days
As a gift, Sophia Da Silva would like to invite all Zoom customers to experience Om Yoga Club's virtual classes free for seven days. Select virtual membership at ommmyogaclub.com ($59 option) or use coupon code YOGI7 during booking.
Read our full Om Yoga Club case study and discover all things Neat at neat.no. We offer worldwide shipping and can deliver in just a few days.