Practical BYOM (Bring Your Own Meeting) Solutions
Hayley Cannon, Mar 20, 2023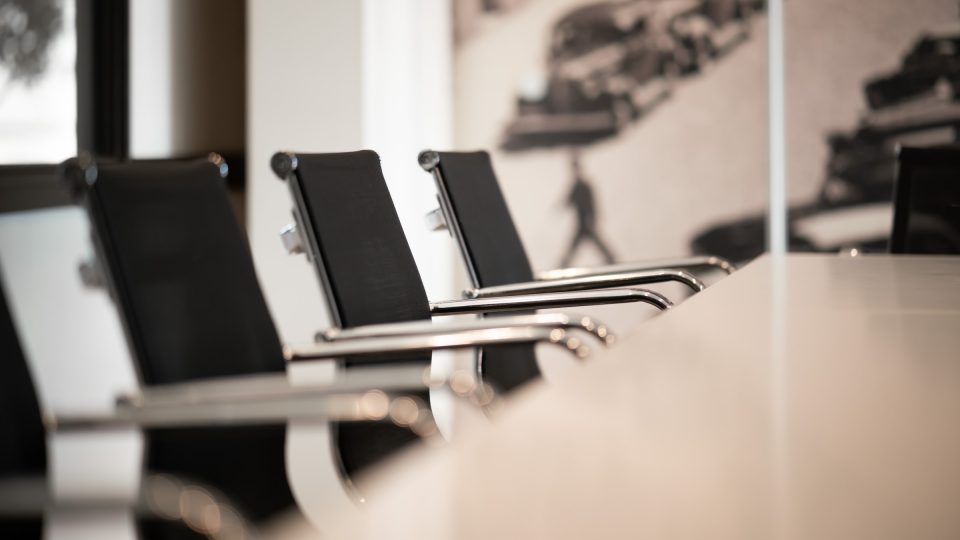 This article covers all you need to know about Bring Your Own Meeting solutions including an intro to BYOM, its benefits and how to implement it for your team.
Key Takeaways
BYOM stands for Bring Your Own Meeting.
People bring their own devices to a meeting room and host/join video meetings on whatever platform they like.
BYOM boosts productivity and reduces the need for physical touchpoints, improving hygiene.
If your existing unified communication solution supports BYOM then implementing it can be as simple as a firmware update.
What is BYOM?
'BYOM' is short for 'Bring Your Own Meeting'. It's where people bring their own personal devices, like laptops and tablets, to an office space to host a video conference, but with all the benefits of a video-enabled meeting room, like audio and video peripherals. BYOM fosters a more fluid and spontaneous way of working, where you can use your preferred conferencing solution (e.g. Microsoft Teams, Webex, Zoom) instead of being forced to use the one solution provided by IT to connect remote participants.
BYOM developed because, while traditional unified communication (UC) solutions have been effective for remote meeting participants, they've been very challenging for video meetings taking place between remote and in-room attendees, aka hybrid meetings. If the host and presenter are not equipped with the right tools, like the right cable or adapter, things quickly grind to a halt. BYOM solves this by offering a seamless experience, no special tools required.
Did you know? Nine in ten employees whose role could be carried out remotely prefer some degree of remote working flexibility, and six in ten specifically prefer hybrid work.
The Benefits of BYOM
BYOM makes the hybrid workforce more productive – Hybrid working becomes easier and more productive when parameters on what equipment and platforms can be used are lifted, and people simply use the devices and platforms they are most familiar with.
BYOM allows people to use a device they already know – People feel confident using their personal device versus company equipment, because they already know it inside out. This speeds up the process of starting and running a meeting, so there's more time to get on with the meeting itself.

Did you know? Frost & Sullivan report that 80% of employees are using personal devices for workplace tasks, with 49% of users reporting that they are more productive using their own devices.

BYOM allows people to use the video meeting platform they already know – Traditionally, video-enabled meeting rooms were set up for a single, chosen UC platform. A BYOM room on the other hand can be used for meetings on any platform you prefer e.g. Webex, Zoom, Microsoft Teams, Google Meets.
How to implement BYOM at your company
Depending on your existing conference room technology, becoming a BYOM company may be as simple as a firmware update on the current presentation tool within a conference room. If this is the case you can make use of your existing conference room UC and peripherals – no scrappage necessary. Check with your UC provider to see what is possible with your existing equipment then simply follow the manufacturer's instructions.
If BYOM isn't possible with your current set up you'll need to invest in a video collaboration solution that is capable of delivering BYOM, like Neat Bar or Neat Board. While Neat devices deliver great experiences through the Zoom and Microsoft Teams native applications, the BYOD Mode feature offers the ability to use your devices for ad-hoc meetings requiring a 3rd party video service, while keeping the benefits of Neat's hardware and features like Neat Symmetry.
Practical solutions for BYOM
Video Bar
Videobars can be an excellent video conferencing solution and some can also support BYOM – check with individual manufacturers. A video bar is a long, bar-shaped device similar to a soundbar except it has a built-in webcam, mic and speaker. Depending on the exact product you choose there can be many benefits to using them in your meeting rooms, from ease of use to reducing visual clutter.
Neat Bar is an elegant and compactly designed meeting room device. It brings superior-quality audio and video to your meeting or huddle room. You can mount Neat Bar above or below one or two monitors, and it comes with Neat Pad, our dynamic touch screen, which you can use to control your meetings or display room availability outside the room. In BYOD Mode Neat Bar can be used with devices and video conferencing platforms of your choice.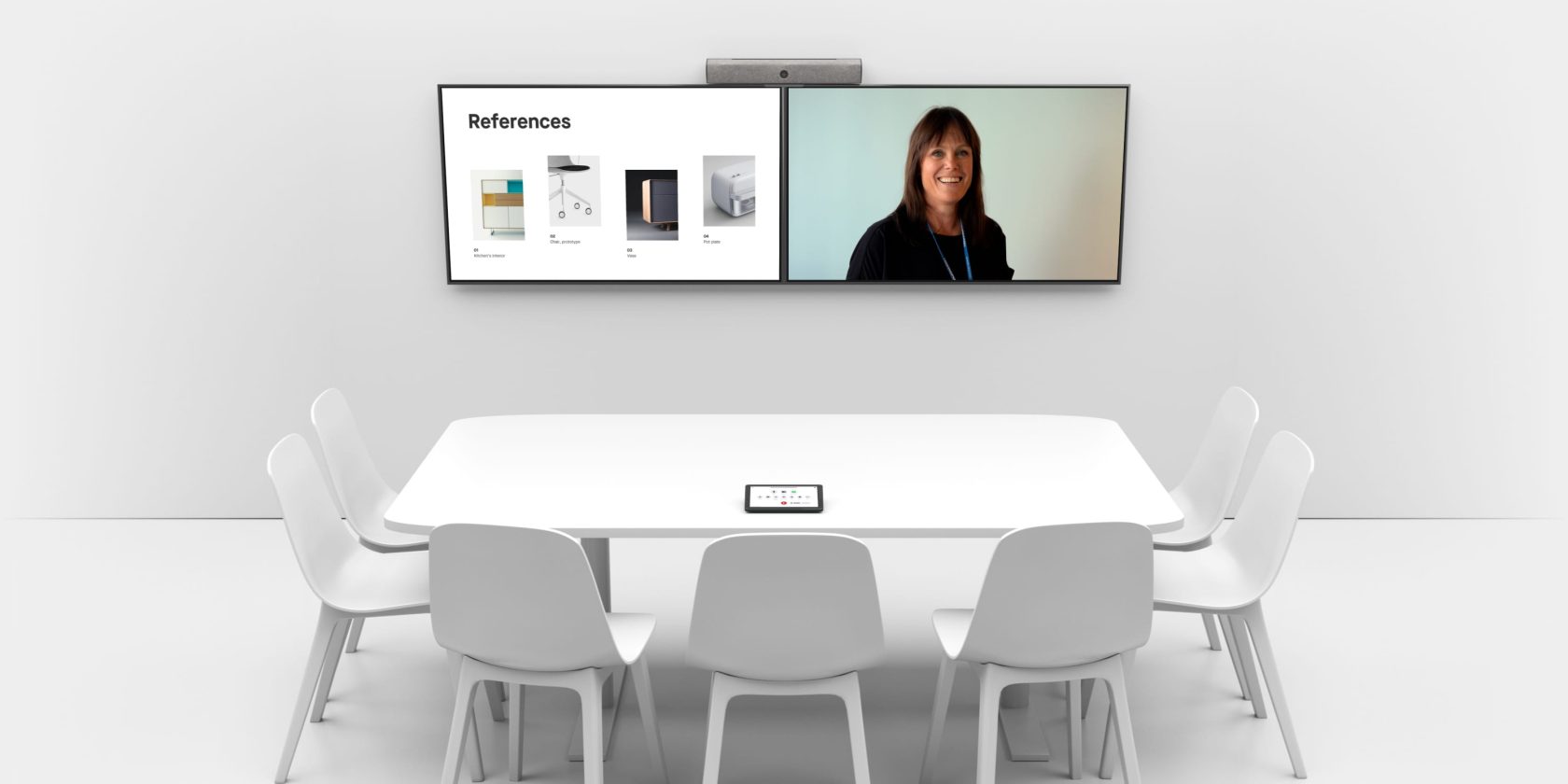 Video enabled screens
Screens with built-in video capabilities are another popular choice for video meetings, and some support BYOM so do your homework with the manufacturer before investing.
Neat Board is an immersive 65-inch multi-touch screen with a powerful audio system and versatile wide-angle camera. It gives you a collaboration experience beyond video meetings and wireless content sharing by enabling annotations and whiteboarding. In BYOD Mode Neat Board can be used with devices and video conferencing platforms of your choice.
Purpose-built systems
It is also possible to create video-first meeting rooms comprised of individual components such as webcams, mics, screens, and speakers that work together with your preferred conferencing solution e.g. Microsoft Teams, Zoom. Rooms like this can be purposefully set up so that they are able to support BYOM, providing the right combination of components are in play. Check with individual manufacturers or system integrators to make sure yours meets your needs.
Final thoughts
Feeling inspired? Check out our pioneering range of video collaboration devices, certified by Microsoft Teams and Zoom, or talk to a Neat specialist who can answer all your questions today.
References
The Future of Hybrid Work: 5 Key Questions Answered With Data. Gallup.
Wireless Content Sharing In Meeting Rooms. Frost & Sullivan.