11 Benefits of Using Video Bars in Conference Rooms
Hayley Cannon, Jan 20, 2023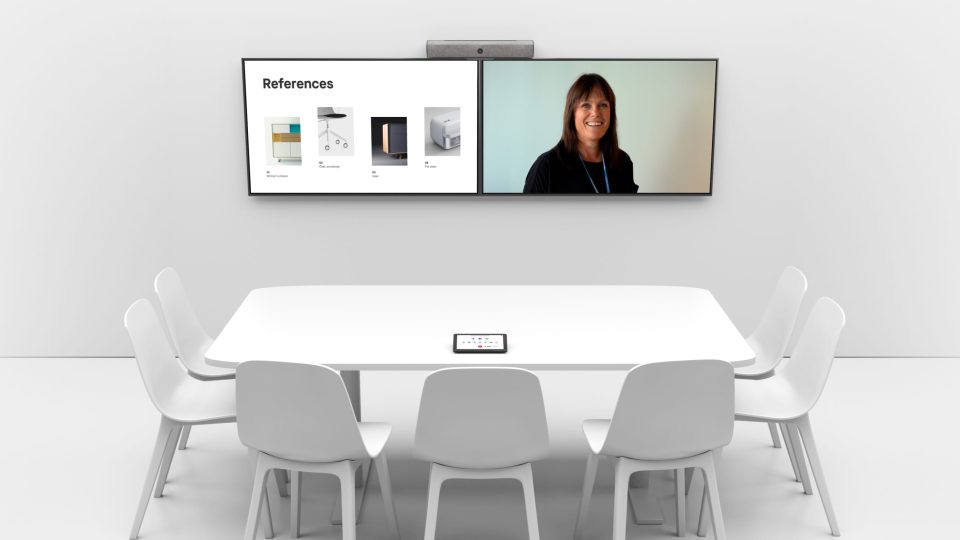 Key Takeaways
A video bar is a compact video conferencing device that has a webcam, mic and speaker built-in, so you no-longer need multiple pieces of equipment to hold a video meeting.
Video bars are a great solution for meeting rooms of all sizes for many reasons including: saving space, easy set-up and use, performance and cost-saving.
What is a video bar?
A video conference bar – or video bar – is a long, bar-shaped device similar to a soundbar except it has a built-in webcam, mic and speaker. A video bar is typically mounted above or below a screen/s, to make a complete video conferencing solution for meeting and conference rooms. It's for this reason video bars have grown in popularity, because they bring together most of the individual components you need for video meetings in a single, compact device.
11 reasons to choose a video bar for your meeting space
1. Video bars save space
Thanks to their compact, streamlined design video bars take up far less space in your meeting room versus having individual webcams, mics and speakers. This is a benefit in all rooms, but especially valuable in smaller spaces.
2. Video bars reduce visual clutter
All-in-one video bars reduce visual clutter because they have fewer wires and cables versus more traditional video conferencing set-ups. This makes your meeting room look more modern and feel calmer too.
3. Video bars can be less expensive
With a more traditional set-up you have to purchase multiple pieces of equipment including webcam/s, mic/s and speaker/s. A video bar on the other hand has all of these things built-in, which can save you money. Some video bars are also available on subscription, a useful option if you don't want an upfront cost.
4. They're ideal for small and larger meeting rooms
A video bar is a great solution for both smaller and larger meeting spaces. Just make sure you choose the right kind of video bar for your space. Bigger rooms need more powerful video bars with more technology built-in e.g. more mics, to catch everyone's faces and conversation. Video bars for smaller rooms can be simpler and require less power.
Our award-winning Neat Bar Pro with its 16-mic array is perfect for large meeting and conference rooms.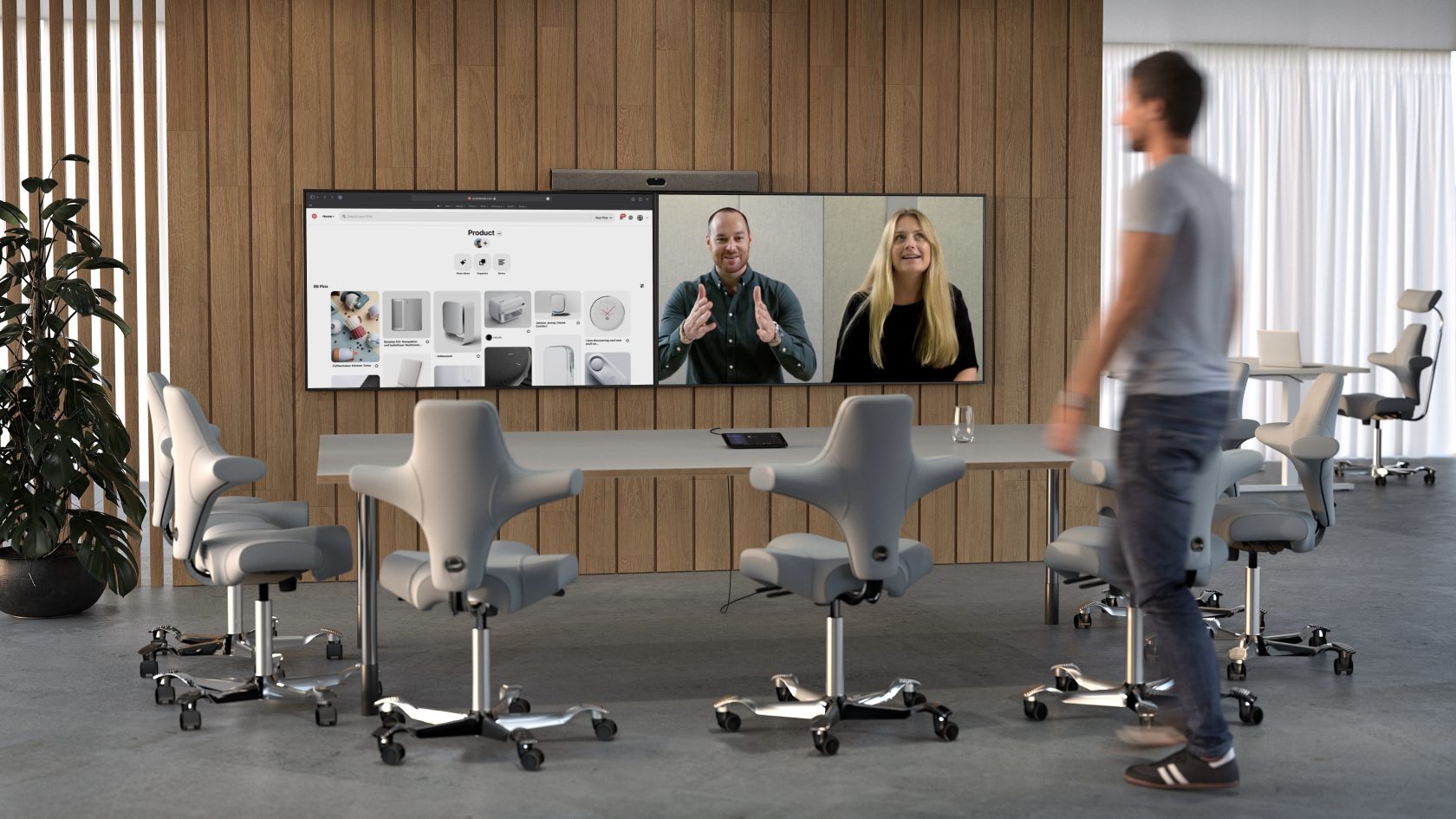 5. They're easy to install and use straight out the box
It's much quicker and easier to unbox and install one video bar versus multiple individual components like webcams, mics and speakers. On top of that, some video bars are purposefully designed to be simple to set-up and get working, like Neat devices which are all plug in and play for smooth, stress-free install.
6. They're easy to position correctly in the room
Consider the ease and speed of positioning a video bar versus individual webcams, mics and speakers. Many video bars can sit comfortably on a tabletop, and Neat Bar can simply be attached to a screen with its snap-on mount.
7. Video bars are easy to use
All-in-one video bars are easier to use than a set-up made up of separate webcams, mics and speakers, each requiring their own unique settings and adjustments to work in harmony with each other.
8. They have crystal clear video for more life-like video meetings
Choosing an all-in-one video bar over a separate webcam does not mean compromising on image quality. Good quality video bars have between 12 and 50 megapixel capture resolution, which means people look life-like and facial expressions can be clearly seen. Some video bars also have cameras with digital zoom, to get closer up to the person speaking. This helps brings more focus to people as they share their thoughts with the room.
Good quality video bars also have a wide-angle camera capable of capturing everyone in the room, so no one is left out of the meeting – no matter where they're sat in the room.
9. They have high-fidelity audio for more natural conversations
Video bars are capable of delivering great sound, which is critical for meeting comprehension and flowing conversation. There's nothing worse than echos and voice-clipping, so good quality video bars have high performance audio technology which prevents these irritating distractions from happening.
10. Video bars are compatible with major video platforms
Video conference bars are typically compatible with Zoom, Microsoft Teams and other major video conferencing platforms, which means you can stick with the video meeting software you already know, instead of having to learn a new one.
Neat Bar is certified for Zoom and Microsoft Teams, meaning it natively runs Teams and Microsoft Teams Rooms for Android.
11. Specialist features deliver better video calls
Some video bars have specialist video collaboration features which optimize your video calls. Neat Symmetry for instance is our patented technology which pulls forward the faces of people sitting at the back of the meeting room, displaying them equally on screen and improving meeting equity. It also continues to focus on people's faces when they move around the room, freeing people from their seats and creating a more dynamic experience.
Invest in Neat Bar or Neat Bar Pro
Video conferencing has rapidly grown in recent years, in fact Zoom has around 350 million daily meeting participants! The rise of video meetings is why many companies are investing in video bars and other video-first devices. If you're interested in buying an all in one video conference system, like a video bar for your meeting or conference room, check out Neat Bar and our more powerful video bar Neat Bar Pro, winner of the Red Dot Design Awards 'Communications Technology' category, 2022.
In addition to the benefits outlined above these devices have Neat Boundary which removes unwanted visual distractions from the background, and Neat Sense which delivers insights about your meeting room's air quality e.g. humidity and CO2 level.
If you'd like to know more about any of our video collaboration devices, visit neat.no or speak with a friendly Neat representative who can help you understand the best device for your conference room.
References
Soundbar. Wikipedia.
Zoom Revenue & Usage Statistics. Business of Apps.