Iconic Vineyard Estate Creates a Whole New Virtual World for Wine Consumers
Neat, May 21, 2021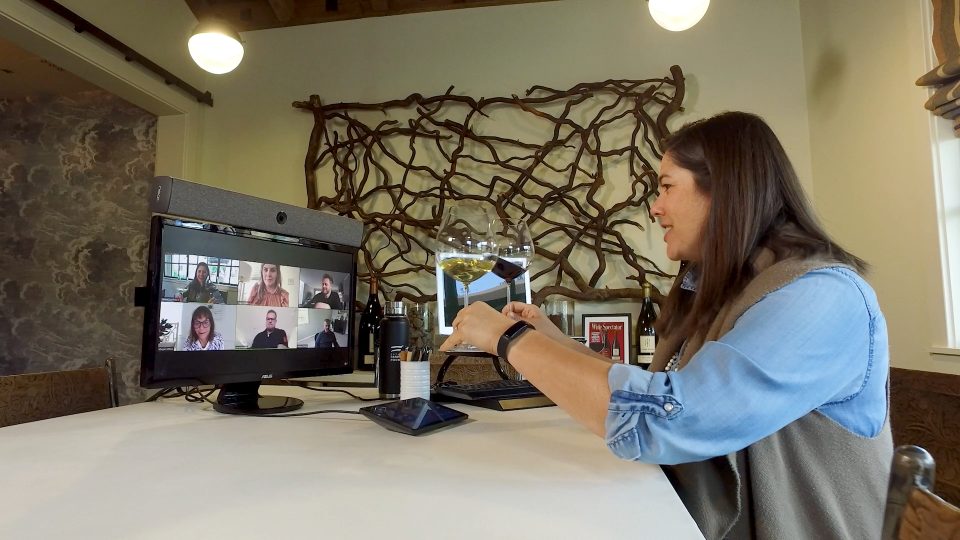 Three Sticks Wines boosts its business with Neat and Zoom, hosting online tasting events through shutdowns and beyond.
Renowned for the hospitality it provides at its historic clay Adobe tasting room in Sonoma, the heart of California Wine Country, Three Sticks, like countless other small businesses, had to close last spring when the pandemic hit. As a family-owned company cultivating exquisite Chardonnays and Pinot Noirs, this boutique winery had to rapidly adapt to keep its connection with its wine club members alive and growing.
So, Three Sticks swiftly turned to Zoom to host virtual wine tasting events, shipping its wines to customers' homes before joining them online for an inspiring sensory journey of sampling different releases. Soon though, Three Sticks wanted to elevate the experience by establishing a brighter, more beautiful and personal wine tasting get-together. That's when, through the grapevine, it heard about Neat Bar.
"When we discovered Neat Bar, we were wildly excited to try it out," said Prema Behan, Co-Founder and General Manager of Three Sticks Wines. "Our first reaction was how great the camera and sound were. It was really easy to set up, and we just loved the customer service aspect of it."
Real-like remote experience
Because of Neat Bar's superior camera and audio capabilities, Three Sticks members now get a remote wine tasting experience that feels almost as real as when they physically sat chatting with others and listening to the winemakers' stories back at the Adobe.
Shifting away from just using a PC with Zoom to equipping itself with Neat Bar and Zoom Rooms has enabled Three Sticks to grasp the opportunity of connecting with people in ways it never previously imagined. These days it's creating an entire business channel that didn't exist before, which brilliantly makes up for the loss of revenue and sales at its Adobe tasting room.
"Using Neat Bar and Zoom Rooms, we were able to carry our usual white-glove service to a new place while still reflecting the quality of experience we expect of ourselves," said Colette Simpson, Director of DTC for Three Sticks Wines. "Through our tastings, we were trying to reach both existing and new customers, so we needed their first impression to match the attention to detail that we deliver."
Blending in-person and virtual events
Offering various virtual events, from tastings for small groups, communities, and corporate team building to organizing a virtual charity concert series in celebration of food and wine, Three Sticks is not only surviving the pandemic but thriving. Since deploying Neat Bar with Zoom Rooms, it's connected with nearly 2000 guests, around 600 of whom are new customers.
In addition, it's supported local restaurants, artists and others in the community by partnering with small food suppliers to offer food and wine pairings and has worked with musicians to promote music and happy hour performances. Given this success, Three Sticks plans to continue with virtual events even once the current restrictions are lifted, and it can fully reopen the Adobe.
"When we started, we didn't expect virtual events to be a long-term solution for Three Sticks, but virtual tastings will definitely be part of Three Sticks future," added Simpson. "It's one of the positives to come out of 2020 and has become a vital part of our sales channel. We are excited to continue to share our hospitality no matter where members of our community are located."
More about Three Sticks and Neat
To learn more about Three Sticks, its passion for winemaking, vineyards and table fellowship, visit threestickswines.com.
Watch our Three Sticks video and read the full case study at neat.no, where you can also discover all there is to know about Neat devices. We offer worldwide shipping and can deliver in just a few days.