How to Setup a Conference Room for a Hybrid Office
Hayley Cannon, Oct 5, 2022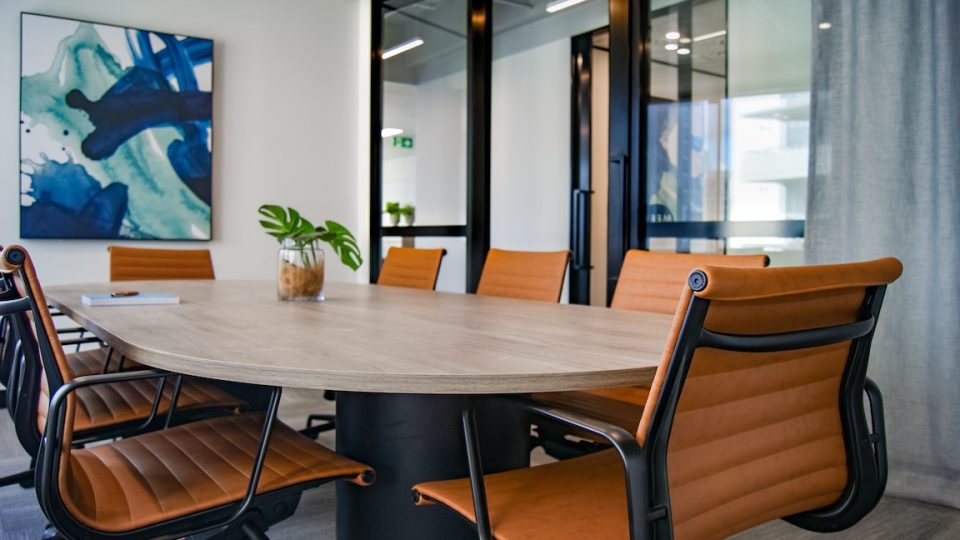 In the era of hybrid work it's important to create meeting spaces and conference rooms that work for everyone. In this post we'll guide you through everything you need to know to create the perfect space for your distributed team.
Key Takeaways
A hybrid office is one where employees work with each other in-person and remotely, connecting via video conferencing when they are not in the same location.
A hybrid conference room setup should cater for the hybrid workstyle by being fully video-enabled, which makes it quick and easy to connect with people working remotely.
Companies should plan what mix of spaces will be most beneficial for them and the way their workforce operates.
Room configuration depends on a number of factors: number of in-person attendees, number of remote attendees, level of interaction between attendees, location of power points, location of video wall, and atmosphere you want to create.
You'll need the right technology to support video conferencing including: webcams, microphones, speakers, monitors, or multi-functional devices that do it all.
Before investing in technology, consider your budget, ease of installation and use, video image quality, audio performance, style, and atmosphere.
What is a hybrid office and why does it require a hybrid conference room setup?
A hybrid office is one that supports hybrid working. Hybrid working, also known as distributed working, is a workstyle where employees can work from different geographic locations such as the office or their home. A hybrid office therefore, is one that supports this workstyle, through investment into video conferencing technology. This enables their workforce to hold effective hybrid meetings online via video.
Did you know? Sixty-three percent of high-growth businesses use a "productivity anywhere" hybrid working model.
Popular meeting room setup styles
Large hybrid rooms
Large scale video-enabled conference rooms typically hold groups of eight or more people and are well suited to large group gatherings, training sessions and presentations. One of the main features they need is a monitor, or multiple monitors, for displaying presentation material and video streaming remote attendees joining via a platform like Zoom or Microsoft Teams.
Common seating configurations for larger spaces include a long table, a U-shape table, and classroom style. In all cases the video wall is at the front of the room where everyone can clearly see it.
Medium hybrid rooms
Medium size hybrid conference rooms hold groups of up to seven or so people and are perfect for the more regular and informal team check-ins that are the mainstay of most companies: think daily stand-ups, status meetings, and the ad-hoc troubleshooting sessions that arise throughout the week.
Like large hybrid rooms they require a monitorl at the front of the room, however one monitor is adequate to display presentations and remote teammates. A common seating configuration for medium size spaces is to have a single long or round table where people can gather. Although it is also possible to create a more relaxed hybrid space, for instance with sofas and bean bags, arranged around the video wall.
Small hybrid rooms
Small video-enabled conference rooms hold just one to two people and are often referred to as breakout, focus or huddle rooms. They are great when only an individual or a few people need to connect with teammates who are working remotely and so, while they still need to have video technology, they only require a small space.
In these rooms a video wall would be overkill. Instead, the idea is that people bring their own personal devices to the room. Alternatively, small hybrid rooms might be equipped with a Neat Frame, a 15.6-inch portrait screen purpose-built for video collaboration.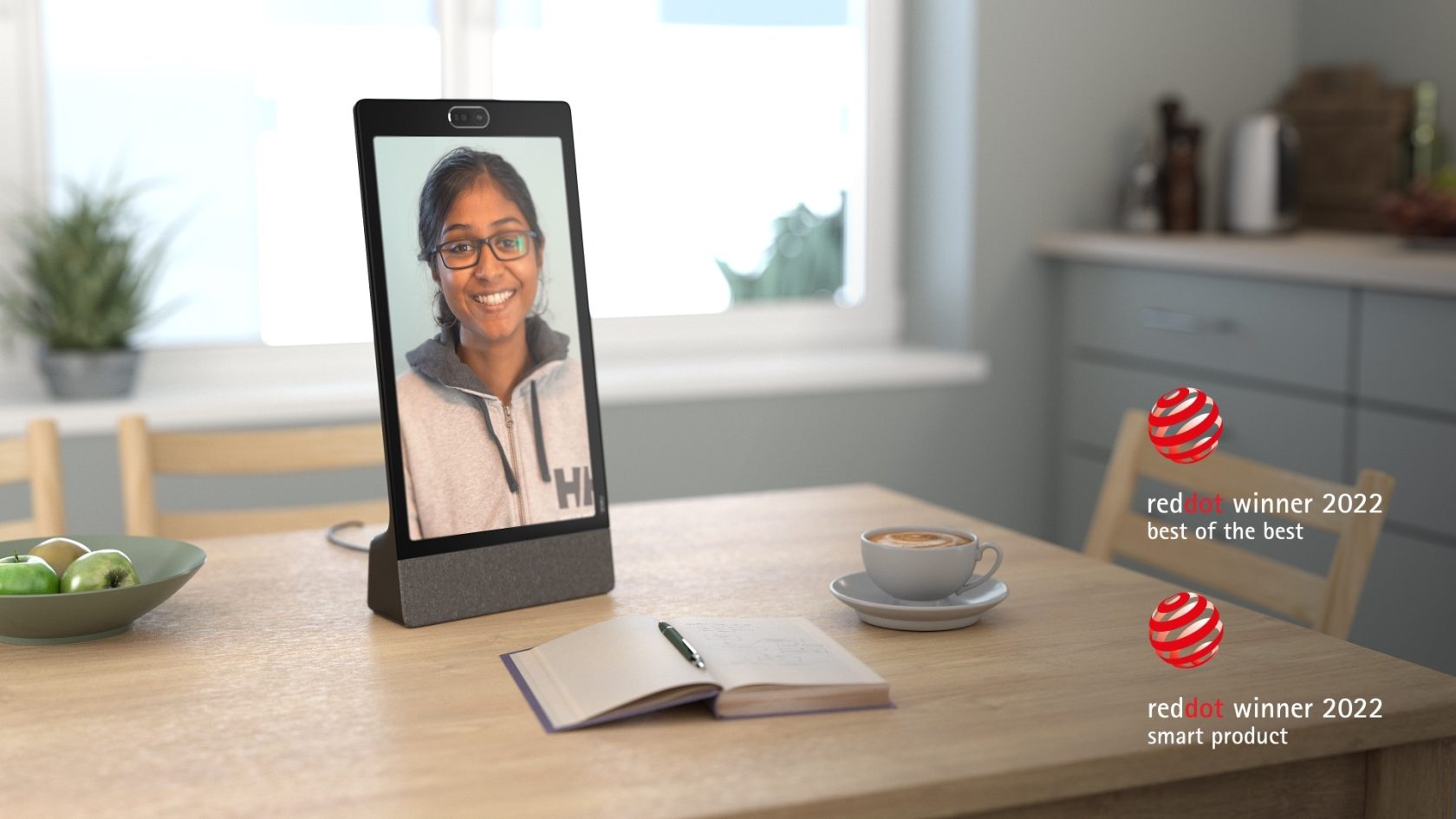 Check out our interactive gallery of meeting spaces for more inspiration.
6 tips to help you choose the right hybrid conference room configuration
1. Number of people
Get clear how many people will be using the space in-person, so you know exactly how many chairs and what size table you need.
Also consider who many people will typically join remotely, as you may need more than one monitor to accommodate larger numbers of people on video meetings. The goal is that everyone should be seen clearly whether they are in the room or joining from home.
2. Levels of interaction
Think about the kinds of meetings you want to be held in your hybrid meeting space and the amount of interactivity they require.
Creative brainstorms are high interactive, with multiple people contributing their thoughts and ideas. More formal meetings on the other hand, ones that follow a structured agenda with pre-designated speaker for different topics, are not nearly as interactive. These kinds of meetings are more about listening to and receiving information.
Whatever kinds of meetings you want to hold, choose your seating configuration accordingly. A long table, for example, gives a sense of equality and encourages everyone to play a role. A U-shape on the other naturally creates heads of the table, perfect when just a handful of people need to lead the meeting.
You might also like to consider creating some space in the room for people to stand up and move around, to present or facilitate your meeting for example. Remote participants won't necessarily be at a disadvantage providing your web cam is capable of tracking the in-room participants movement. All web cams in Neat devices automatically track movement and keep participants' faces in focus.
3. Power points
A simple point but a vital one. Power points are essential for video conferencing equipment, but also for people to charge their laptops, tablets and mobile phones. You can't connect a distributed team if everyone in the room is running out of juice on their devices!
4. Video wall
The video wall is the primary focal point of any hybrid meeting space. It's the interface between participants inside and outside of the room, in-office and remote. One monitor is essential but you may need more, especially in larger rooms, in order to clearly display everyone that needs to be on the video meeting.
Monitors can be mounted on the wall directly or stand on a cabinet or frame with wheels if they need to be portable e.g. shared by multiple rooms. Neat Board is a simple and elegant all-in-one device, an immersive 65-inch multi-touch screen with powerful audio system and versatile wide-angle camera. It enhances video collaboration enabling wireless content sharing, annotations and whiteboarding.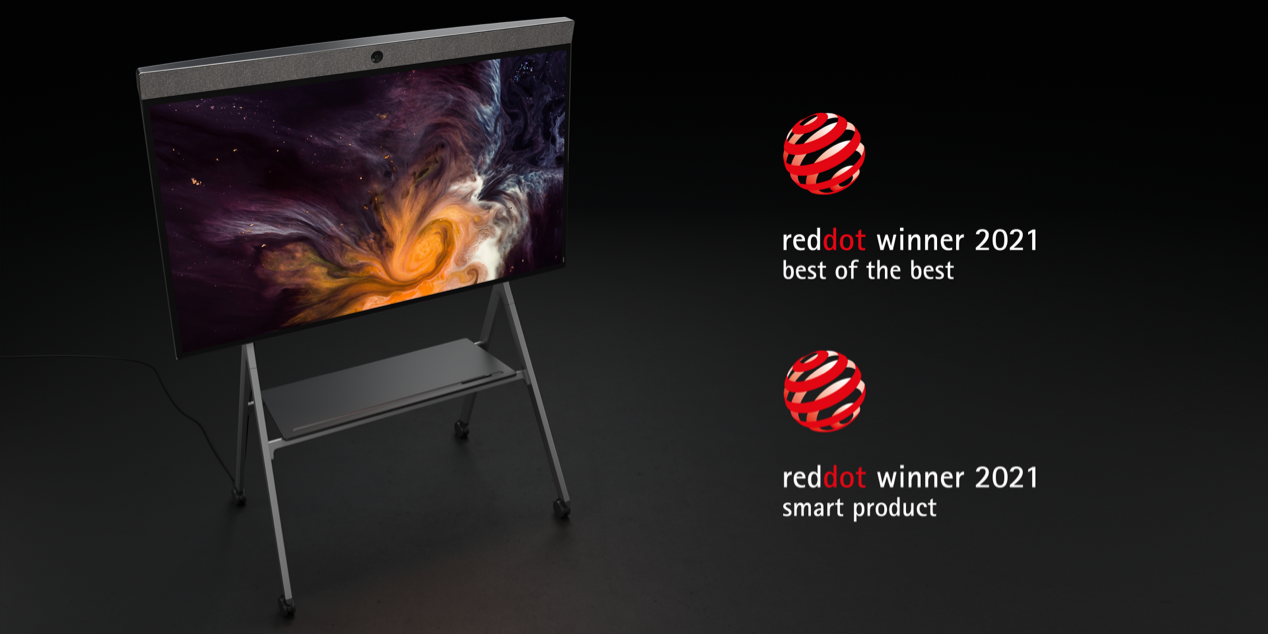 If your screen is not an all-in-one video conferencing device then you will also need to have speakers mounted to your video wall and microphones distributed evenly around the table where people are sitting.
5. Privacy
Consider if the meetings you need to hold are confidential or if it's okay for passers-by to see and hear the material being discussed. Sensitive data and information should be protected by ensuring your meeting space has solid walls, as opposed to thin partitions or glass walls.
6. Style and atmosphere
Last but not least consider the vibe you want your meeting room to have and how it will impact the participants using the space.
Lighting has a big impact on our mood. Natural light helps promote energy and alertness, as does bright electrical lighting, although the latter can cause headaches and raise stress levels if endured for too long. Darker rooms are good for a more cinematic presentation experience, while mood lighting can create a relaxing and cozy ambience in more informal meeting spaces.
Decor is important too, everything from the colors on the walls to the soft furnishings. Every visual aspect of the room is a reflection of your company's brand and influences the feel of the space.
How to choose the right technology for your hybrid meeting space
The basics you will need
The most basic set-up will require a webcam, microphone, monitor and speaker to capture the participants inside the meeting room, and see and hear the participants joining remotely. When choosing a webcam it's important to get one that can support high resolution video meetings. Consider, too, the field of view of the camera. It needs to be able to capture everyone in the room. For example our Neat Bar has an in-built webcam with a wide angle 120 degrees field of view. Multifunctional devices like this are a great option because they combine all the individual pieces of equipment you need for video meetings in one, saving you money and space.
If meeting rooms in your office tend to get busy, you will also want to consider a device that displays room availability, to help avoid unnecessary clashes. Neat Pad is a great solution, blending in beautifully anywhere, whether placed on a table, wall or mullion. It never runs out of battery either, thanks to just one Power over Ethernet cable.
Considerations
Budget: Webcam, mic, monitor and speaker quality vary greatly, but whatever your budget is, prioritize high resolution video and high performance audio as these are the cornerstones of effective video conferencing. There are many affordable options on the market today, as well as videobars and screens with built-in cameras, capable of delivering excellent image quality. Neat's multi-functionality video collaboration devices do it all, without compromising the meeting experience, and are budget-friendly too.
Final thoughts
Setting up your hybrid conference rooms in the right way makes the video-first workstyle effortless, for employees in the office and at home. Pay close attention to the size and configuration of the space, and the technology you choose to go inside it, and you'll be rewarded in spades.
Come and explore gallery of inspirational hybrid conference room set up styles or chat to a Neat specialist for more friendly tips and advice today.
References
30 Essential Hybrid Work Statistics [2022]: The Future Of Work. Zippia.
Zoom Invests Additional $30 Million in Neat to Further Innovate the Modern Workspace. Zoom.