Choosing a Conference Room Speaker System
Hayley Cannon, Apr 27, 2023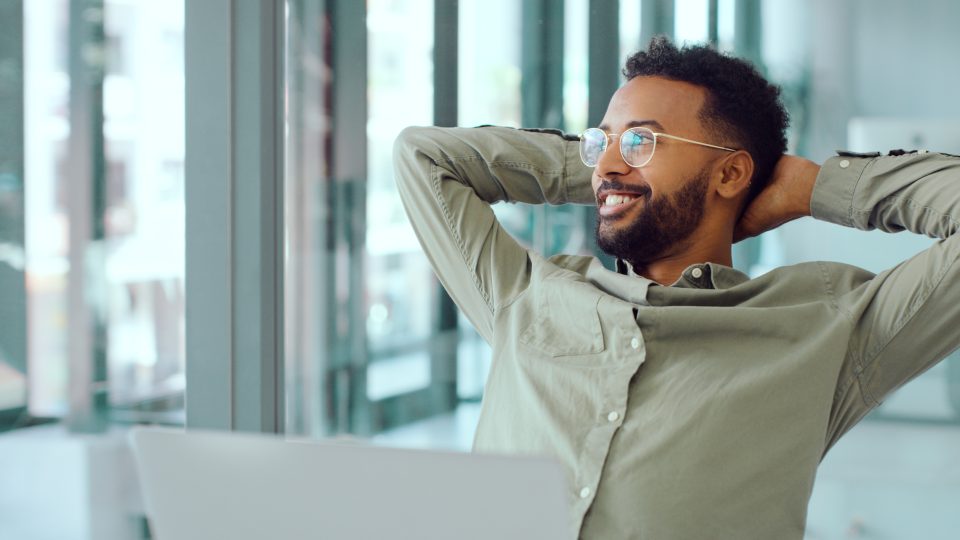 With 11+ million video meetings happening daily in the US alone, it's vital you choose the right speaker system for your conference calls. We're here to help with our comprehensive guide.
Key Takeaways
Look for a conference room speaker system that is easy to set up, use day to day, delivers the highest vocal clarity and looks modern.
There are different solutions on offer, from individual mics and speakers to soundbars, videobars and other specialist video conferencing devices.
Before shopping get clear on room size, where you want to position your system, what specialist features you might benefit from and your budget.
What Makes a Good Conference Room Speaker System?
Simple set-up and use
Audio systems for conference rooms should be easy and intuitive to set up, for instance just a few short steps from unboxing to first use. This saves time, frustration and countless calls to IT. As does a system that's simple to use day to day. You might also like to consider the portability of your system if being able to take video calls in different rooms and locations would be a benefit for you. All-in-one video collaboration solutions like those we make at Neat are highly portable, incorporating all things audio (mic, speaker) as well as a webcam.
Echo elimination
Good conference room speaker systems ensure that you hear what others say clearly and that others hear you equally well. High-performance audio technology is needed to deliver this level of clarity, most importantly acoustic echo elimination – or echo cancellation – which stops your voice from reverberating back at you. It's also important that the echo cancellation feature doesn't unintentionally squash speech too, which typically happens if people talk over each other, a phenomenon known as 'double-talk' and a natural part of lively debate. When a conference room speaker system's double-talk performance is poor, people may not always hear what you're saying. Or worse, they probably won't even realize you're saying anything at all.
Reducing the effect of background noise
The sound system for your conference room must also suppress background noise, as it's unsettling for listeners, however systems that erase it completely often do so to the detriment of vocal clarity. The best systems strike the right balance between reducing unwanted peripheral sounds and simultaneously preserving high-quality speech. Check out our blog post The Art of Audio if you want to know more about how our video collaboration devices deliver crystal clear sound.
The right aesthetic
Meeting rooms reflect your brand and professionalism, so it's important they look the part. In addition to choosing good-looking furniture and decor, the right speaker system also plays a role. Opt for primarily wireless solutions, with optional cables, as this will minimize visual clutter. And a sleek, modern design to blend in with the room, rather than dominate it.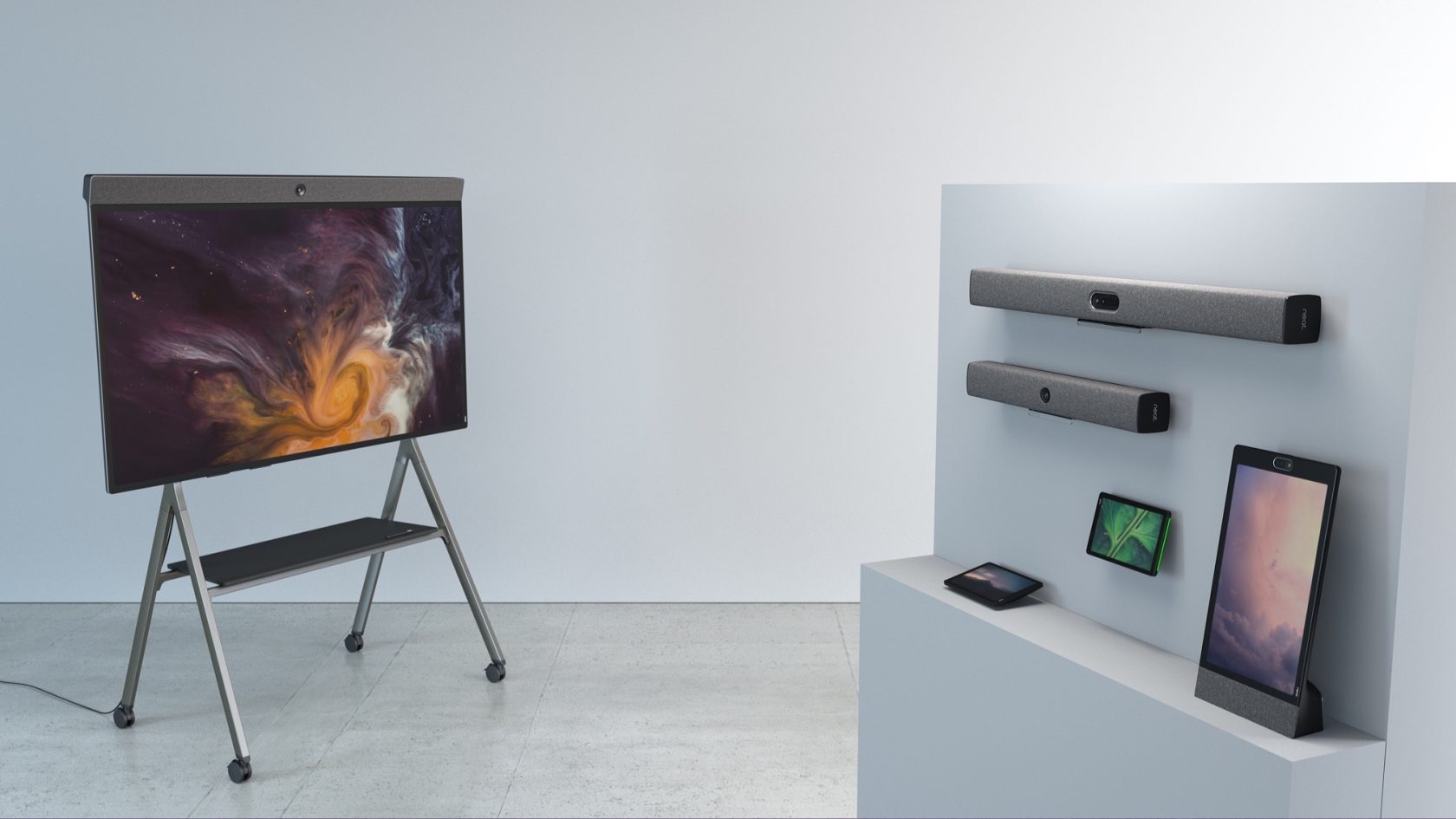 Types of conference room speaker systems
Simple mics and speaker
Microphones and speakers are separate components that can work together to create a meeting room audio system. Microphones can be tabletop or ceiling mounted, while speakers are often positioned on walls, free-standing columns or suspended from ceilings. The advantage of choosing separate mics and speakers is that you have a high degree of control over the spec for each individual part, giving you a solution tailored to you. The disadvantages are that it can be more difficult to integrate separate components versus choosing an all-in-one video collaboration solution that has all the technology you need for video conferencing built right in.
Sound bar
A sound bar, soundbar or media bar is a type of loudspeaker that projects audio from a wide bar-shaped enclosure. It is typically mounted horizontally above or below a display device. The advantage of choosing a sound bar is that there are high quality options available that serve well as conference room speakers. The drawback however is that they do not contain a microphone, so they really only take care of one half of your audio needs.
Video bar
A video bar is a long, bar-shaped device similar to a soundbar except it has a built-in webcam too – as well as a mic and speaker. A video bar – or videobar – is mounted above or below a screen to form a complete video conferencing solution for meeting rooms. It's for this reason video bars have grown in popularity, because they bring together a number of the individual components you need for video meetings in a single, compact device. The best video bars not only offer a one-stop solution, they deliver uncompromised video meeting quality, like Neat Bar for example.
For a deeper dive into video bars take a look at our article '11 benefits of using video bars in conference rooms'.
Video-first screens
A video-first screen or whiteboard is a complete meeting room package in one device comprising touch screen, mic, speakers and camera. High-performance video-first screens have wireless content sharing and enable users to annotate and whiteboard, which makes for more collaborative and immersive group meetings. Video-first screens are also portable. For example, Neat Board can be wheeled between meeting spaces on a stand, delivering extra value to teams.
Specialist video collaboration devices
If you're equipping a small huddle or focus room, rather than a conference room, then Neat Frame is also an option. This desktop video collaboration device brings together screen, camera, mic and speaker in one device. It's an elegant, minimal solution that removes any need for standalone mics or speakers.
Shopping for Speaker Systems – What you need to consider
Room size
Your meeting room size and number of people determine what speaker system is right for you. Larger rooms need more mics and speakers to make sure all attendee's voices are captured and everyone can hear with ease. Fortunately, all-in-one video collaboration devices are usually able to cater for larger spaces, as some have multiple mics and speakers built-in e.g. Neat Bar Pro.
Positioning and mounting
Map out where you'd like to position mics, speakers or devices taking into account where the screen will be, as that is the direction people will look in and speak towards. Look for tech that delivers mounting options that suit your needs such as wall mounts or snap-on mounts that allow for attachment to screens. Some manufacturers will offer multiple mounting options, giving you even greater flexibility. Don't forget, expert help is always on hand if you want a little assistance with the best ways to position and mount your solution. Just visit neat.no and chat with one of our advisors online.
Aesthetic
While different companies have different brands one thing we can all agree on is that tech should look modern. Anything less dates you and sends a negative image. Look for conference room sound systems that can support wireless connectivity, with cables as an option for times you may need them. Fewer cables creates a clutter-free look that keeps meeting rooms looking neat and tidy. Bulky devices are also out, taking up too much space and visual real estate. Keep it sleek and elegant.
Specialist video conferencing features
Look out for specialist features that enhance the video meeting audio experience. High-fidelity sound and vocal clarity are essential starting points but beyond that consider background noise suppression, echo elimination, automatic captioning and live translation. Neat devices also benefit from machine learning algorithms which continuously learn and adapt to a room's acoustics and noises.
Budget
With the video collaboration space innovating rapidly all the time, high-performance technology no longer needs to break the bank. Get clear on your budget during your research phase, then invest in high quality brands that will deliver value over time – quality, durability and reliability. Some manufacturers like Neat actually ensure their devices get better over time, through frequent software updates that you can keep installing long after initial purchase. You might also like to consider taking advantage of different ways of paying such as subscription models, which offer great flexibility.
Try before you buy
Reputable manufacturers will encourage you to try before you buy. This gives you an opportunity to guarantee great results before you invest, and uncover additional audio needs you may not currently be aware of. It also gives you a chance to try out solutions that might not have initially been on your radar, but that have piqued your curiosity during your research.
Final thoughts
Choosing conference room sound systems for your office space is simple when you break it down, giving yourself ample time to research and test different options. Neat are pioneers of video collaboration, making next-generation devices that are both simple and beautiful. To explore our range visit our website neat.no, where you can also speak with one of our specialists, get personalized tips and book a demo.
References
Video Conference Statistics. Skill Scouter.