Central Park Taekwondo Academy Kicks It up a Notch to Keep Its Community Together
Neat, May 7, 2021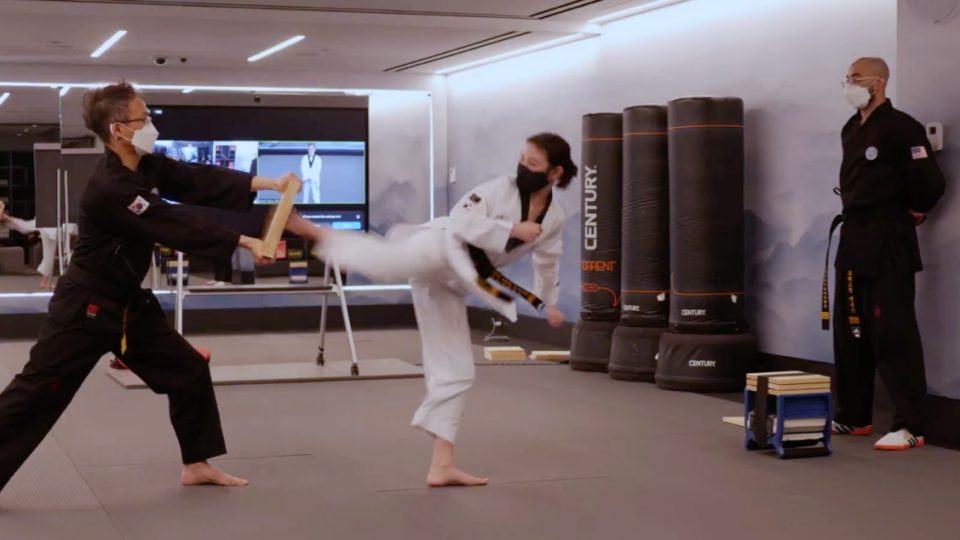 Leveraging Neat devices with Zoom Rooms helps this leading US martial arts school ensure its students stay focused on getting their black belts.
"If you always put limits on everything you do, physical or anything else, it will spread into your work and life. There are no limits. There are only plateaus, and you must not stay there. You must go beyond them." Bruce Lee
In the midst of 75% of martial arts schools permanently closing worldwide because of the pandemic, Central Park Taekwondo Academy (CPTKD Academy) is not only staying afloat but also driving its business forward in brand new ways.
Having initially turned to Zoom to continue conducting lessons virtually, Teresa Throckmorton (Master T), Owner and Head Master Instructor at CPTKD Academy, soon realized she needed an enhanced experience to up her game. After discovering how Neat devices with Zoom Rooms could help take what her school presented to a whole new level, CPTKD Academy equipped its two studio locations in New York City and Delray Beach, Florida, with Neat Bar and Neat Board.
Standing out from the competition
"I'm driven to be at the top of everything I do. So, for Central Park Taekwondo Academy, I wanted us to stand out from other martial arts schools and what they were offering," said Master T. "From the moment I started using Neat devices with Zoom Rooms, I thought this is incredible."
Master T and the other instructors leverage Neat Bar and Neat Board with Zoom Rooms to amplify their virtual lessons and training, most notably for their black belt testing. Far from replacing the hands-on experience of CPTKD Academy's in-person training or testing, which will always remain at the heart of its business, video allows the school to keep its community together beyond the pandemic, increasing and bettering the service it provides.
Choice of in-person or virtual classes
Giving students a choice between attending in-person or virtual classes means CPTKD Academy can now reach out to people who are thinking of joining its ranks but live outside its catchment areas. It also eases the concerns of parents who feel uncomfortable about their kids travelling into the city or for anyone else who can't make it to either one of the school's two locations.
"I'm extremely grateful that Neat and Zoom have created something of this caliber to help Central Park Taekwondo Academy," said Master T. "I want people to attend our school and enjoy the best Taekwondo experience imaginable. Having Neat and Zoom be able to provide my community with that takes me to the top of my game."
Never missing a class again
Video has made CPTKD Academy so much stronger as it can now more fully serve its community and maintain the special bond that they share. For students who have a deep-rooted passion for Taekwondo and have spent tens of thousands of hours training, that means never having to miss a class ever again.
"After years of focus and training, despite all the uncertainty around the pandemic, students are still able to hold on to their dream of achieving black belt status," said Darryl Mayland, Office Manager at Central Park Taekwondo Academy in New York City.
To learn more about Central Park Taekwondo Academy and its virtual and in-person programs for children, teens and adults, visit cptkd.com.
Watch our CPTKD Academy video and read the full case study at neat.no, where you can also discover all there is to know about Neat devices. We offer worldwide shipping and can deliver in just a few days.