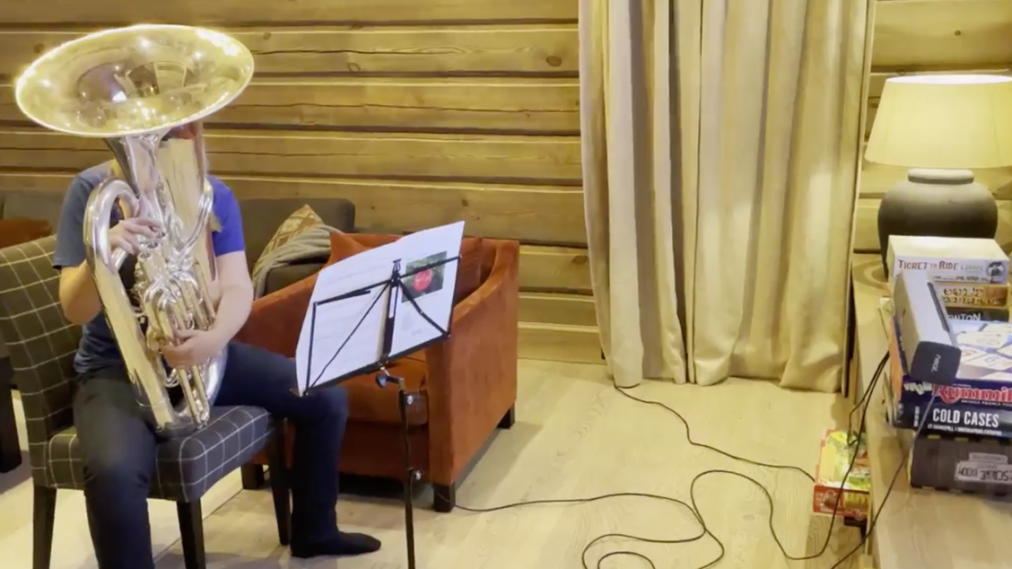 How video is helping music teachers and students remain in perfect harmony despite the pandemic.
During turbulent times, music is a lifesaver. It not only soothes and motivates us but as scientifically proven can offer some serious benefits for our health and overall well-being. Listening to music improves our memory function, rate of healing, daily workouts and more. For the millions of us escaping into our favorite tunes, music provides hope. What about kids who are learning to play an instrument, though? For them, music encourages co-operation, socializing, creativity, responsibility and self-confidence. Vital skills they can apply to other aspects of life. Surely that's why several years ago, the US senate made music education a core subject in all American schools as part of its Every Student Succeeds Act.
COVID-19 has affected music education massively. Government-funded schools, independent music institutions and self-employed music teachers, many of whom are working musicians teaching to supplement their income, have each had to rapidly adapt. With live performance out of the question right now, some musicians depend solely on teaching to survive. So how has video collaboration helped music teachers engage with their students in 2020 when they can't sit face to face in the same room?
Welcoming online learning
Barratt Due Institute of Music in Oslo, Norway, is one of Europe's leading schools for classical music. Educating students from kindergarten age through bachelor's and master's degrees and onto the professional concert stage, Barratt Due's produced some of the world's most talented and renowned classical musicians. Like most academic institutions, Barratt Due switched to online learning when the pandemic struck in March – its admin staff and teachers turning to various video software platforms including Zoom to maintain the school's activities and programs. Video has enabled Barratt Due's teachers to continue giving students one-to-one tuition on, for instance, piano or violin, remotely from their homes. Barratt Due has also set up digital classrooms throughout its premises where teachers use Zoom to give online lessons to groups of 8 – 20 remote students.
"Being forced to teach remotely has made us realize the potential of using digital platforms. They're, therefore, something we'll undoubtedly rely on a lot more in the future," said Harald Hjort, Director at Barratt Due Institute of Music. "Going digital has meant we can incorporate online music examples, history, images and close-ups that focus on techniques in a way that is complex and challenging to manage with a group of students in a live studio environment."
Enhanced audio options
As an increasing number of music schools and teachers embrace Zoom, they are discovering some unique settings that help students learn, study and play music more clearly and precisely, in particular High Fidelity Music Mode. Developed with Yale School of Music in the US, Zoom's High Fidelity Music Mode delivers professional-grade audio. It's ideal for people within performing arts, music teachers, songwriters, and anyone else looking for rich, high-quality sound over Zoom.
Boosting things further is Neat Bar. Unlike using a laptop or desktop computer to Zoom, by deploying Neat Bar in music rooms, teachers and students can enjoy much better musical interaction. Neat Bar gives remote students a clear and wide-angle view of the classroom and has an incredibly dynamic audio range that picks up everything music teachers say or play, even down to the subtlest notes and nuances. Because Neat Bar is super easy to install, set up and use, teachers never have to stress about learning or operating sophisticated technology either. Neat Bar empowers them to teach and play as they naturally would. With just one tap, music teachers can easily start lessons and share any written, audio or visual content, safe in the knowledge that Neat Bar will instinctively frame them perfectly, so students never miss a beat.
Reliable practice sessions
Neat CEO Simen Teigre's 15-year-old son, Tidemann, is reaping the rewards of Neat Bar while learning to play the tuba and participate in practice sessions from home with the two orchestral bands he's in. One is his local school band, which teaches music students from 1st grade to high school. The other is a regional youth wind band called ABUK, made up of students who wish to go beyond what they're able to achieve in their school bands. Thanks to Zoom and in Tidemann's case, Neat Bar too, ABUK's 50 band members can still rehearse together online for their annual Christmas concert this year, something they may otherwise have had to cancel.
"The cool thing about using Zoom with Neat Bar is I get to see and hear my bandmates as if we're actually together," said Tidemann Teigre. "Plus, even when my internet speed isn't so good, I'm still able to have a steady connection. In the middle of learning or playing a piece of music, that's obviously very important."
Now that the festive season is here, people everywhere are playing and listening to Christmas songs, spreading joy to all. In homes, gyms, workplaces or on the go, music is an essential part of our lives, exciting, energizing and inspiring us. Through our darkest days, it helps us stay upbeat. The fact that video is equipping today's music students with tools that can lead to them becoming tomorrow's professional musicians is brilliant news. It's allowing them to learn and hone their craft so that music can thrive despite a global pandemic and be heard and appreciated long into the future. That's one of the greatest gifts any of us music lovers could wish for this Christmas!
Special educational offer
A lot of schools around the world are eligible for educational funding, such as in the US where schools can buy Neat devices through CARES Act Funding as part of a remote learning solution. Additionally, Neat has a special educational offer on Neat Bars for schools globally until December 23rd. Get 5 for the price of 4! Why not sign up for a live demo session today where you can see Neat Bar in action and hear how it can help your school's music department or music institute. We'll be happy to answer any questions you have.
For additional info about Neat devices and Modern Learning the Neat Way, visit neat.no. You can also download our quick e-guide Harnessing the Power of Video for Education.