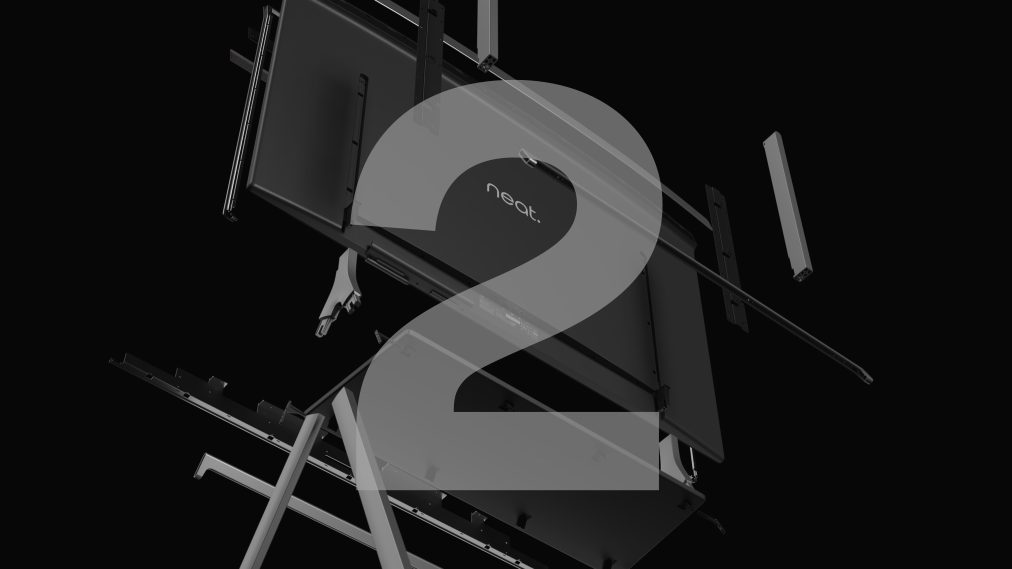 Celebrating our 2nd anniversary today, Neat has enjoyed plenty of memorable milestones already with the purpose to deliver a good deal more.
Hello friends
I hope this finds you all well, happy and successful in your endeavors.
Today marks Neat's 2nd anniversary, and wow, what an unprecedented yet exhilarating two years it's been.
I just wanted to say a huge THANK YOU to all our customers, partners, employees and shareholders. Especially our customers, big and small, who've given Neat, a brand-new company established just before the pandemic, their trust to help run their businesses and school curriculums through immensely challenging times.
I'd also like to say a special thanks to Zoom, who has unquestionably supported the first phase of Neat's evolution in such a dynamic and close-knit way. What a remarkable ride we've had so far.
It's been an exciting, emotional and rewarding experience to know that it's possible to build and grow a company during a global crisis at such break-neck speed. And naturally, we could never have done it without maximizing the use of video ourselves.
In just 24 months, Neat has blossomed way beyond my initial expectations for a small startup company. From there being just 20 of us in four countries, Neat currently comprises more than 170 employees throughout 14 countries.
Since everything shut down in March 2020, we've rapidly grown from having one warehouse location to six spanning the US, Europe, Japan and Australia. Most significantly, Neat's product portfolio has expanded from just two to six leading-edge hardware devices.
To give you a sense of just how far we've evolved, 400 Neat Bars were pre-ordered between our launch on Oct 15th, 2019, and its release in late Jan 2020. Two years on, more than 3,700 customers have deployed over 55,000 devices across 40 countries.
The global pandemic has been the single biggest driver of video adoption the world has ever seen, and so, obviously, we've been extremely lucky timing-wise. Or perhaps fortune does indeed favor the brave.
None of it, however, would have been achievable without our marvelous Neaters, who've worked passionately and tirelessly to persistently address the needs of our customers. For example, listening to and responding to their requirements led to us recently partnering with Microsoft. Subsequently, all Neat devices will deliver Microsoft Teams from November, paving the way for another exciting Neat chapter.
Speaking on behalf of everyone, I can honestly say that it's sincerely warmed our hearts to see how much Neat has been able to help so many businesses and educational institutions endure in the face of such adversity.
We've been at the forefront of helping schools continue to engage and educate students. We've been humbled and inspired by the sheer determination and creativity of countless small businesses who, after leveraging Neat devices, not only managed to stay afloat but are prospering thanks to discovering completely new ways of working.
We've also helped large companies video enable their hybrid workplaces so that their teams can remain engaged, healthy and productive. Heck, even US president Joe Biden is using Neat Board from the Oval Office.
On what feels like a daily basis, we've seen major changes to organizations, the workplace and our lives that are continuing to redefine how and where we work. As a result, there's now a newfound flexibility in the workplace. The realization that work isn't a place we go but a thing we do.
Now, most of us have the freedom to work from home or meet at the office at our own discretion. These improvements to the workplace and our lives make the world a better place. Because despite the devastation and disruption caused by the coronavirus, all the above prove that out of desperation comes positivity and aspiration.
The pandemic has brought us all together as never before. It's made us realize that we are all in the same, if not a similar boat. And I, for one, hope this fresh perspective will stay with each of us as we tackle new and ever-vaster global challenges in the future. Not just for the sake of us as human beings but also our planet.
I've worked in the video conferencing industry for many years and what I've always loved about it is that it's about people. It's about connecting people and bringing them closer together, which is what's at the core of everything Neat does and will continue to do moving forward.
So, here's to forging ahead and helping more of you out there enjoy delightful video meetings that deliver more equitable, inclusive and inspiring experiences that enrich and brighten up your days. Happy 2nd anniversary to Neat and, as John Lennon once sang, Power to the People!
Simen Teigre, Neat CEO