Schools Upgrading from PCs
Neat, Feb 9, 2021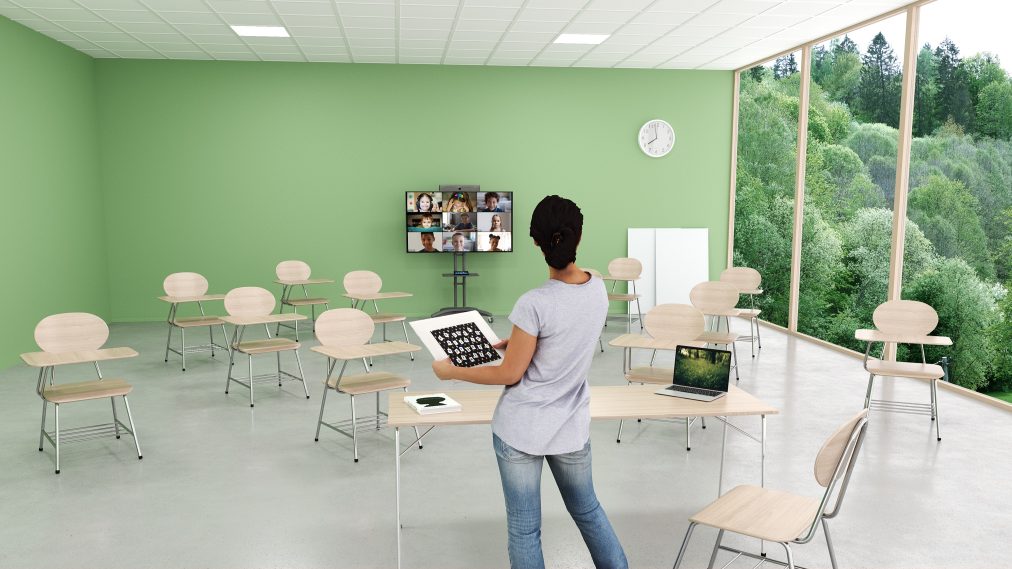 Why hybrid education needs purpose-built video hardware to maximize student engagement and keep classroom communities thriving.
The COVID-19 global pandemic and subsequent lockdowns have forced schools everywhere to adopt remote learning as part of what's become the new normal of hybrid education. While many have turned to Zoom and are now successfully using it as a way of maintaining their curriculums and classroom communities, an increasing number are discovering the limitations of relying on just a laptop or desktop computer to keep students engaged. That's because computer companies didn't intend PCs to be our primary way of communicating. Neither visually nor audibly. Although they include microphones, cameras and speakers, fundamentally, their sole purpose is computing. Not effective video collaboration.
On the other hand, purpose-built video hardware's only job is bringing online human engagement to life via crystal clear audio and video, enabling more realistic virtual communication. As the saying goes, focus on one thing and do it really, really well! Zoom is a prime example. Focusing entirely on delivering smooth and reliable video communications, it created Zoom Rooms, a purpose-built easy-to-use platform that schools were swift to embrace. Zoom Rooms offered a much-needed lifeline between teachers and remote learning students in lockdown for tens of thousands.
Enabling more lifelike lessons
However, using a laptop or desktop computer and webcam when trying to conduct lessons online often isn't stimulating enough. PCs simply don't capture the full dynamic of what's going on in the room. Teachers are either tethered to their desks or obscured from remote students view while moving around a hybrid classroom. This scenario makes it almost impossible to simultaneously engage remote and in-person students without zapping everyone's energy and enthusiasm. Purpose-built video hardware devices enable teachers to conduct lessons from their classroom to remote students as naturally as they would when physically all together, making remote learning feel more fun, rewarding and lifelike. For a start, they automatically frame and follow teachers movements. That way, they're free to sit down at their desk, stand up, turn or pace about, safe in the knowledge the camera and microphone are picking up every word or gesture, giving students an enhanced and uninterrupted virtual feed of the classroom.
Besides having superior audio pickup, sound and picture quality, purpose-built video hardware also offers a whole lot of other unique advantages, including cast-iron encryption and security, optimal room analytics and perfectly up-close and personal views of everyone in the room. Bringing the physical classroom to students learning online at home in ways laptops or desktop computers essentially can't compete with, purpose-built video devices revive and invigorate hybrid learning.
It must just work
What's more, relying on just a laptop or desktop computer can unnecessarily complicate things. Juggling a PC with Zoom Rooms and a bunch of cables connecting various peripherals (webcam, microphone, mouse, etc.), while trying to teach can lead to all kinds of delays and disruptions. But teachers needn't struggle with technology. Technology is meant to support teachers and students and should add educational value by enhancing the learning experience.
Dedicated all-in-one video hardware removes many of the headaches teachers face when using inconsistent, hard to manage multi-vendor components. They strip away the complexity, so everything just works. We're talking smart yet simple devices where teachers never have to worry about learning or handling sophisticated technology. Purpose-built video hardware allows them to start the lesson as soon as they walk in the room with the touch of only one button. In other words, they can set it and forget it! The best video hardware solutions streamline everything to provide teachers and students with a less stressful, more engaging and productive hybrid learning environment.
Better safe than sorry
Despite public health authorities rolling out vaccines, it seems the end of the pandemic is still a way off. Therefore, distance learning continues to be a prominent part of teachers and students everyday lives. With that in mind, many schools, colleges and similar educational facilities are beginning to realize the benefits of long-term investment in purpose-built video hardware technology. Not only does it future-proof your school in the event of repeated interruptions to in-person classes, but it also offers the chance to provide innovative educational opportunities once all the students are back in the classroom. For instance, schools can organize virtual field trips and guest speakers, collaborate on advanced courses with other schools, or develop professional development opportunities for their teachers and staff.
Ultimately, the future of education belongs to those who can inspire, communicate and connect with their teachers, staff and students the most. In short, the ones that offer the greatest human exchange. For the sake of hybrid education, teachers and students everywhere, that's now more vital than ever!
Helpful info and advice
Neat creates pioneering video hardware devices for Zoom. All are a native Zoom solution, meaning each model is purpose-built to seamlessly make everything teachers and students experience through Zoom smoother, faster, smarter, more stable and secure.
For more info about Neat devices, "Modern Learning the Neat Way", or to order directly online, visit neat.no. We offer worldwide shipping and can deliver in just a few days. In addition, we've extended our 100% satisfaction guarantee to 100 days. So, now you can try Neat devices standalone for three months.
You can also sign up for our Demo Tuesday and Thursday or regular Webinar Wednesday events.