Remain in the Frame
Neat, Jan 19, 2021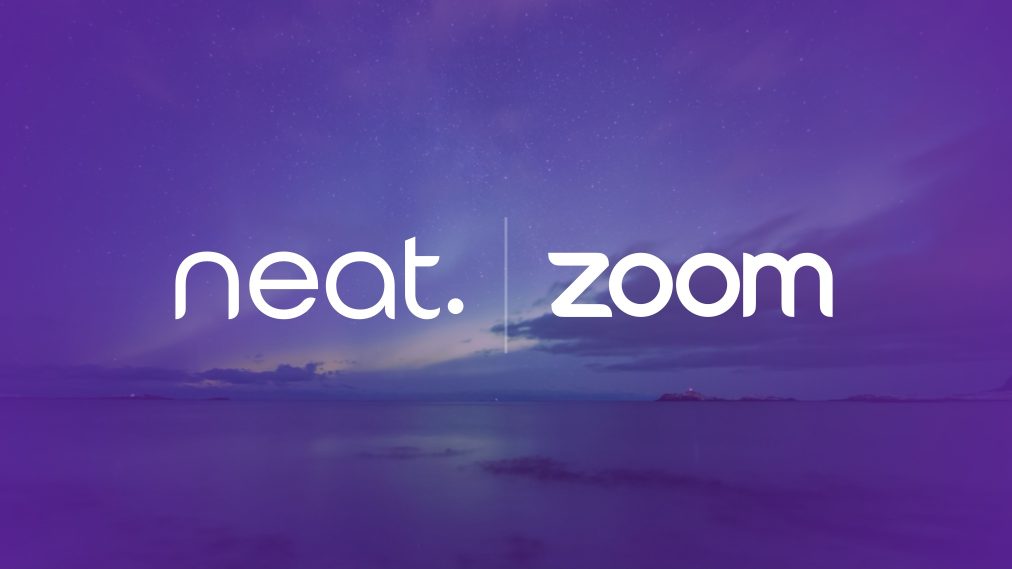 Why it pays for your business or school to invest in purpose-built video hardware rather than relying on just laptop or desktop computers to Zoom.
The global pandemic and subsequent lockdowns have forced businesses and educational organizations everywhere to adopt remote working and teaching as part of what's become the new normal of industry and academic continuation. With many having turned to and successfully started using Zoom, an increasing number are now discovering the limitations of relying on just a laptop or desktop computer to keep their customers and students engaged. That's because laptop and desktop computers weren't intended to be our primary way of visually communicating. Although they include microphones, cameras and speakers, computer manufacturers didn't design them for the sole purpose of truly effective video collaboration.
Whether it's teachers or small business owners counting on devices to capture more dynamic interaction, striving to conduct lessons or run their companies online using just a laptop or desktop computer with a webcam often isn't stimulating enough. When it comes to superior sound and picture quality, along with a whole bunch of other unique and beneficial features (in Neat's case, end-to-end encryption for complete privacy protection, optimal room analytics and up-close and personal views of everyone in the room, to name but a few), nothing beats investing in a purpose-built video hardware device to present your online business, lessons or courses more safely, personally and professionally. It could be the difference between you surviving and thriving or seeing a sharp decline in revenue or attendance.
Boosting your online service offering
Core 57, a bustling US fitness community in Georgia that focuses on exercise, diet and lifestyle guidance, is a perfect example of a company recognizing the potential of introducing a leading-edge video hardware solution to secure the best possible online experience for its customers. When the initial social distancing measures in March 2020 threatened to shut it down, Core 57 not only swiftly switched to online classes but soon afterwards installed our highly capable device Neat Bar. As a result, Core 57 can continue at maximum capacity despite the latest lockdowns, helping its coaches and customers stay motivated and driven in their goals.
Thanks to Neat Bar's far-reaching audio pickup, stereo output and high-definition wide-angle camera, Core 57's members can participate remotely yet wholly immerse themselves in their classes as if they were physically back in the building. Another key factor in guaranteeing members remain riveted is Neat Bar's ability to auto frame every movement the coaches make, no matter how energetic they get. Hence, members can easily follow their instructions and not miss a beat, wherever the coach is in the room, even if they're in full flow and facing away from the device. This configuration for Core 57 is proving to be so successful that the company is now poised to further boost its business by issuing both high-quality live and recorded virtual content. Thus, providing added value for its current customers, as well as enticing people living further afield. Watch our Core 57 story.
Enabling more lifelike lessons
For schools too, Neat Bar is enabling teachers to conduct lessons from their classroom to remote students as naturally as they would when physically all together, making distant learning feel more vibrant and lifelike. Teachers can either sit down at their desk, stand up or pace about, safe in the knowledge that Neat Bar is always tracking them, picking up every single word, activity or gesture while giving students an enhanced, crystal-clear, uninterrupted virtual feed of the classroom. And because Neat Bar is so easy to install, set up and use, IT departments, admin staff and teachers never need to worry about establishing, learning or operating sophisticated technology. Teachers can literally walk in, push start, and get straight into teaching.
At St. Isabella Catholic School in Northern California, aside from equipping teachers with the flexibility to help students expand their reading, writing and theory, Neat Bar is also allowing teachers and students to continue pursuing more hands-on subjects like art and PE. Things that would otherwise be impractical using only a laptop and desktop computer with limited audio-visual scope. Watch our St. Isabella story.
Better to be safe than sorry
With the end of the pandemic not quite on the horizon, despite health authorities rolling out vaccines, distant learning is still very much a prevalent part of people's everyday lives. That being so, schools, colleges and similar educational facilities are beginning to realize the benefits of long-term investment in purpose-built video hardware technology, either as a means of replacing laptop and desktop computers to Zoom or combining the two.
As the coronavirus is proving, futureproofing yourself as much as you can is a wise move. The same goes for small businesses – from gyms, yoga studios and dance academies, to dog training centers, golf clinics and wine tasting courses (the list of companies bravely adapting their services for functioning entirely online goes on). Many acknowledge that unless they too invest in video devices that offer their customers a more enriched and inclusive virtual encounter, they run the risk of them jumping ship. Can you afford to lose to your nearest rivals and find yourself out of the frame? Because ultimately, the future belongs to those who can inspire, communicate and connect with their audience the most. In short, the ones that offer the greatest human exchange.
Discover the world of Neat
For more info about Neat devices, how you can swiftly transform your business to be better equipped with video and Modern Learning the Neat Way, visit neat.no. We offer worldwide shipping and can deliver in just a few days. In addition, we've extended our 100% satisfaction guarantee to 100 days. So, now you can try Neat devices standalone for three months.
You can also download our e-books A Guide to Business Resilience and Continuity and Harnessing the Power of Video for Education or sign up for our Demo Tuesday and Thursday or Webinar Wednesday events.