Neat Now Certified for Microsoft Teams Worldwide
Sherri Pipala, Mar 22, 2022
Delivering rich and meaningful video meeting experiences to today's hybrid workforces, workplaces and workstyles, Neat stands poised to help millions make the most of Microsoft Teams.
BIG NEWS! Neat is certified for Microsoft Teams. That means our unique and pioneering devices, Neat Board, Neat Bar and Neat Pad, now natively run Teams and Microsoft Teams Rooms for Android.
Neat Bar and Neat Pad come as a package. You can use Neat Pad as a console inside your Teams meeting rooms or panel outside.
Our devices, Neat Frame and Neat Bar Pro, will follow soon.
Bringing simple, accessible leading-edge technology to people and businesses using Microsoft Teams, we provide unrivaled, more expressive meeting experiences to help you seamlessly navigate today's hybrid demands throughout you and your teams' meeting spaces of all shapes, sizes and uses.
See our Spaces page for an optical view of how we can best help you and your company thrive in the new way of working. Now and moving forward.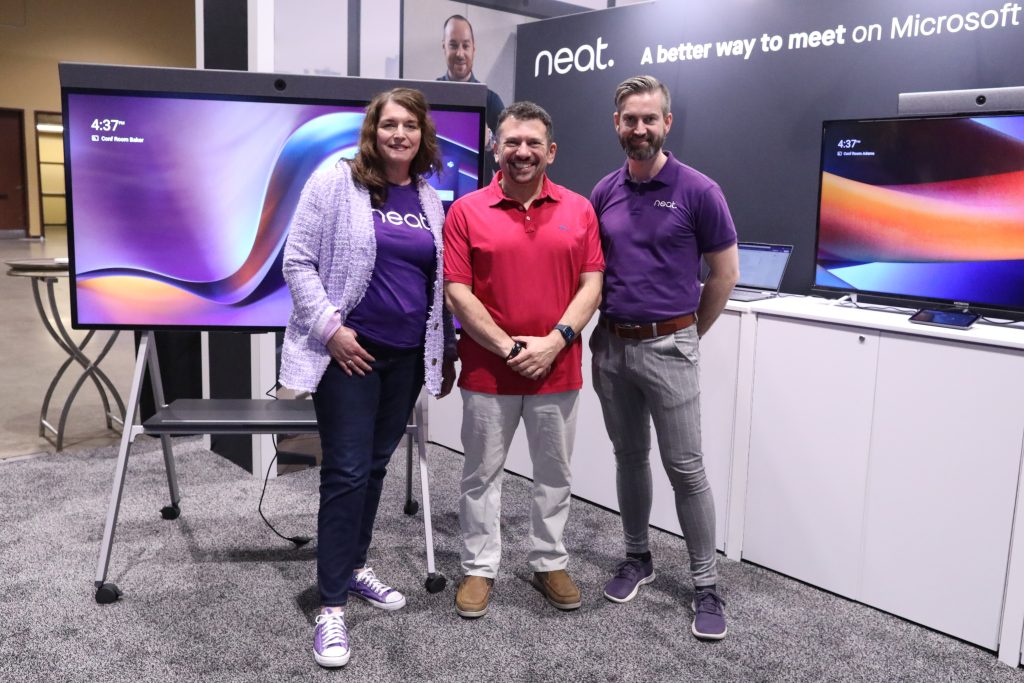 "Neat for Microsoft Teams opens our unique devices and experiences to a broader market globally, giving customers greater flexibility for their hybrid work environments," said Simen Teigre, Neat CEO. "Working with Microsoft, we look forward to continuing to solve customers' challenges in the meeting space and help unlock the creative potential of hybrid teams."
"The certification process for Neat's devices has not only been rapid but also delightful for our joint customers, who appreciated how Neat's hardware and especially Neat Symmetry video shined with Microsoft Teams and Teams Rooms," said Ilya Bukshteyn, VP, Microsoft Teams Devices. "Neat is an exciting addition to our Teams partner ecosystem, and we look forward to our joint customers experiencing Teams through these elegant and innovative devices."
Besides being extremely simple to install, set up and use, Neat devices all come with powerful, patent-pending, cutting-edge capabilities. Here are just a few, with more planned to become part of your Microsoft Teams experience soon.

Neat Symmetry bridges the digital divide between the physical and virtual, helping hybrid teams engage on video more naturally. It enables you to enjoy more equitable, inclusive and flexible collaborative meeting experiences while prompting you to get up and move around for greater wellbeing. As a result, you stay more alert, energized, focused and productive. Of course, nothing can replace meeting face-to-face. But Neat Symmetry brings you ever-closer to that tangible sense of nearness with others.
Neat Boundary removes potential distractions from other activities outside your meeting space. It allows you to define the reach of the camera's auto-tracking, so the camera won't unintentionally detect and follow any peripheral activity. Neat Boundary is a groundbreaking feature when deploying video tech throughout lively open office spaces or rooms with glass facades or walls.
Check out our Neat Experiences page to get an in-depth overview of these and discover Neat devices' other future-oriented features.
"The whole experience from unboxing, to set up, to using Neat's devices is simple and modern. The devices deliver great audio and video, plus unique features like Neat Symmetry and Neat Boundary that really set them apart," said John Moore, Microsoft MVP.
"The design of Neat Bar and Neat Board is also exceptional, making them very versatile for various meeting spaces and innovative use cases. Neat Board feels like a 'Goldilocks' design, particularly with the rolling cart, that will fit in meeting rooms, open areas, and exec offices. I can even see it being used as e-signage around a corporate campus. I'm impressed with what Neat will bring to the Microsoft Teams device ecosystem," Moore concluded.
Neat is proud to partner with Microsoft Teams to further deliver more felt human video meeting experiences worldwide, helping you look, feel and be at your best, however or wherever you choose to work or collaborate.
Check out our "Time for Microsoft Teams" webinar to see how Neat helps optimize your Teams experience. Alternatively, you can find out more or chat with a Neat specialist here. Or order through a certified Neat partner or directly online at Neat.