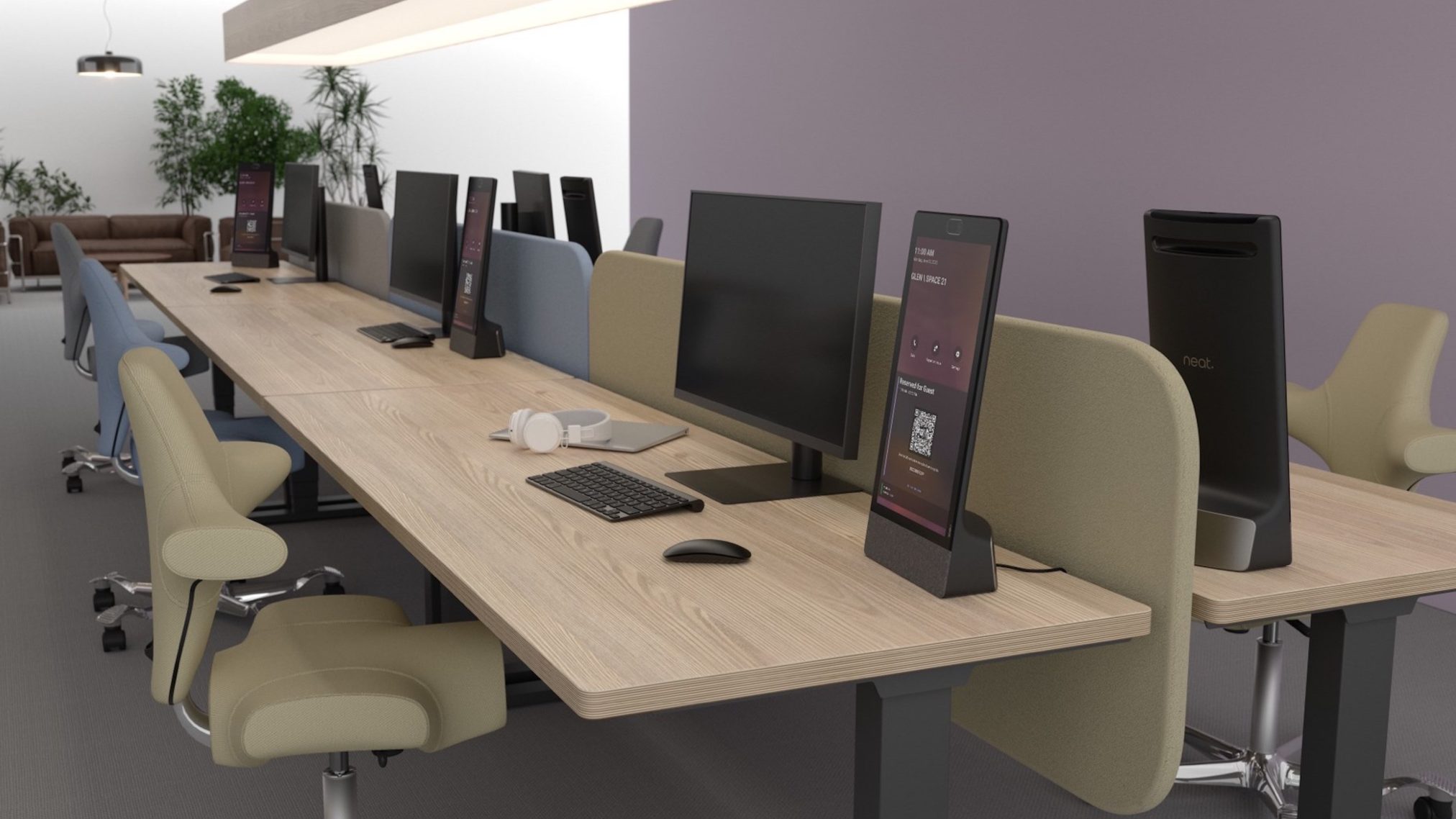 The essence of the modern workstyle is a workforce that can work anywhere, with unlimited flexibility, empowered by technology that seamlessly brings together all members of a team – whether they are in-person at the office or remote in their favorite café. Meanwhile, employers are looking to maximize efficiency. To be viable, distributed teams must be at least as productive as traditional office-based teams, with no greater impact on a company's bottom line. The good news is that employees and employers really can have it all. In fact, flexible working is sparking new ways of collaborating that can actually save time and money. What are the crucial ingredients? Video meeting platforms and devices that are up to the challenge, leading-edge software and hardware working in true partnership to drive success. Today, we're going to deep dive into one such example, our award-winning Neat Frame, built especially for Microsoft Teams and Zoom. It's so versatile, supporting a range of modern workstyles from remote working to hotdesking. So without further ado let's see what it can do.
#1 A dedicated personal video device
With so much of our time spent on video calls, there are great benefits to having a dedicated personal video device. Neat Frame is a 15.6-inch portrait screen that makes online meetings feel decidedly more human. This includes video meetings (naturally), but also Microsoft Teams or Zoom phone calls and even interactive whiteboarding (when using it with Zoom). Neat Frame boasts 450 nits of brightness, which picks up every facial expression and gesture, and has a front-facing tweeter and woofer for a richer reproduction of peoples' voices. The camera is positioned comfortably at eye-level, a small but significant detail that gives Neat Frame the edge over your laptop. Talking of laptops, Neat Frame can also pair with your laptop, freeing it up for other tasks.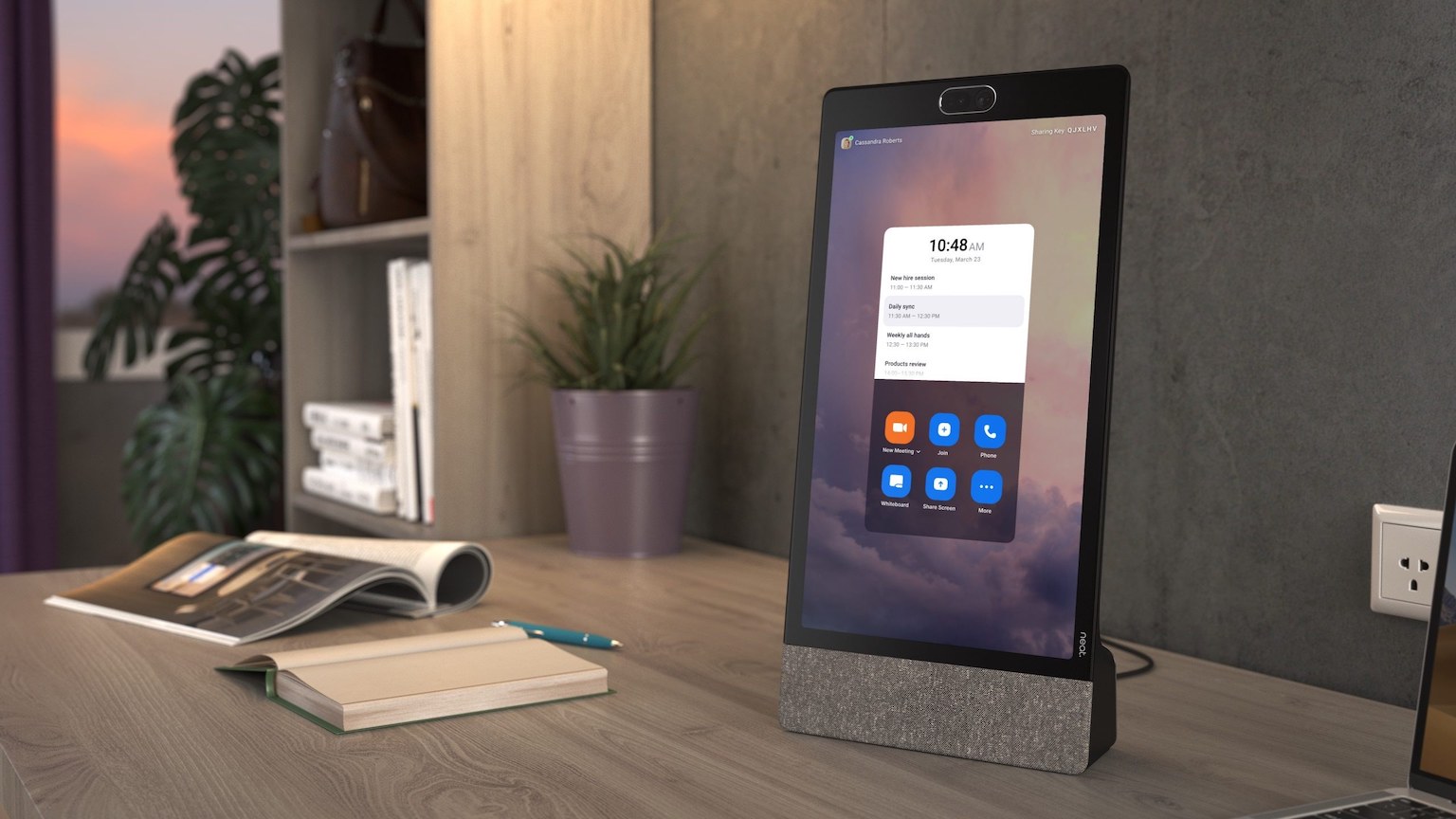 Finally, we can't talk about Neat Frame without touching on its 113 degrees field of view and 4x zoom, which automatically frames and presents you optimally whether you're sitting at your desk or moving freely around the room.
#2 Hack productivity across all your devices
For Microsoft Teams users, Neat Frame extends beyond video meetings and phone calls, transforming into a highly effective personal productivity companion device. Paired it with your laptop, and there's so much more you can do:
Interact with Teams Chat as part of your in-house communications.
Open and view OneDrive files, then directly transfer them onto your laptop or desktop for editing.
View your Chat messages and directly reply on Neat Frame or from your laptop or desktop.
Experience an interactive video layout.
No excuses for missing a deadline now!
#3 A seamless hotdesk experience
Hotdesking reduces costs for organizations by optimizing space occupancy and utilization. What's more, it allows hybrid workers to make any shared location – like desks and phone booths in the office – their personal space to get work done. Add a Neat Frame to that shared workspace, paired with Zoom Workspace Reservation or Microsoft hotdesking, and workers reap all the Neat Frame benefits outlined above, plus a seamless transition from home to in-person office. It's the ultimate in flexibility, with uncompromised productivity. Plus, you can cut out distractions with Neat Frame's Bluetooth headset support.
#4 Small but mighty workspaces
From hotdesks to focus rooms, booths and pods. Neat Frame's slender footprint makes it the ideal video device for small workspaces. It lets different users quickly join a video meeting or take a phone call via Zoom or Microsoft Teams, and is ridiculously simple to deploy with its plug-in-and-play setup. All you need is power and Wi-Fi.
Simplicity continues to reign even when an organization has multiple Neat Frames (or any Neat device for that matter). Our devices can be managed remotely through the Zoom Device Management portal, Microsoft Teams admin center, and soon Neat Pulse, ensuring you are in that other small but mighty workspace. The driver's seat.
#5 A very modern receptionist (or sales clerk, or doctor)
Another exciting use-case for Neat Frame is to utilize it in your company's reception area, with Zoom's Virtual Kiosk or Microsoft Virtual front desk. This enables admins to manage guest access and entry while they work remotely, and large enterprise customers such as Capital Group, Koch and MSIT are already seeing great value in having a video experience "at the front door". They can monitor their buildings better, keep personnel safe, all while keeping costs down.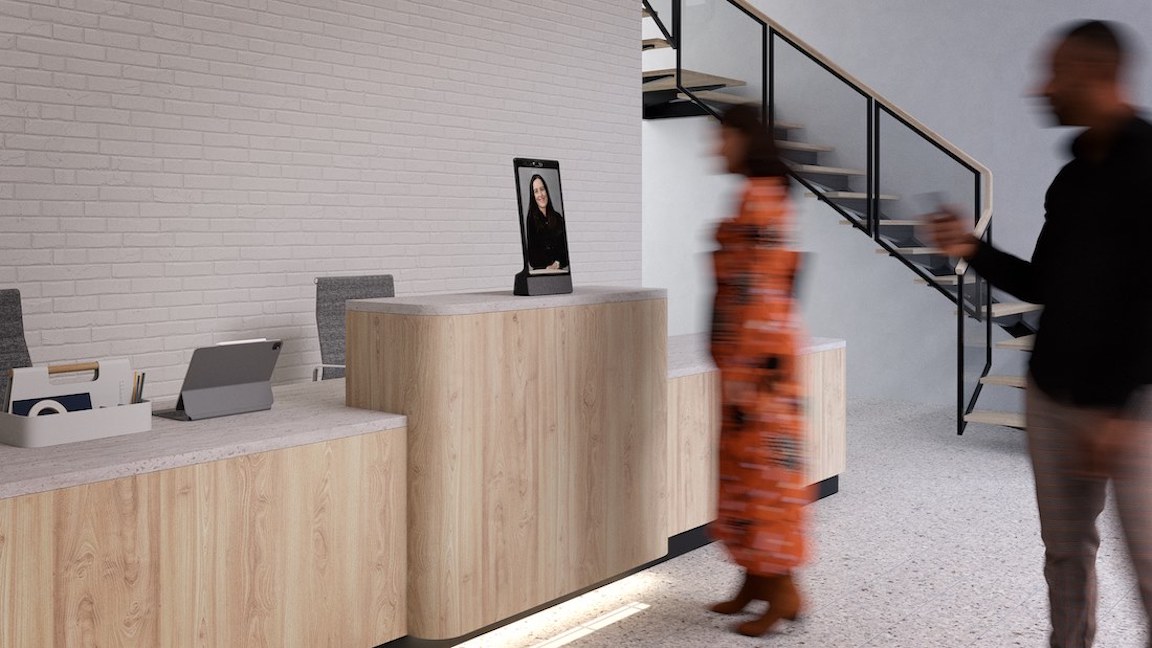 In addition to its receptionist role, Neat Frame can empower other kinds of workers to interact with their customers and still reap the benefits of working from home. For example, a sales clerk can deliver an engaging, personalized product walk-through to a potential buyer in-store. Similarly, a doctor managing multiple patients can triage and provide telehealth support, while a teacher can inspire a student in a 1-2-1 lesson online. The possibilities are endless.
---
Neat Frame is the winner of three prestigious awards: 'Best of the Best' and 'Smart Product' (Red Dot Design Awards 2022), and the Good Design Award 2022. Experience it, true to size and from every angle in your workspace, with our augmented reality mobile experience. Or chat with one of our friendly product specialists at hello@neat.no.