Future Fit
Neat, Dec 30, 2021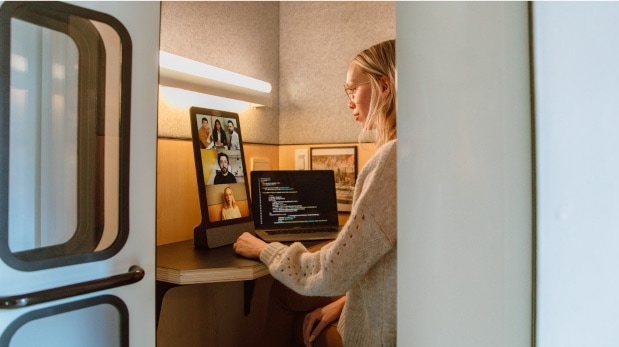 Neat's new year predictions: Get set for an exciting and inspiring 2022 as we delve into what we think will influence the months ahead in the new way of working.
The one overwhelming thing we've all learned over the past two years is that change is the only constant, especially regarding how and where we work. But we've also noticed some other positive patterns and trends emerging that are paving the way for what probably lies in store. So, join us as we peer into our imaginary crystal ball and envisage the shape of things to come.
Dynamic spaces
The grand return to the office has seen a significantly slower rollout than the enforced exodus of 2020. According to a survey by Prudential in the US, 87% of the 2,000 adults questioned would prefer to continue working remotely. In comparison, 42% would happily look for alternative work if their employers ended their remote working policies. Still, a large proportion of the workforce is super-eager to get back to the office, namely Generation Z types, of whom 40% prefer full-time in-person work because, for them, it offers greater community bonding, mentoring opportunities and in-office perks. (Source: Generation Lab.)
Forward-thinking employers are responding to this challenge by providing numerous alternative workplaces and spaces. They're equipping employees who wish to continue working remotely with top-quality, high-tech office furnishings and technology. At the same time, they're rewarding those who want to head back to the office with various dynamic, interactive and creative meeting and social spaces with connected breakout areas.
Of course, the primary technology that links all these new workspaces is video, and Neat – in direct partnership with Zoom and Microsoft Teams – is at the forefront of this new frontier.
See how.
Improved wellbeing
Pre-pandemic, companies often viewed workplace wellbeing as a box-ticking exercise, fulfilled with the token gesture of herbal tea bags in the office kitchen and a smattering of posters promoting faceless counseling services dotted around restrooms and social areas. Nowadays, though, employers are wising up to the many benefits of keeping staff fitter, healthier and happier in the realization that it helps people stay more engaged and productive.
With record numbers of staff potentially looking to change the way they work, and the effects of
'The Great Resignation' taking hold, companies are embracing wellbeing as a tool for staff retention.
Before the pandemic, conscientious employers would kit out their offices with economically designed chairs, comforting color schemes and technology that reduced the risk of repetitive neck or back strain. However, with the move to remote working, staffs' physical and mental needs are far less easy to monitor and manage.
Yet, once again, this is where pioneering advances in video communications are beginning to make a significant difference. A growing number of companies are investing heavily in video systems that enable natural movement, calmer composure and equality.
See how Neat is helping enhance people's wellbeing.
Tighter teamwork
Collaboration and creativity have been entwined ever since the first cave painters shared color palettes. These days, nearly every commercial endeavor requires a degree of collaboration, and usually, the best results are achieved when all participants are physically in the same room. But with close-contact collaboration going out the window over the past two years, co-workers usually joined at the hip have been forced to rethink how they work.
The most innovative companies have used this time to explore new ways their teams can continue to flourish, often deploying cloud-based interactive platforms and applications coupled with real-time video linkups to encourage more close-knit teamwork.
Over the past two decades, technology has made the world a far smaller place, and the opportunities to collaborate across countries, continents and time zones are now endless. But, more recently, necessity has driven seismic changes in our ability to work and exchange ideas, however far apart we are, and the gap between in-room interaction and dispersed, distributed creativity is getting smaller by the day.
See how Neat is helping teams bridge that gap.
Ensured equality
According to the UK newspaper
The Guardian, a growing number of women are saying online meetings are helping to level the workplace playing field. In addition, many prominent organizations, including the scientific journal Nature, are looking to keep larger meetings online in the belief that virtual gatherings cultivate productivity, save time and money, and boost equality.
This sentiment is echoed by Mary Ann Sieghart, author of
The Authority Gap, who says, "Being interrupted and talked over puts women off from speaking out in meetings – it silences them. On Zoom, interruptions are very messy."
So, how can the experience of online meetings be enhanced and made even more equitable? Again, video technology is leading the charge. Neat's pioneering, patent-pending feature
Neat Symmetry enables remote participants to see all those present in the physical meeting space equally up close on their screens like never before. At the same time, Neat Auto-Framing gives both remote and in-office employees the freedom to stand up and move around, zooming in and out as they do so, ensuring they're always perfectly in shot.
Such innovative tools ensure that everyone is equally represented wherever teams are based or venture and that they can easily hear each other.
See Neat Experiences.
In conclusion, as we stated at the beginning, change is the only constant nowadays. Thus, being 'Future Fit' is about addressing, adapting to, and embracing change. That way, you, your company and your employees have a much greater chance of success in tomorrow's ever-evolving business landscape. As tech provocateur and Time Magazine '2021 Person of the Year' Elon Musk said when asked about the future, "I could either watch it happen or be part of it."