DoorDash Partners with Mount Sinai and Neat to Donate Free Meals and Free DashPass Memberships to 42,000 Healthcare Employees
Neat, Apr 7, 2020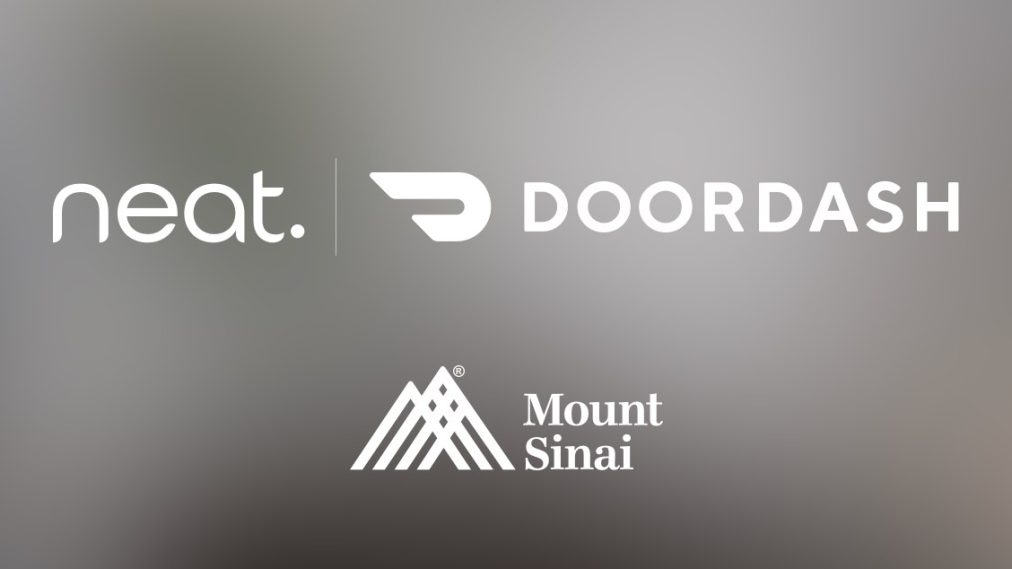 NEW YORK (April 7, 2020) – DoorDash, the nation's leading on-demand local logistics platform,
today announced a partnership with Mount Sinai Health System
, New York City's largest
academic medical system, to donate free DashPass subscriptions offering unlimited free delivery
fees to its 42,000 healthcare employees, including first responders, medical personnel and
hospital staff. As part of this program, DoorDash has also teamed up with Norwegian video
communications company
Neat to thank the heroes on the front lines and donate $15,000 in free
meals to medical workers through the distribution of DoorDash gift cards to Mount Sinai medical
staff across its eight hospital campuses and large ambulatory network.
"Thanks to the heroic efforts of our physicians, nurses, trainees, students and other health care
professionals on the frontline, we will win this fight against this virus. The Mount Sinai community
is working around the clock to save as many lives as possible. The support from DoorDash and
others is critical," said Kenneth L. Davis, MD, President and CEO of Mount Sinai Health System.
This partnership comes at a critical time when the New York healthcare system is strained, with
hospital staff working overtime to support patients infected with COVID-19. To give back to those
who care for others every day and help ensure healthcare workers can get the food they need to
fuel their long hours, all Mount Sinai employees will be offered a complimentary DashPass
subscription*, offering unlimited free delivery fees and reduced service fees from thousands of
local restaurants. DoorDash is working hand in hand with Mount Sinai to designate safe and
secure drop-off locations to promote contactless deliveries between Dashers and medical
workers.
"The daily acts of heroism from first responders, doctors and nurses during this unprecedented
time show the best of humanity, and it's incumbent upon us to give back and help support them.
DoorDash appreciates all that the incredible team at Mount Sinai has contributed to serving the
community, and we hope this can help make their day a little easier," said Tony Xu, CEO and
Co-Founder of DoorDash.
"Neat is honored to be teaming with DoorDash and Mount Sinai to help support our healthcare
heroes. We are deeply grateful to the remarkable staff at Mount Sinai, and all healthcare workers
around the world who are on the frontlines each day, bravely and selflessly risking their lives to
help others in the global battle against COVID-19. They are our true heroes and deserve as much
help and recognition as possible," said Simen Teigre, CEO of Neat.
Following partnerships with agencies such as the NYC Department of Education to power the
delivery of food to hundreds of medically fragile students and other vulnerable communities,
DoorDash is actively working to serve those impacted by the COVID-19 pandemic while
supporting the local businesses that are the heart and soul of our communities.
DoorDash is partnering with hospitals across the U.S. and Canada to provide free access to its
Corporate DashPass membership. Every doctor, nurse, and hospital employee will receive at
least 60 days of free DashPass, unlocking subscription-only benefits. Hospitals looking to
participate can find more information
here.
*The free DashPass subscription is currently active for at least 60 days, but we may extend the
duration of the membership as medical workers continue to fight the good fight. DashPass
benefits are eligible on all orders from participating restaurants above $12.
About DoorDash

DoorDash is a technology company that connects customers with their favorite local and national
businesses in more than 4,000 cities and all 50 states across the United States, Canada, and
Australia. Founded in 2013, DoorDash empowers merchants to grow their businesses by offering
on-demand delivery, data-driven insights, and better in-store efficiency, providing delightful
experiences from door to door. By building the last-mile delivery infrastructure for local cities,
DoorDash is bringing communities closer, one doorstep at a time. Read more on the DoorDash
blog or at
www.doordash.com.
About Mount Sinai Health System

The Mount Sinai Health System is New York City's largest academic medical system,
encompassing eight hospitals, a leading medical school, and a vast network of ambulatory
practices throughout the greater New York region. Mount Sinai is a national and international
source of unrivaled education, translational research and discovery, and collaborative clinical
leadership ensuring that we deliver the highest quality care—from prevention to treatment of the
most serious and complex human diseases. The Health System includes more than 7,200
physicians and features a robust and continually expanding network of multispecialty services,
including more than 400 ambulatory practice locations throughout the five boroughs of New York
City, Westchester, and Long Island. The Mount Sinai Hospital is ranked No. 14 on U.S. News &
World Report's "Honor Roll" of the Top 20 Best Hospitals in the country and the Icahn School of
Medicine as one of the Top 20 Best Medical Schools in country. Mount Sinai Health System
hospitals are consistently ranked regionally by specialty and our physicians in the top 1% of all
physicians nationally by U.S. News & World Report.
For more information, visit
https://www.mountsinai.org or find Mount Sinai on Facebook, Twitter
and YouTube.
About Neat

Neat designs and develops pioneering video meeting devices for Zoom. The company was
founded in Oslo, Norway, by a team that for decades have shaped game-changing innovations
for some of the most recognized brands in video communications. All Neat systems are available
to buy directly online from neat.no and ship globally. Radically simply with unique features, they
are easy to set-up and use, making Zoom Rooms the smoothest and best it's ever been. For more
information on Zoom Rooms the Neat way, see more at
www.neat.no.