A Beautiful Way to Meet
Neat, Oct 28, 2021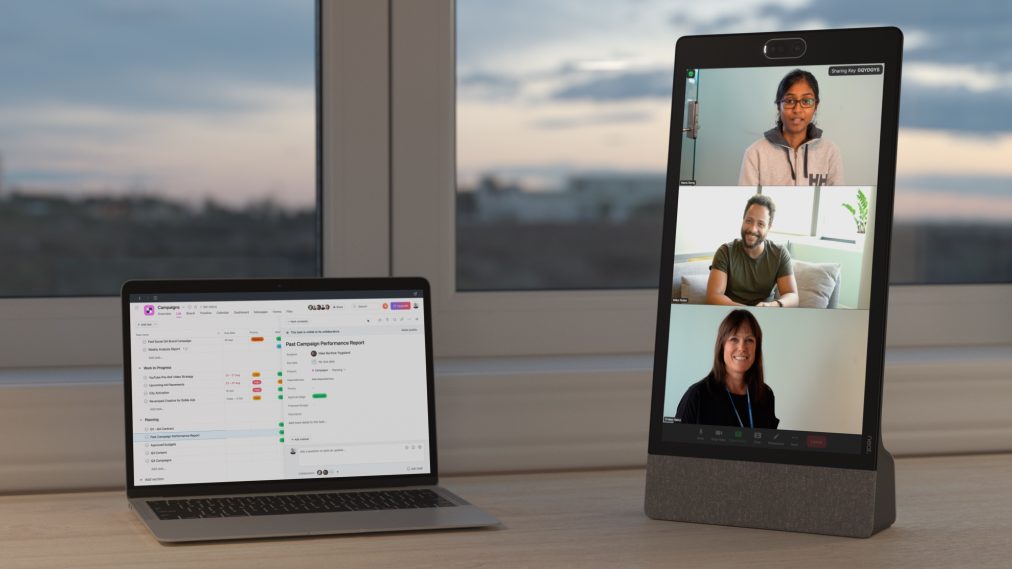 Neat Frame enables you to enjoy a more intimate, inclusive and equitable meeting experience wherever or however you choose to work.
Over the past two years, millions of people have been forced to work from home. But the world's rapidly evolving, so now many of us find ourselves transitioning from using our kitchen or dining room table as the obligatory place to sit, work and have meetings to this new way of working as part of a more modern workforce.
As people ebb and flow from their homes and the office, never has the idea of using personal video devices to provide more intimate, inclusive and equitable meeting experiences been so relevant to keep dispersed teams continuously connected. And that's precisely what Neat Frame is here to address.
Designed for your new workstyles and spaces
Neat Frame caters for the multiple new workstyles and spaces companies and employees are now hastily adopting. It's a super convenient device not only attractive for working from home or any office but also hot desking, jump rooms, or as a virtual receptionist and all manner of other new and exciting applications.
Being a more personal, slim-line all-in-one video device, Neat Frame offers anyone the opportunity to look, feel and be at their best however or wherever they choose to work or interact. It has all the functionality of large-scale corporate solutions, yet its relatively small footprint takes up little space. In addition, thanks to a subtly integrated handle at the back, it can easily be moved from room to room, depending on your individual needs or preferences.
Unique portrait screen for greater engagement
Neat Frame's incredibly simple to use, offers superior audio-visual quality and frees up your laptop or desktop computer for work, making meetings feel like less of a juggle between talking, listening and shuffling windows of various content and images. In other words, it declutters your PC layout, as well as your desk or other work surfaces.
With its unique portrait screen and perfectly placed high-resolution wide-angle camera, Neat Frame guarantees direct eye-level communication for more natural and immersive interaction. Besides that, its bright digital display provides crystal clear imagery in a wide variety of settings, so you can rest assured Neat Frame will always present you and others in beautiful and elaborate detail. At the same time, it gives you an optimized layout of people and content with touch control, bringing both to the forefront by filling more of the screen and reducing any wasted black areas.
Packed with powerful audio capabilities and more
Neat Frame incorporates advanced audio capabilities too that enhance vocal pickup and remove or lessen any exterior noise. For example, our patent-pending Neat Bubble suppresses all sounds outside of the camera view. Essentially, what people see is what they hear. So, when you're sitting or standing within sight, they'll be able to quickly grasp what you're saying without the distraction of any peripheral noise or activities happening around you.
Health and happiness-wise, Neat Frame instinctively frames and follows your movements, meaning you can stand up to stretch your legs or freely move around for better wellbeing while entirely absorbed in your meeting. Subsequently, you stay more energized, focused and productive for longer.
Daring to create a first of its kind device
As is the Neat ethos, everything we've poured into Neat Frame we designed with purpose. For a start, soon after the pandemic struck, we knew we wanted to come up with a first of its kind device to help people forge closer, more human and resourceful connections to survive the toughest of times and beyond. No one had dared create a video device in portrait mode before because of the many obstacles involved, all of which we were acutely aware of from our own first-hand experience.
But, if you want to create something you've never had, you must be willing to do something you've never done. Fortune favors the brave, as they say. So, once we had it set in our minds that portrait was the way to go, we were resolute in our mission.
Making everyone's lives much easier
Ultimately, bringing a new kind of device to the market isn't necessarily about introducing something special. It's about establishing a brilliant tool that makes everyone's lives much easier. And that's the driving force throughout every facet of Neat in all we aspire to achieve. As the famous Avis car rental campaign once said, "We try harder (when you're not the biggest, you have to.)"
Neat Frame is available for pre-order now from any of our amazing channel partners or at www.neat.no, where you can get further info on Neat Frame and its full range of pioneering features.