How Video Conferencing Kiosks Empower Remote Workers
Hayley Cannon, Jun 19, 2023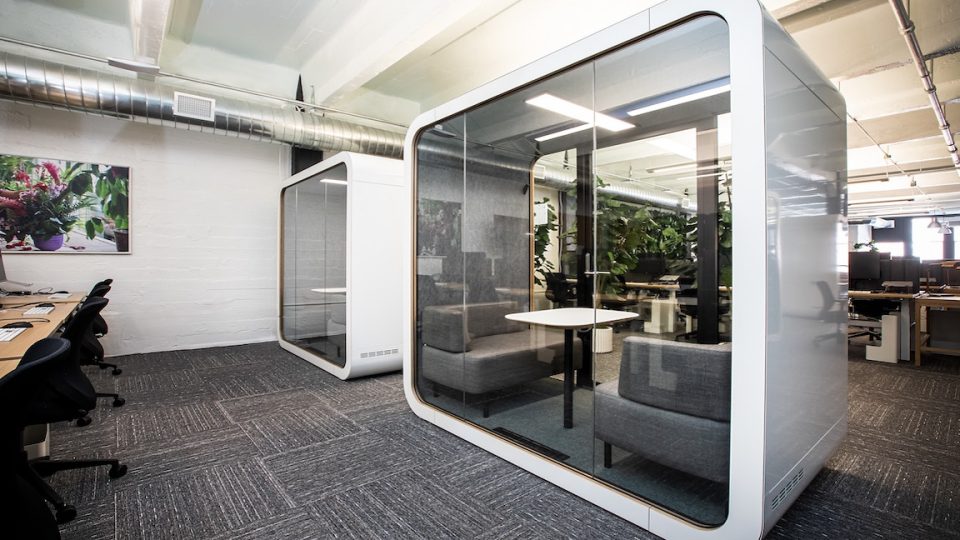 At hybrid workplaces, a video conferencing kiosk keeps teams connected. Let's explore the advantages of using video conferencing kiosks and how to go about selecting and using them in the workplace.
Key Takeaways:
A video conferencing kiosk is a dedicated workstation that facilitates video conferences.
A kiosk improves remote collaboration, work-life balance and innovation while also reducing travel-related expenses.
Video conferencing empowers employees by allowing them to do their best work without feeling disconnected from co-workers.
To choose a video conferencing kiosk, consider your remote work requirements, evaluate the features and functions of kiosk options and consult with your IT team and remote work experts.
What Is a Video Conferencing Kiosk?
A video conferencing kiosk is a designated station for conducting video conferences. Kiosks require less space and hardware compared to a traditional conference room and can be used on-demand to connect with remote participants.
Benefits of Using Video Conferencing Kiosks for Remote Work
Video conferencing kiosks provide a virtual meeting space for remote workers that mimics in-person conversations. With high-quality audio and video equipment, on-site workers can connect with remote team members without needing a whole conference room. In doing so, participants can expect several benefits:
Improved communication and collaboration among remote teams
Offsite workers can participate in meetings as though they were physically present. Conversation flows more naturally, plus teams have the benefit of hearing and seeing each other clearly.
Greater engagement and productivity
Team members that see each other face-to-face feel more connected to each other, leading to higher engagement. Video technology also enables participants to share screens and content, enabling real-time collaboration.
Devices by Neat support productivity with features like Neat Boundary. Set virtual widths and depths to tune out what's happening in the background. Neat cameras automatically track you to keep you in focus, whether you're sitting, standing or moving. With fewer distractions, conversations can stay on topic and teams can accomplish more per meeting.
Enhanced work-life balance and flexibility
Video conferencing kiosks create a way for employees to stay engaged with their teams without sacrificing the benefits of remote work. Kiosks can be set up on-site as well as in home offices, allowing everyone to access the same technology regardless of location or work schedule.
Reduced travel costs and time
Virtual meetings help companies save time and money on travel. Participants can join calls wherever they are. Dedicated video conferencing kiosks give employees a way to access virtual meetings on demand, minimizing their travel needs.
Encouraging innovation and creativity in the workplace
Video conferencing kiosks allow companies to tap into global talent. By eliminating the need for on-site presence, companies gain wider access to innovative and creative people.
Characteristics and Benefits of Empowered Employees
Allowing employees to work where they prefer empowers them to do their best work without feeling disconnected from their co-workers. As a result, empowered employees tend to have higher job performance and satisfaction.
Key characteristics of empowered employees
Empowered employees are those who have been given more control over their work, allowing them to take ownership of their tasks and providing them with the freedom and resources they need to make decisions. They feel trusted by their employer to do their work in a manner they see fit. They know they're contributing to the company and are more likely to go above and beyond expectations.
While some companies have been slow to adopt this approach, those that have embraced it have seen significant benefits.
Benefits of empowering employees in a remote work setting
Giving employees more control over their work leads to positive outcomes for both the employee and the organization, including:
Increased productivity
Higher engagement at work
Less "dead time" and fewer accidents
More contributions toward innovation
Greater customer satisfaction
More trust in company leadership
Stronger company culture
Better employer reputation and retention
These benefits are the tip of the iceberg. When employees are encouraged and supported to do their best work, they're better able to take on new challenges without fear of failure.
The role of video conferencing kiosks in promoting employee empowerment
A video conferencing kiosk contributes to employee empowerment by enabling remote work to thrive. Companies can use interactive devices by Neat for training and development, team meetings and one-to-one conversations with colleagues or customers. Employees have equal access to video conferencing technology, allowing everyone to stay engaged. Most importantly, it maintains the human element while creating better working conditions for the people powering your company.
Choosing the Right Video Conferencing Kiosk for Your Needs
Not all video conferencing kiosks are created equal. When vetting your options, consider the following tips and features:
Identifying your requirements and goals for remote work
Start with purpose: what are your goals for using video conferencing kiosks in remote work? Will they be used to meet with clients, employees or both? Are you shifting toward fully remote work where every employee will need video conferencing? How many people will need access to video kiosks?
Desktop devices by Neat allow employees to add a video conferencing kiosk to their home office without extensive setup or real estate. Neat works right out of the box and sets up in minutes. With Zoom and Microsoft Teams software pre-installed and an active room license, you can launch a meeting with one touch and always be ready to connect.
For in-office workers, consider how much space you can dedicate to video conferencing kiosks and how many devices you might need. Neat desktop devices work well in a shared office setting and require very little space. If you have conference rooms, huddle rooms or other dedicated spaces, you might consider larger setups like Neat Board or Neat Bar, both of which are ideal for multi-person meetings.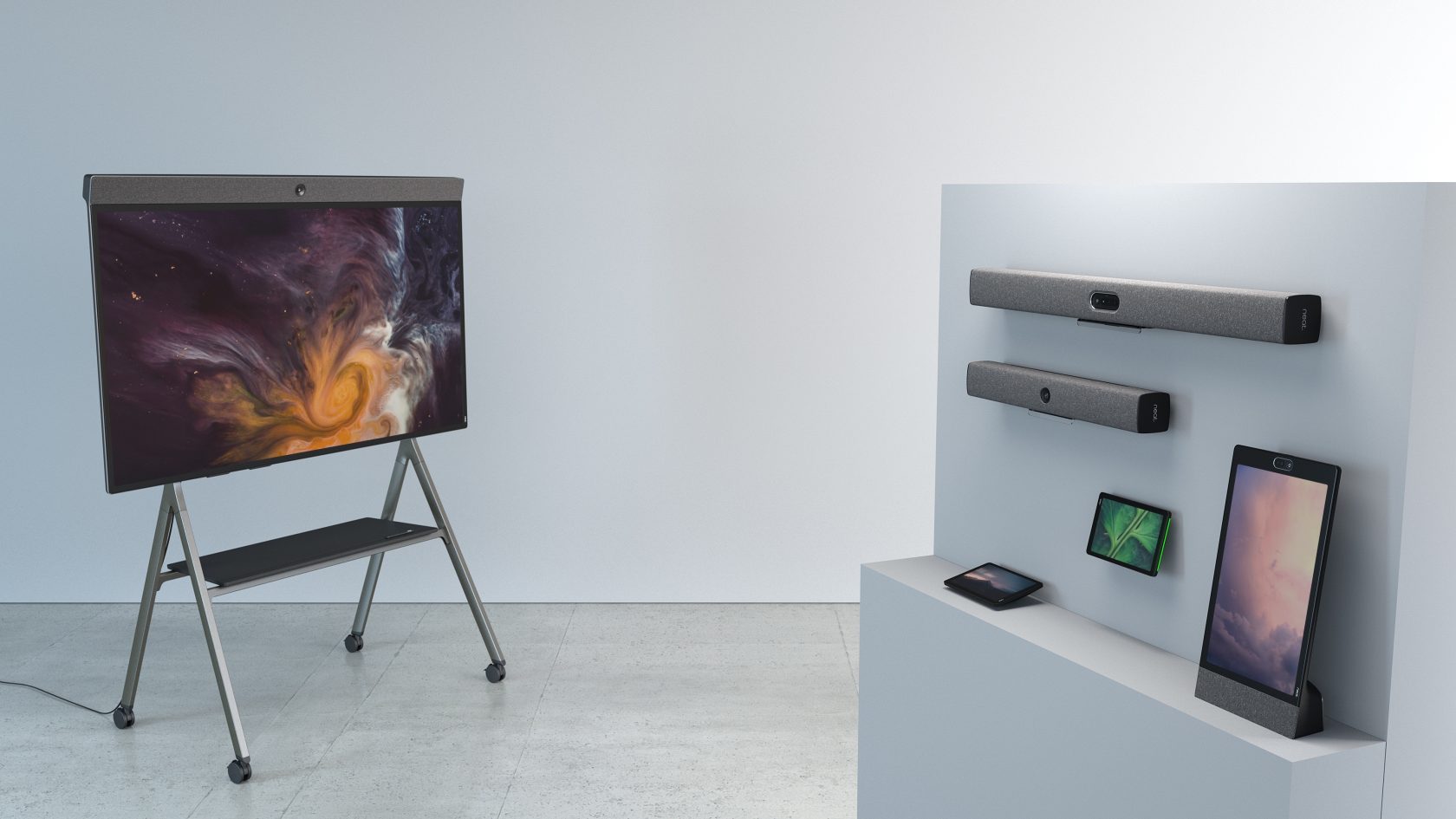 Evaluating the features and functionalities of different video conferencing kiosks
Video conferencing kiosks can take the form of all-in-one devices (like Neat Frame) or separate components, such as a screen, speakers, microphone and camera. Both options will also need video conferencing software, such as Zoom or Microsoft Teams.
Consider these questions to help you compare different video conferencing kiosks:
Does this kiosk support my preferred video conferencing software?
How long does it take to set up the video conferencing kiosk?
What's the audio and visual quality like?
How much space does the kiosk require?
What are the ongoing maintenance costs and requirements?
How easy is the kiosk to troubleshoot for remote employees?
Is the kiosk compatible with other technologies (e.g., laptops, whiteboards)?
What support does the video conferencing kiosk manufacturer offer?
What does the video conferencing experience look like with each kiosk?
What security and privacy features are available for shared kiosks?
Ask these and other questions with your specific use case and company in mind to see how each solution fits into your ecosystem.
Consulting with IT professionals and remote work experts
Decision makers should consult with their IT departments and remote work experts to see how video conferencing kiosks fit into the workplace. IT may have specific technical requirements for data storage, security protocols, power consumption and other factors. Remote work experts may also have some best practices and guidance to get the full value of your video kiosks.
Best Practices for Using Video Conferencing Kiosks to Empower Remote Workers
Video conferencing kiosks are only powerful if your people know how and when to use them. Follow these best practices to get the most from your investment.
Ensure your kiosk is properly set up and configured for your needs
Video conferencing kiosks should be ready for meetings at a moment's notice. Devices by Neat set up in minutes without IT's help and offer intuitive features and controls. They also come pre-configured for Zoom and Microsoft Teams and can support other integrations.
Provide training and support for workers on how to use the kiosk
Companies should offer walkthroughs and training on how workers can use the kiosks and when to use them vs. email, phone calls or their own computers. If you're using Neat devices, take advantage of our ready-made resources that will help your employees learn how to use their devices.
Encourage remote workers to take ownership of their work
Share the benefits of a video conferencing kiosk with your remote workers, especially as it pertains to employee flexibility and empowerment. Show how they can take ownership of their work and enjoy the benefits of working remotely without feeling isolated. If they have questions, need a second set of eyes or want to share what they're working on, video conferencing can be the go-to option.
Establish guidelines and protocols for video conferencing meetings
As with any type of company technology, decision-makers should develop best practices on how and when to use video conferencing kiosks. Consider things like fair use, use cases, time limits and etiquette rules.
Examples of Successful Companies that Have Implemented Video Conferencing Kiosks for Remote Work
Wondering what a video conferencing kiosk looks like in the workplace? Some of our Neat customers can put it into perspective.
An early adopter of video conferencing, HubSpot shifted toward a hybrid workplace, which meant 88% of its workforce needed to feel like they were sitting at the table together. Neat Symmetry bridged the gap between on-site and off-site workers by giving equal screentime to each employee. It felt like everyone was in the same room, and user feedback about Neat devices showed a high level of employee satisfaction.
Media company Rakuten also trusts Neat to unify its in-office team with remote employees. The company found favor with immersive, life-like video conferencing using Neat devices, helping them put the human aspect into video collaboration
Non-profit organization Persatuan Pemudi Islam Singapura (PPIS) chose Neat as a solution to lacking enough Zoom licenses. They created their own shared video kiosk with Neat Bar and Neat Board. This setup allowed them to connect with their social services clients remotely, especially during Covid lockdowns. Counselors could see their clients face-to-face and better detect when a person was at risk.
See more Neat Stories and how real companies are using video conferencing kiosks.
The Future of Remote Work and How Video Conferencing Kiosks Support It
Experts estimate that 36.2 million Americans will be working remotely by 2025 — a 417% increase compared to pre-pandemic reports. Employee desire for remote work options remains high, while 16% of U.S. companies say they are now fully remote.
Remote work is here to stay, whether 100% company-wide, in select positions or part-time. Adopting video conferencing kiosks positions companies for the future of work. They create more options for workers to choose how they connect best. Companies can easily pivot and scale when the need arises.
The increased interest and growing practice of remote work encourage technology companies to continually improve and innovate. Neat is a prime example of this, with devices that bring the future of work to the present. We help companies innovate by creating flexible video conferencing kiosk options for every use case and location. From desktop-friendly devices like Neat Frame to complete conference room setups, Neat helps you work how and where you prefer.
Integrating Neat's Video Conferencing Solutions into Remote Work
Neat creates a better way to meet, no matter which video conferencing software you use or where you connect. Any desk, room or blank wall can be a video conferencing kiosk. Neat's integrated technology gives you everything you need to start meeting remotely and is designed to work together flawlessly. We've taken care of every detail, such as automatically framing speakers and blocking out background noises and distractions, even in an open office.
Explore Neat experiences today and see how we're leading the future of work.
FAQs
What is a video conferencing kiosk?
Video conferencing kiosks are designated devices in spaces where users conduct virtual face-to-face meetings in real-time. These devices offer a virtual meeting space with high-quality audio and video and have all the equipment (camera, speakers, microphone, monitor, etc.) you need for video conferencing.
How much does a video conferencing kiosk cost?
Cost depends on several factors, including size, features, technical specifications and brand. Neat Frame is an excellent all-in-one solution starting at $1,490. It includes all of the hardware you need to start meeting remotely and comes pre-installed with Microsoft Teams and Zoom. Video conferencing kiosks like Neat are a cost-effective alternative to full-sized video conferencing rooms.
Can I use a video conferencing kiosk for other purposes besides remote work?
Video conferencing kiosks can serve a variety of purposes, including remote work, training, job interviews, onboarding, client and vendor meetings and customer service.
How do I ensure my video conferencing kiosk is secure?
If video kiosks are being used by more than one person, make sure you're using strong passwords to log in to the video conferencing software. You should also keep your software up-to-date with the latest security patches to fix known vulnerabilities. Using only trusted technology from reputable brands and manufacturers can also reduce your potential for security issues.
What are some common challenges of using video conferencing kiosks for remote work?
Technical problems with hardware or software might delay or interrupt meetings. Also, if the video kiosk isn't in its own room, it may be difficult to hear the other person speaking due to background noise. The background view might also create distractions for meeting participants. A poor internet connection can result in poor audio and video quality. Devices by Neat mitigate many of these issues with crystal-clear audio and video, blocking out background noise and distractions and integrating hardware components for a seamless experience.
Sources:
How videoconferencing empowers interactive kiosks. Kiosk Marketplace.
9 Empowerment Benefits in the Workplace & 5 Ways to Empower Employees. Work Human.