Dedicated Zoom Video Conferencing Device Empowers this Small Business to Pursue Big Things
Neat, Mar 17, 2021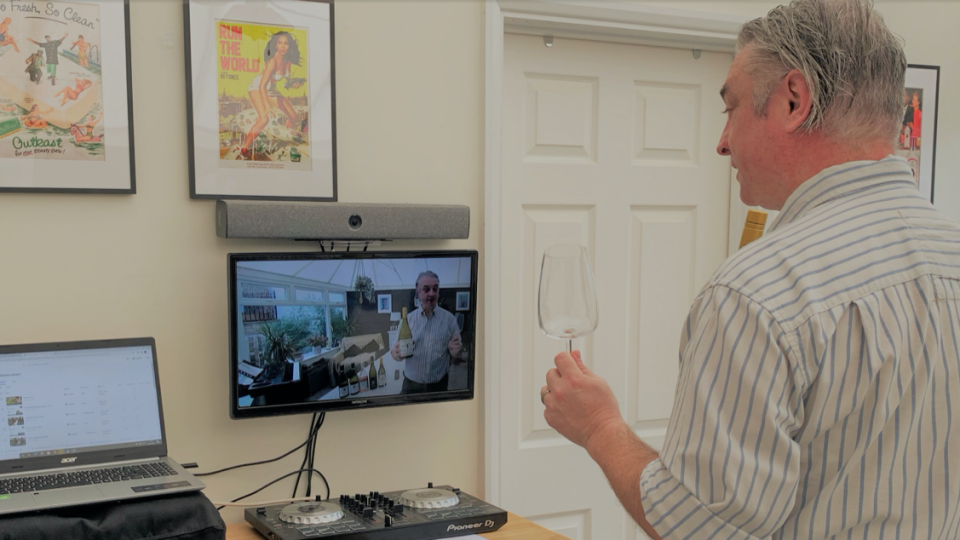 Deploying Neat Bar has enabled The Pipe of Port wine merchant and restaurant to seek a whole new line of business.
Without a doubt, it's extremely tough for millions of businesses right now, but as the saying goes, even flowers can grow through rocks!
When the coronavirus and severe restrictions on social contact forced small businesses worldwide to close their doors, many were quick to pivot and go online to survive. Live streaming via Zoom to engage with customers in their homes became an overnight must if you were in the service industry and had any hope of your business staying afloat. While most were relieved that they could maintain a connection with their customer base by making do on their laptops, other businesses such as The Pipe of Port discovered that deploying a dedicated video hardware device vastly improved the virtual experience for them and their customers. As a result, it's allowed The Pipe of Port and other small businesses to expand in ways they'd never previously imagined.
The Pipe of Port is a wine merchant and restaurant in Southend-On-Sea, a resort town on the Thames Estuary in Essex, southeast England, that offers patrons homemade classic and contemporary British food and world-beating wines in a relaxed and welcoming atmosphere. The Pipe of Port, like countless others, was devastated when government lockdowns forced it to temporarily close back in March 2020. After considering their options, restaurant managers Martin Day and his wife Katy swiftly turned to Zoom meetings to continue hosting the popular wine tasting evenings they'd previously organized in the restaurant from their conservatory at home.
"Initially, it began with the view of using Zoom as a stopgap to keep customers interested before The Pipe of Port could reopen again," said Martin Day, owner of The Pipe of Port. "That radically changed, though, once we started using Neat's dedicated Zoom device, Neat Bar."
Creating a more professional event
With Neat Bar, The Pipe of Port is able to take its virtual wine tastings to another level. Whereas Martin would once be sat static in front of his laptop to Zoom and talk about various wines, Neat Bar enables him to freely move around. Using Neat Pad, which comes as a package with Neat Bar, Martin can easily control everything at the touch of a button. He no longer has to be tied to his computer. Having the flexibility to present the wines in a compelling and convincing way means The Pipe of Port's online customers get to enjoy a far more dynamic and pleasant experience. At the same time, Neat Bar has encouraged Martin to raise the standard of his own performance.
"The biggest difference between me using Zoom on my laptop and switching to Neat Bar is that our wine tastings feel like a professional event now. From an audience point of view, it's like they're about to watch something polished and well presented, which was how we wanted it to be," said Martin. "Before, when I sat down in front of my laptop, it just felt like I was in a meeting and came across as a bit flat and unemotional."
Gaining the freedom to expand
Since deploying Neat Bar, The Pipe of Port has found that bookings for its online wine tastings have rapidly increased, with 144 online attendees on Valentine's Day and 120 for the wine tasting the weekend before. And that's from The Pipe of Port just marketing around the restaurant and its relatively small catchment area of Southend and Essex. The beauty of going online is that The Pipe of Port and its wine tastings no longer have to abide by the set times and days dictated by the restaurant's opening hours or location. Now Martin can arrange events whenever he chooses and invite guest winemakers and experts from around the world to share their advice and knowledge at a time that's most suitable for them. What's more, by not getting in the way of the restaurant's day-to-day running, it's created an additional stream of business. One that empowers Martin and The Pipe of Port to expand its customer base far beyond its brick-and-mortar premises.
"Neat Bar's not only given us the confidence to grow what we do, but it's also allowing us the chance to partner with others who are presenting wine tastings," said Martin. "It doesn't always have to be me that does them, and it doesn't matter where people are based. They could be in Australia, the US or South Africa, for example. It's very exciting!"
Interacting with consumers directly online
Interacting with consumers directly online via high-quality video communications devices gives small businesses everywhere the resources to differentiate themselves from their competitors and broaden their outlook. Keeping their customers continuously informed in whatever activities, services or products they're promoting permits them to stay relevant through inspiring fiercer loyalty and word of mouth recommendations, thus providing small businesses with a better chance of prospering long into the future. Be that by streamlining how they already operate or daring to go one step further and branching out into a completely new line of business, just as The Pipe of Port is doing.
Read The Pipe of Port's full story and learn more about Neat devices at neat.no. We offer worldwide shipping and can deliver in just a few days. You can also sign up for a roundtable discussion on how Neat can help you to up your game by enhancing your Zoom meetings.