Choosing The Right Conference Table Size For A Meeting Room
Hayley Cannon, Jan 24, 2023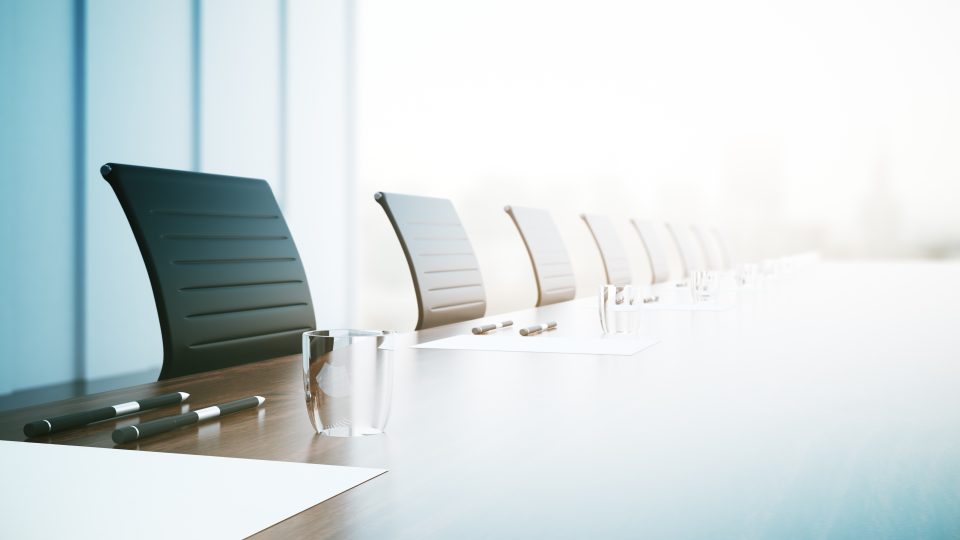 When you want to find the best conference room tables for your company, a few common questions may come up. Here are the most important things to consider when choosing a table for your meeting room.
Key Takeaways
For hybrid meeting rooms you need to choose your table and plan your layout so the people in the physical meeting room are facing the webcam and monitor.
Subtract 10 feet from the total length of the usable floor space to find the right table size.
Each seat at your conference room table will take up a minimum of 30 inches, but 48 inches is a better option if you want a more spacious feel.
Square and rectangle shapes offer the most seating, and the standard height for conference tables is 30".
Principles of choosing tables for hybrid meeting rooms
Many companies need video-first meeting rooms to satisfy the needs of their hybrid workforce. When planning these kinds of rooms, a good rule of thumb is to lay out the furniture so that everyone faces the webcam and monitor, as this will keep the participants in the room focussed on those joining remotely – instead of focussing mostly on each other. The right lay-out helps facilitate 'meeting equity', the sense that every participant is able to contribute and be heard equally, no matter where they are geographically.
How to calculate table size
The first thing to think about is the number of people you want to use the space. Of course, this will be dictated in part by the size of the room. The rule of thumb with conference rooms is you should have at least 3 feet of perimeter space that is clear of other furniture, like bookshelves, audiovisual equipment, or file cabinets. This allows everyone present to easily stand, sit, and walk about in the conference room.
A quick way to figure out an appropriate size table is to take the length of the usable floor space and subtract 10 feet. Despite this guideline for dimensions, the final dimensions are entirely dependent on your personal needs.
Whether you're looking for a large or small conference table, the dimensions of these conference table standard sizes will help you to choose correctly.
Rectangular, Oval and Boat Shapes
| | | |
| --- | --- | --- |
| MIN ROOM SIZE | SEATS | TABLE SIZE |
| 14′ x 12′ | 4–6 | 72″ L x 48″ W |
| 15′ x 12′ | 4–6 | 84″ L x 48″ W |
| 16′ x 12′ | 6–8 | 96″ L x 48″ W |
| 18′ x 12′ | 8–10 | 120″ L x 48″ W |
| 18′ x 12′ 10″ | 8–10 | 120″ L x 58″ W |
| 20′ x 12′ | 10–12 | 144″ L x 48″ W |
| 20′ x 12′ 10″ | 10–12 | 144″ L x 58″ W |
| 21′ x 12′ | 10–12 | 150″ L x 48″ W |
| 21′ x 12′ 10″ | 10–12 | 150″ L x 58″ W |
| 22′ x 12 | 10–12 | 168″ L x 48″ W |
| 22 x 12′ 10″ | 12–14 | 168″ L x 58″ W |
| 23′ x 12′ 10″ | 12–14 | 180″ L x 58″ W |
| 24′ x 12′ 10″ | 14–16 | 192″ L x 58″ W |
| 28′ x 12′ 10 | 18–20 | 240″ L x 58″ W |
| 32′ x 12′ 10″ | 22–24 | 288″ L x 58″ W |
Round Shapes
| | | |
| --- | --- | --- |
| MIN ROOM SIZE | SEATS | TABLE SIZE |
| 10′ x 10′ | 2–4 | 36″ D |
| 10′ 6″x 10′ 6″ | 2–4 | 42″ D |
| 11′ x 11′ | 2–4 | 48″ D |
How to calculate how many people can fit around the table
Calculating the number of people that can fit round your table all depends on the size of seats you choose since wider chairs will occupy much more room than narrower chairs. A good guide to follow is:
At a minimum, 30" for each person sitting at the conference table is as close as you should go for a business meeting.
In general, 36" per person is comfortable, perfectly suitable for a board meeting, and a good rule of thumb for round tables too.
A more generous spacing of 42" per person works well when there are a lot of documents and laptops on the table.
When you want to impress, 48" per person will make your guests and other VIPs feel like they're in first class.
If you're planning on putting devices on the table, like a monitor or videobar, then you will need to factor in how much space those devices will take up and adjust the number of seats accordingly. Alternatively, choose video collaboration devices that can be mounted directly on your screen or wall like Neat Bar, our videobar with a 5 mic array and 120° field of view webcam.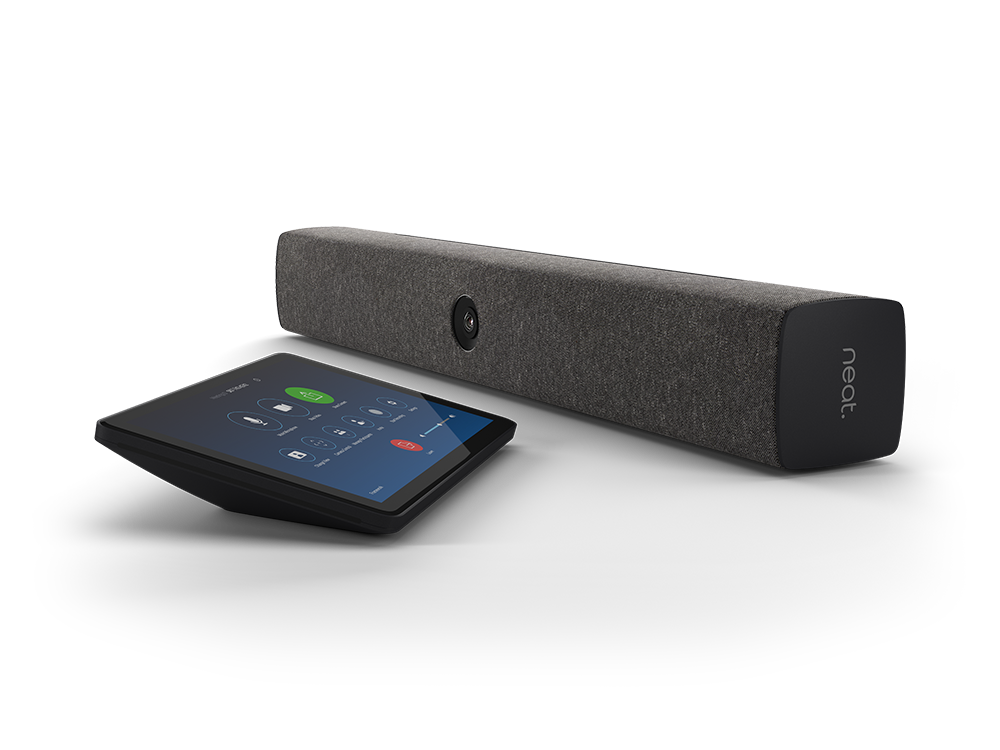 Consider the table shape
The shape of the conference table is also important. Here are a few shapes and their benefits to help you decide.
Square and rectangle tables
Rectangular tables are the most popular choice as they offer the most seating per square inch.
Boat-shaped tables
Boat-shaped tables are similar to rectangular tables, except the longest sides have a curve. Does a boat-shaped conference table fit more people than a rectangular one? Not really. Unless you're talking about a very strong curve, boat-shaped tables have practically the same perimeter as a similarly-sized rectangular table. The benefits of a boat-shaped table are a more elegant look and more comfortable lines of sight when seated.
Round tables
Round tables offer less seating than square, rectangle and boat-shaped options but are a great option in terms of making everyone present feel equal. Curved edges also help soften the aesthetic of the room.
Another thing to consider with a round table is that everyone faces into the center, instead of having to look side to side down to the ends of, say, a rectangular table. For long meetings round tables are more comfortable, putting less stress on people's backs and necks.
Racetrack tables
Racetrack tables offer less seating than square, rectangle and boat-shaped options but their curved edges help soften the aesthetic of the room.
Modular tables
Modular designs allow you to configure your table any way you like. You can typically put individual modules together to create a rectangle, racetrack, horseshoe, or single tables dotted around the room. This is a great option for meeting spaces that are used in many different ways, for all kinds of meetings.
Choose a standard table height
The standard height for conference tables is 30" with a tabletop thickness of 1.25". This means you'll need to position screens at the correct height for when people are seated or invest in a portable screen which comes with a stand that allows you to adjust the height, like Neat Board – ideal for virtual creative collaboration and whiteboarding.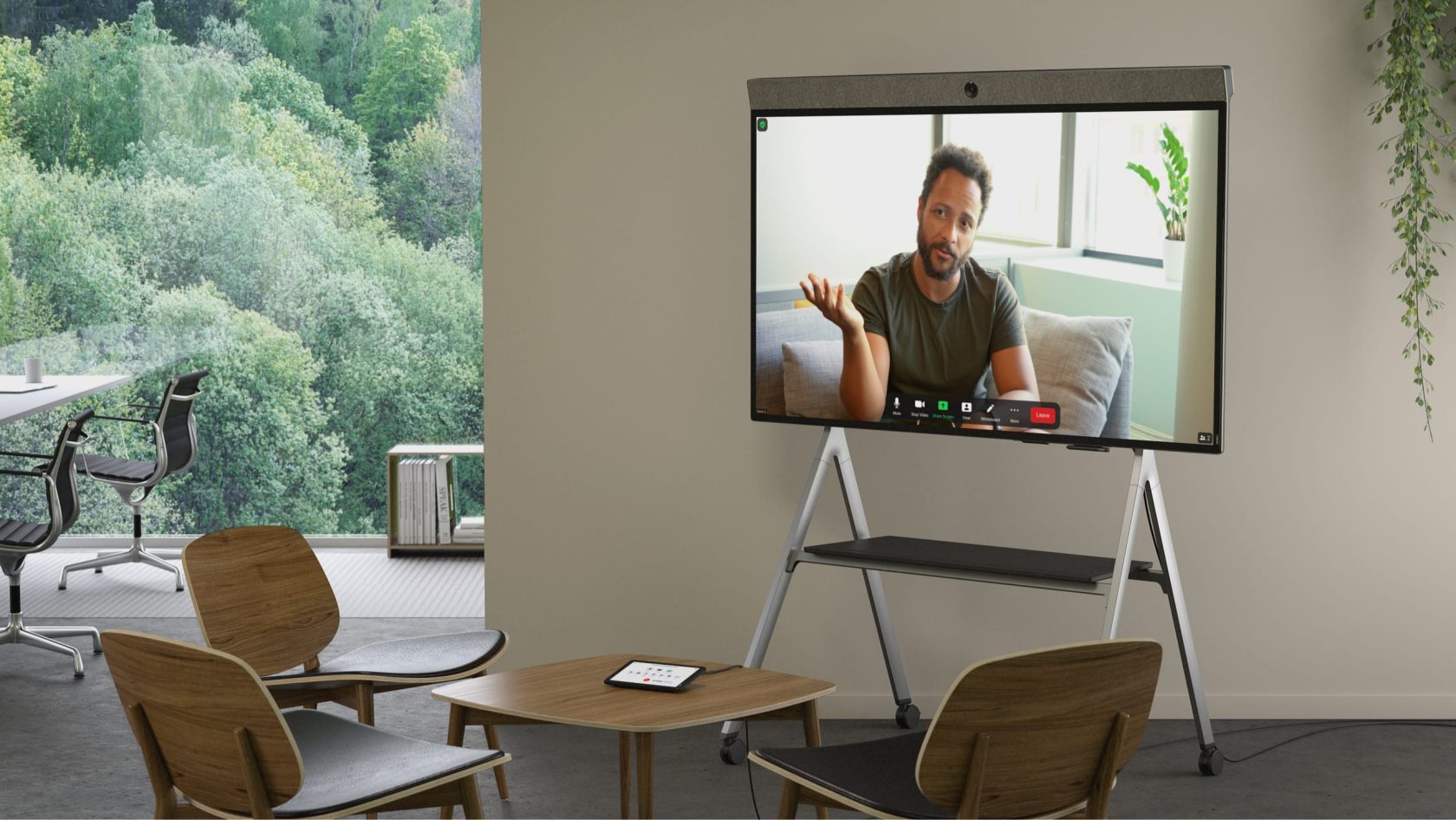 For more informal, 'fly by' meeting spaces you might like to consider a tall table that people can stand at. While this option isn't suitable for any meeting over 20 mins, bar-style tables are useful in the kitchen and communal areas of the office – creating additional places for people to gather.
Get meeting space inspiration
For more inspiration for your meeting rooms, including layout furniture and video collaboration technology check out our gallery of office spaces. From small huddle rooms to board rooms and class rooms, we've got all conference room dimensions covered. Or visit neat.no to speak to one of our friendly, knowledgeable representatives.
Sources
ConferenceTableSize. OFW.
How to choose the conference table guide to size shapes. Ann Gee.