Choosing a Video Conferencing System for Small Businesses
Hayley Cannon, Jun 19, 2023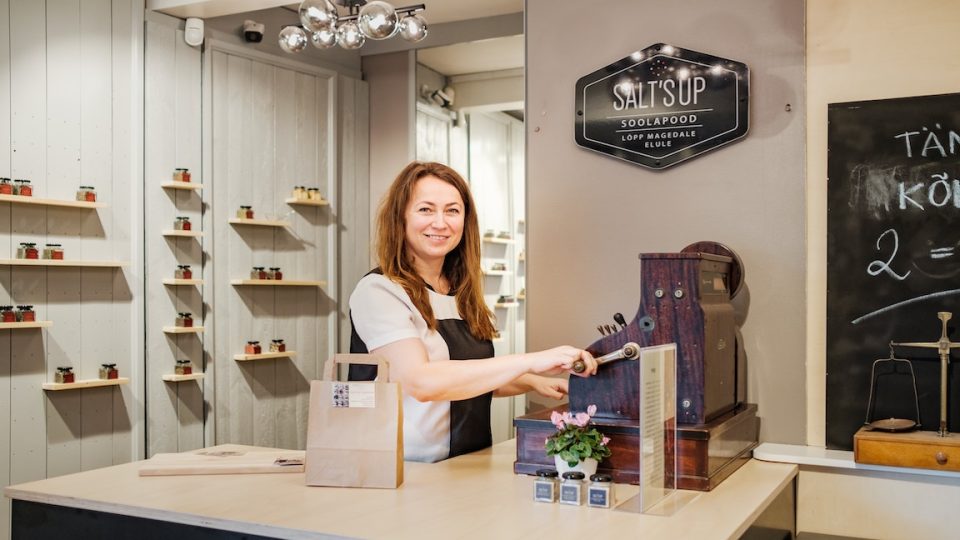 Small businesses are always seeking ways to streamline their operations, and video conferencing is one of the most effective tools available. Here's how to choose a video conference system for a small business that's affordable, functional and dependable.
Key Highlights:
A video conference system for small businesses includes both the hardware and the software for conducting video calls.
Key considerations include features, user-friendliness, security and privacy, pricing, customer support and online reviews.
Getting Started: Factors to Consider for Your Video Conference System
Identifying your business needs first will help you surface the best options for your video conference system. By "system," we're referring to both the hardware and the software that facilitate the video conference. Some early considerations include:
Understanding your team's communication patterns
Effective communication is the backbone of any successful team. Observe how often they communicate, what channels they use (email, instant messaging, etc.), whether they prefer audio or visual communication and their preferred devices (desktops or mobile). This will give you insights into their preferences and help you choose a system that aligns with them.
Identifying the size and frequency of remote meetings
Are team members using video conferencing daily for one-on-one meetings? Does the whole team meet together on a weekly basis? Make sure your video conferencing service can accommodate all attendees at all times. If growth is in your future, ensure your service can scale to accommodate more participants as needed.
Considering the locations of employees
If you have team members on-site and off-site, your video conferencing system can bridge the gap between them. An on-site video conferencing system creates a dedicated space for in-house employees to connect with remote teammates.
Having this system gives you more control over the in-house experience by letting you choose the cameras, monitors, speakers, microphones and backdrop for meetings. This also means having more control over what remote employees see and hear when they video conference with on-site employees.
Also, consider the number of locations you need to connect. If your business has multiple offices or branches spread across different cities or countries, you'll benefit from a video conferencing system that offers high-quality audio and video that feels more like an in-person conversation. Your employees can effectively communicate with colleagues in other areas without having to travel.
Key Features to Look for in a Video Conferencing System
Small businesses with limited time and resources don't always have the luxury of testing different systems to find the right one. Knowing the key features to look for in a video conference system will help you make an informed decision that meets your requirements. Some key features to look for include:
High-quality audio and video
High-quality video ensures participants see each other clearly without any lag or distortion. Participants can pick up on nonverbal cues and facial expressions similar to in-person conversations. Clear audio also makes it possible to hear every word of the meeting, even when two people are talking over each other.
Look for features like high-resolution lenses, noise-canceling microphones, auto-framing cameras and immersive audio. These features allow participants to pick up every detail of the conversation with clarity while reducing background noises that can be distracting during meetings.
Screen-sharing capabilities
Screen-sharing enables participants to share their presentations, documents, videos and other media files with ease. This promotes real-time collaboration by allowing access to document editing or conversations across different locations.
It also saves time by eliminating the need for email attachments or file transfers. Participants can share files directly from their computer desktops without having to leave the video conference platform.
Recording and storage options
Recording capabilities allow you to capture important moments that can be reviewed after the meeting. This is especially beneficial for those who were unable to attend the live event or need to reference key points later.
Storage is also crucial when choosing a video conferencing system. Depending on the size of your organization and the frequency of video conferences, you may require different levels of storage capacity. Some systems offer cloud-based storage solutions while others provide local server options.
Integration with existing software and tools
A good video conferencing system should integrate with your preferred calendar software, such as Google Calendar or Outlook, as well as messaging apps like Slack or Microsoft Teams. This allows users to share files and collaborate on projects in real-time.
A good system should also allow participants to join meetings with their laptops, smartphones or tablets without any additional software installation. Participants can leverage the apps on their own devices to improve collaboration.
One of Neat's inherent advantages is the ability to wirelessly connect your own device to the Neat device. This frees up visual space on your personal device, allowing you to separate your important apps, documents, notes and other content from the video conferencing platform. You'll be able to keep working during the video call without having to toggle back and forth.
Neat also integrates withmore than 50 popular third-party apps, allowing you to collaborate directly on your Neat device.
Evaluating User-Friendliness and Accessibility
A video conference system for small businesses should be easy for employees to use. This saves time by avoiding "operator errors," plus it ensures employees are more likely to use these systems when the opportunity arises.
Compatibility with various devices affects the user experience. For example, if your employees are used to Mac computers, choosing a Windows-based system might create unnecessary complications for your employees.
If you have employees with disabilities, consider how a video conferencing system can accommodate them. For example, is the camera at a fixed height or can it be adjusted for someone in a wheelchair? Does the software offer closed captioning? Will the microphone block out background noise to ensure the speaker can be clearly heard? Understandingthe accessibility challenges of remote meetingscan help small businesses be more mindful of the tools and systems they select.
Analyzing Security and Privacy Aspects
Data breaches can be quite costly, with the average small business breach reachingbetween $120,000 and $1.24 million.This isn't something many small businesses can budget for, so it's important to choose your video conferencing system with security and privacy as top priorities.
At a minimum, your video conferencing software should include data encryption and user authentication to limit meeting access. It should also comply with any relevant privacy and industry regulations, such as GDPR and HIPAA.
Your hardware can also add an extra layer of protection by controlling meeting access and permissions. For example, Neat devices include Microsoft Teams and Zoom pre-installed, but users sharing devices will need to log into their respective accounts before being able to launch a meeting.Neat Padalso promotes meeting security by serving as ameeting room scheduling display. This ensures participants don't wind up in the wrong meeting room, which might make them privy to confidential information.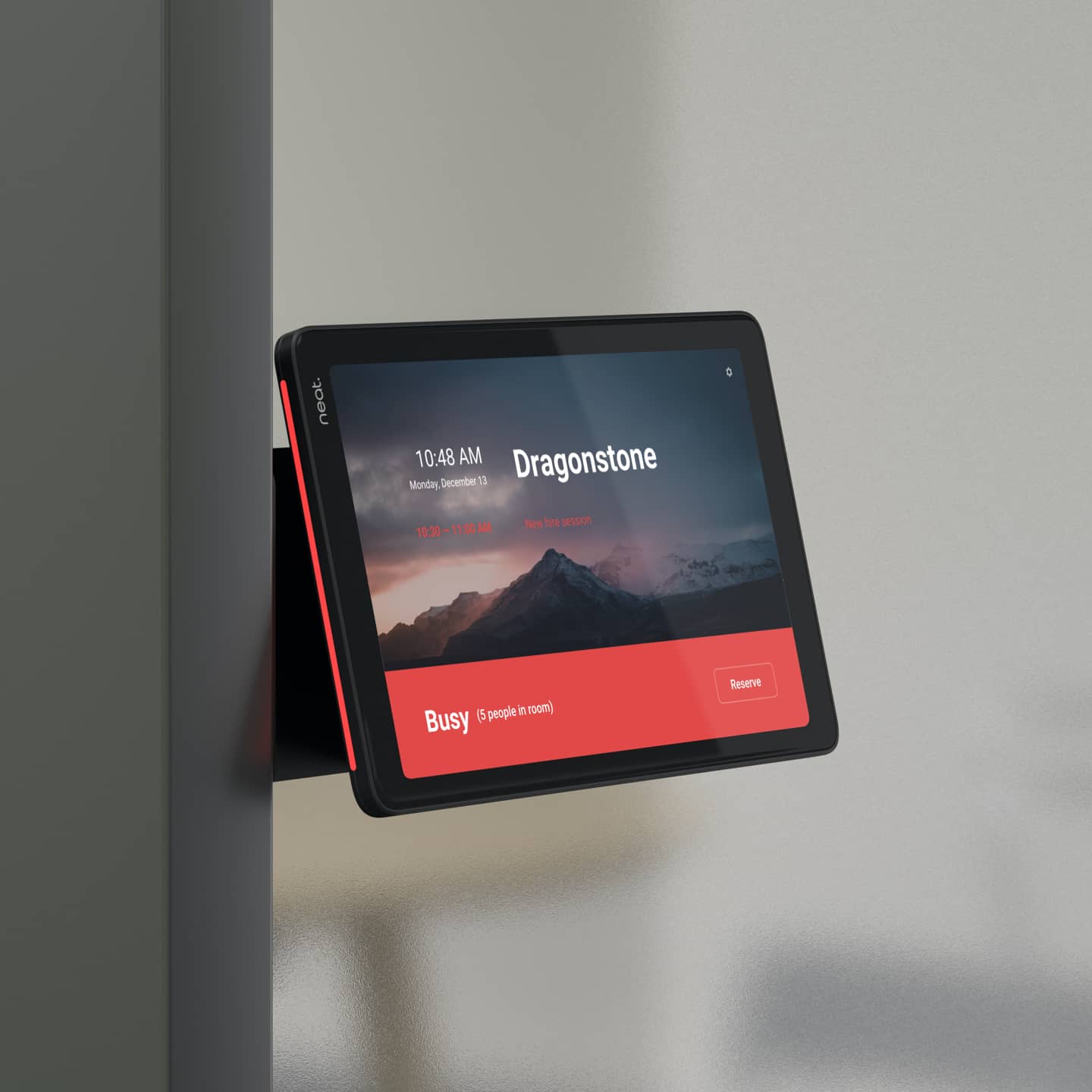 Comparing Pricing and Plans for Small Businesses
Most video conferencing software is available via subscription, where you pay a fixed amount per month or per year. Many small businesses choose free plans, like Google Hangouts or basic services from Zoom.
Free software can be a good option when you're not sure what features you need or how much you plan to use them. However, be aware that free video conferencing software might not have robust security protocols like paid versions and could be susceptible to malware, hackers or privacy concerns. Also, they might not align with specific standards like HIPAA or GDPR, which could open the gates to fines or penalties.
Video conferencing hardware, such as devices by Neat, can also be purchased on a subscription basis. Rather than fronting the whole cost of the hardware, small businesses can payan affordable monthly feefor the equipment. This also allows the business to upgrade its systems as new technologies and devices become available.
Considering Customer Support and Resources
The responsiveness and quality of support can vary between video conferencing hardware and software providers. Some areas you might investigate include:
Availability of training materials and resources (e.g., guides, video tutorials)
Online reviews regarding customer support
The presence of a user community or peer-driven forum
Type of support (e.g., live chat, phone, self-serve resources)
Hours of support availability
Your employees need to feel comfortable with the type of support available in case they need to install new devices, troubleshoot issues or have questions.
Learning from Real-world Experiences and User Reviews
The best way to learn how a video conference system for small businesses works is to try it yourself. The second best way is to dive into others' experiences.
Read online reviews about the software and hardware you're considering. Look for concrete details about real users' experiences, such as ease of installation, intuitive features or customer support.
Also, ask colleagues about the tools they're using for video conferencing. Take the opportunity to ask specific questions that matter to you, such as:
How are you using this tool/software?
What does the scheduling/launching process look like?
What features do you find to be the most helpful?
What features are you not using?
How much are you paying for the service?
What's customer support like?
What issues have you had?
What do you like or dislike about it?
Do your employees like it?
The more you can learn about potential solutions before you invest any money, the more informed a decision you can make.
Making the Final Decision
Choosing the right video conference system for a small business takes a series of steps, starting with understanding your end goals and requirements. Once you have a shortlist of potential software and hardware options, weigh the pros and cons of each and factor in your team's preferences and requirements to make that list even shorter.
Take advantage of trial periods if they're available. After choosing a solution, don't forget to reassess your choice to ensure your system is meeting your needs.
Neat continues to innovate its video conferencing systems for small businesses with best-in-class audio and video, intuitive interfaces and affordable pricing options.Get in touch todayto learn more.
Sources:
3 Types of Video Conferencing Systems for Small Businesses. The Ascent.
Accessibility of Remote Meetings. W3.
The Cost of Cybersecurity and How to Budget for It. Business.com.
Secure Video Conferencing: 7 Best Apps and Best Practices. True Conf.